Imagine light, crumbly chocolate brownies, dotted with hazelnuts and white chocolate chucks, then finished off with zig zags of melted chocolate. Then imagine surprising that special someone with these incredibly tasty squares of chocolate goodness, made just for them, by you, with your own amazing baking skills! Or don't just imagine it: make it, bake it, love it, eat it, gift it and never go back to shop bought brownies ever again!!

With Valentines day just around the corner there's no better time to get your pinny on and 'make the presents – make the present'!! Particularly when the presents look and taste as good as this . . .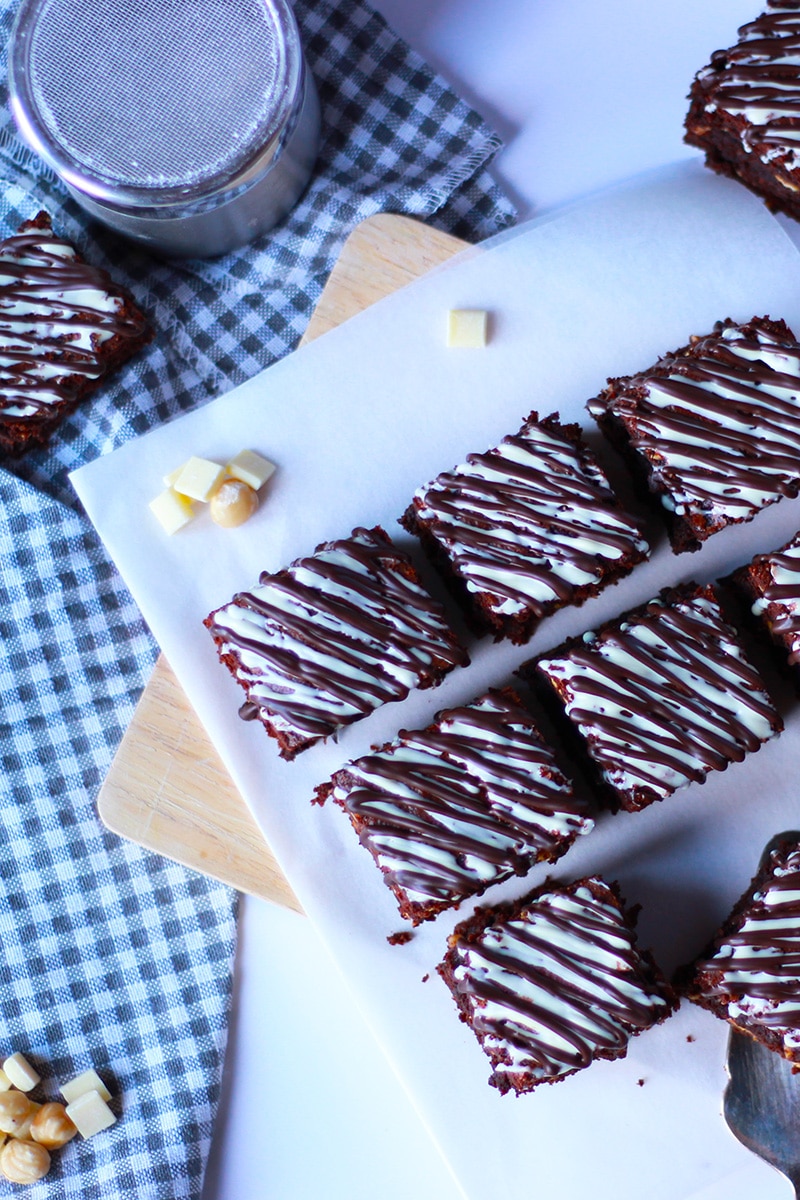 Or if you're me, don't get your pinny on, just dive straight in and get chocolate everywhere 🙂
The bake
The actual making and baking of these chocolate brownies is so, so simple and easy. No need for a food mixer, and no waiting around for hours whilst patiently checking if your baking-masterpiece has finished cooking. Nope, just a straight forward recipe with a couple of bowls, a whisk and plenty of love.
So first the chocolate is melted, and then the eggs and sugar are whisked until pale, then everything goes into one bowl for a quick stir, then into a baking tin, into the oven and set the timer for half an hour. Next . . . Sit back, relax and enjoy the delightful, sweet, luscious smell of chocolate, which will fill every inch of your kitchen. And in my book this is definitely the quickest way to instantly improve your mood and make you feel awesome 🙂 Chocolate, chocolate, chocolate.
Yes I'm a nutritionist, and yes I'm meant to promote lettuce and avocados, but sometimes we all need a little chocolate in our lives and so today I'm promoting homemade baking and 'everything in moderation' 🙂
A slab of brownie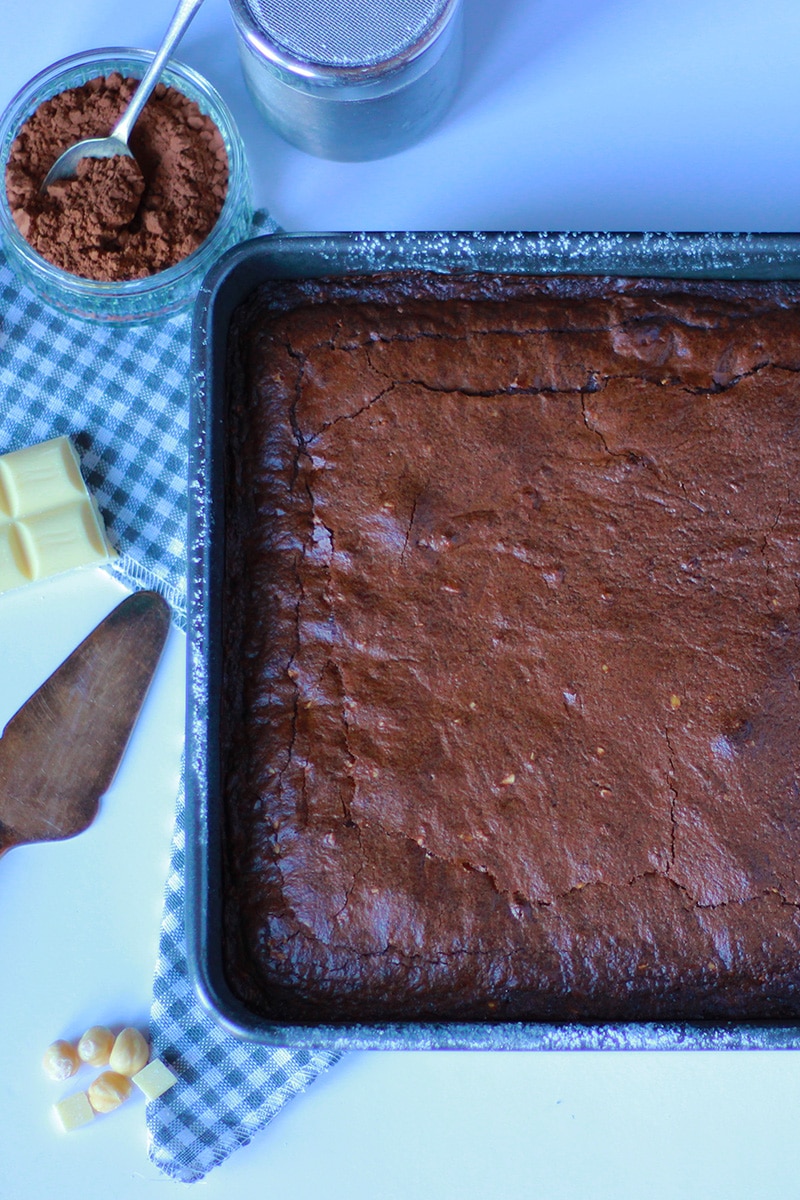 I checked if my slab of brownie was fully cooked by inserting a skewer into the centre. It came out a little gooey after 30 minutes and so I returned to the oven for another 5 minutes, before checking again. I then left it to completely cool before removing from its tin. I've made the mistake of being super eager to get it out of the tin in the past, and that usually ends in disaster, with the top half of the cake on the cooling rack and the bottom half still in the tin. So take heed, and leave it for a good hour or even 2 hours if you can. Then run a knife around the edge and gently turn out onto a board or wire rack (as it will be completely cool by this point, I prefer to use a board).
The decoration
After cutting into 25 little squares I decided that my brownies needed a little more sprucing up. The decoration for these chocolate brownies is even more chocolate: two types to be exact, which I simply melted in the microwave, transferred to a small piping bag and then roughly piped over each brownie in a zig zag pattern. There isn't really much skill needed for this effective finish, its really quite easy. But of course, you can decorate as you prefer or just leave plain or even whip up a bit of cream to pop on top!!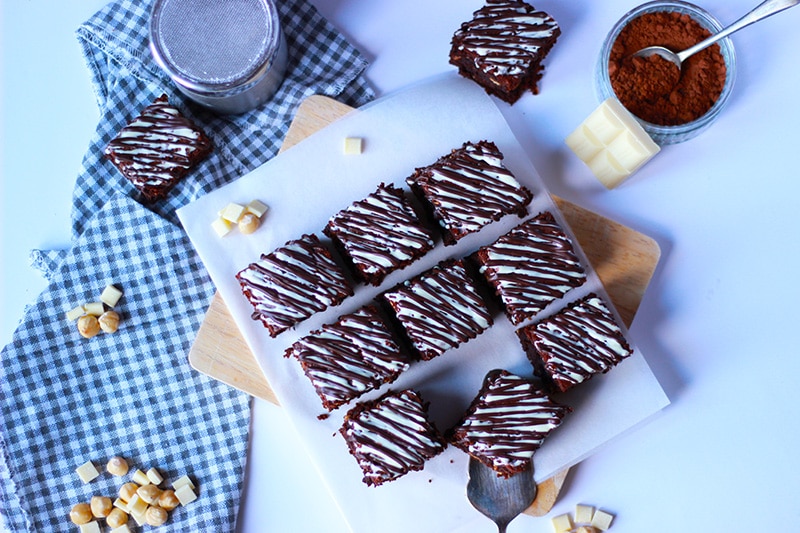 Chocolate Brownie Warning
These little chocolate brownies may look harmless but they are, in fact, extremely moreish! You have been warned 🙂
Happy valentines folks! and happy baking 🙂 ♥
Nutritional info for this recipe >>
**Estimated nutritional information per individual brownie square with no decoration and 100g of brownie. If you want to find out more about how the information is calculated and the sources used, please refer to my Nutrition Information Guide.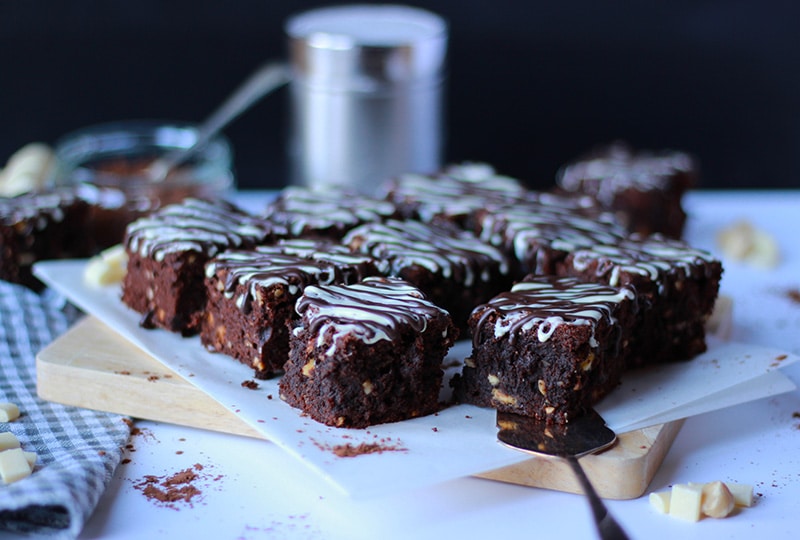 Hazelnut and White Chocolate Brownies
Hazelnut & white Chocolate brownies with chocolate decoration - perfect for keeping things sweet this valentines
Print
Pin
Ingredients
220

g

Unsalted butter

280

g

Milk chocolate chips

4

medium eggs

300

g

golden caster sugar

100

g

plain flour

100

g

cocoa powder

100

g

chopped hazel nuts

100

g

white chocolate chunks/chips
Equipment
1

square 9 inch x 9 inch baking tin
Extras
Butter and icing sugar to line the tin and prevent sticking

100

g

milk chocolate and 100g white chocolate for decorating if desired
Instructions
Pre heat the oven to 180 degrees C (fan). Butter the baking tin and dust with icing sugar, this will prevent the brownie from sticking during baking.

Cut up the butter into chunks and add to a microwavable bowl, along with the 280g of chocolate chips. Microwave in 20 second bursts, stirring in between until fully melted. (NB: with the butter mixed in, this won't take long to melt at all).

Place the melted chocolate and butter to one side.

In a mixing bowl whisk together the sugar and eggs. The mix of sugar and eggs is known as a sabayon. However, to achieve a good sabayon there is no room for gentle mixing: get your muscles out and whisk well until the mixture goes paler and begins to ribbon with the movement of the whisk.

Pour the melted chocolate and butter into the sabayon and stir in well. Then sieve in the flour and cocoa powder and use a spatula to gently fold in. It will appear quite dry at first, but keep folding and eventually the mixture will come together. Finally add the hazelnuts and white chocolate, and fold in again, before gently transferring to the prepared baking tin. use a knife or spatula to spread the mixture evenly in the tin.

Pop in the oven for 30 minutes, then check by inserting a skewer into the centre of the cake. If the skewer comes out gooey then put back in for a further 5 minutes. Check again and return to the oven if required, do not bake past 45 minutes as the edges of the brownie will begin to burn.

Once fully baked, leave on the side, in the tin, to completely cool. This usually takes 1-2 hours.

Only remove from the tin once you are satisfied that the brownie is complete cooled.

To remove, run a knife around the edge of the tin, then place a board over the top of the tin and gently turn over to release the brownie.

Cut up the slab into suitably sized square pieces: I usually cut off the edges first to remove any charring and to neaten up. Then divide into 20-25 small squares.
If you would like to decorate the brownies as in the pictures:
Melt 100g of white chocolate in the microwave (20 second bursts), then transfer to a piping bag, snip off the end and roughly pipe chocolate zig zags over each brownie. Repeat this with milk chocolate, then leave on the side to fully set.
Nutrition
Serving:
1
g
|
Calories:
210
kcal
|
Fat:
16.3
g
Pin for later

I am linking this recipe to #cookblogshare hosted by Easypeasyfoodie and hijackedbytwins. I am also linking to #recipeoftheweek hosted by amummytoo, #bakeoftheweek hosted by mummymishaps and casacostello, #brilliantblogposts by honestmum, #weshouldcocoa hosted by tinandthyme, #treatpetite hosted by thebakingexplorer and cakeyboi, and #CookOnceEatTwice hosted by seachingforspice.