Light and crumbly chocolate brownies dotted with hazelnuts and white chocolate chunks, finished off with a melted chocolate topping.  Incredibly tasty squares of chocolate goodness!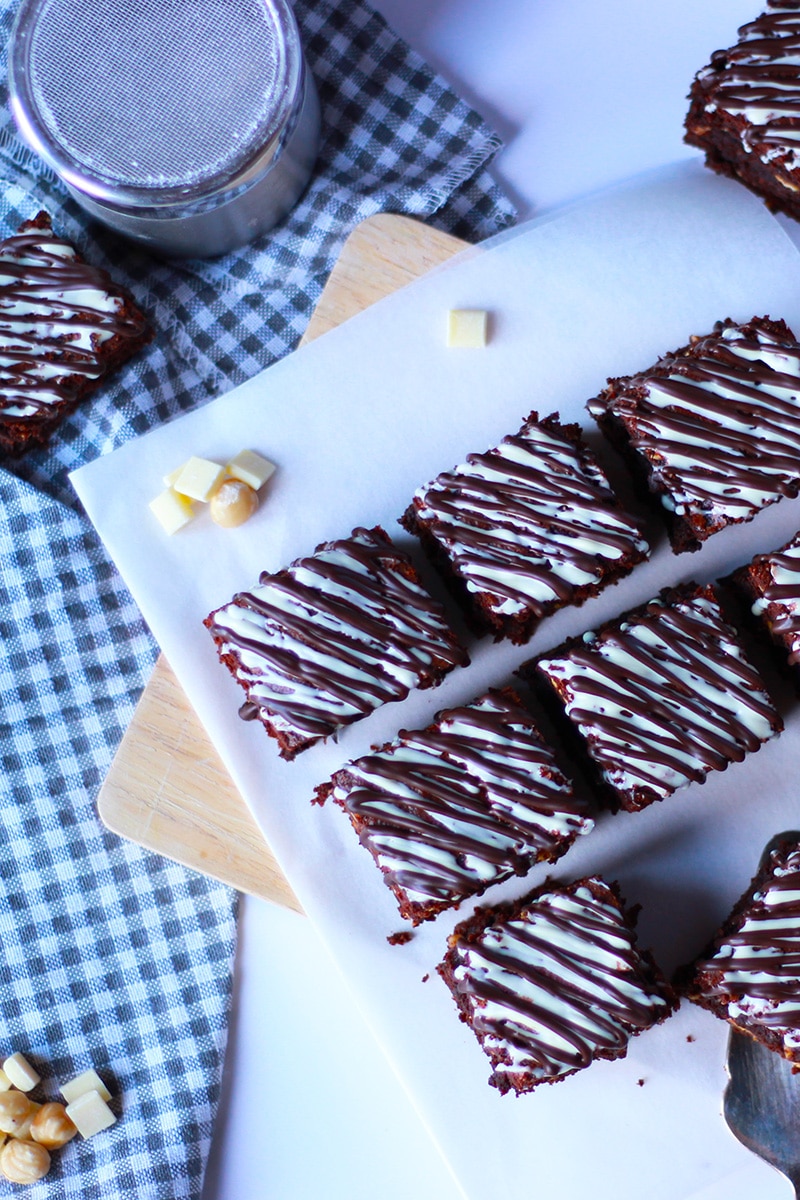 Home baking
The actual making and baking of these chocolate brownies is so simple and easy. There is no need for a food mixer and no waiting around for hours, patiently checking whether your baking-masterpiece has finished cooking. This is a straight forward recipe using just a couple of bowls, a whisk and plenty of love. For brownies that don't require any slicing up at the end, have a try of brownie chocolate muffins.
If you are looking for more baking inspiration there's plenty to have a go at in the dessert section of the website. I highly recommend my bakewell tart as it is one of my absolute favourites!
I am a nutritionist, and yes, some would say I am meant to promote lettuce and avocados, but sometimes we all need a little chocolate in our lives and so today I'm promoting homemade baking and 'everything in moderation'.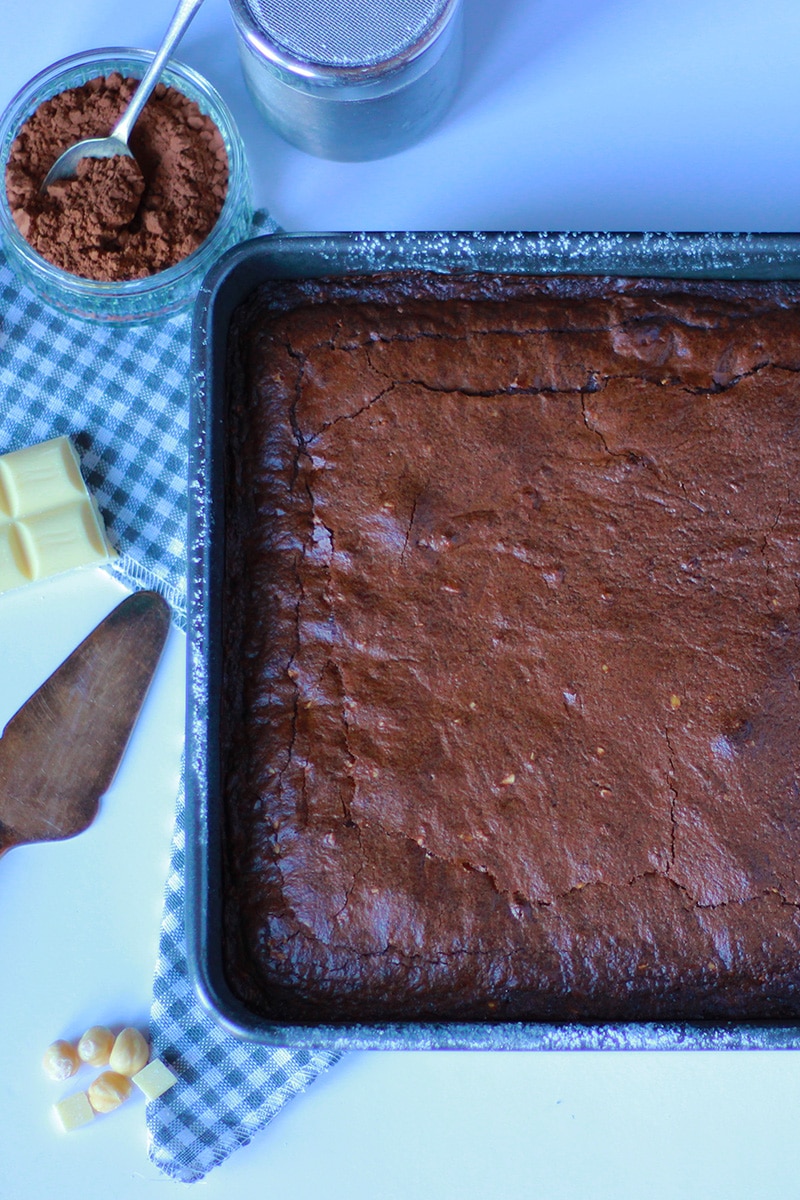 How to make chocolate brownies
Start by melting the chocolate. Whisk the eggs and sugar separately until pale, combine everything into a bowl and mix together. Pour mixture into a baking tin and place into a pre-heated oven (180°) and set the timer for half an hour.
Check to see if the brownie is fully cooked by inserting a skewer into the centre. If it comes out a little gooey after 30 minutes return to the oven for another 5 minutes, before checking again.
Leave to completely cool before removing from its tin. I've made the mistake of being super eager to get it out of the tin in the past, and that usually ends in disaster, with the top half of the cake on the cooling rack and the bottom half still in the tin. So take heed, and leave it for a good hour or even 2 hours if you can.
Run a knife around the edge of the tin and gently turn out onto a board or wire rack (as it will be completely cool by this point, I prefer to use a board).
Divide into 25 little squares.
The decoration for these chocolate brownies is even more chocolate: two types to be exact, which I simply melted in the microwave, transferred to a small piping bag and then roughly piped over each brownie.
You can of course decorate however you prefer, just leave plain or even whip up a bit of cream to pop on top if you like!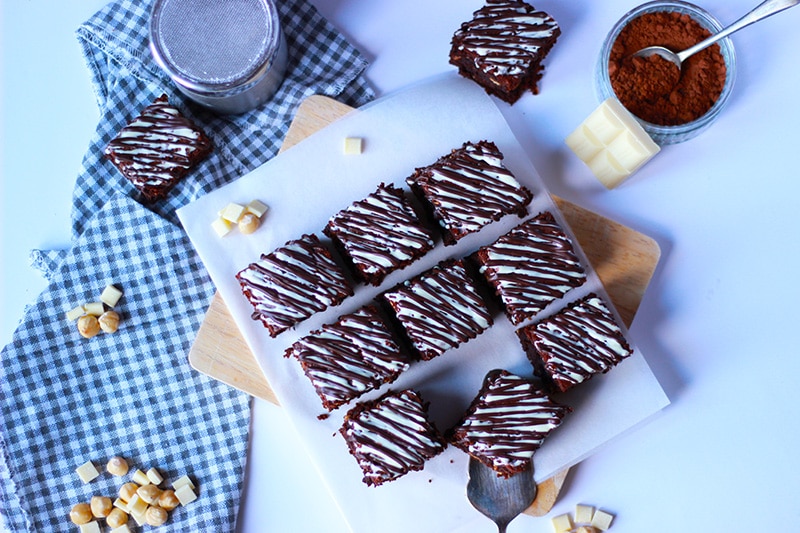 Chocolate brownies recipe ingredients
The ingredients you will need to make this recipe are:
220g unsalted butter
280g milk chocolate chips
4 medium eggs
300g golden caster sugar
100g plain flour
100g cocoa powder
100g chopped hazel nuts
100g white chocolate chips
Butter and icing sugar to line the tin
100g milk chocolate 100g white chocolate for decoration
Why are my chocolate brownies dry?
This recipe is to achieve a light and crumbly brownie, however if your aiming to make your chocolate brownies gooey you will need to add more of the chocolate and butter elements to tip the balance towards fudgy rather than cakey. modify this recipe by increasing the unsalted butter to 250g and the milk chocolate chips to 300g.
Dry brownies are usually a result of a higher ratio of drier ingredients like the flour and cocoa powder as opposed to the butter and chocolate elements, also a reduced cooking time will help your cake to retain some of its moisture. Don't forget your brownies won't firm up until completely cool, so remove them from the oven in time to allow for this if required.
How do I know when my brownies are done?
To test whether your chocolate brownies are ready take a skewer or the tip of a knife and pierce the cake in the centre, as you draw the knife or skewer out notice whether there is any brownie sticking to the blade. If you are looking for a light and crumbly or 'cakey' brownie you want the knife/skewer to come out clean. If you want a gooey or 'fudge like' brownie you want a little of the inside to come with it, make sure the skewer is hot though as this indicates the brownie is hot to the centre and not under done.
Do you leave brownies to cool in the tin?
Yes! I leave my brownies to cool in the tin. In the past I have been too eager to get at my brownies and have disturbed them before they've had a chance to firm up enough to stay in one piece.  Brownies ideally should be removed from the oven just as the centre is firming up, this allows for them to finish on the worktop before they cool down. The result is a brownie that is easily turned out onto a board without being too dry in the middle.
📖 Recipe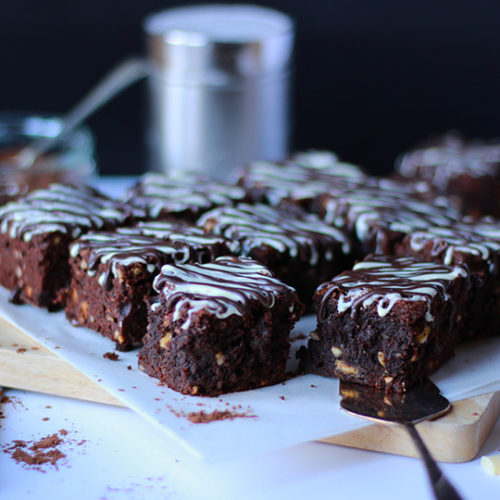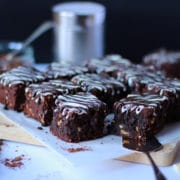 Hazelnut and White Chocolate Brownies
Hazelnut & white Chocolate brownies with chocolate decoration - perfect for keeping things sweet this valentines
Ingredients
220

g

Unsalted butter

280

g

Milk chocolate chips

4

medium eggs

300

g

golden caster sugar

100

g

plain flour

100

g

cocoa powder

100

g

chopped hazel nuts

100

g

white chocolate chunks/chips
Equipment
1

square 9 inch x 9 inch baking tin
Extras
Butter and icing sugar to line the tin and prevent sticking

100

g

milk chocolate and 100g white chocolate for decorating if desired
Instructions
Pre heat the oven to 180 degrees C (fan). Butter the baking tin and dust with icing sugar, this will prevent the brownie from sticking during baking.

Cut up the butter into chunks and add to a microwavable bowl, along with the 280g of chocolate chips. Microwave in 20 second bursts, stirring in between until fully melted. (NB: with the butter mixed in, this won't take long to melt at all).

Place the melted chocolate and butter to one side.

In a mixing bowl whisk together the sugar and eggs. The mix of sugar and eggs is known as a sabayon. However, to achieve a good sabayon there is no room for gentle mixing: get your muscles out and whisk well until the mixture goes paler and begins to ribbon with the movement of the whisk.

Pour the melted chocolate and butter into the sabayon and stir in well. Then sieve in the flour and cocoa powder and use a spatula to gently fold in. It will appear quite dry at first, but keep folding and eventually the mixture will come together. Finally add the hazelnuts and white chocolate, and fold in again, before gently transferring to the prepared baking tin. use a knife or spatula to spread the mixture evenly in the tin.

Pop in the oven for 30 minutes, then check by inserting a skewer into the centre of the cake. If the skewer comes out gooey then put back in for a further 5 minutes. Check again and return to the oven if required, do not bake past 45 minutes as the edges of the brownie will begin to burn.

Once fully baked, leave on the side, in the tin, to completely cool. This usually takes 1-2 hours.

Only remove from the tin once you are satisfied that the brownie is complete cooled.

To remove, run a knife around the edge of the tin, then place a board over the top of the tin and gently turn over to release the brownie.

Cut up the slab into suitably sized square pieces: I usually cut off the edges first to remove any charring and to neaten up. Then divide into 20-25 small squares.
If you would like to decorate the brownies as in the pictures:
Melt 100g of white chocolate in the microwave (20 second bursts), then transfer to a piping bag, snip off the end and roughly pipe chocolate zig zags over each brownie. Repeat this with milk chocolate, then leave on the side to fully set.
Nutrition
Serving:
46
g
|
Calories:
210
kcal
|
Carbohydrates:
12.6
g
|
Protein:
4.1
g
|
Fat:
16.3
g
|
Saturated Fat:
8.4
g
|
Polyunsaturated Fat:
0.9
g
|
Monounsaturated Fat:
5.9
g
|
Fiber:
0.7
g
|
Sugar:
8.8
g
Pin for later