Mulligatawny chicken soup, with its slight tingle of spice and its lingering sweet aniseed flavour, is a delight to come home to on a cold Winters night. PJs on, curtains drawn, heating on full blast and a pan of mulligatawny goodness on the stove - all that's left to do is savour every drop and then hibernate until spring.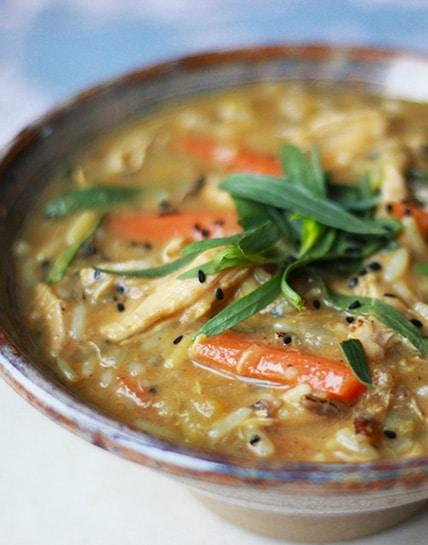 When Christmas is over, the decorations are away and all the pretty colourful lights have been taken down. Winter is truly upon us and there's nothing on the horizon to cheer us up. On top of all this doom and gloom there always seems to be an abundance of chocolate and sugary snacks knocking about, not that this is all bad news, we all need a bit of chocolate in our lives! But for me, the aftermath of Christmas seems to create a hungry, chocolate-eating monster, which is never satisfied and forever aggravated by the constant supply of leftover Christmas treats.  And yet we're all supposedly on "New Year, New Me" diets. Its probably the worst time to go on a diet, when all I ever want in January is a huge pile of mash with lashings of onion gravy followed by 3 Terry's chocolate oranges and a couple of mint matchmakers, hmmmmm.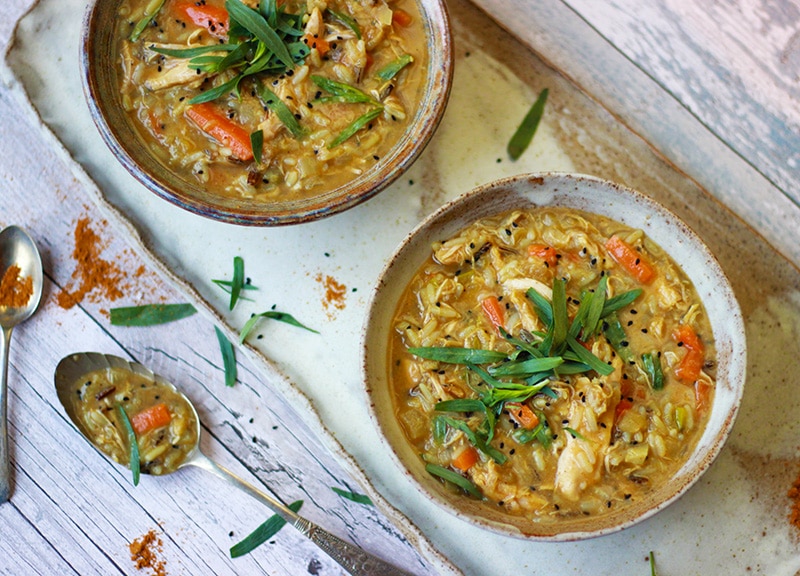 But, people, let's not despair, instead let's get out a humongous bowl of chicken and wild rice mulligatawny soup and laugh in the face of coldness and darkness. Rejoice in the bright colours and nutritious goodness of the chicken, wild rice, carrots, tarragon, and curry powder. Spring will be here before we know it!! …..and so will August and our wedding!! So I best put those chocolates to the back of the cupboard and then get thinking about my waistline and the dress I hope to look 'oh so graceful and fairy like' in. So once the choccies are out of sight and out of mind, full attention can be given to the healthy stuff and the best way to make it tasty and comforting.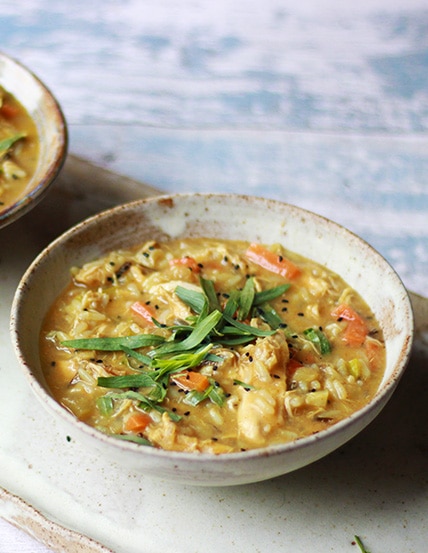 How to make Mulligatawny soup
The recipe for this bowl of mulligatawny soup, is really simple and includes plenty of veggies and protein to get anyone back on the right track. Best of all its one of those recipes that can hoover up all the leftover bits and bobs, including leftover turkey if you want to swap that in for the chicken. You can even include veggies that are on the cusp of, or just over, their best before dates. As this is a soup and everything is thrown in the pot and simmered down, veggies can be limp and lifeless when they go in the pan and with a bit of love and a good mix with some curry powder, they can be revitalised into what is now my favourite winter meal.
Ingredients for mulligatawny soup
My personal must-have  ingredients for this dish are green, Golden Delicious apples, which melt into a sweet, mushy sauce; and carrots cut into thin, stubby batons, which soften-up during cooking and pair amazingly well with the sweet apple and aniseed flavoured tarragon. However, if you don't have apples and tarragon you can swap for dried fruits (currants, apricots) and fresh coriander, which tastes just as good.  The main staples for my version of this great Indian classic are shredded Chicken and a mixture of long grain and wild rice. However, any variations can be used for this: leftover turkey or pork meat, chunks of white fish such as cod or haddock, white rice, wholegrain rice, small pastas (orzo, macaroni) or even diced potatoes and sweet potatoes. Open your fridge and cupboards and find the best veggies and carbs that will make your kind of mulligatawny!
For an extra treat, serve up this soup with my easy homemade bread rolls.
📖 Recipe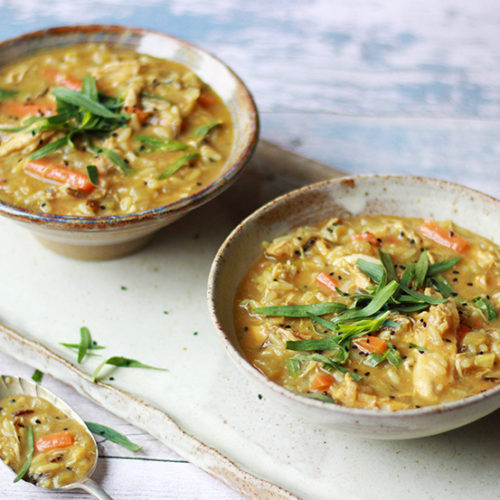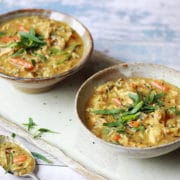 Mulligatawny Chicken and Wild Rice Soup
A warming chicken and wild rice mulligatawny soup perfect for a cold winters night and great for using up leftover meat and veggies
Ingredients
1

tablespoon

Olive oil

2

Onions finely chopped

1

Garlic clove finely chopped

1

large carrot peeled and chopped into small batons

1

green apple cubed

150

g

of long grain and wild rice

Splash of white wine

700

ml

Chicken stock

2

tablespoon

Curry powder

1

teaspoon

Ground coriander

2

teaspoon

Black onion seeds

1

tablespoon

brown muscovado sugar

200

g

Chicken or turkey meat shredded

1

tablespoon

Plain flour

Handful of fresh tarragon leaves

Seasoning

Harissa paste or fresh chilli for extra flavour and heat if desired
Instructions
Heat the oil in large pan. Gently fry the onions and garlic until soft. Add the uncooked rice to the pan and stir well ensuring each grain is coated in oil. Keeping the pan on a medium heat and add the splash of wine and half the stock. Then add the carrot, apple, curry powder, ground coriander, onion seeds and sugar. Bring to the boil and then simmer.

Top up with the remaining stock as required. Once all the stock has been added mix in the chicken or turkey and continue to simmer and reduce. After the 30 minutes check the consistency. If the soup is thinner than you would like make a paste using the tablespoon of plain flour and a little cold water. Add the paste to the soup and stir continuously until it thickens. Add more flour paste if required. If your soup is too thick add water until you are happy with the consistency. Always check the taste and add more spices if the taste has been watered down.

Taste the soup and season if desired. At this point the soup can be transferred to seal-able containers, left to cool and then frozen. If serving immediately, divide into bowls and top with fresh tarragon. If desired a tablespoon of harissa paste or fresh chopped chillies can be stirred in just before serving to give extra flavour or heat.
Nutrition
Serving:
410
g
|
Calories:
292
kcal
|
Fat:
7.4
g
**Estimated nutritional information per serving of chicken mulligatawny and per 100g of Chicken mulligatawny. If you want to find out more about how the information is calculated and the sources used, please refer to my Nutrition Information Guide.