So far this week I've had the most fun time ever; making and taking photos of ice cream!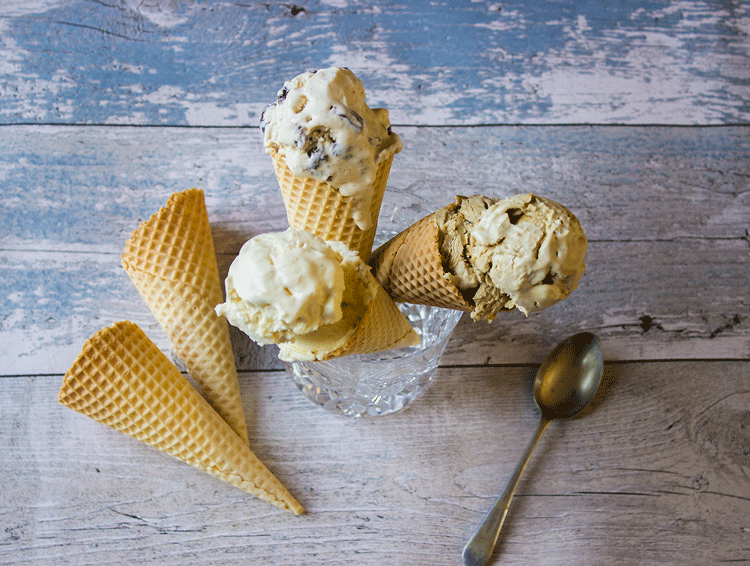 The sun is still here (for the moment) and I am making the most of it. Ice cream has most definitely got to be the British staple when the sun is shining. It doesn't take much, just the briefest of warm spells and the ice cream is out (even before we get to venture as far as floppy sun hats and shorts). But what is most astounding about ice cream (in my opinion anyway) is how ridiculously easy it is to make and how much more enjoyable it is when you get to hand out scoops of your own homemade creamy ice cream to friends and family. This recipe is no churn ice cream and so its really very simple.
This no churn ice cream is  minimum effort and maximum fun.
Just a few ingredients, a quick whip up in the mixer, into the freezer for a few hours, no churning required and then dish up.
I love ice cream and definitely love trying different flavours, so there was no way that I was just going for one type of ice cream when I started on this recipe. In the end I went for 3 flavours: first of all starting with the simple yet ever so popular vanilla;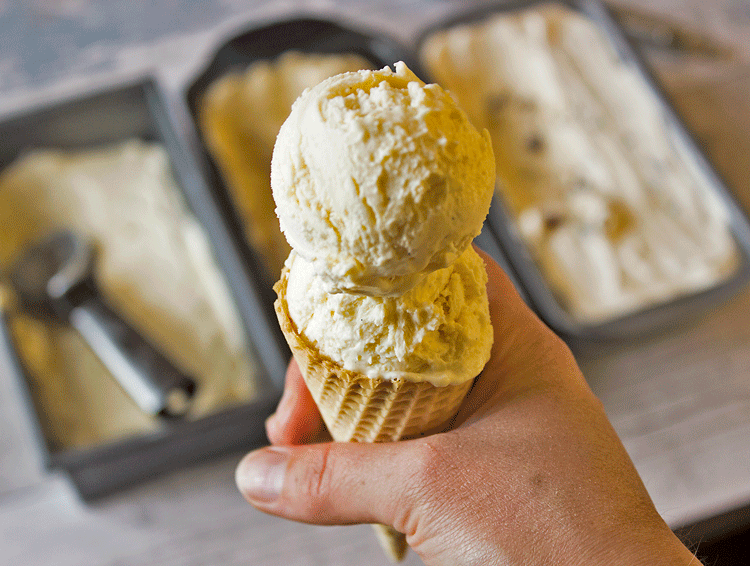 then venturing to the fabulously, tipsy rum and raisin;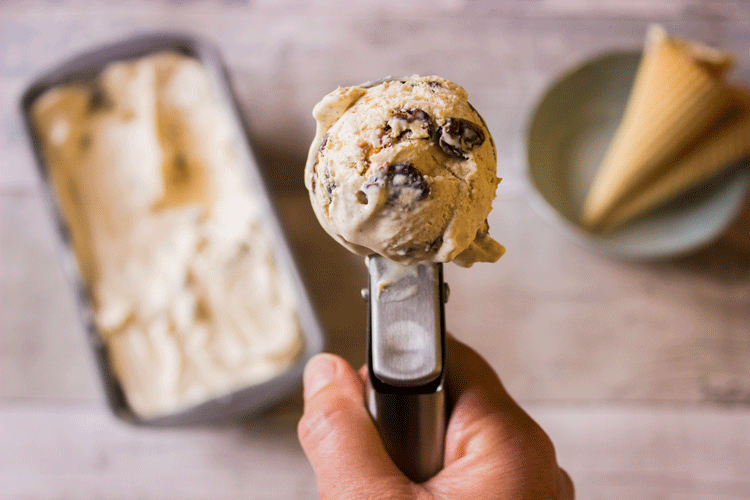 before going for a something a little bit different with cardamom and black treacle.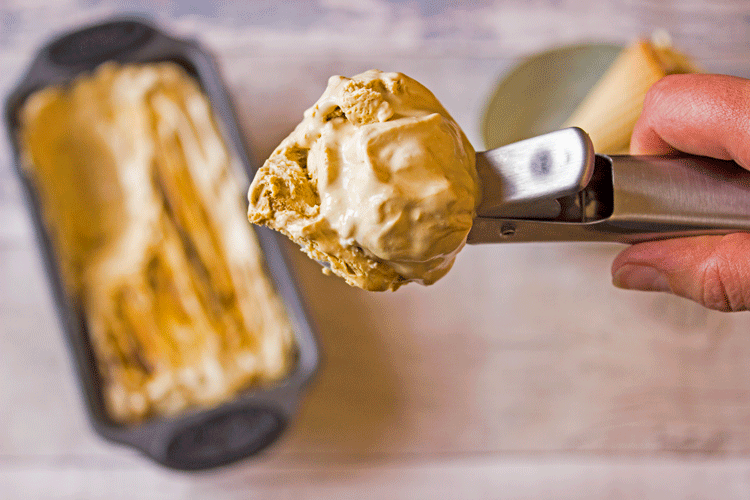 Hands down the cardamom and black treacle is my favourite.
The treacle and spice mix together to provide a luscious gingerbread flavour, which is so moreish that I think I might have to make a tub of this every week for the rest of my life.
So to the recipe:
The base of this no churn ice cream is just 3 simple ingredients: double cream, condensed sweetened milk and vanilla extract. The key thing when making no churn ice cream is not to over whip. I experimented a few times and had a couple of fails where the cream and milk split. After trial and error I decided this was most certainly due to mixing the cream and milk at the same time and over whisking. So it works best if you whip the cream first and then fold in the milk. Its also important to keep an eye on the whipping process and stop as soon as the mixture is thick enough (smooth peaks start to form, but not as thick as clotted cream).
Once the cream and milk is combined and whipped up, extra ingredients can be mixed and folded in to create the different flavours. So its really easy to create any kind of ice cream you want or use whatever you can find in your cupboard/spice rack and go for something new and exciting. In general the mix will take a little extra liquid without losing its consistency (E.g. 5 tablespoon of rum or 2 dessert spoons of treacle mix well into the recipes below). However, more solid ingredients such as raisins, cocoa powder, chocolate chips, fudge pieces, spices or anything else you can think of will help to keep a nice consistency as the mix freezes.
Once you have your ice cream in the freezer, get hold of a few friends and some decent waffle cones and get stuck in.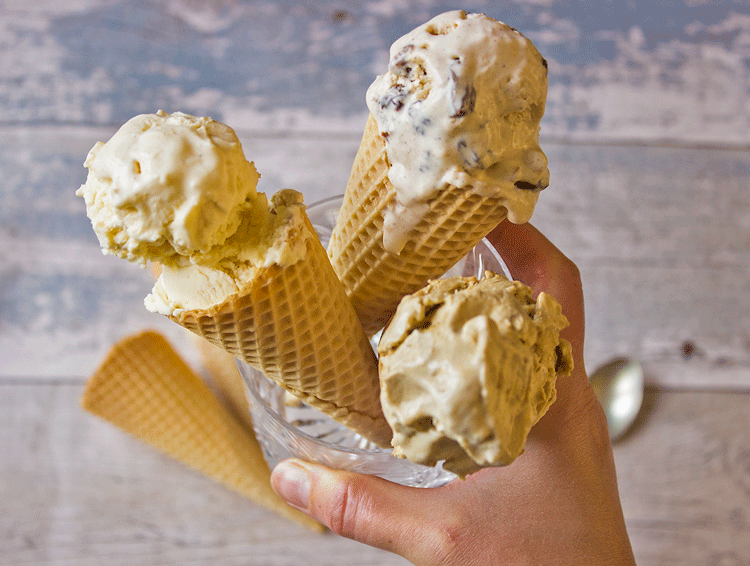 I used metal loaf tins, double wrapped with cling film to freeze my ice cream in. However, any freezer proof container will do, just be sure to cling well or use a secure lid.
Hope you get chance to whip up some yourself. I'd love to see and hear about your own ideas for new flavours! Comment below or tag with #properfoodieblog on twitter, facebook or instagram.
📖 Recipe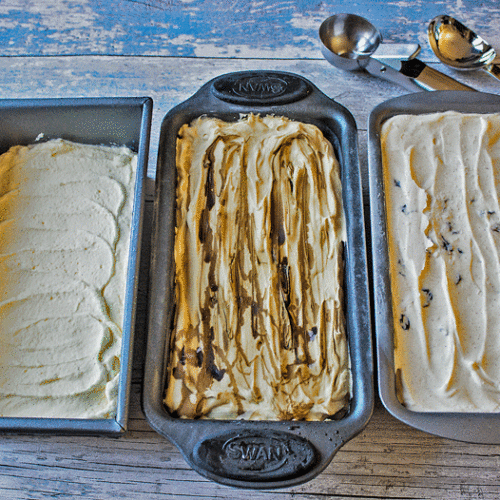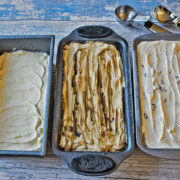 Homemade, no churn ice cream: 3 Ways
3 Creamy, delicious homemade ice creams: Vanilla, Rum & Raisin, and Cardamom and Black Treacle.
Ingredients
For the ice cream base:
450

ml

double cream

150

ml

half a can of condensed sweetened milk

2

teaspoon

vanilla extract.
For vanilla add:
Seeds of 1 vanilla pod or 1 teaspoon of vanilla bean paste
For Rum and Raisin add:
125

g

of raisins

5

tablespoon

dark rum

1

teaspoon

cinnamon powder
For the Cardamom and Black Treacle add:
5

cardamom pods shelled and seeds crushed

2

dessert spoons of black treacle

plus extra to drizzle on top if desired
Instructions
For the ice cream base:
Place the cream and vanilla extract into the bowl of a mixing machine and use the whisk tool to thicken. Whisk on high for around 3-5 minutes (longer if whisking by hand). Keep a close eye on the whisking process and do not over whip. As soon as the cream starts to thicken, reduce the speed and stop as soon as soft peaks begin to form.

Next add the condensed milk and use a spatula to fold in gently (at this point the mixture should be thick but just about pour-able).
For Vanilla ice cream:
Remove the vanilla seeds from the pod: slice the pod in half down its length and then use the back of a knife to scrape down the inside of the pod and release the seeds. Add the seeds (or vanilla bean paste) at the start along with the vanilla extract, before whipping.
For the Rum and Raisin ice cream:
Place the raisins in a bowl and pour over the rum. Cover with cling film and place in the fridge to soak for at least 30 minutes. Once the cream has been whipped and combined with the milk; add the cinnamon and soaked raisins (pour in all the rum) then fold in gently.
For the Cardamom and Black Treacle ice cream:
Crush the cardamom pods by placing the flat of a knife over them and pushing down with your hand. This should split the pod and release the seeds inside. Discard the outer pod and gather together the seeds. Crush the seeds into course powder using a knife or pestle and mortar. Once the cream and milk have been combined add the powdered cardamom seeds and 2 dessert spoons of treacle. Fold in gently. You may wish to add the treacle gradually to prevent it from clumping in one place.
Freezing:
Once the ice cream is made transfer into a freezable container (I used metal loaf tins) and seal with a lid or double wrap with cling film. Freeze for at least 4 hours before scooping.
Nutrition
Serving:
8
g
|
Calories:
210
kcal
|
Fat:
21.4
g
Per serving of Vanilla Ice Cream (2 scoops)