Warming roasted red pepper, tomato and basil soup
This Roasted Red Pepper and Tomato Soup, with all its red veggie goodness, has been on our table several times over the last couple of weeks. I honestly can't get enough of it; with the intense flavour from the well-roasted peppers, mixed in with the sweetness from the tomatoes and the peppery anise from the basil. It really is a heavenly bowl of slurpful, deliciousness.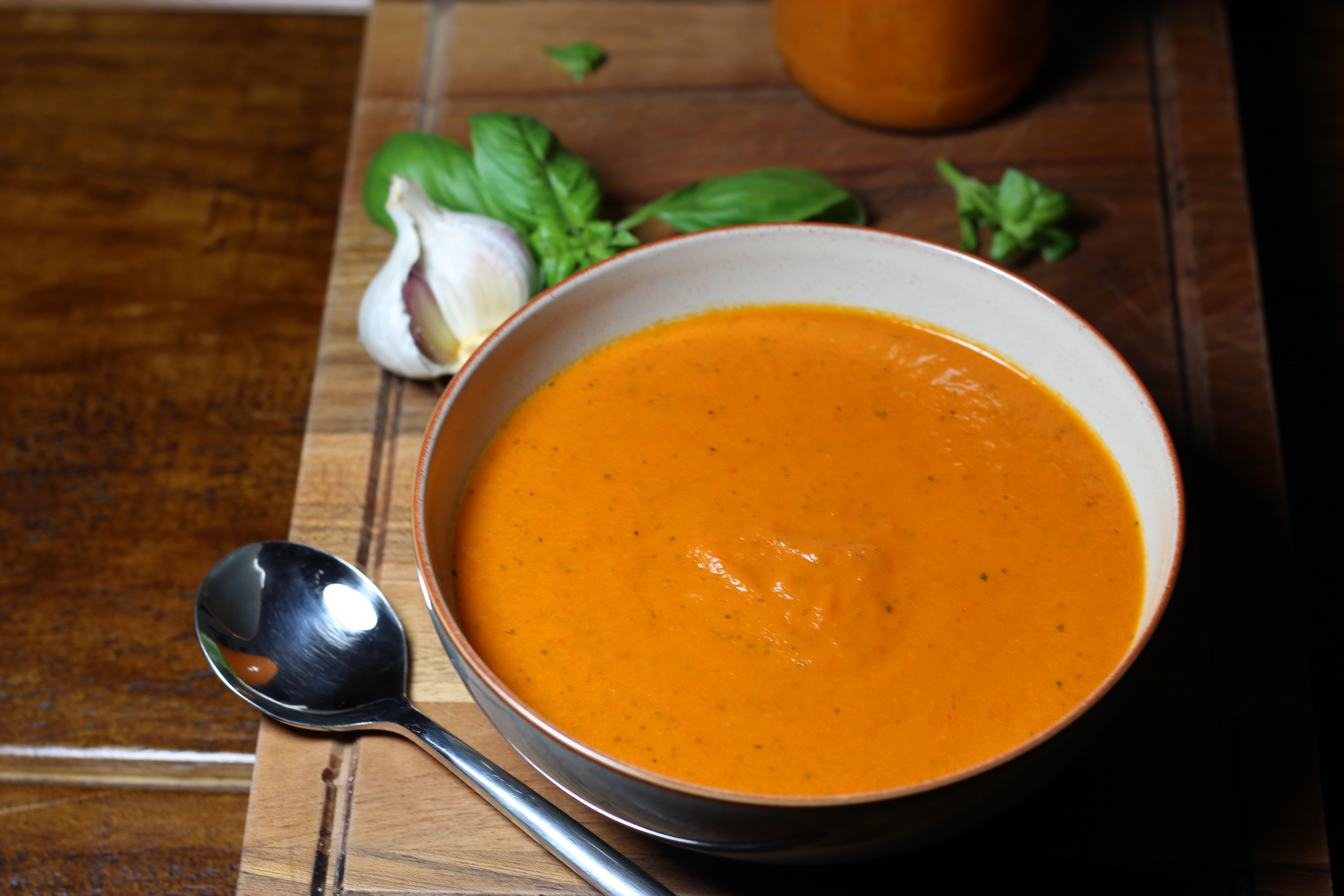 I decided it was time to get back into soup-making a few weekends ago, as summer is now here and I can no longer get away with hiding under huge jumpers and saying that I need that extra layer of fat to keep me warm. Yes its definitely time to trim up. I always find the best way to do this is with soups and salads. But only with the best and most tastiest soups and salads, otherwise i'd be straight back on the chocolate and chips in no time. So I intend to make my next few posts all about the summer trim down. (With the exception of the wedding cake post - Coming soon!!).
So if, like me, you are feeling the need to transform from a fat waddling caterpillar into a bright, floating butterfly then this soup is a good place to start. Its a really easy recipe and can be made in bulk for the fridge or freezer for those "no time!!" days.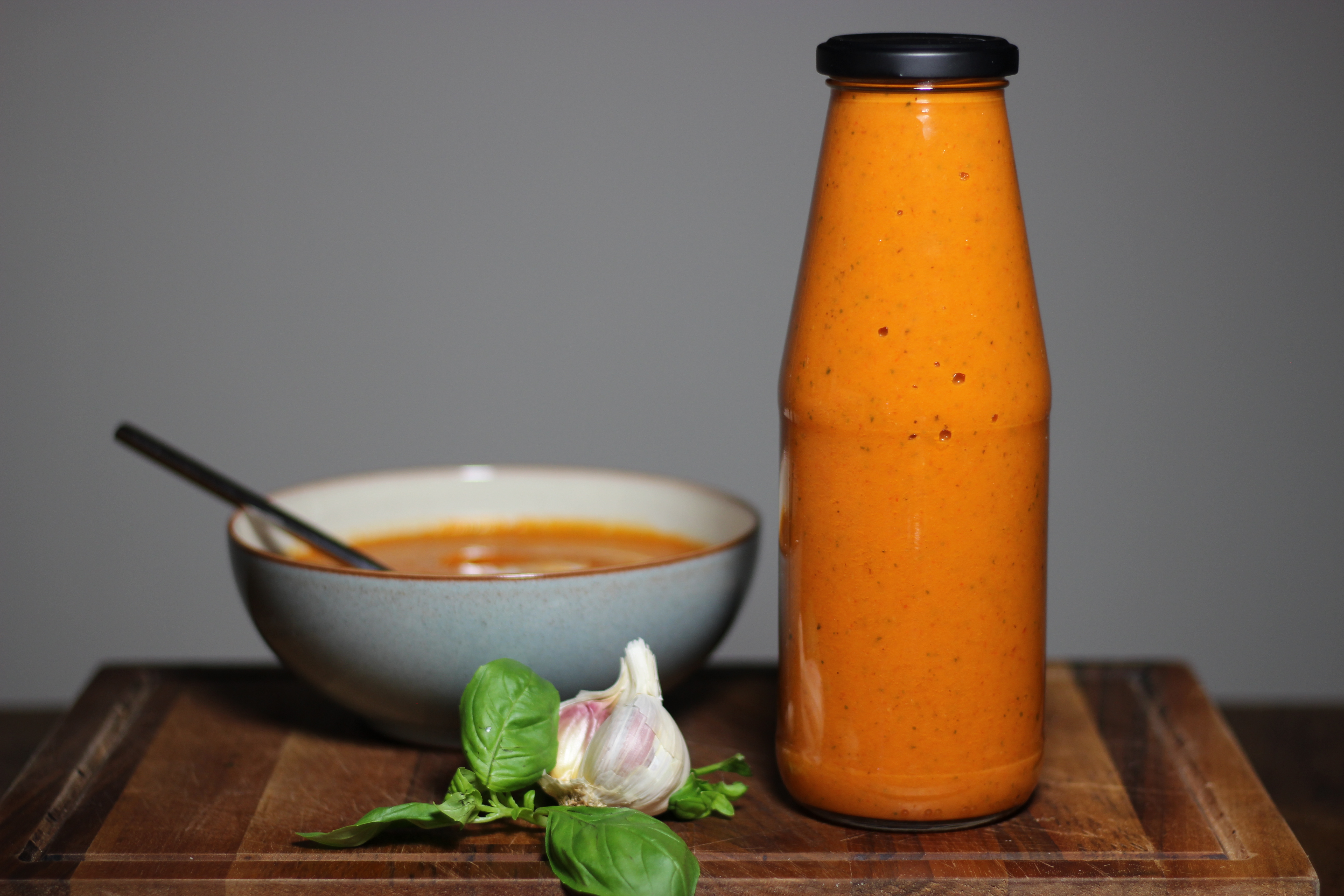 Its also great to take to work or have as a snack if your feeling super peckish in between meals. And its more than likely a dish that will please everyone; from friends round for dinner to your children's mates starving after a long day at school.... lets face it most kids love tomato soup and this is the creme de la creme of tomato soups. Tomato soup was definitely my favourite as a child and I think the only thing thats changed is the topping, instead of grated cheese its now creme fraiche - so grown up 🙂
Right well I'm off to finish my sisters wedding cake - busy busy, hoping I can show the finished result soon!!
Happy soup making!!
📖 Recipe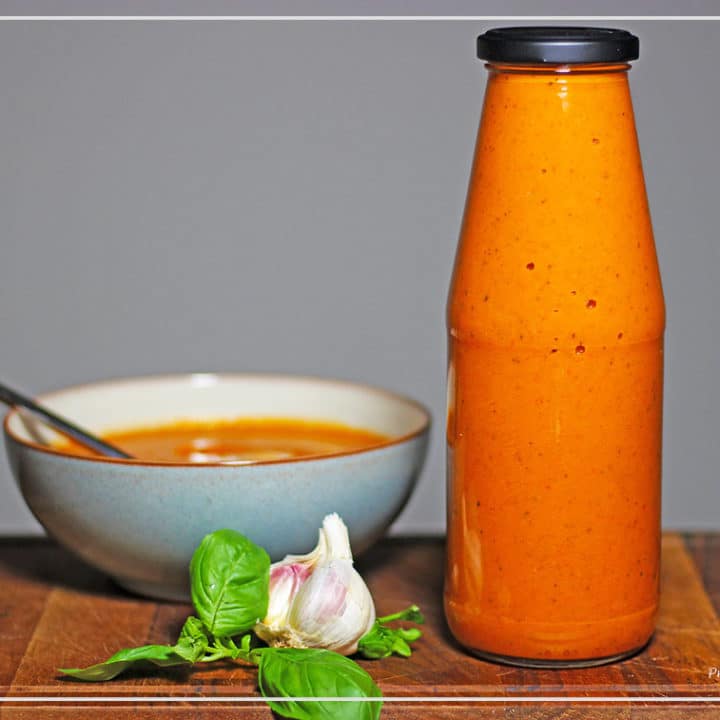 Roasted Red Pepper, Tomato and Basil Soup
Warming roasted red pepper, tomato and basil soup
Ingredients
6

tablespoon

olive oil

3

large onions

roughly chopped

2

cloves

garlic finely chopped

15

medium vine ripened tomatoes

quartered and seeds removed

3

large red peppers

capsicum, de-seeded and roughly chopped

1

teaspoon

dried marjoram

1

teaspoon

dried oregano

Handful of fresh basil leaves

Salt and pepper to season

Natural yogurt/Creme Fraiche to serve

optional
Instructions
Pre-heat oven to 200 degrees C. Fill kettle and boil.

Place the chopped tomatoes and peppers onto two separate trays, drizzle each tray with 2 tablespoon olive oil and season well. Place in the oven and bake for 30 minutes or until edges start to blacken.

Whilst the tomatoes and peppers are in the oven; heat up 2 tablespoon oil in a large pan, add the onions and fry slowly until soft. Add the garlic, dried herbs and stir. Once cooked, add the tomatoes and peppers to the onions along with all the cooking juices. Mix together well and add around 250ml of hot water from the kettle. Bring to the boil and then remove from the heat.

Transfer the vegetables and all juices to a blender or use an electric hand blender to create a smooth soup. Add more water if the soup appears to thick (should coat the back of a spoon. Tear up the basil leave, add to the soup and briefly blend again.  

Finally, pass the soup through a sieve to achieve a lovely smooth finish - use the back of a spoon to ensure all the soup is pushed through the sieve. - Get as much through as possible so to not take away any flavour. Reheat slightly if necessary (but don't boil). Season if required and serve.

Soup can be stored in the fridge for 5-7 days or if you want to keep it for longer; transfer to a container and freeze.