Our Italian wedding breakfast: Little pearly grains of soft risotto rice gently stewed in butter and Amarone red wine, topped with freshly grated parmesan cheese and chopped parsley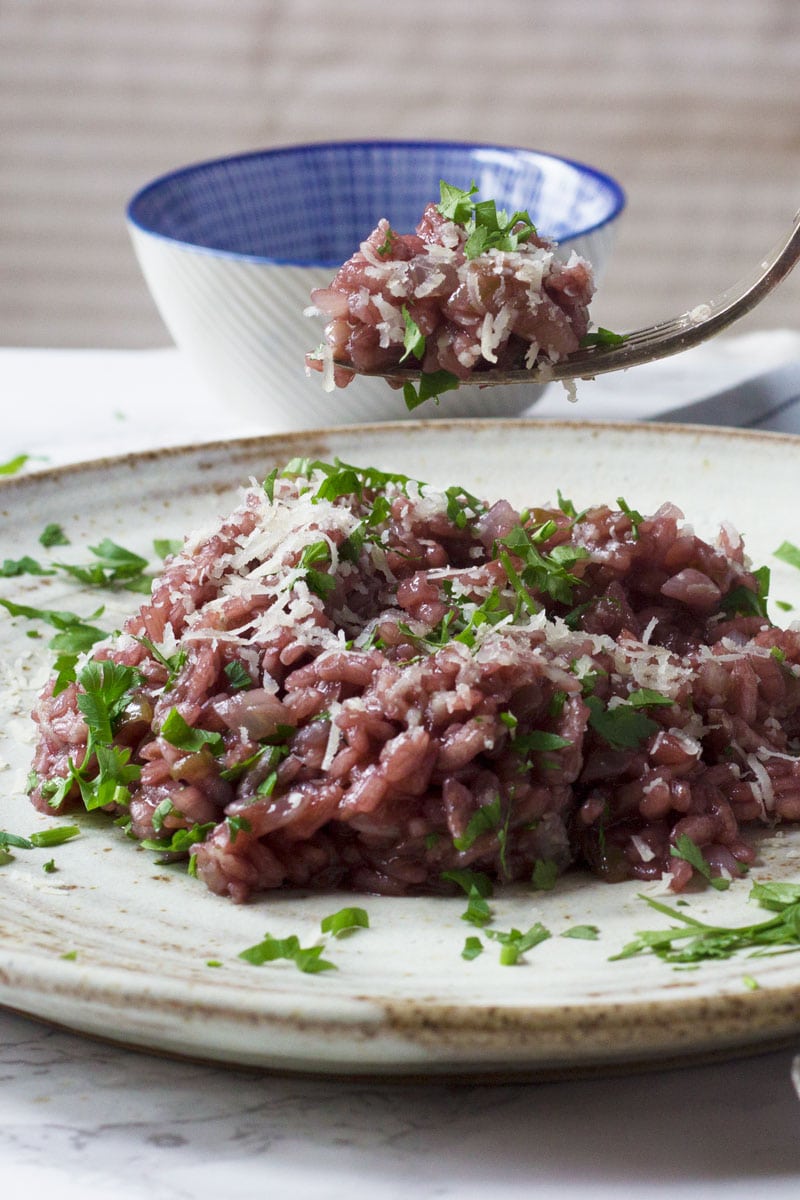 Italian wedding planner: 'Dream Academy': Dream Academy
Wedding venue: Villa Mosconi Bertani, Verona
Before I get going with this gorgeously irresistible, wine-filled Amarone risotto I just wanted to mention that: I GOT MARRIED!! 😆
The inspiration for this risotto comes from our Italian wedding breakfast and so I feel it is entirely appropriate to give you a little background wedding story in order to set the scene.
An Italian Wedding
On the 26th August 2017 I officially became Mrs Jones when I married my best friend and soul mate: Ben. Its a day neither of us will ever forget.
We were married on a small island in the middle of a picturesque lake, set in the Gardens of a Veronese Villa in Northern Italy. A location we picked and fell in love with well over a year ago.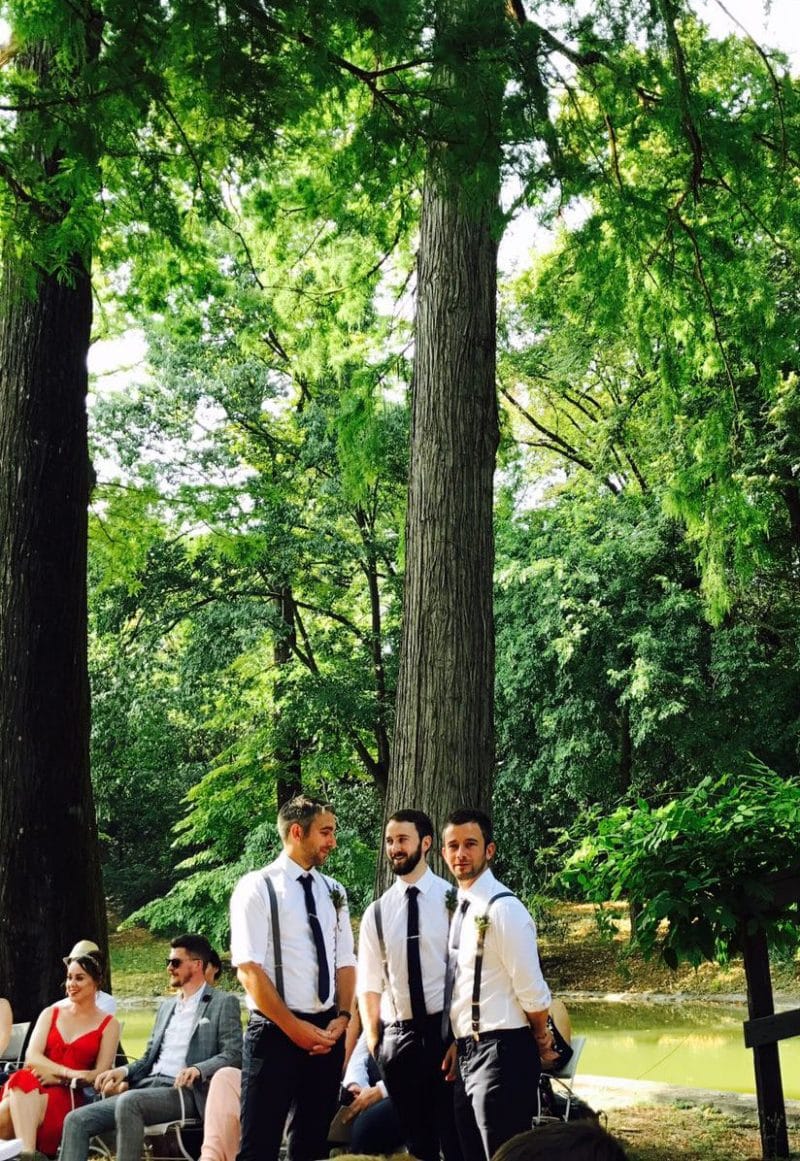 I arrived as expected in a sleek white car, slightly late and as giddy as a little girl waiting for Santa on Christmas Eve.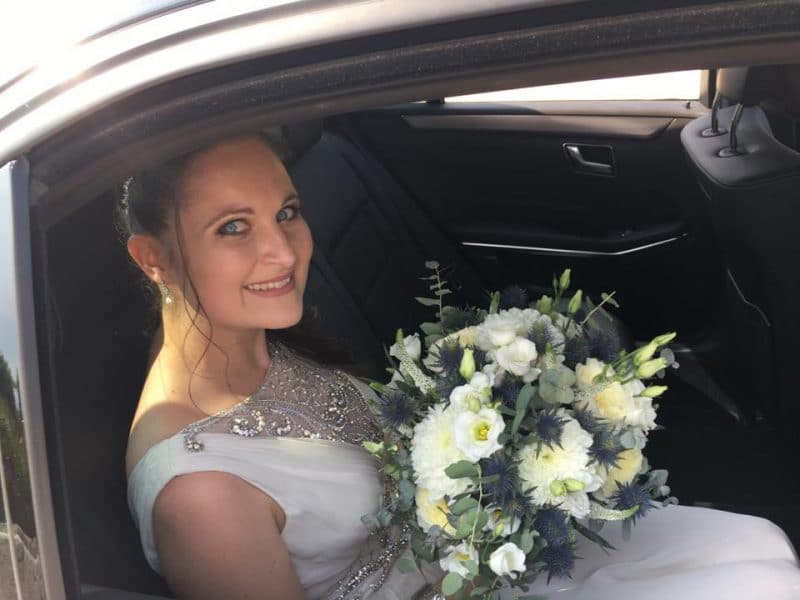 [- Me after a good 5 hours of hair and make-up prep, finished off with a good amount of wriggling and straining in order to get into my dress in the Italy heat.]
Arriving at the point in time that we had been planning for the last year and a half, was certainly nerve racking and very emotional. . . We were about to become husband and wife!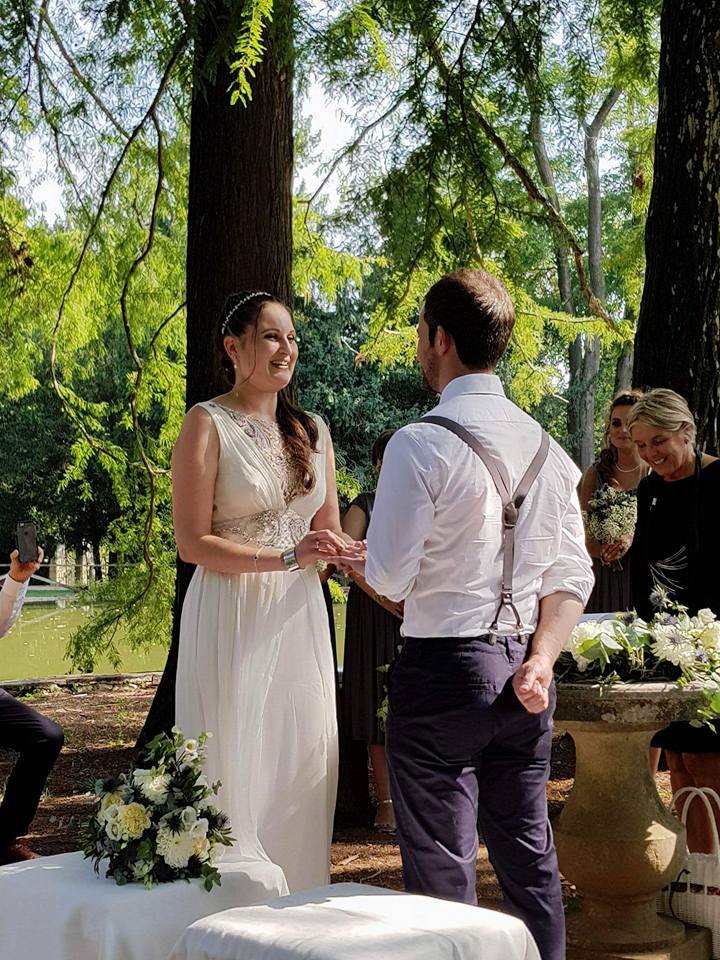 I can't tell you how incredible the whole event was for both of us. A whirlwind day of one magical experience after another. Amazing musicians, perfect weather, immaculately dressed groomsmen, stunning bridesmaids, striking flowers . . . you get the idea.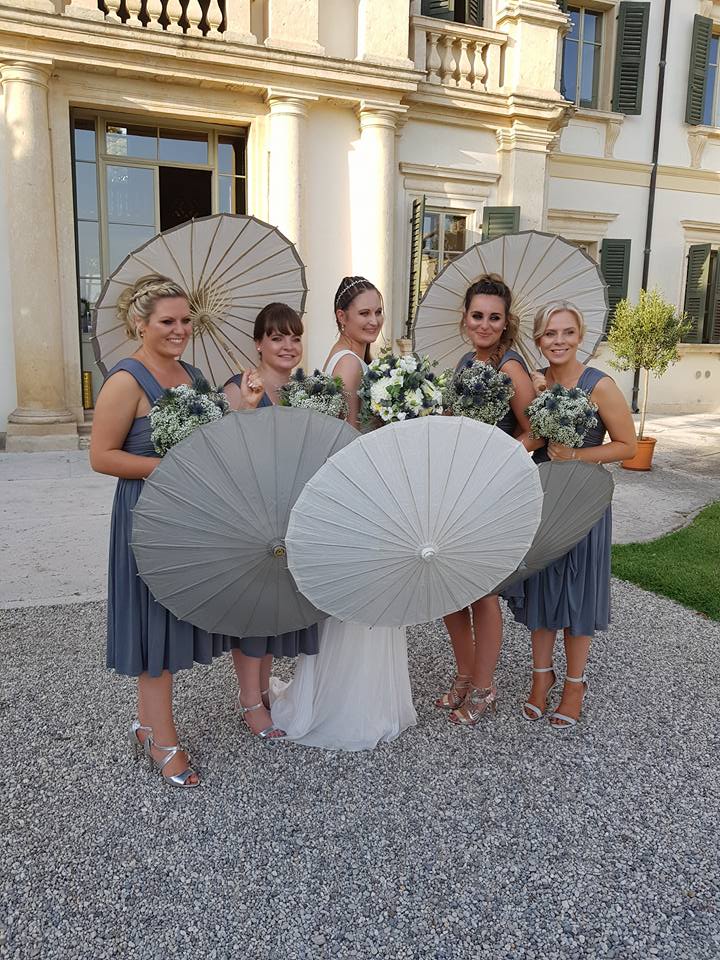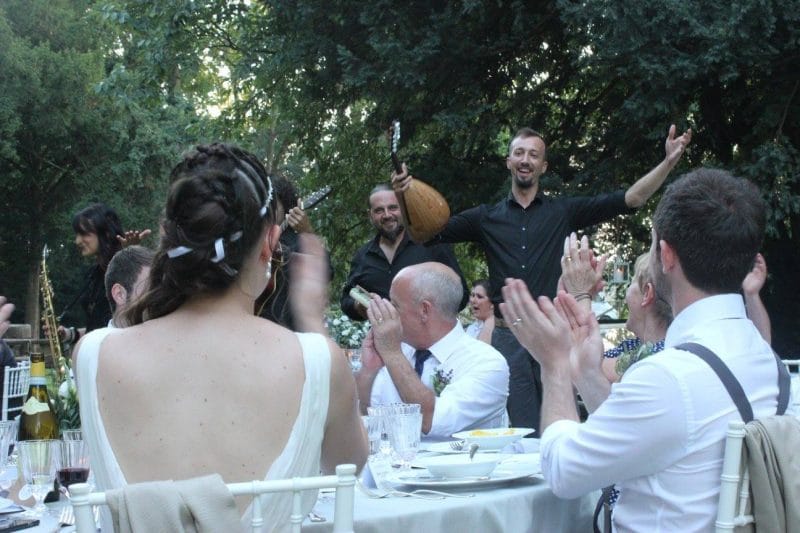 Basically, I loved every bit of our amazing Italian wedding and yes I may even brag a little and burst with pride at the whole darn thing. But if a bride can't be boastful and overjoyed on her wedding day, then when can she?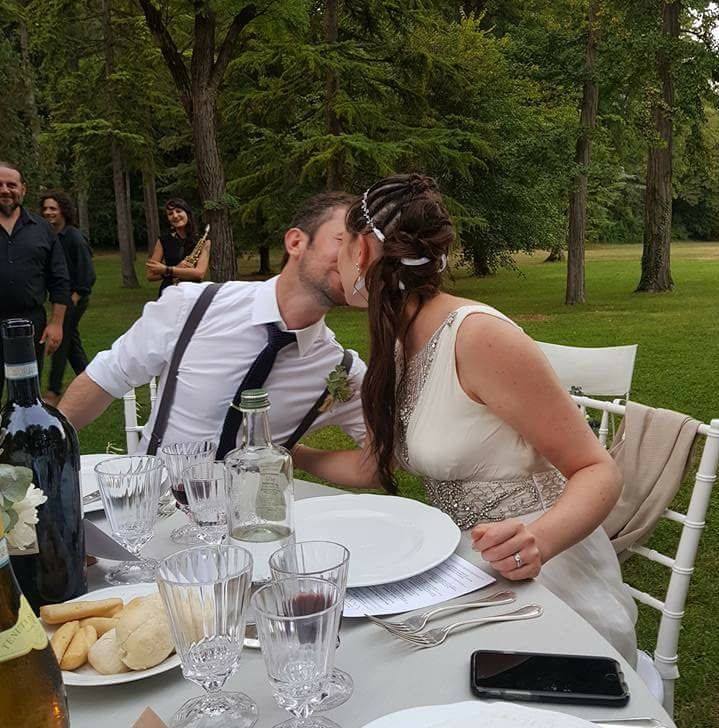 Italian wedding food
So, what about the food. Yes the food!! Other than actually getting married, the food was one of the most important parts for Ben and I. We love Italy and we love Italian food even more. So our Italian wedding day just had to erupt with the most amazing representation of all kinds of Italian foods imaginable. The canapés (and I say canapés but it was more like a feast fit for the 5000) were a stunning array of cheeses, meats, stews, flat breads, and so many more delicious things, which I would care to remember in more detail had I been allowed the appetite of my normal self. As it were, the emotions of the day were clearly too much for my startled stomach. However, just to look and see our guests enjoy each new found foodie delight was more than enough.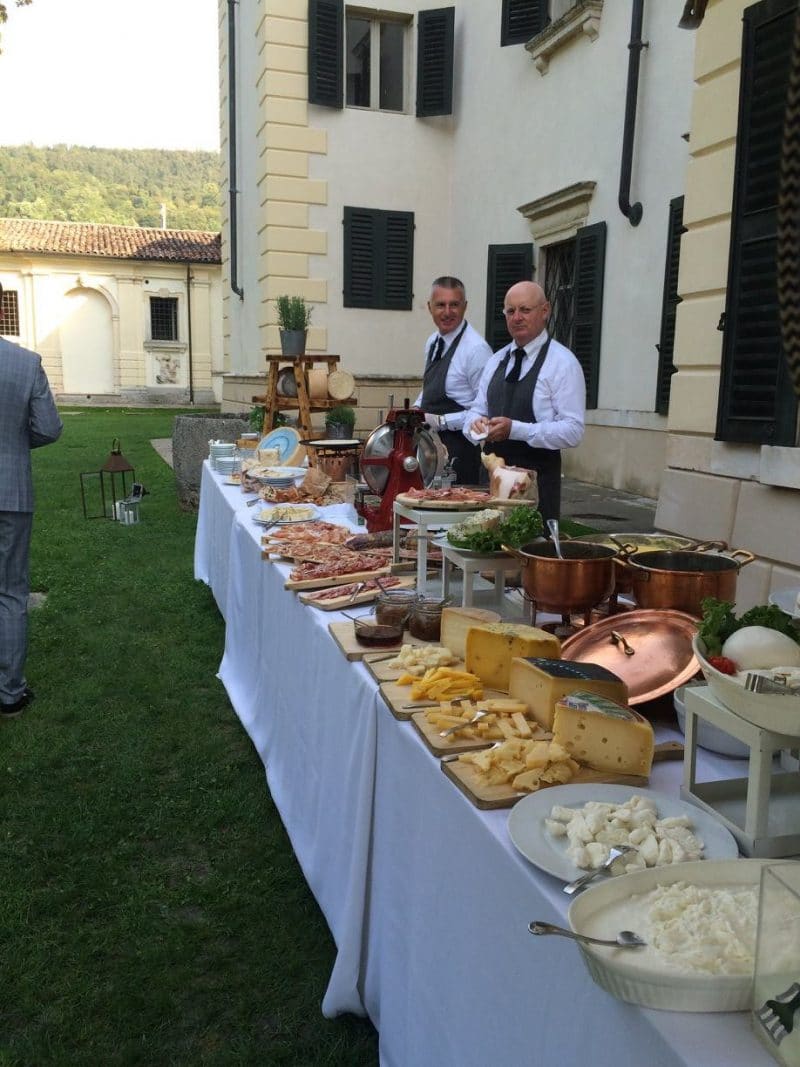 The sit down meal had been carefully selected by myself and Ben a few months earlier. We stuck to the traditional Italian meal structure of pasta course, risotto course, main course and dessert. Basically it was not really the time to be in a restrictive dress or to be feeling too excited to eat. . .
With the right posture and a steady pace I was able to do my usual trick and clear every last morsel.
This was one meal that I was not going to waste.
Amarone risotto
And now, back home in rainy Glossop, the distant sounds of the mandolin, the fading yellow light from the August sun, and the aroma of risotto rice gently stewing in a rich Amarone red wine are all I can think about. So, lets not waste any more time and lets get down to business: my version of the amazing, primo piatto (first course) Amarone Risotto dish that stole my stomach (my heart was already taken) on our Italian wedding day.
How to make Amarone Risotto
Amarone, the most highly regarded wine of the Valpolicella area in Northern Italy. Followed closely by the Valpolicella Ripasso and Valpollicella classico, the deep, sweet flavours of this type of wine, had us both at Hello. Not that we have a great knowledge of wines, but we have been lucky enough to participate in a few Italian wine tastings over the last few years. So we have a reasonable idea of what we do and don't like. (More on wine tasting to follow in another post shortly!)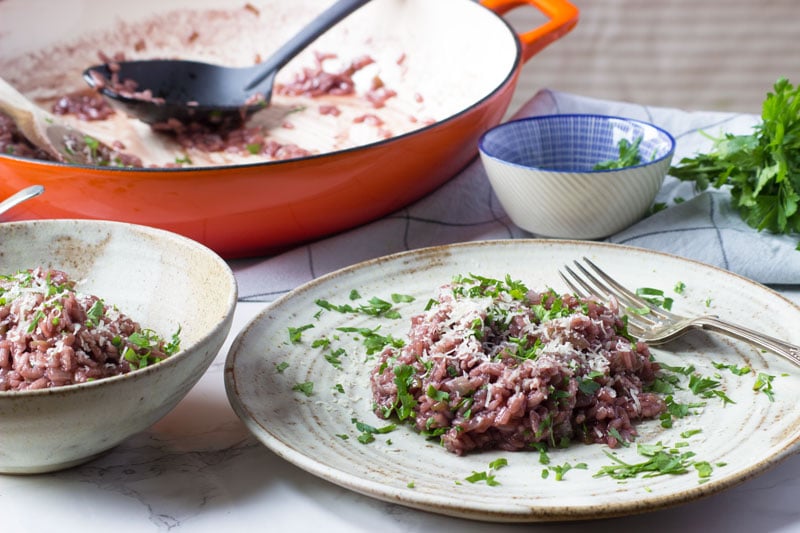 In Italy the pairing of wine with food is essential, this is most clearly demonstrated in this wonderful dish where the wine is the main ingredient and star of the show. Using good quality wine in recipes is one of the most important things I have ever learnt about cooking. Scraping together a few extra pennies for the Amarone wine in this particular recipe is totally worth it. However, if the Amarone is a little out of your price range, the Ripasso or even Classico are considered excellent alternatives.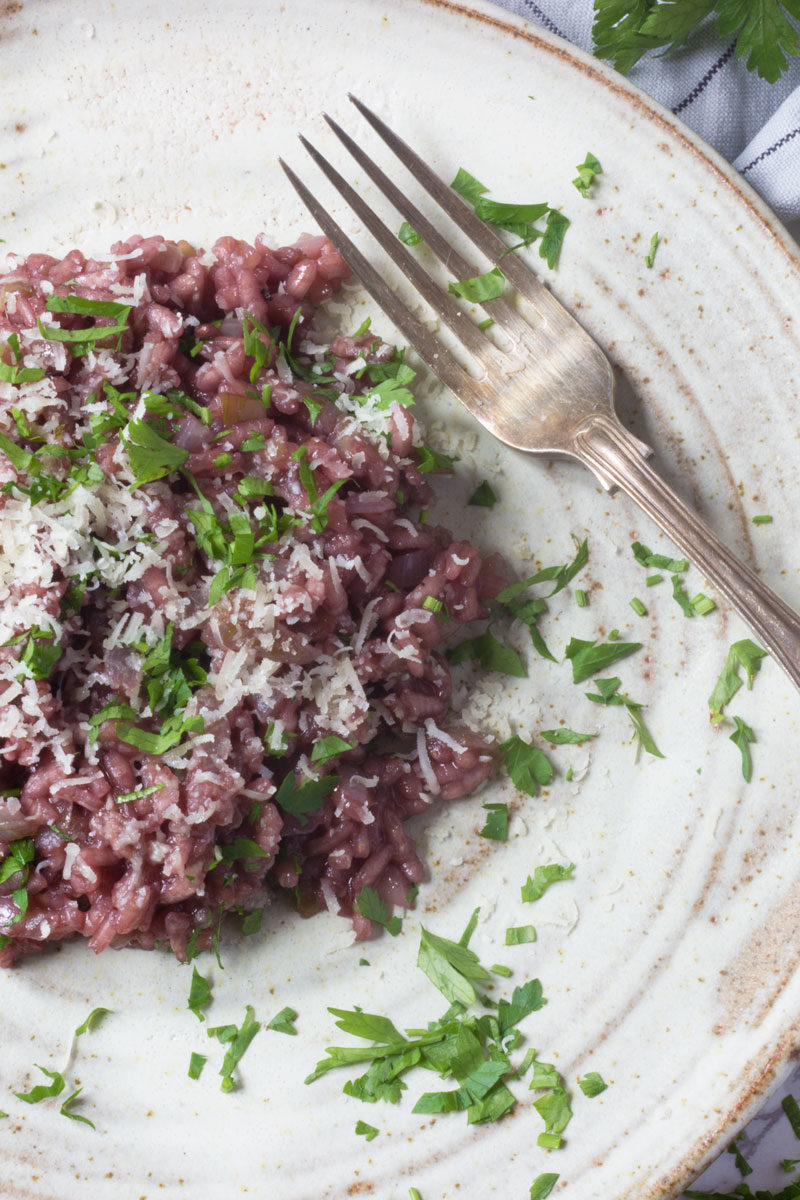 Amarone risotto ingredients
This stunning and moreish plate of sweet Amarone risotto can be recreated with just a few basic ingredients. With a little patience and time taken over the addition of the wine and stock, a beautiful mound of food can be created. A mound of food that will no doubt be appearing regularly at our table from now on.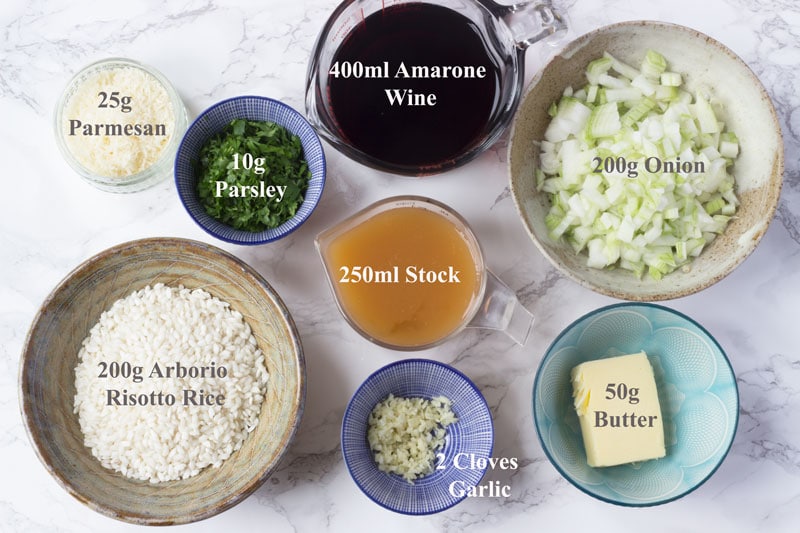 Cooking the perfect risotto
Risotto is one of the first dishes I ever made as a young kitchen explorer. My first attempts were always very appealing to me, although probably slightly sloppy and overcooked. But over the years I have observed and practised the best techniques for cooking this delicious grain, and I'm always striving to spoon out the best silky, smooth, al dente risotto dish as is possible.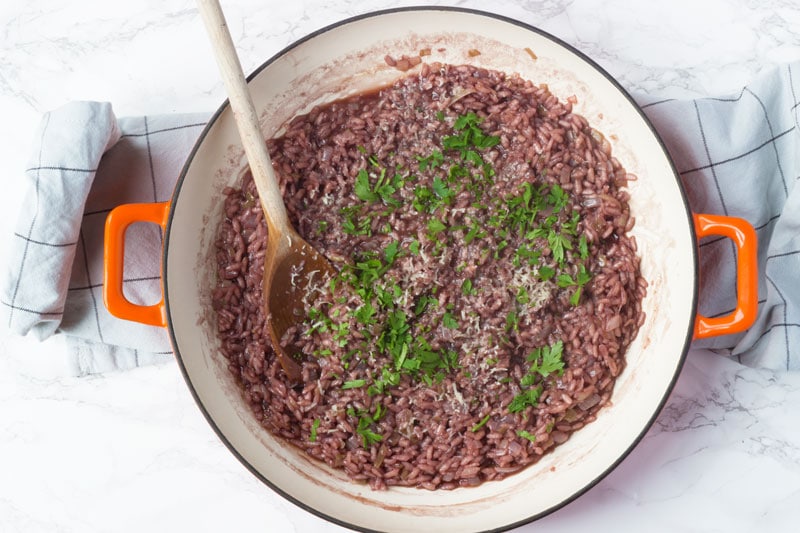 So first things first: BUTTER. Yes butter. No risotto is complete with out the rich starting point of a good helping of melted butter. The butter is also used to "awaken the rice". Coating the uncooked grains with the warmed butter helps to soften the grain and allow it to soak up liquids more easily. And the aim of this recipe: get the wine into the rice!!
I used both stock and wine (more of the latter) as the liquid ingredients for this recipe. Adding the liquid a bit at a time and allowing the rice to absorb each addition before adding the next. Generally this is considered the best technique for producing perfectly cooked risotto rice. A quick simmer with the lid on, after the final addition, will ensure that the grains are cooked to just the right point and that they are sitting snugly in a rich, thick wine sauce.
Bellissimo!
Our wedding planner
Before I leave you to consider this luscious Amarone risotto for your next meal, I must mention and thank our wonderful Italian wedding planner: Marion Hunter. If you are yet to walk down the aisle and if you ever find yourself considering a wedding in Northern Italy I would highly recommend you check out Marion's services. We will never ever forget our magical day and will be forever grateful to Marion for her dedication and commitment to our wishes and dreams. Thank you Marion!
Find out more about Marion and her company 'Dream Academy' here: Dream Academy
Wedding venue: Villa Mosconi Bertani, Verona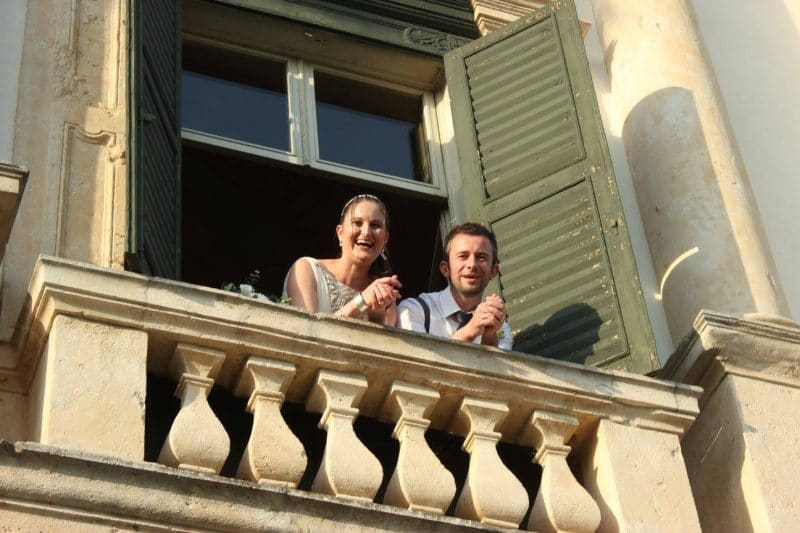 Find out what we got up to on our Italian Honeymoon at Torciano Winery, in San Gimignano and in Bologna.
Other risotto recipes you might like to try: Haddock and rosemary risotto, Mushroom risotto, leftover turkey risotto.
📖 Recipe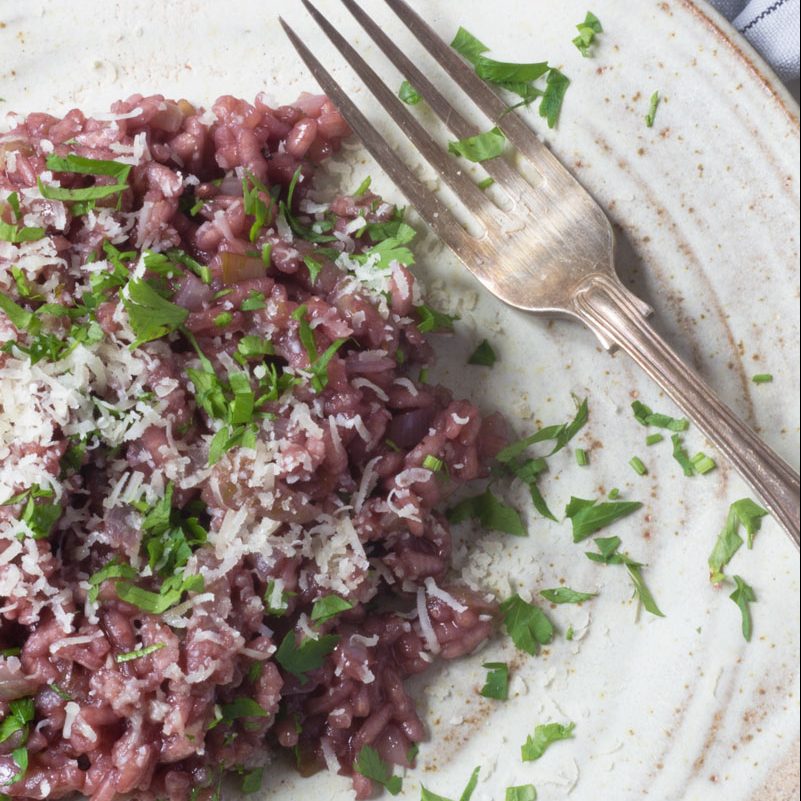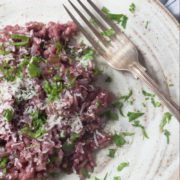 Amarone Risotto
Little pearly grains of soft risotto rice gently stewed in butter and Amarone red wine, topped with freshly grated parmesan and chopped parsley
Ingredients
1

large Onion

200g finely chopped

2

cloves

Garlic finely chopped

50

g

Butter

250

ml

of veg stock

or beef stock if not sticking to a veggie recipe

400

ml

of Valpolicella Amarone red wine

Can be replaced with Ripasso or Valpolicella Classico

200

g

Arborio risotto rice

25

g

freshly grated parmesan

10

g

fresh parsley roughly chopped
Instructions
Place a large shallow pan on a medium heat and add the butter. Once the butter has melted add the chopped onion and garlic then gently fry for a couple of minutes. As the onions begin to sweat down add the rice and mix well to allow each grain to be coated with the butter. Coating the uncooked grains with the warmed butter helps to soften the grain and allow it to soak up liquids more easily. And the aim of this recipe: get the wine into the rice!!

Next, with the pan still on a medium heat, add around ⅕ of the stock and ⅕ of the wine. stir and allow to simmer for a few minutes.

The liquid will quickly be absorbed by the rice, at this point add another helping (⅕) of stock and wine. Continue until all the liquid has been added, ensuring each addition is absorbed before the next is added.This usually takes around 20 minutes. After pouring in the last addition, place a lid on the pan and simmer for 5 minutes.

Taste your risotto and check the rice is cooked before mixing in half of the parmesan. Then taste and season if necessary.

Finally serve the risotto and top with the remaining parmesan and the parsley.
Video
Nutrition
Serving:
572
g
|
Calories:
785
kcal
|
Carbohydrates:
94.6
g
|
Protein:
13.4
g
|
Fat:
26
g
|
Saturated Fat:
15.6
g
|
Polyunsaturated Fat:
1.3
g
|
Monounsaturated Fat:
6.4
g
|
Fiber:
3.6
g