Golden saffron rice, aniseedy tarragon and shredded leftover turkey, combined with white wine and stock to create this sunny winter dish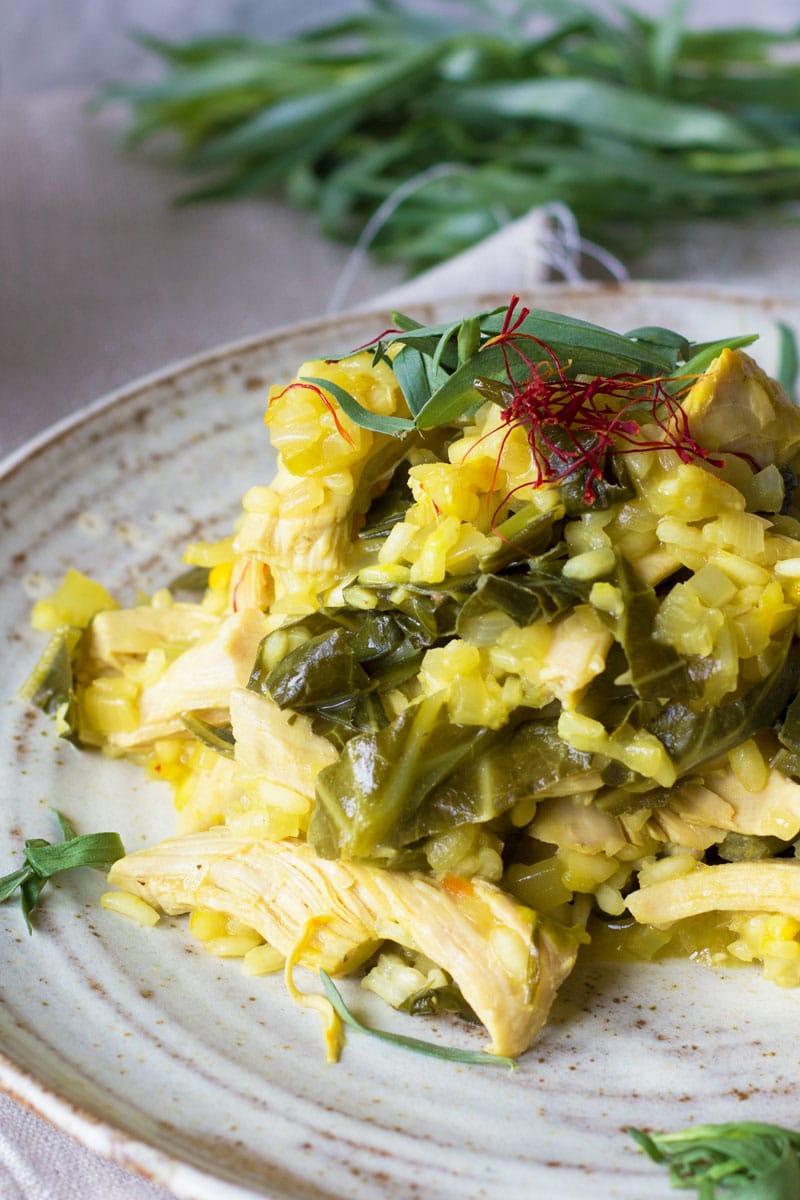 Leftover Turkey
Hands up who loves leftover turkey in-between Christmas Day and the New Year!!??
Me!! For Sure!! Loaded on a white bread roll with plenty of butter, a good spoonful of stuffing and maybe a dollop of my homemade cranberry sauce - if theres any left!! However, theres only so many turkey sandwiches one can consume over Christmas - although thats still probably quite a fair amount.
Anyway - I think its a fabulous thing if theres enough turkey leftover to create a completely brand new dish. Previous years, my favourite has always been Mulligatawny (swap the chicken for turkey in the recipe linked here). But this year Ive been testing out a new dish. Turkey Sunshine risotto!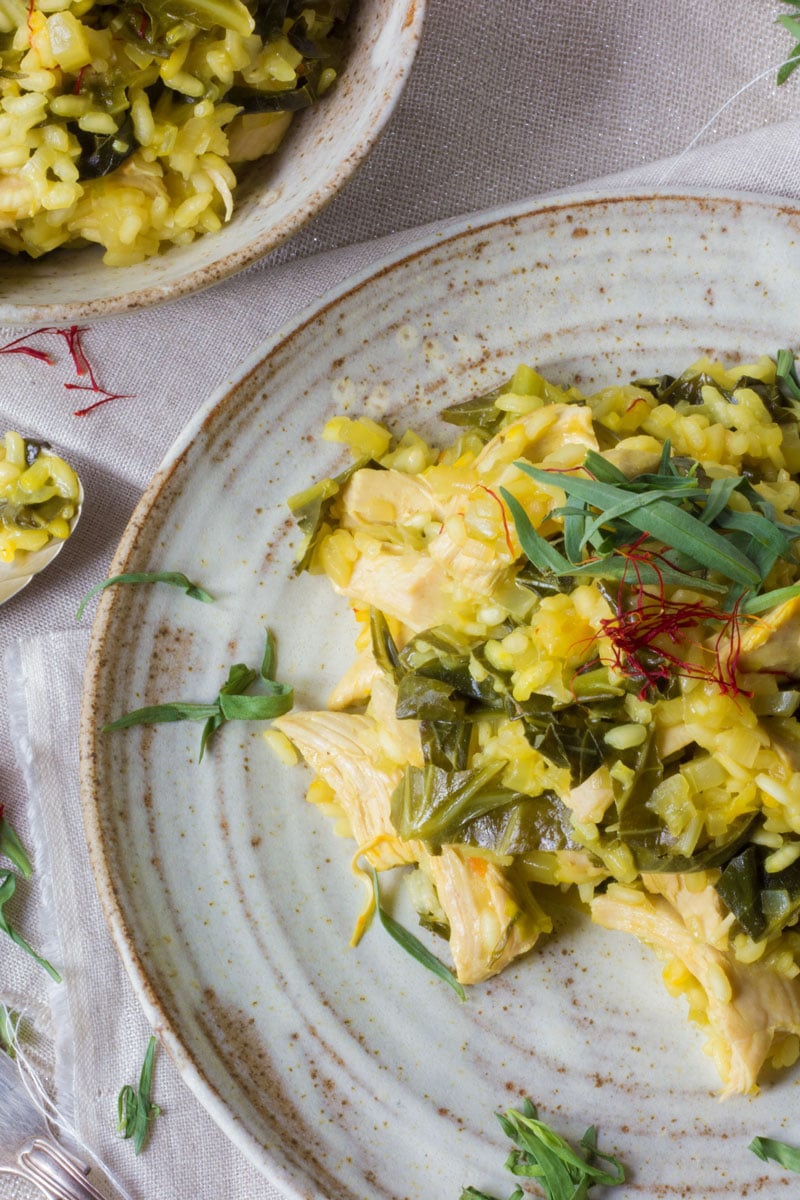 And I do think this could be just the thing to make me smile after all the festivities are over and everything starts to go back to normal.
Saffron
So of course the magical ingredient in this recipe is that oh so bright and oh so precious saffron. What an amazing little addition saffron can be. To be honest I do very little cooking with saffron, and I probably wouldn't have thought to do this recipe, had I not come across a little saffron stall when we were on our honeymoon in Italy.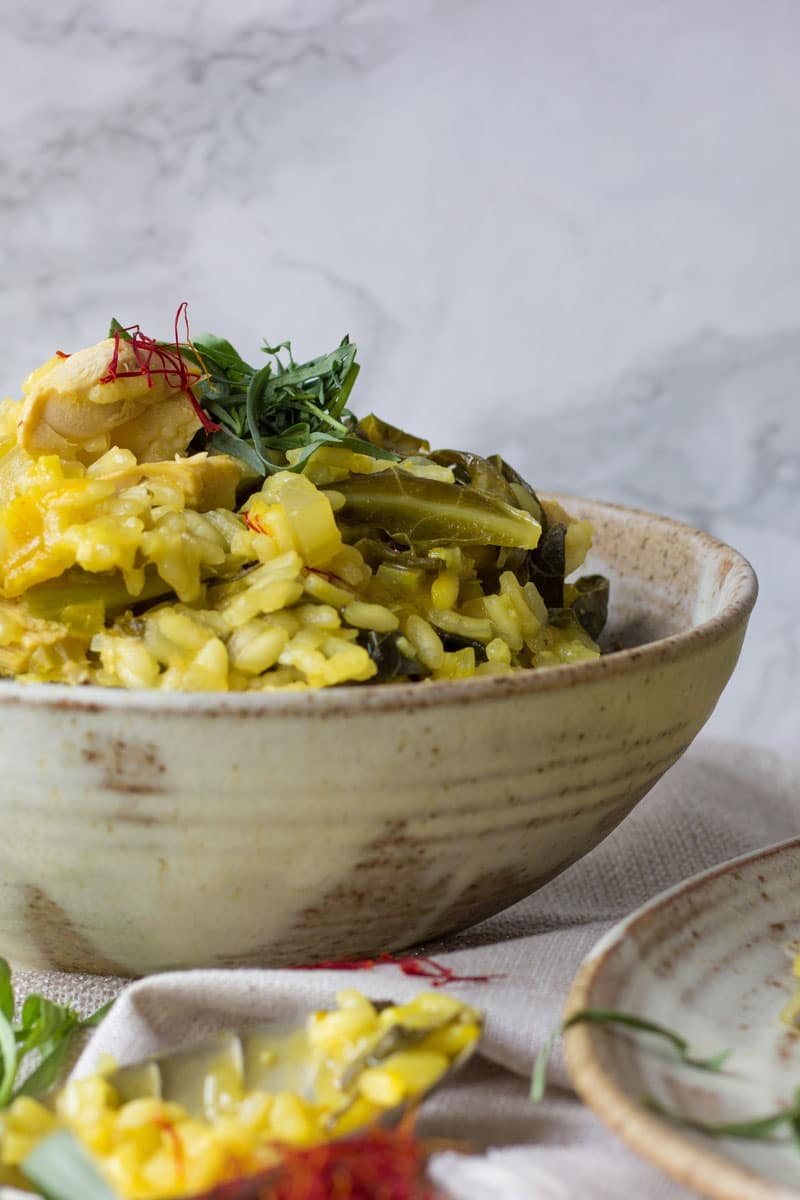 I've been storing away my Italian saffron in the cupboard ever since we returned home in September, just waiting for the perfect opportunity to use it in a ideal recipe. After all I don't want to be too frivolous with such a highly valued and hard worked for spice. Is spice the right word? . . .
Googled it (obviously)! and apparently I can refer to it as a spice. As quoted by wikipedia: 'Saffron (pronounced /ˈsæfrən/ or /ˈsæfrɒn/) is a spice derived from the flower of Crocus sativus, commonly known as the "saffron crocus".'
So there we go.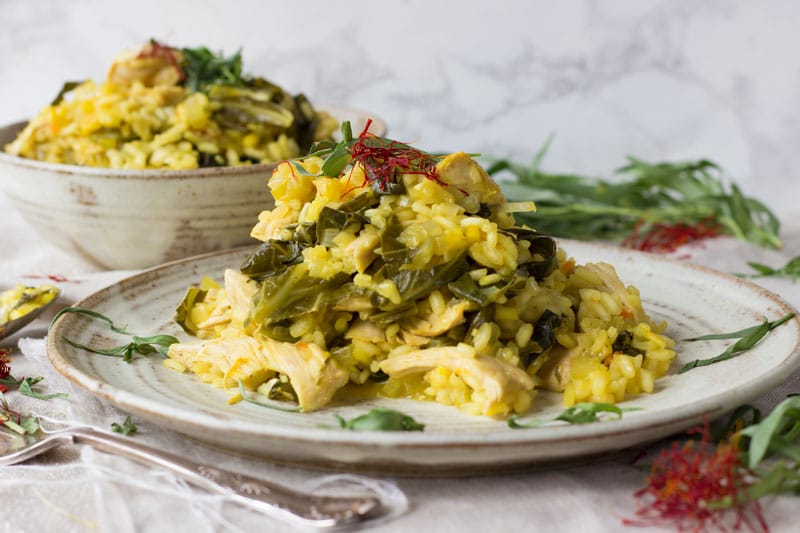 Anyway . . . A lovely Christmas leftovers dish, when the nights are at their longest, seems like the perfect time to get out this sunny spice and bring a bit of colour back into our lives.
My only tip for cooking with saffron is to soak it first - usually in a liquid that will also be added to the recipe. This helps to really bring out the yellow when cooking. In this instance I soaked my saffron in white wine for a few minutes before adding to the pan.
As this is a recipe to make over the Christmas period its important that its quick and simple. So to save time and energy this recipe adds all the stock in one go and then cooks the risotto by baking in the oven for 20 minutes. No tedious additions of liquid and constant stirring. Pop the lid on and let the oven do all the hard work.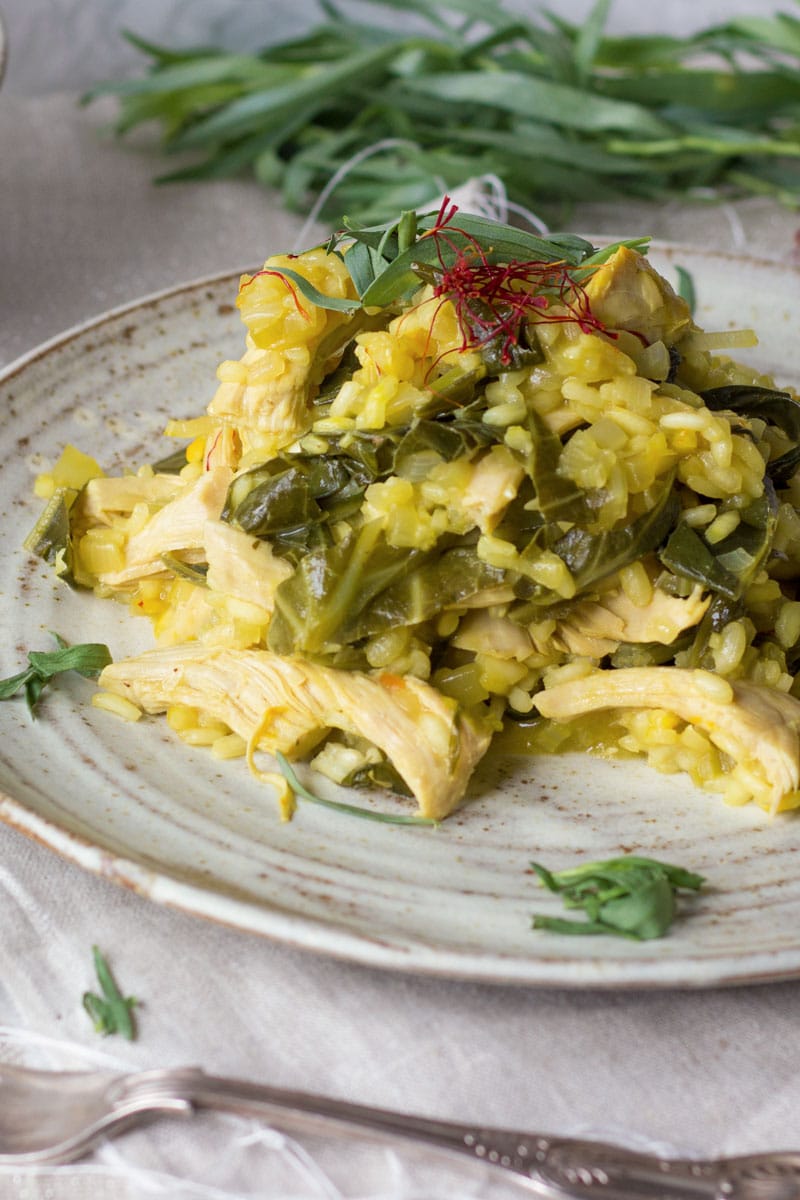 So if you reckon you'll have some leftover turkey this year and you fancy a sunny kinda dish, be sure to give this a go 🙂
Other risotto recipes you might like to try: Haddock and rosemary risotto, Mushroom risotto, Amarone risotto.
📖 Recipe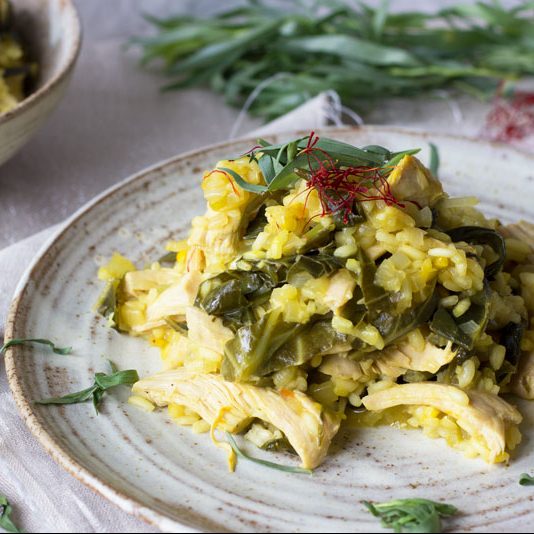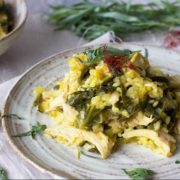 Leftover Turkey Sunshine Risotto
Golden saffron rice, aniseedy tarragon and shredded leftover turkey, combined with white wine and stock to create this sunny winter dish
Ingredients
Pinch

of Saffron

200

ml

White wine

10

g

Butter

100

g

Shallots finely chopped

1

Garlic clove finely chopped

125

g

Celery finely chopped

80

g

Kale roughly chopped

175

g

Risotto rice

1

teaspoon

Dijon mustard

280

g

leftover Turkey

400

ml

Stock

Handful

5g fresh Tarragon leaves
To serve:
Top with extra tarragon leaves and a few extra strands of saffron
Instructions
Preheat oven to 180 degrees Fan.

First prepare the saffron by adding it to the 200ml of white wine and leaving to soak for a few minutes.

In a large ovenproof dish, add the butter and melt on a medium heat. Next add the shallots, garlic and celery then fry gently for 2-3 minutes or until soft.

Next add the kale and continue to cook until it begins to wilt slightly.

Add the rice and mix well before pouring in the wine and saffron.

Simmer on a medium heat until the wine is completely soaked up by the rice and then add the mustard, leftover turkey and the stock.

Mix well, pop on the lid and bake in the oven for 20 minutes.

After 20 minutes remove from the oven and taste to check the rice is cooked through. If its still a little hard top up with a little water and return to the oven for a further 5 minutes.

When fully cooked through, stir in a handful of fresh tarragon leaves and serve.

Top with extra tarragon and a few extra strands of saffron if desired
Video
Nutrition
Serving:
690
g
|
Calories:
627
kcal
|
Carbohydrates:
82.9
g
|
Protein:
47
g
|
Fat:
7.1
g
|
Saturated Fat:
3.4
g
|
Polyunsaturated Fat:
1
g
|
Monounsaturated Fat:
1.8
g
|
Fiber:
3.5
g
PIN FOR LATER

I am linking this recipe to #cookblogshare hosted by hijackedbytwins, recipesmadeeasy, everydayhealthyrecipes and Easypeasyfoodie. I am also linking to #brilliantblogposts by honestmum, #recipeoftheweek hosted by amummytoo, #whatsfordinner? hosted by TheLazyGastronome, and #CookOnceEatTwice hosted by seachingforspice,