ADVERTISEMENT FEATURE FOR SARSONS - Chunky haddock fillets coated in panko breadcrumbs and baked until crisp. Served with hand-cut and baked chips, smashed minted garden peas and a good few splashes of Sarsons vinegar.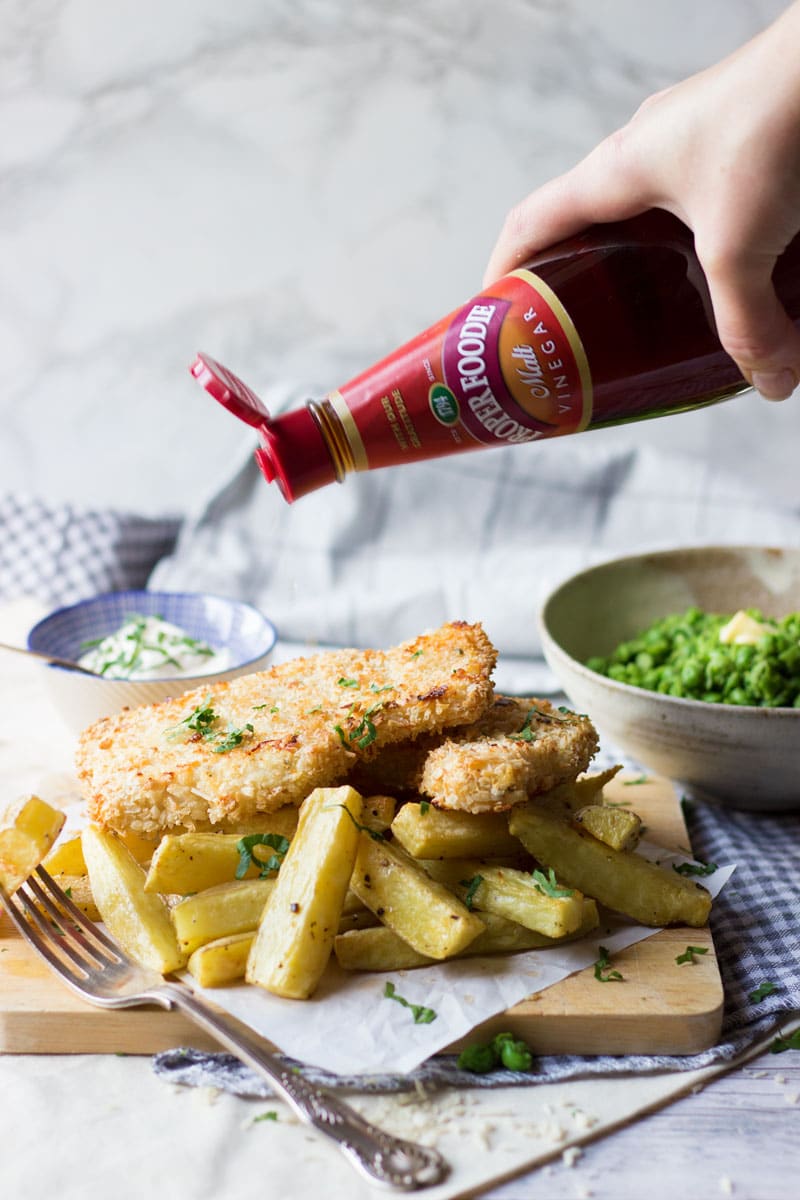 Fish and Chips
Fish and Chips, Britains staple meal. The dish that defines our coastline and makes the food fight against seagulls very, very real (I have firsthand experience of this). Its a dish that can satisfy the greediest of mouths and one that will put a smile on your face when remembering sunny days sat on a bench, breathing in the sea air and feeling the slight chill of our relentless coastal winds. But, not all fish and chips need to be eaten at the seaside and it doesn't always need to dipped in batter and deep fried.
Healthy baked fish and chips
Homemade fish and chips might actually surprise you. It certainly surprised me and definitely surprised ben. Fresh fillet of haddock, coated in crunchy panko breadcrumbs and baked for half an hour is definitely worth the effort. Add in some hand cut and baked chips with a light coating of oil, and just like that - homemade, HEALTHY and super tasty fish and chips.
For more healthy fish recipe ideas have a look at salmon and prawn linguine, Chinese prawns recipe, homemade sushi rolls, fish biryani, tuna steak recipe, honey glazed prawns, Asian salmon, frozen salmon and potato traybake, haddock risotto and smoked salmon and mackerel fishcakes.
And the icing on the cake? A few splashes of Sarsons of course.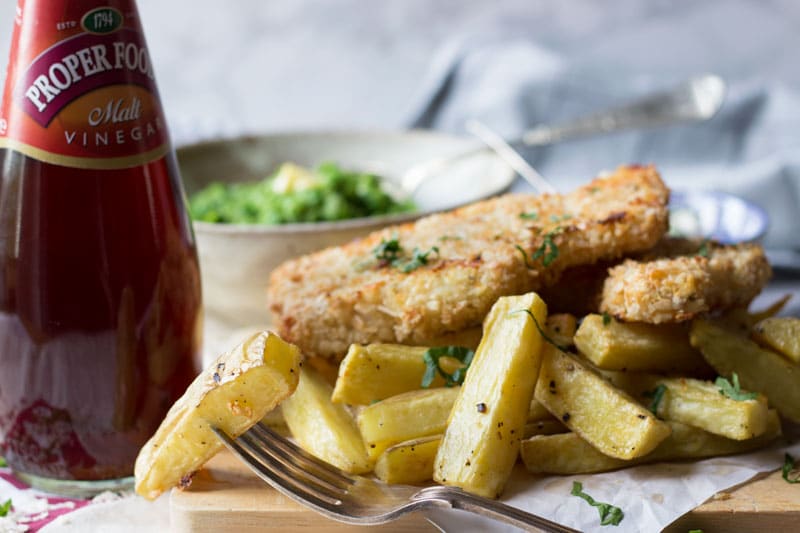 Sarsons
Sarsons has always been a must in our house when eating chips. A bit of salad or some roasted Mediterranean veggies - then its got to be balsamic. But if its chips, then its always Sarsons.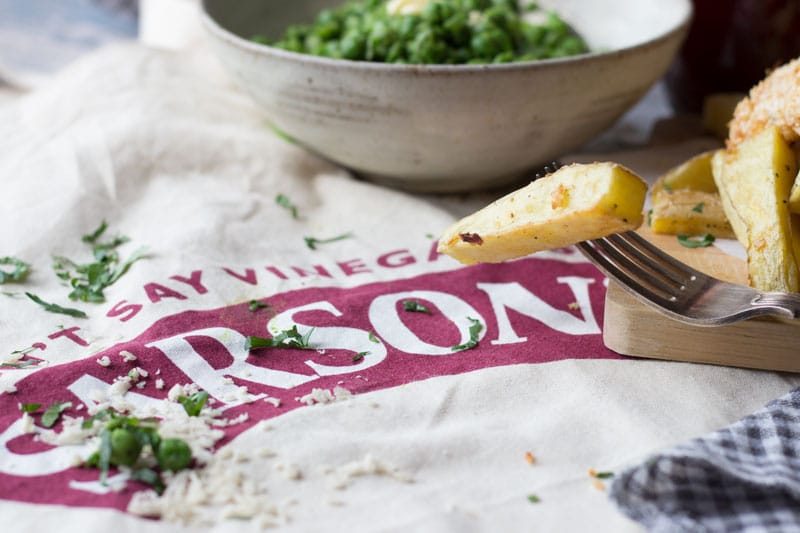 Have you ever stopped to think about your vinegar, and which type you buy, and if one brand is better than another? Other than automatically picking up Sarsons every time I hadn't really thought about it. But last week I got to delve a little deeper into the history and making of Sarsons, when I was invited on a tour of their vinegar factory. Yep thats right - I went on a tour of a vinegar factory - clearly Ive not quite reached Charlie Bucket status just yet. So Vinegar it was.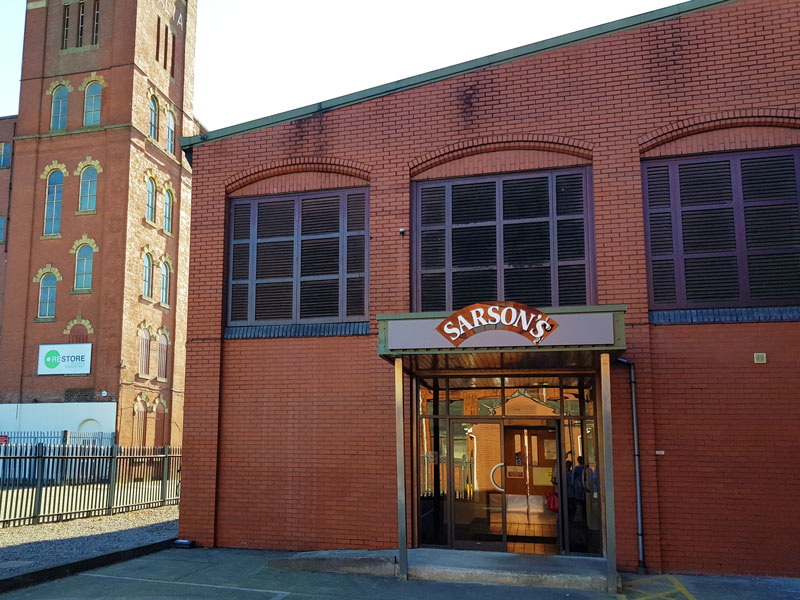 Did you know that Sarsons has been in production for over 200 years? Set up in 1794 by Thomas Sarson in London, its a family business that has been passed down the generations, maintaining its traditional methods and producing a distinctive, rich flavoured, and matured vinegar.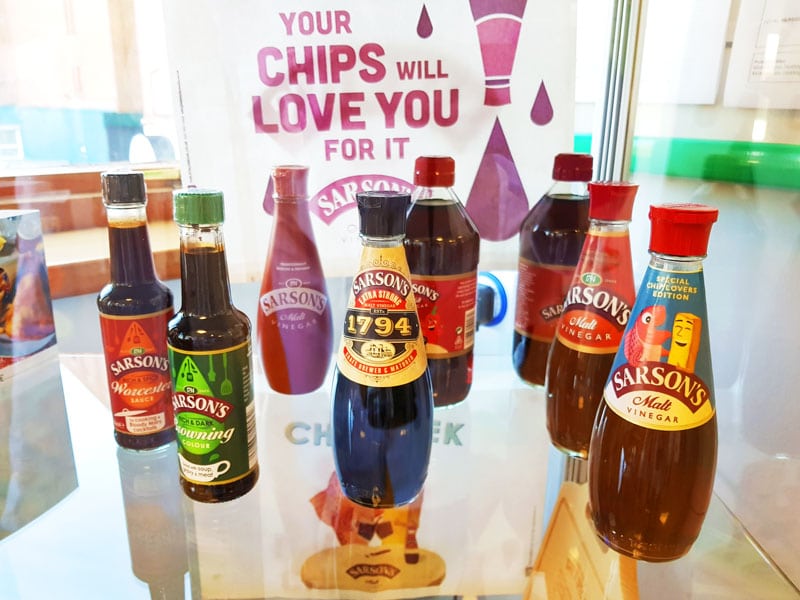 From the malted barley. . .
to that instantly recognisable tear-shaped bottle,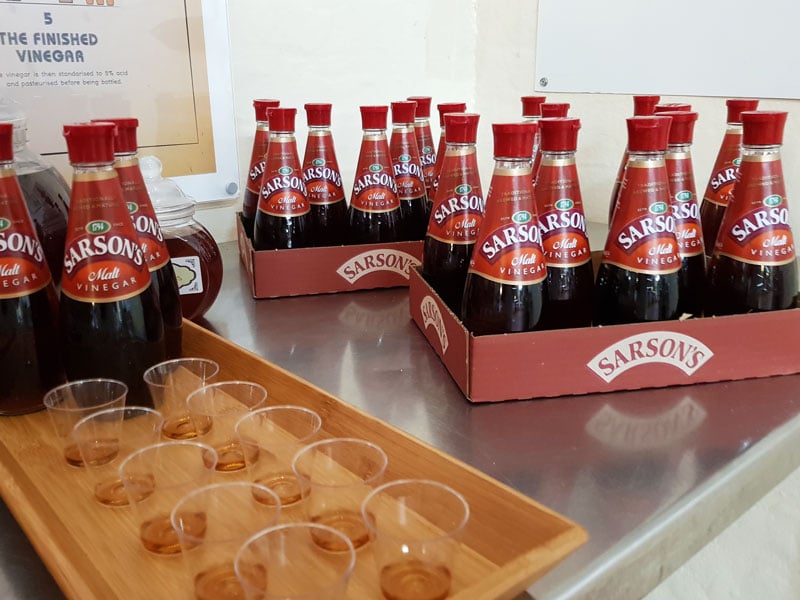 Sarsons production is a true craft, one which I didn't fully appreciate until I got to see it for myself.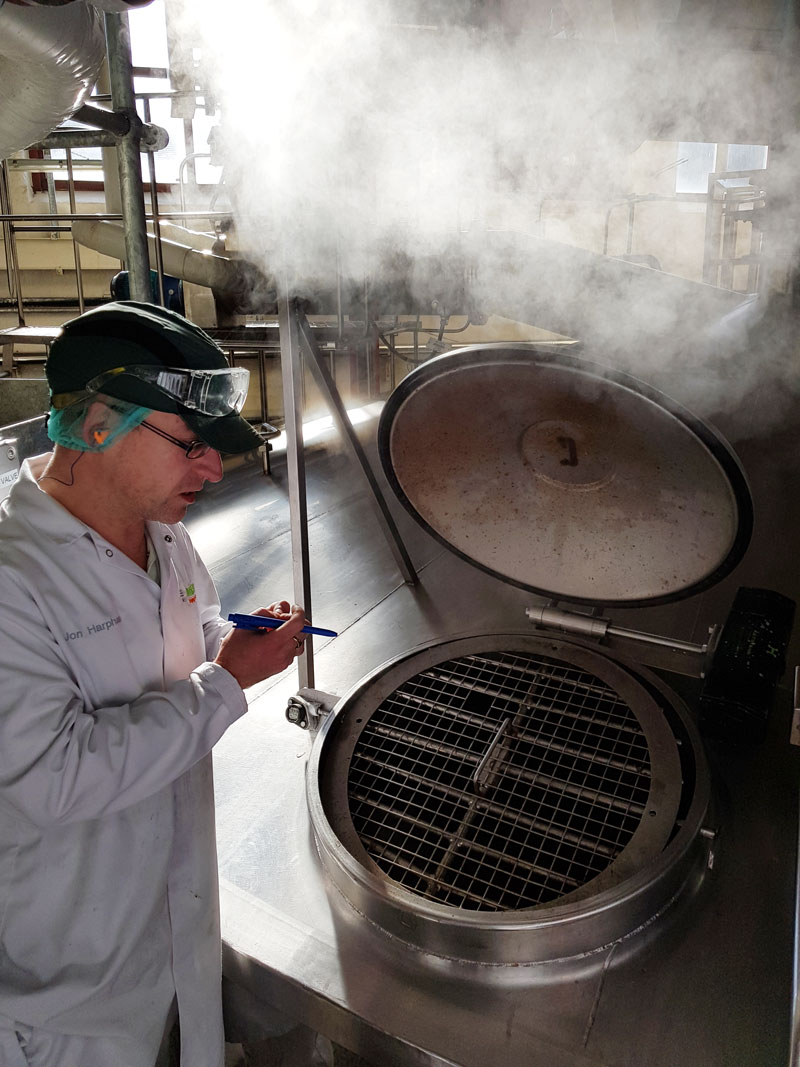 Interestingly, vinegar production is very similar to brewing beer. And a vinegar factory is actually referred to as a brewery. It was so nice to see the production in action and understand the care and attention-to-detail that was required to ensure a high quality, final product.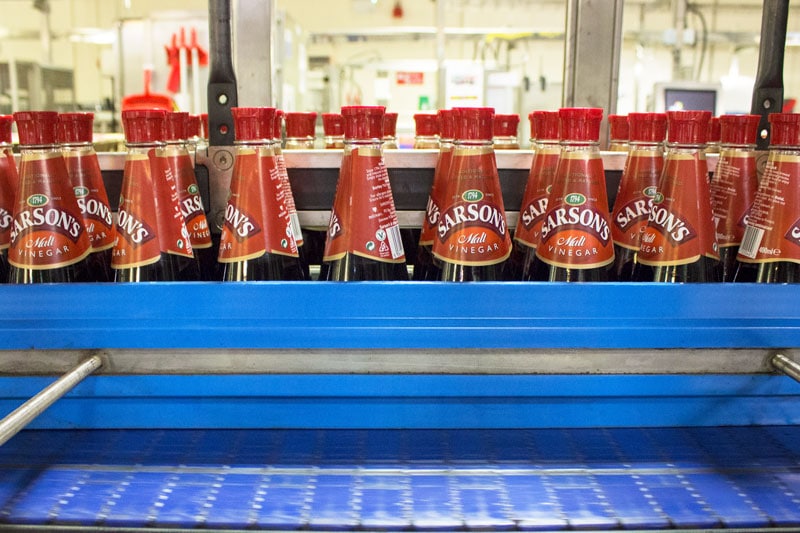 And the proof is most definitely in the pudding (or the Sarsons). Compared to another un-named standard malt vinegar, its immediately obvious that the Sarsons vinegar has a lighter tone and more delicate taste.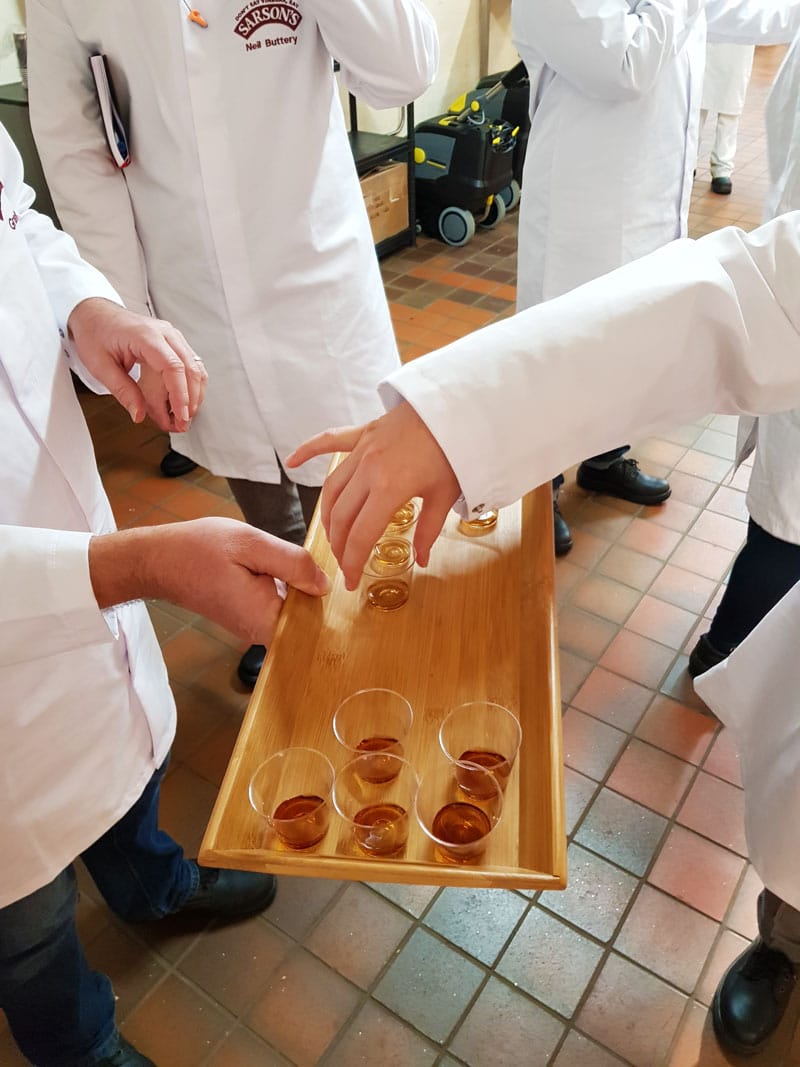 This is something that comes about when the cracked barley grains are fermented with larch wood and then matured for 7 days in huge Siberian Pine barrels (a process unique to Sarsons). The barrels are over 100 years old and this really demonstrates the heritage and craftsmanship that forms the foundations of this traditional, family-run business.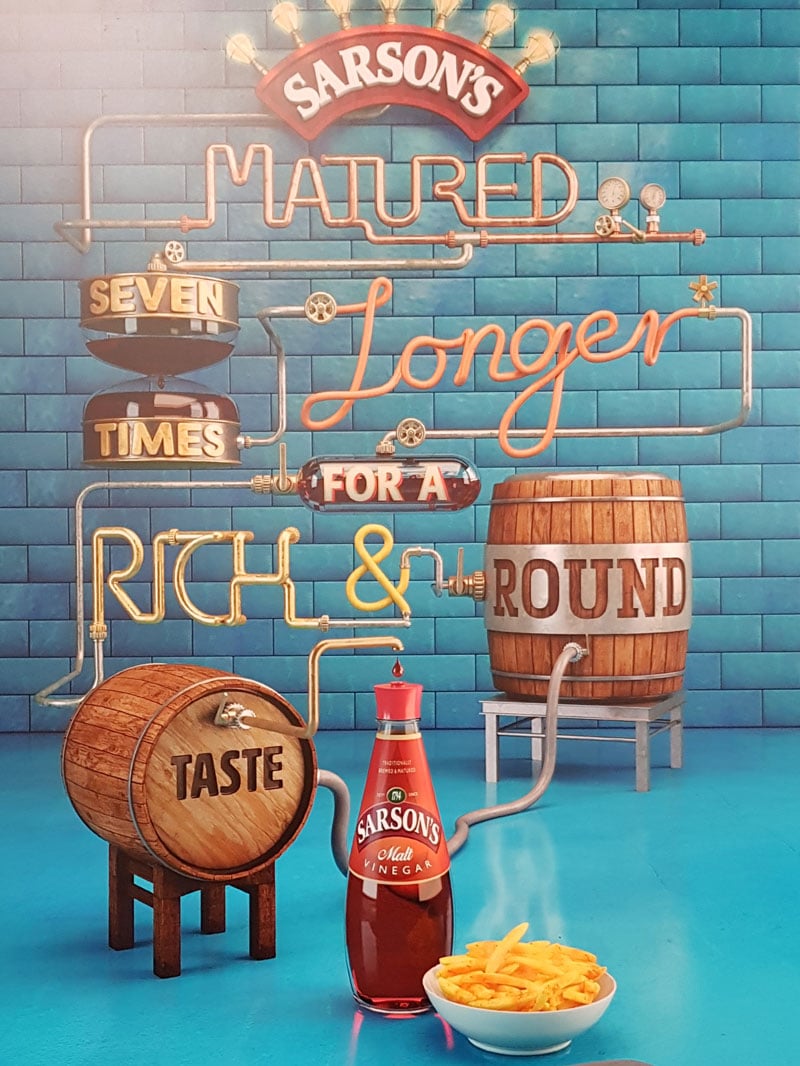 So, despite my previous mis-conception that a bit of Sarsons is predominantly just for my chips (because - well you know - its not the same as a balsamic or a cider vinegar) I'm now reconsidering my use of this amazing craft vinegar. Pickling? Mint sauce? Piccalilly? Could I even start to put this on my salad?  - I'm sure there are many ways to use this great product. A bottle with properfoodie printed on the label certainly helps as well 🙂
So whats for tea tonight? Fancy fish Friday?? Then definitely give this a go and don't forget your Sarsons 🙂 For more dinner ideas have a look at my dinner ideas or two collection.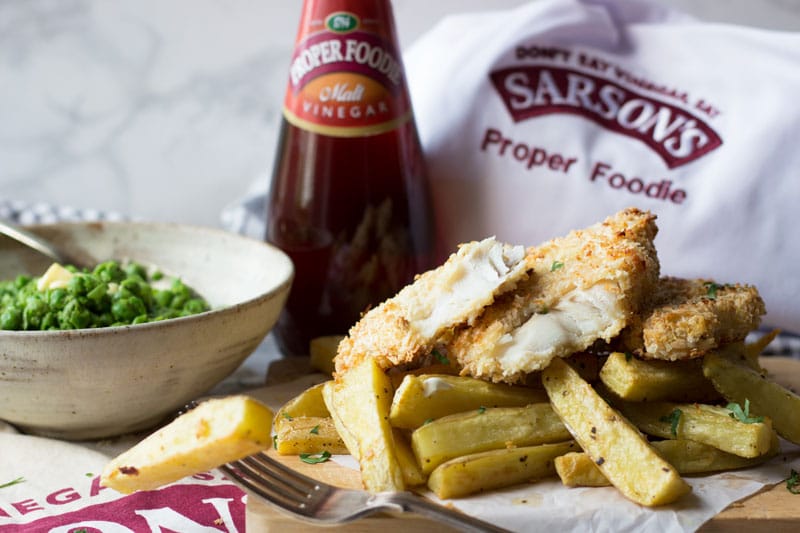 Thank you to Sarson for inviting me to explore their factory for the day. For more information on Sarson, as well as the Sarsons heritage and its production, visit their website here.
All thoughts and opinions in this post are my own.
Healthy Fish and Chips and a Trip to Sarsons
Chunky haddock fillets coated in panko breadcrumbs and baked until crisp. Served with hand-cut and baked chips, smashed minted garden peas and a good few splashes of Sarsons vinegar.
Ingredients
For the fish
40

g

plain flour

Salt and pepper

1

large egg whisked

50

g

panko breadcrumbs

2

haddock fillets

280g
For the chips
500

g

potato skins on and cut into chip shapes

1

tbsp

olive oil

Salt and pepper
For the smashed minted peas
200

g

frozen garden peas

1

tsp

dried mint

Sarsons and half fat crème fraiche to serve
Instructions
Pre heat the oven to 200 degrees C
Preparing the fish
Line up 3 medium shallow bowls and a baking tray. Put the flour in one bowl, whisked egg in the second and panko breadcrumbs in the third. Season the flour with salt and pepper.

Take the first haddock fillet and place in the flour bowl, turn the fillet and fully coat in the flour. Transfer the fillet to the egg and coat and then finally transfer to the breadcrumbs and coat all over. Carefully place on the baking tray then repeat with the second fillet.
Preparing the chips
Leave the skins on the potatoes and slice into chip shapes. Place the chips into a bowl and toss in olive oil, salt and pepper. Transfer the chips to the tray next to the fish.
Cooking the fish, chips and peas
Place the tray with the fish and chips into the oven and cook for 30 minutes - turn half way through.

Place the frozen garden peas in a small pan, cover with water and simmer for 5 minutes. Drain the peas then add the mint and use a masher to 'smash'.

Serve the fish and chips on a board with peas and creme fraiche on the side, and of course, a splash of Sarsons.
Nutrition
Serving:
1
g
|
Calories:
625
kcal
|
Carbohydrates:
92
g
|
Protein:
43.5
g
|
Fat:
11
g
|
Saturated Fat:
2.2
g
|
Polyunsaturated Fat:
1.5
g
|
Monounsaturated Fat:
5.7
g
|
Fiber:
11.6
g
PIN FOR LATER
I am linking this recipe to #cookblogshare hosted by hijackedbytwins, recipesmadeeasy, everydayhealthyrecipes and Easypeasyfoodie. I am also linking to #brilliantblogposts by honestmum and #recipeoftheweek hosted by amummytoo.
I am also linking to #whatsfordinner? hosted by TheLazyGastronome, and #CookOnceEatTwice hosted by seachingforspice,