Salmon and mackerel fishcakes with creamy mashed potato and a crunchy layer of breadcrumbs, served with paprika chips and lemon mayo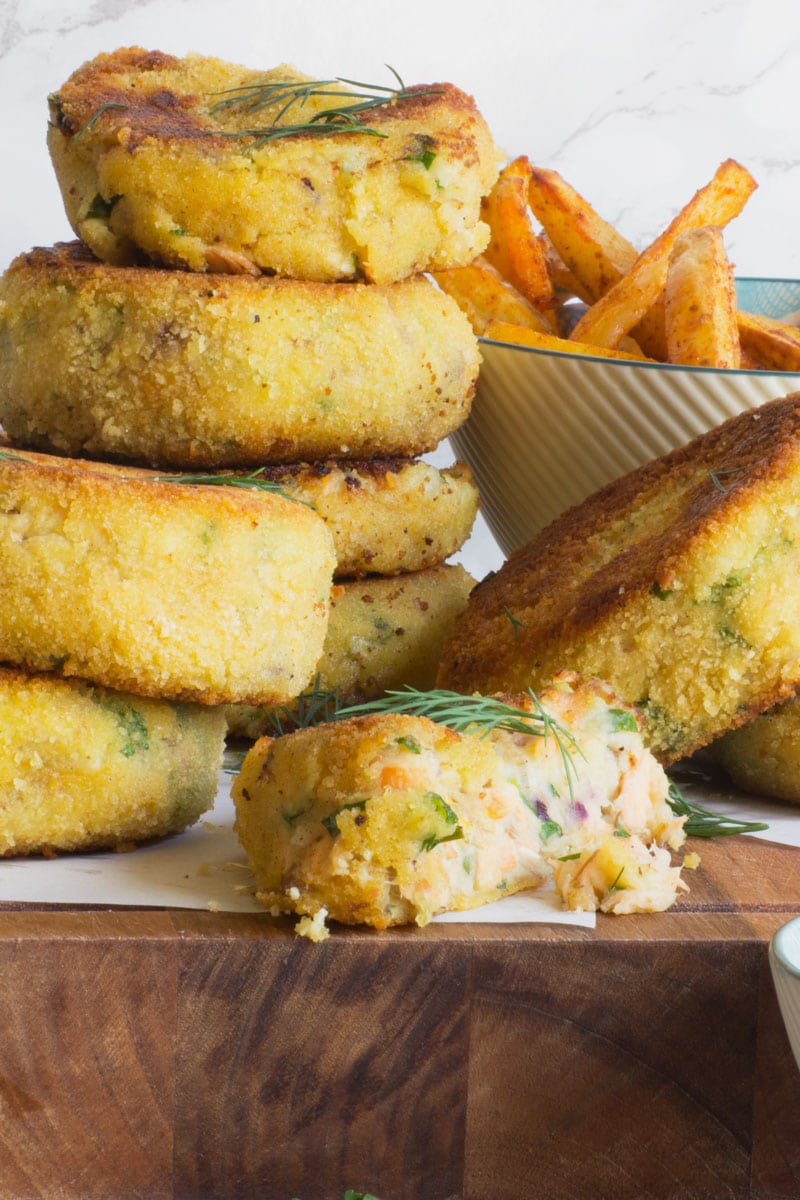 Its time to get out the frying pan and make room for some incredibly delicious salmon and mackerel fishcakes. Jam packed full of creamy mashed potatoes and chunky smoked fish, and delicately coated with a crispy layer of breadcrumbs, the only problem you'll have is knowing when to stop. I honestly sat and ate 4 of these in one go without even the slightest bit of hesitation or thought for my waistline. They are just too good.
Delicious Magazine
Although I did make these amazing fishcakes with my own fair hands I cannot take all the credit - this is an adapted recipe from last months Delicious Magazine. These fishcakes were sitting proud as punch on the front cover of Mays edition and I knew as soon as I saw them that I had to give them a try.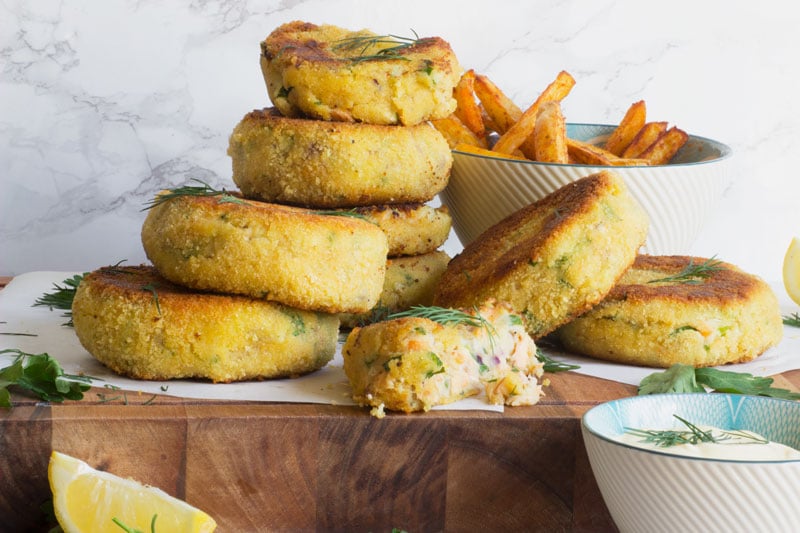 Fishcake meal prep
Not only did I find the fishcakes super easy to make but I was also able to make them up in advance and then leave them in the fridge until I was ready to cook and serve. Who doesn't love coming home to dinner already prepped and ready to go? They are also a great idea for a summer garden party: prep ahead, cook when needed, and handout as posh canapes. - definite winner.
Keeping an eye on the pennies
When I originally went shopping for these fishcake ingredients, my first hurdle came about when I saw the amount of hot smoked salmon required and then saw the price of said salmon. This is no cheap piece of fish and if you intend to make a few fishcakes for a few hungry mouths then hot smoked salmon alone may turn into a rather expensive affair. And so in order to keep a check of the purse strings I decided to halve the amount of salmon and make up the rest with the much cheaper (but no less tasty) smoked mackerel.
And I will make no apologies for this, as the outcome in both taste and texture was superb. My other change to this recipe was the addition of red spring onions as well as the standard white spring onions. Only because they were sitting right next to the standard spring onions and looked so lovely and plump and purple.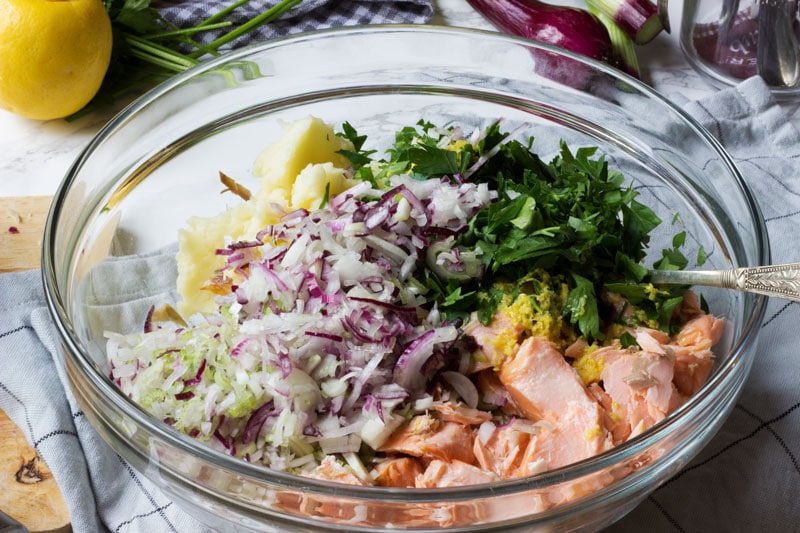 Making the fishcakes
So the preparation for this dish couldn't be simpler. Firstly I made up a batch of creamy mashed potato (I just love mashed potato - I could eat it all day long). Then I prepared the fish, onions, lemon and herbs before placing everything into one bowl and mixing well.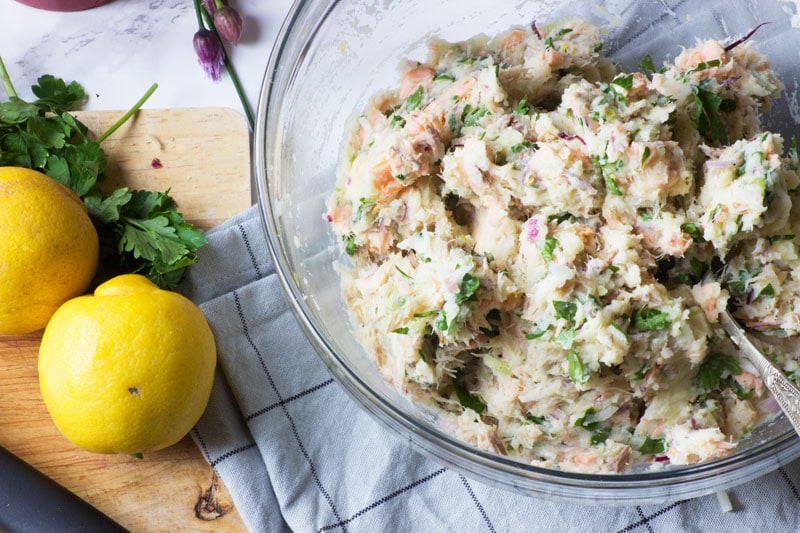 I divided the mixture into eight and then used my hands to make each eighth into a round ball. I placed all the balls onto a large board and then flattened and shaped into fishcakes.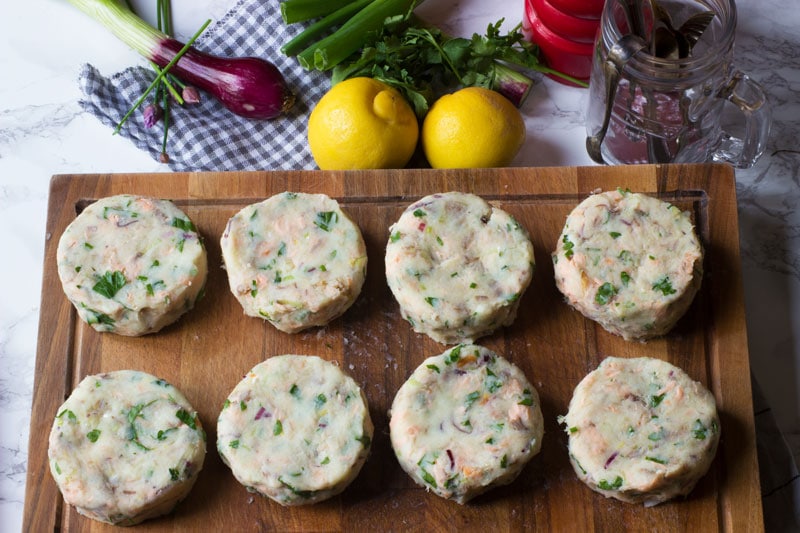 Next I coated each fishcake with flour, whisked egg and breadcrumbs.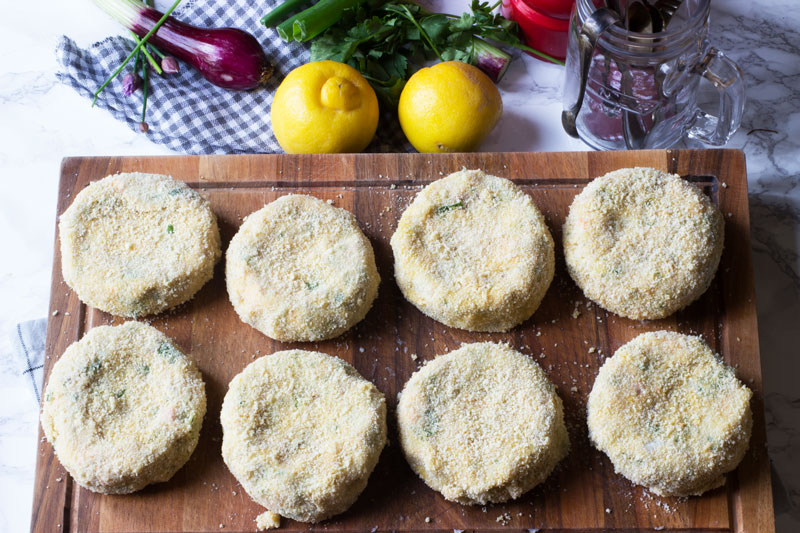 And finally the fishcakes were fried off in a frying pan and served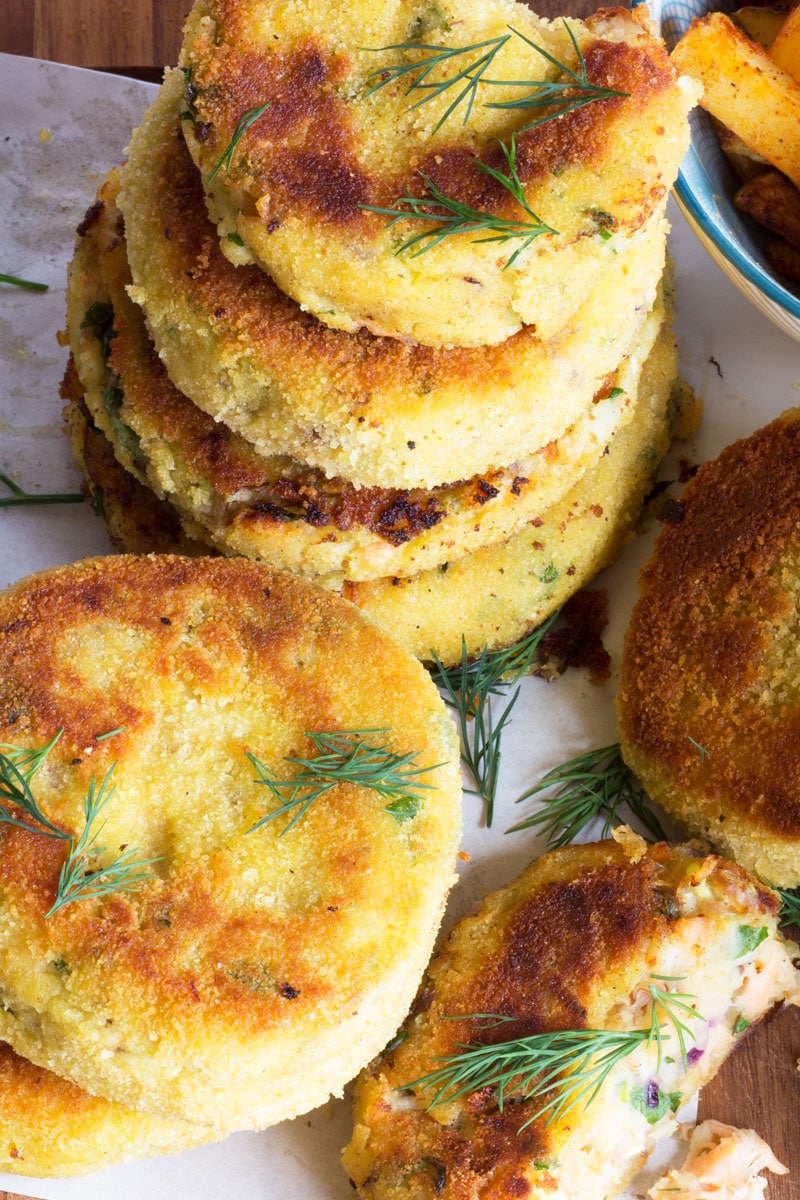 To complete the meal I also made the paprika chips and lemon mayo; recipes which were also provided by Mays edition of Delicious magazine.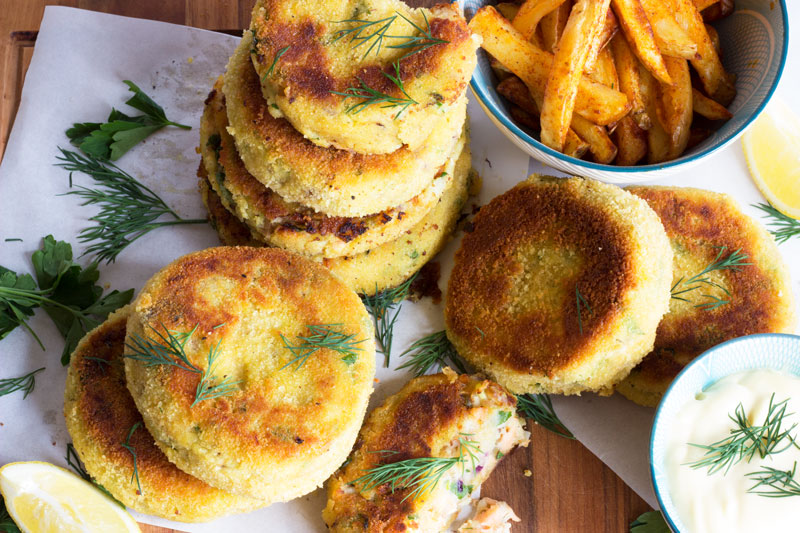 These fishcakes are so tasty and so easy to make and I'm sure they will be winner in any household and at any occasion.
For more potato cake recipe ideas check out my rosemary and pancetta sweet potato cakes
Other fish recipes
**Estimated nutritional information per serving and per 100g of fishcakes. If you want to find out more about how the information is calculated and the sources used, please refer to my Nutrition Information Guide.
📖 Recipe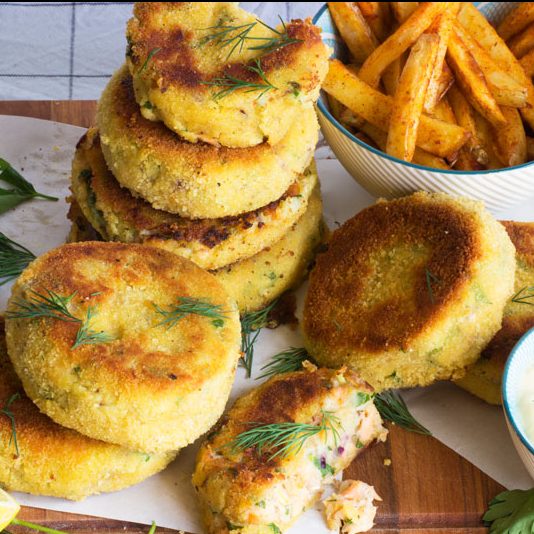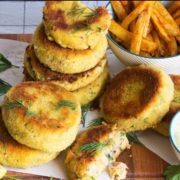 Smoked Salmon and Mackerel Fishcakes
Salmon and mackerel fishcakes with creamy mashed potato and a crunchy layer of breadcrumbs, served with paprika chips and lemon mayo
Ingredients
For the fishcakes:
500

g

maris piper potatoes

peeled and cut into chunks

30

g

butter

20

ml

semi skimmed milk

180

g

hot smoked salmon fillet

250

g

smoked mackerel fillet

1

tablespoon

chives - finely chopped

2

tablespoon

fresh parsley chopped

2

white spring onions finely chopped

2

red spring onions finely chopped

1

Zest and juice of lemon plus extra wedges for serving

4

tablespoon

flour

2

medium eggs whisked

200

g

breadcrumbs

3

tablespoon

rapeseed oil for frying

15

g

fresh dill
For the paprika chips:
800

g

Maris piper potatoes

skin on cut into thin chips

2

teaspoon

smoked paprika

1

tablespoon

olive oil
For the lemon Mayo:
2

medium free range egg yolks

1

teaspoon

dijon mustard

300

ml

light olive oil

zest of 1 lemon and a teaspoon of juice

small handful of chopped fresh dill
Instructions
Preparing the fishcakes:
Place the chunks of potato into a pan of boiling water and simmer gently for 30 minutes or until soft. Drain, season and mash together with the butter and milk. Allow the mash to cool then transfer into a large bowl.

Flake the salmon and mackerel and add to the mash along with the chives, parsley, spring onion, lemon zest and lemon juice. Mix together well until all ingredients are spread evenly through the potato.

Divide the mixture into eight and use your hands to form 8 balls. lay the balls on a board and then flatten and shape into fishcakes.

Place the flour, whisked eggs and breadcrumbs into three separate dishes. take each fishcake and place in each of the bowls so to coat in flour, followed by egg and then breadcrumbs. Chill the fishcakes for at least 30 minutes before cooking. If preparing in advance, cover fishcakes with cling film and leave in the fridge up to 24 hours before frying off.
To make the lemon mayo:
In a large bowl whisk together the egg yolks and mustard and season. Continue to whisk and gradually add the oil. Dont add the oil too quick or the mixture will split. Once the oil has been whisked in, add the lemon zest and juice and whisk again. taste and add more seasoning, mustard, lemon if desired.
To make the paprika chips:
pre heat the oven to 180 degrees C. Place the sliced potato on a baking tray, drizzle with the oil and sprinkle over the paprika. Season if desired and then toss together to fully coat. Place the chips in the oven and bake for around 30 minutes. Check and turn at 15 minutes.
Cooking and serving:
After chilling, remove the fishcakes from then fridge. Heat the oil in a frying pan and fry the fishcakes for 3-4 minutes on each side or until golden brown. Drain on kitchen towel before serving with the paprika chips. Garnish with wedges of lemon and fresh dill.
Nutrition
Serving:
357
g
|
Calories:
637
kcal
|
Carbohydrates:
40.4
g
|
Protein:
38.9
g
|
Fat:
36.8
g
|
Saturated Fat:
9.8
g
|
Polyunsaturated Fat:
8.2
g
|
Monounsaturated Fat:
14
g
|
Fiber:
3.1
g