A beautiful kedgeree rice dish full of the flavours of cardamom and curry served with bright pink pieces of salmon and a runny poached egg.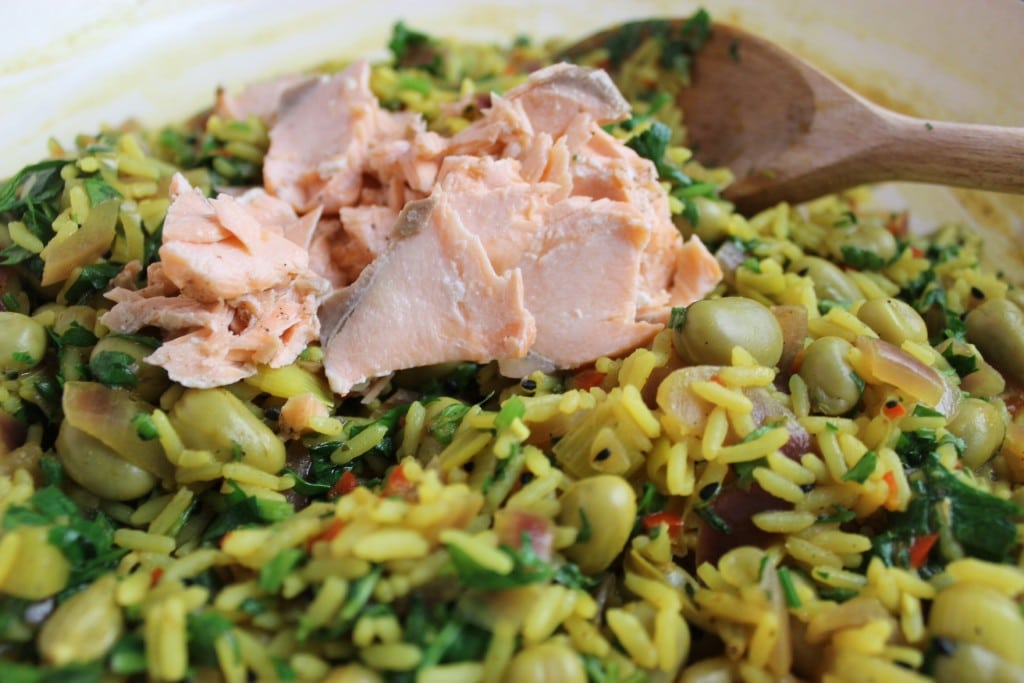 A few weekends ago myself and a few friends had a night away in London in celebration of a 30th birthday. That's right.... this is the year that me and most of my friends turn 30! This does seem slightly ridiculous, as we can't all possibly be that grown up, but some how - it's all true. However, it does mean that there's lots of celebrating to be done and the first celebration kicked off in London. It was only a quick trip with one night away, but whilst we were there we managed to squeeze in 3 amazing restaurants: The Fish market for lunch, The Shard for a fancy evening meal and Muriel's Kitchen for a detox smoothie and recovery breakfast.
The Fish Market is where the inspiration for this recipe came from. I had a huge mountain of mussels to start in a wonderful creamy white wine sauce with just a hint of chilli. Followed by a wonderfully warming salmon kedgeree, which was just what I needed after the 2 hour train journey and brisk walk in the cool London air.
So once I was back home, I set out to come up with my own take on this vibrant dish. The great thing about kedgeree is that it's really not that difficult and everything can be thrown into one pan. Okay, so the fish needs to be cooked separately and the eggs need to be poached, but these are minor yet tasty details that are well worth the extra effort.
Once the salmon is cooked and in the pot the dish really starts to come together. The plump pink salmon flakes against the bright yellow spiced rice is a match made in fish dish heaven. If you can get a runny yolk as well, then you're definitely in for a treat.
For more healthy breakfast inspiration have a look at my healthy banana bread, breakfast loaf with sultanas, summer porridge bowl, healthy breakfast on the go, Bircher muesli with stewed apples, Orange summer smoothie, Salmon kedgeree with boiled eggs, Matcha granola and blueberry yogurt pot, and Full English breakfast bowl.
📖 Recipe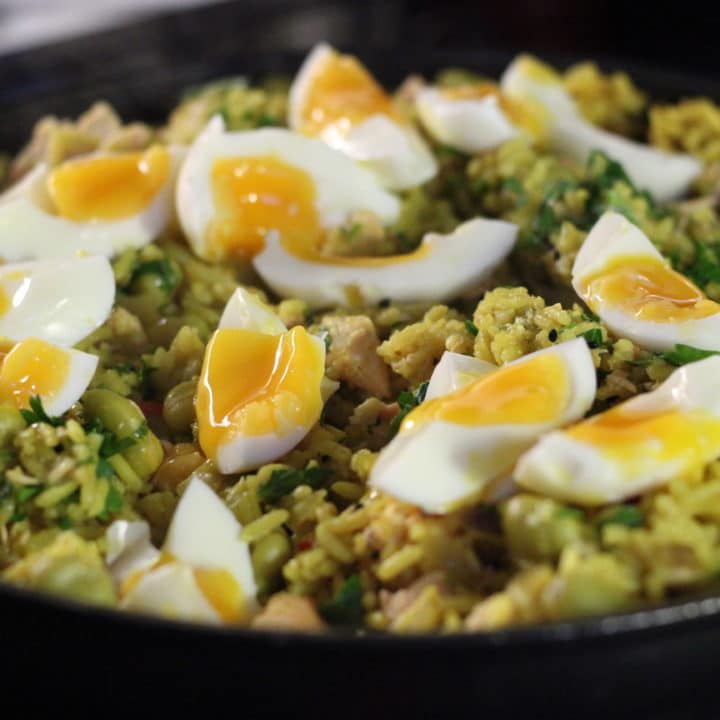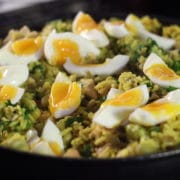 Kedgeree with poached or boiled eggs
A beautiful kedgeree rice dish full of the flavours of cardamom and curry served with bright pink pieces of salmon and a runny poached egg
Ingredients
2

tablespoon

Rapeseed/olive oil

2

Salmon fillets

125

g

long grain rice

1

red onion diced

5

spring onions roughly chopped

1

garlic clove finely chopped

2

cm

piece of fresh ginger finely chopped

100

ml

white wine

3

cardamom pods crushed

½

teaspoon

onion seeds

½

teaspoon

turmeric

½

teaspoon

garam masala

500

ml

veg stock

1

red chilli finely chopped

juice of 1 lemon

1

tin broad beans

Handful fresh parsley chopped

Handful fresh coriander chopped

2

eggs
Instructions
First, heat the oven to 180 degrees C. Place the salmon fillets in the centre of a piece of foil, drizzle with oil and season. Loosely wrap the foil around the fish and bake in the oven for 15-20 minutes.?Next heat up a tablespoon of oil in a wok or large frying pan. Add the red onion and gently cook for 2 minutes.

Once the onion has started to soften pour in the uncooked rice and stir well to coat each grain with the oil. Whilst continuing to stir add the garlic, ginger, cardamom pods, turmeric, garam masala and onion seeds. Stir well to ensure the rice is coated with the spices. Add the white wine to the pan and bring to the boil, allowing the wine to soak into the rice. Once the wine has reduced by at least half, pour in the stock, add the spring onions, bring to a simmer and cover with a lid.

Leave to cook for around 10 minutes, checking and stirring occasionally.

While the rice is cooking, boil a small pan of water then bring to a simmer and poach the 2 eggs by cracking directly into the water. Poach for around 3-4 minutes then plunge into a bowl of cold water to stop the cooking process. When ready to serve place the eggs back into boiling water for 30 seconds in order to reheat.

If you prefer the eggs can be boiled in the shell for around 6 minutes, then peeled and sliced into quarters.

After the rice has been simmering for 10 minutes, check it is cooked then remove the lid and add the broad beans, red chilli and lemon juice. Stir well and cook with the lid off for a further 2 minutes.?Flake the cooked salmon and remove the pan from the heat. Add the salmon to the rice along with the parsley and coriander. Stir gently then serve up along with the eggs.