A meat and leek pie that is so tasty and yet amazingly healthy. These little pies taste just like a normal meat pie encased in a thin, soft pastry. . . but . . . there isn't actually any pastry involved in this recipe at all!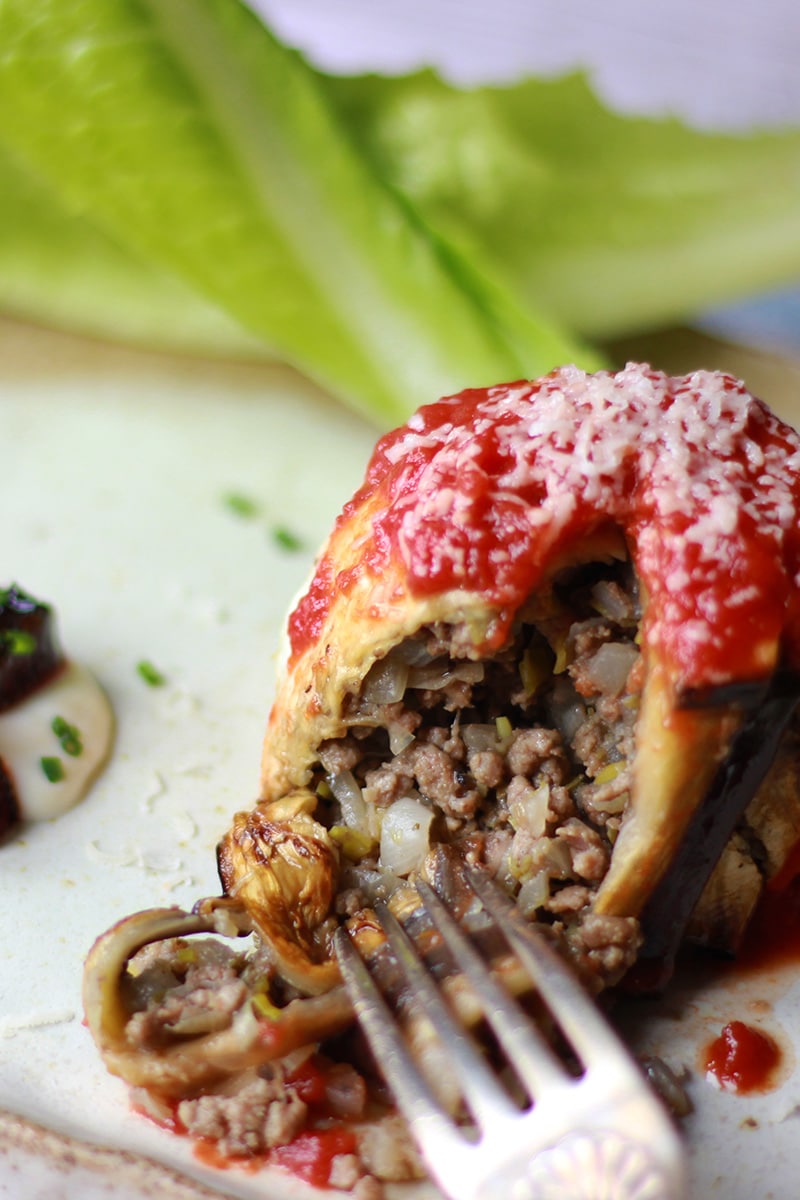 It might seem a little odd to replace pastry with . . . wait for it and please don't leave . . .
aubergine! 🙂
Come back!
Trust me when you try it you'll realise that not only is it lower in fat and calories, but as far as a tasty, pastry alternative goes, this is most definitely the way forward, even if you're not on a diet.
Like a lot of my recipes the inspiration for this dish comes from Italy!
Italy really is a magical, foodie paradise and I'm sure it will be bringing me new and inspired recipes for the rest of my life. However, this particular recipe will always hold a special place in my heart (and belly).
I had my first alfresco, aubergine pie in a little Tuscan restaurant on the hilltop village of Pienza. Ben and I sat on a little table, at the edge of the restaurant gardens, overlooking the beautiful rolling hills, cypress trees and vineyards of Italy. It really was picture perfect. If you ever find yourself in Tuscany, and you haven't been to Pienza, then I would strongly recommend a visit there and to the quaint, traditional Terrazza Val D'orcia restaurant.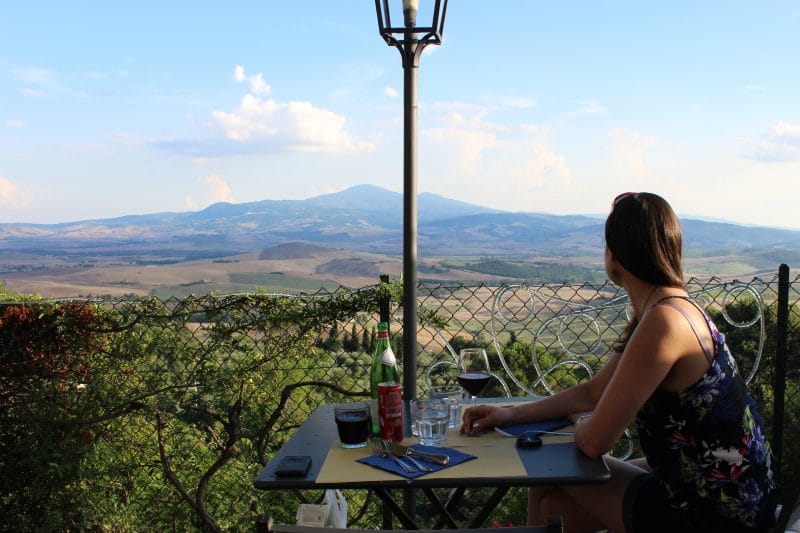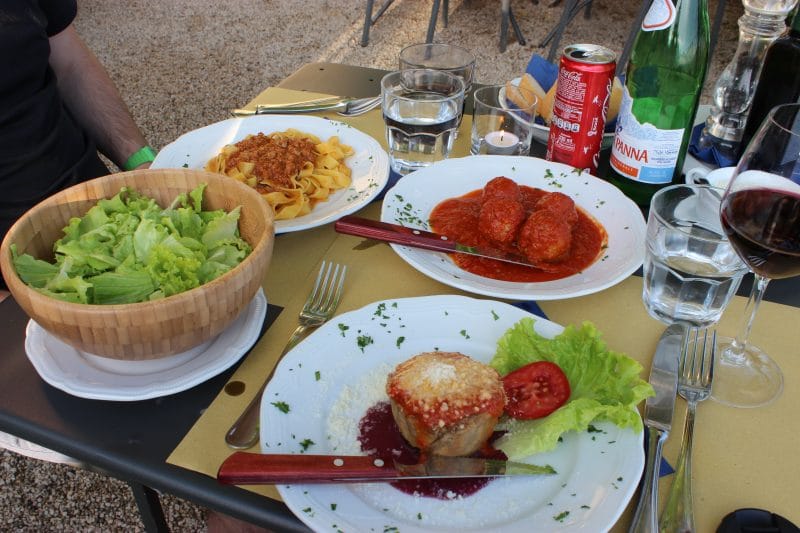 Whats particularly special and memorable about this restaurant and dish, is that a year after these pictures were taken, we found ourselves back in the very same spot, ordering the very same meal and making another very special memory.
This is where we got engaged.
It was early on in the evening and so we briefly had the restaurant gardens to ourselves. I sat patiently waiting for my Tuscan pie and sipped on a deep red, plummy wine whilst taking in the incredible view. I had no idea that Ben was about to pull out the most beautiful ring and ask if I would be his wife.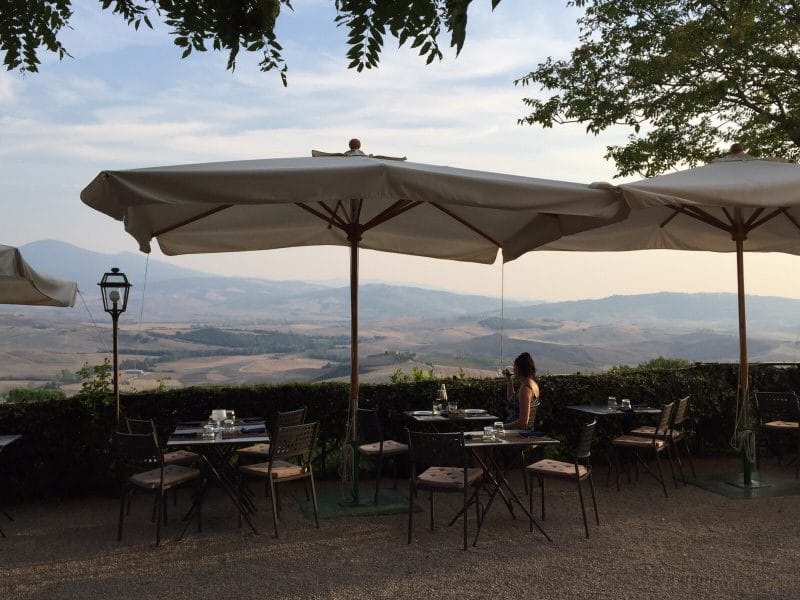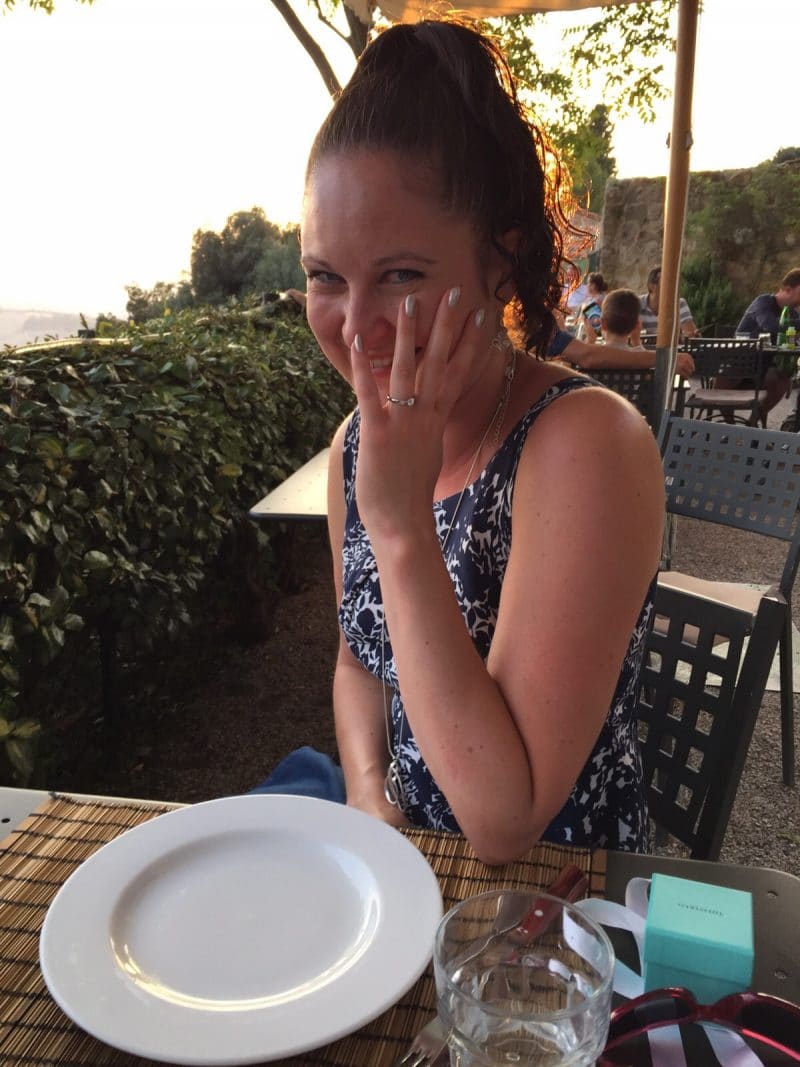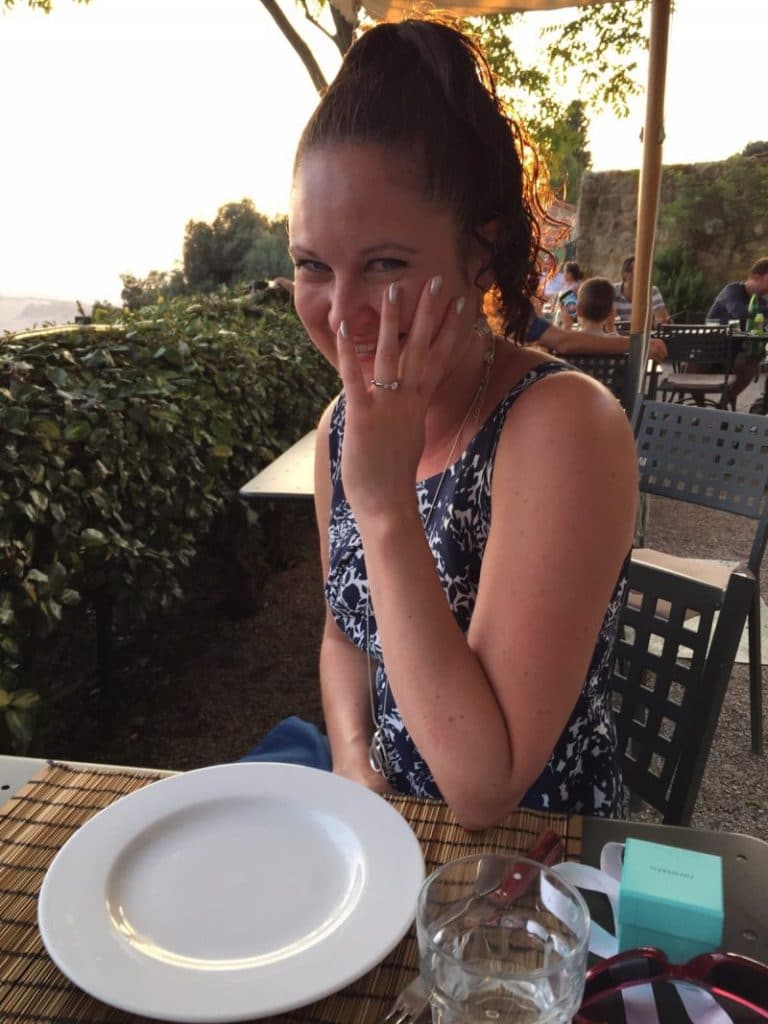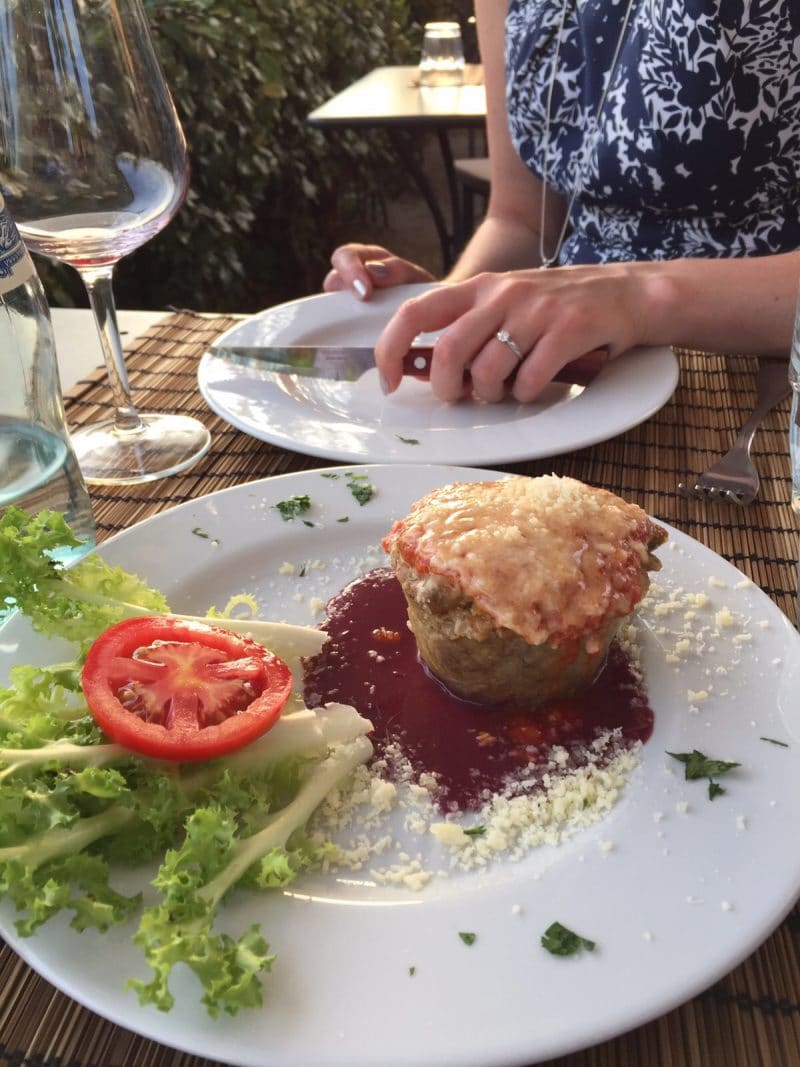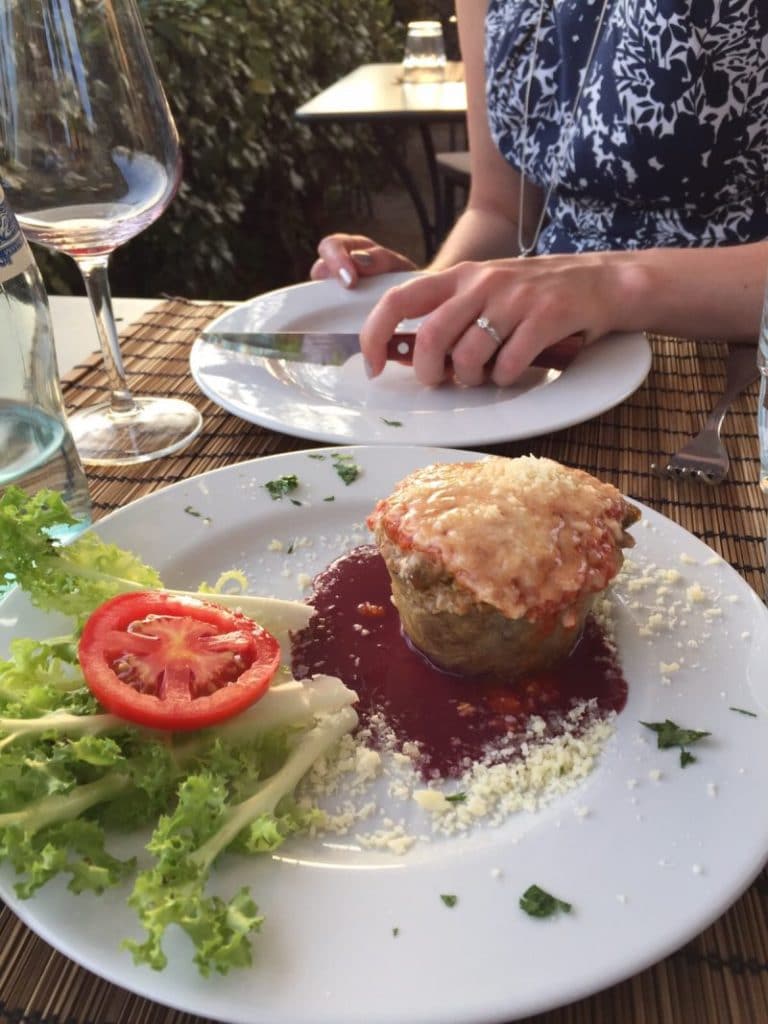 It was and will always be one of the most special moments of my life
I couldn't have asked for a more perfect proposal and probably wouldn't have been able to dream up something so incredible if I'd been able to plan it myself. However, with all the excitement of getting engaged to my best friend and soul mate, I completely lost my appetite. Never - been - known!
And so a pathetic attempt was made by both me and Ben to eat this wonderful pie, but in the end we both gave up and decided to stick to the wine.
So it only seems right that I should recreate the aubergine pie at home. Its taken me long enough but I thought it was essential that I got this made, eaten, and up on the blog before we return to Italy for our wedding in August this year. And I'm actually extremely pleased with the way my version of the aubergine pie turned out.
Read here about our amazing Veneto wedding the incredible Amarone risotto we had as a starter for our wedding breakfast.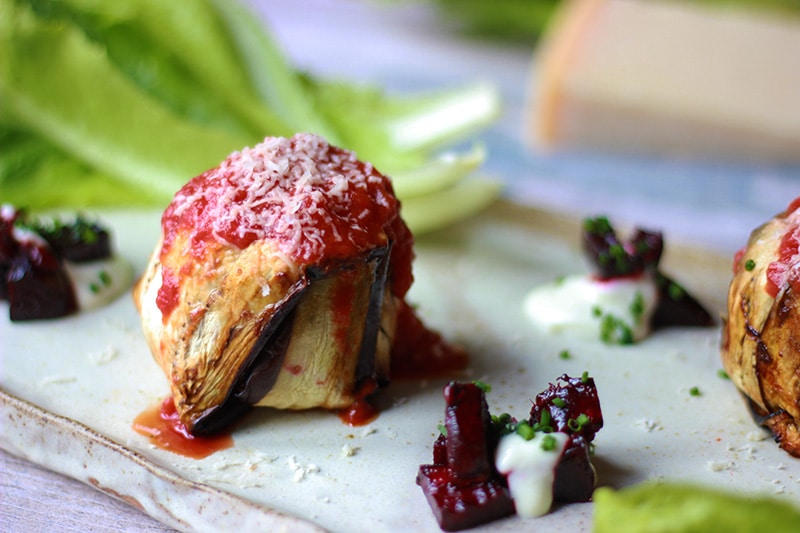 So how did I go about recreating this pie?
First off, as with most aubergine recipes, its essential to prepare the aubergine properly before hand. This requires salt, kitchen towels and a couple of heavy books. Salting freshly cut aubergine helps to remove any excess water and any bitter taste along with it. As I was making pies, and the aubergine was to be the pastry, I wanted to remove as much of the water and bitterness as possible.
Salting aubergine for the removal of excess water and bitterness
So firstly, slice the aubergine length ways into strips (around 3-4mm thick). Lay the sliced aubergine side by side on a cooling rack, place over a tray, and then scatter a pinch of sea salt over each piece.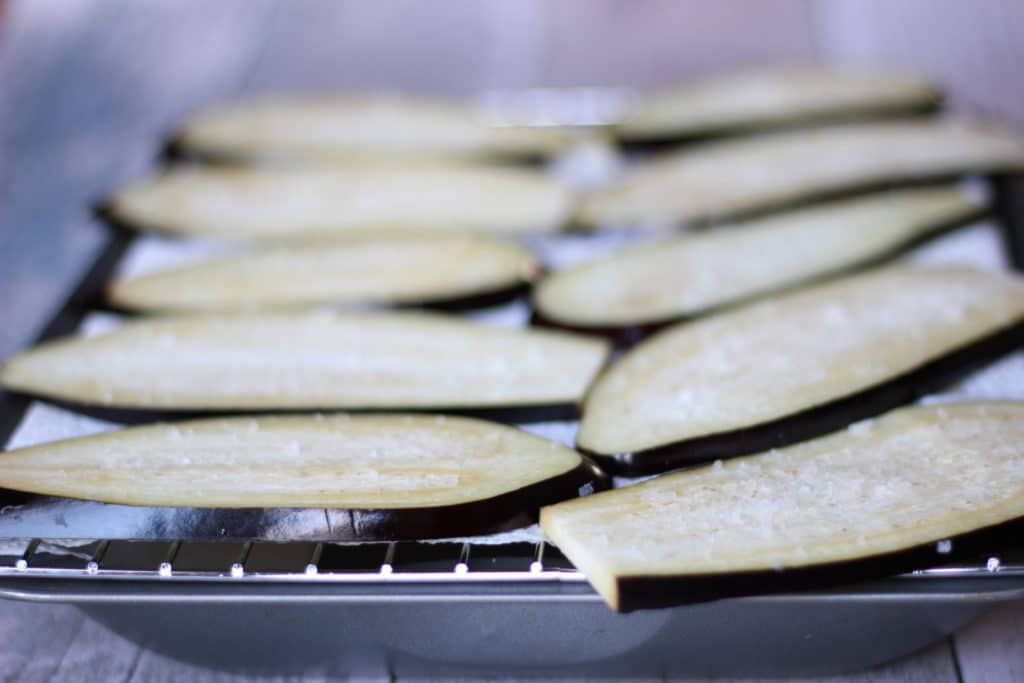 Then cover with sheets of kitchen towel: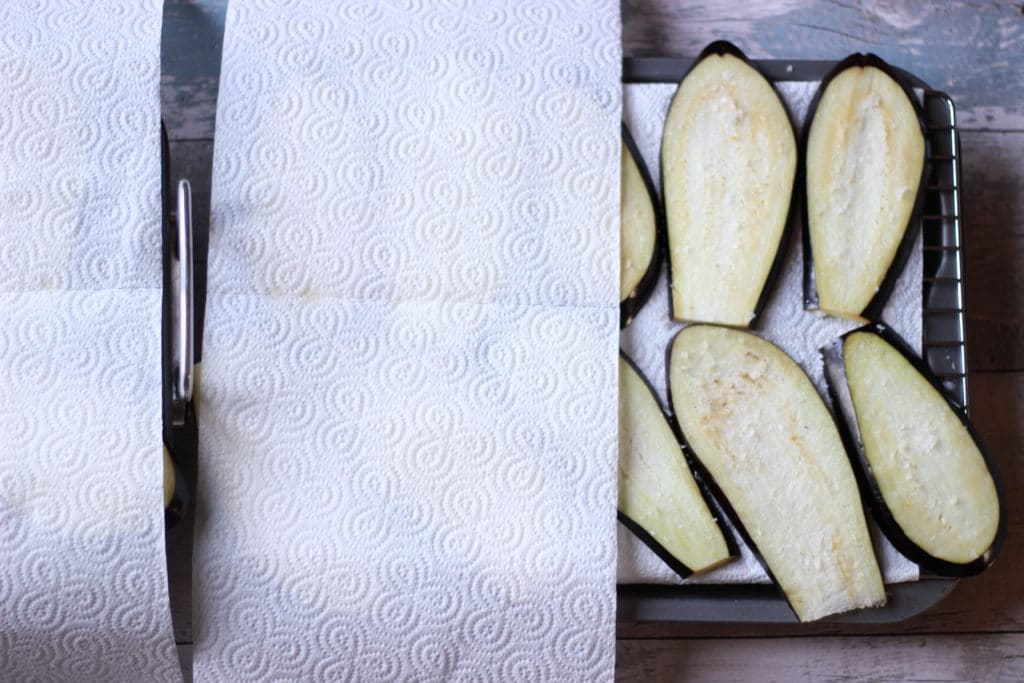 and place a couple of heavy cook books over the top of this. It might be useful to place a sheet of foil or cling film between the kitchen towel and the books, as a lot of water does drain off and my books did get a little wet.
Leave the aubergine like this for a good couple of hours and let the salt and the compression of the books squeeze away all the water.
After 2 hours or so, remove the books and kitchen towel. Briefly rinse the aubergine slices to remove the salt and then pat dry.
Next separate the slices into sets of four, trying to ensure different sized slices are spread evenly between groups. Each set of 4 is used to line a small, round, tin mould (approx. 3 inch diameter moulds). Drizzle olive oil inside each mould before adding the aubergine, this will prevent sticking during baking.
I used one slice to line the base of the mould and then the other slices were just used to line the sides - this was to stop a thicker layer of aubergine being created on the bottom.
Next make up the filling of fried mince beef, chopped onions and chopped leeks. Then add this to each mould. Ensure that the filling is pressed well into each mould, so you can fit in as much as possible. The last thing you want is for there to be big gaps of empty space in your pie.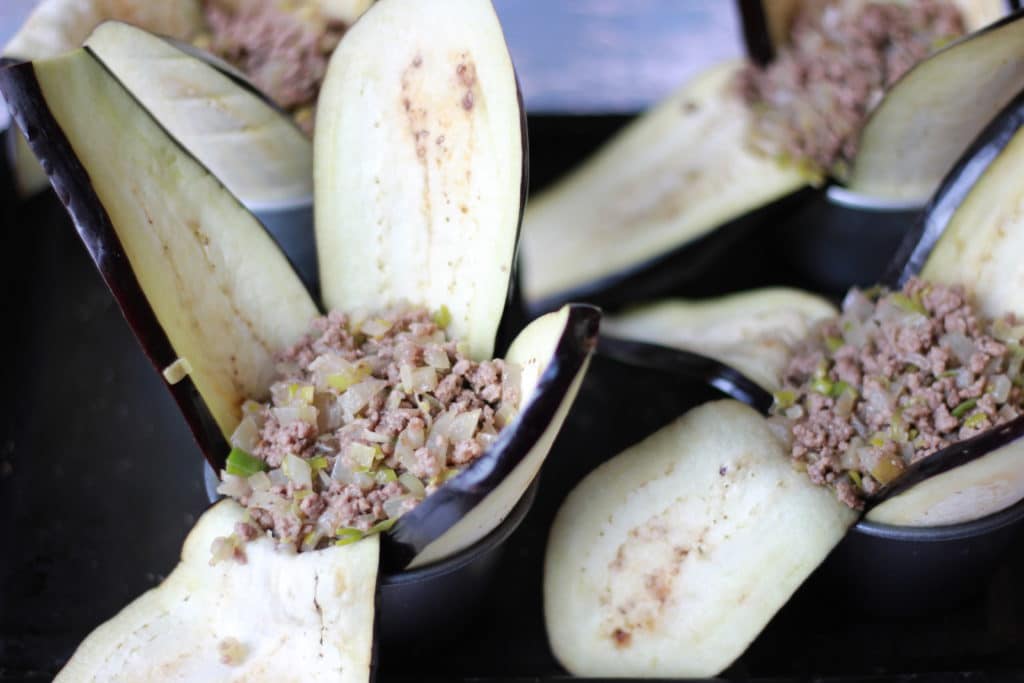 Then fold over the flaps of aubergine, cutting down to size if required: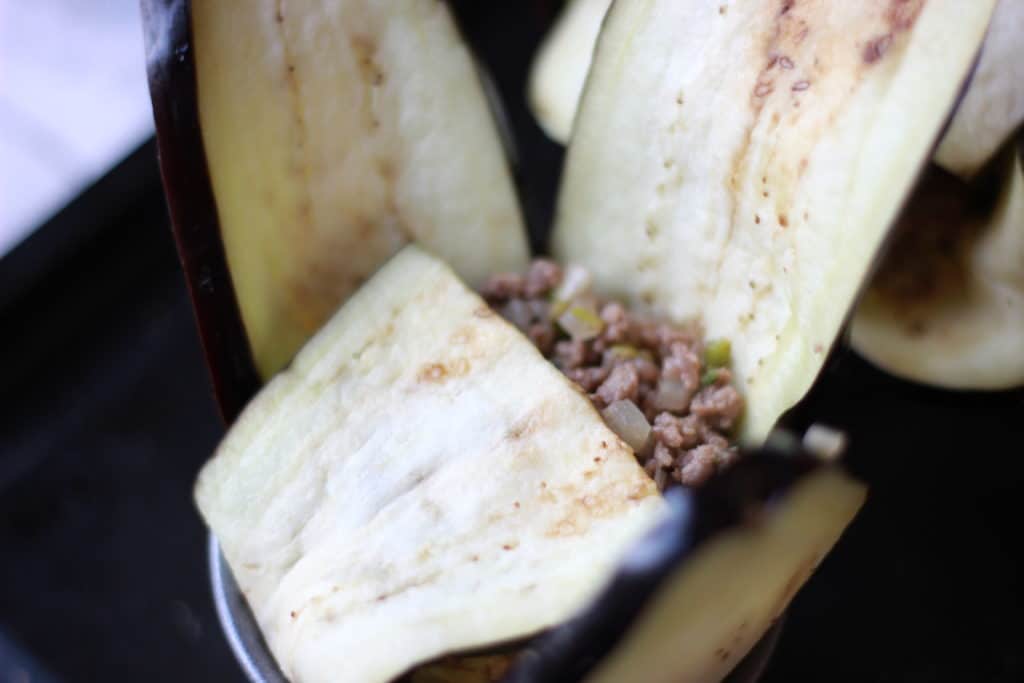 Secure with cocktail sticks: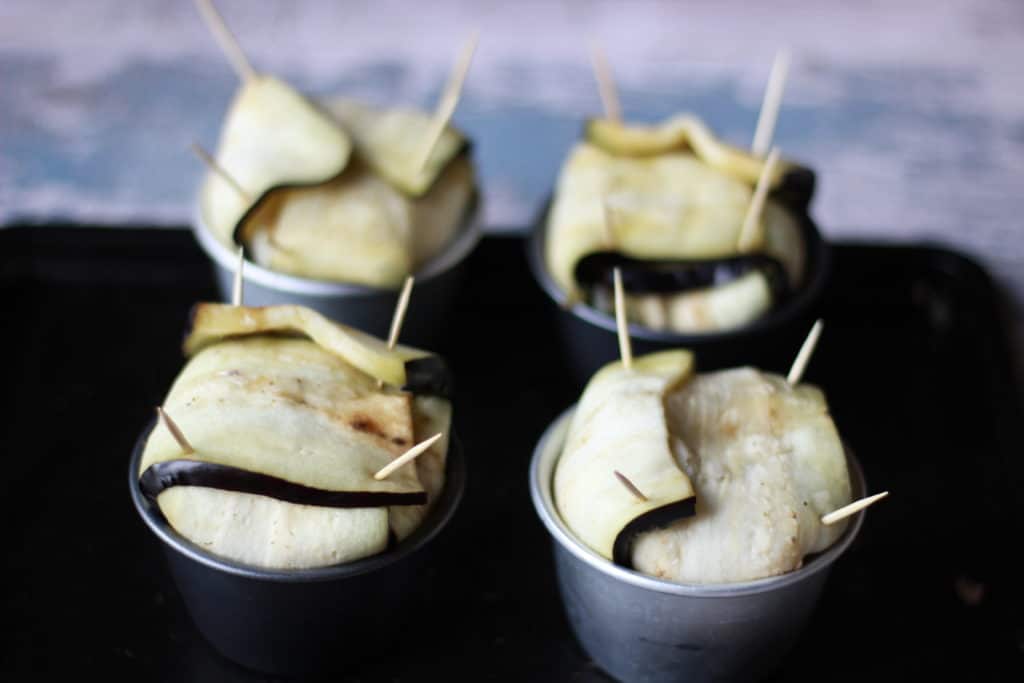 Then Bake and voila.....amazing aubergine pies!!
Easy!! . . . Ok so it isn't a quick recipe, and definitely one I'd consider bookmarking for a weekend. This is not a 15 minute, Jamie Oliver style, mid week meal. But it is a spectacular, spend an afternoon in the kitchen, and feel ever so chuffed with your creation afterwards meal.
I served up these beauts with some freshly roasted beetroot and a homemade horseradish and yogurt sauce. The pies were finished with a passata sauce and grated parmesan, and the horseradish sauce was garnished with chopped chives. Truly a masterpiece .......thank you  Terrazza Val D'orcia for your wonderful aubergine dish and for helping make our engagement so special.
Nutritional information for this recipe >>
**Estimated nutritional information per individual pie with passata and cheese topping and 100g of pie. If you want to find out more about how the information is calculated and the sources used, please refer to my Nutrition Information Guide.
📖 Recipe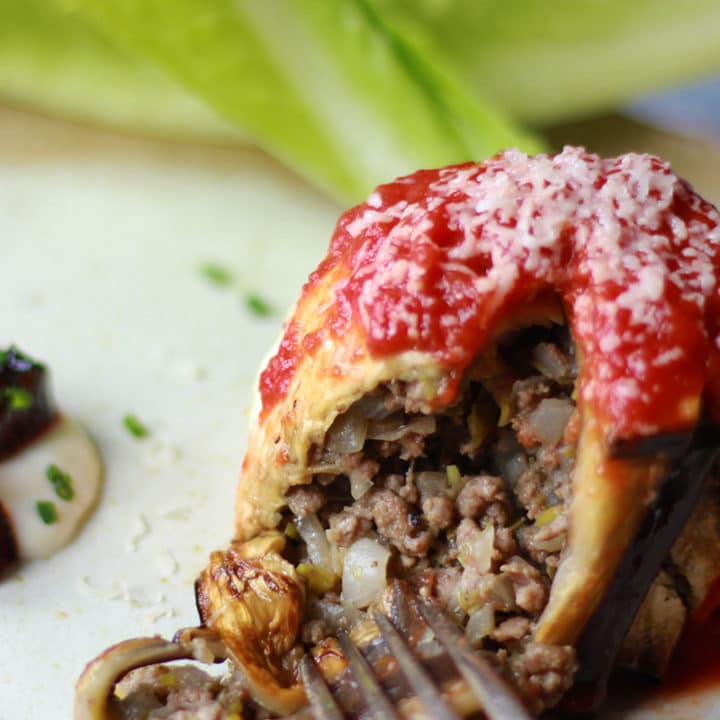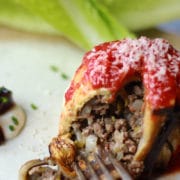 Meat and leek pies with aubergine pastry
Aubergine pie - Meat and leek pie with aubergine pastry topped with passata and parmesan served with roasted beetroot and horseradish sauce.
Ingredients
For the pie filling
½

tablespoon

olive oil

300

g

onion finely chopped

100

g

leeks finely chopped

400

g

extra lean mince meat

1

bay leaf

½

teaspoon

oregano

Salt and pepper to season
For the pie casing
3

medium aubergines

around 250g each

A good amound of sea salt for dehydrating the aubergine

Olive oil to drizzle on the inside of pie moulds
for the toppings and garnishes
3

small pieces of raw beetroot

peeled (use gloves)

1

tablespoon

olive oil

A squeeze of runny honey

200

g

passata

20

g

grated parmesan

4

tablespoon

Greek style fat free yogurt

1

tablespoon

olive oil

½

teaspoon

horseradish sauce

pinch

of salt and black pepper

Chopped chives and lettuce leaves if desired
Equipment
Cooling rack and tray for draining the aubergine

Plenty of kitchen towel

Heavy cooking books

Pie/dessert moulds

approx. 3 inch diameter

Cocktail sticks
Instructions
for the pie
Preheat the oven to 180 degrees C

Prepare the aubergine as per the instructions in the above post, including lining the pie moulds with the aubergine.

Prepare the filling by heating ½ tablespoon oil in a large pan, add the onion and leek and gently fry until soft. Then add the mince meat, bay leaf and oregano. Fry until the meat is browned throughout. (Only use half a tablespoon of oil, so to keep the filling as dry as possible).

Drain the filling into a sieve, lined with kitchen towels. Its important to ensure that the filling is well drained to prevent the pies from being too soggy. at the same time find and remove the bay leaf.

Add the filling to the lined moulds - see images above. Push the filling down with the back of the spoon in order to fit in as much as possible.

Fold the aubergine slices over the top of the filling, trimming where necessary with scissors. Secure with cocktail sticks.

Place the pies onto a baking tray and bake in the oven for 30 minutes.
for the toppings and garnishes
Whilst the pies are baking, the beetroot and horseradish sauce can be prepared. Cut each piece of peeled beetroot into 1-2cm chunks. Place on a baking tray, drizzle with oil and honey, then pop in the oven for 20 minutes - both the beetroot and pies should be ready at a similar time.

Next place the passata in a small sauce pan and gently heat, once boiled, set to one side and allow to cool. This will allow any excess water to evaporate so there won't be any runny juices when serving.
For the horseradish sauce
In a small bowl add the yogurt, olive oil, horseradish, and salt and pepper. Then mix well and taste. Add more horseradish, seasoning or yogurt if required. Set to one side ready for serving.
Assembling the dish.
Once the pies and beetroot are cooked remove from the oven. Set the pies to one side to cool slightly for 5 minutes, before attempting to remove from their containers.

Whilst waiting for the pies to cool; arrange the lettuce leaves and cooked beetroot on the serving plates. carefully spoon blobs of the horseradish and yogurt sauce on or next to the beetroot and sprinkle over the chives.

Next return to your pies and run a sharp knife around the egde of the moulds in order to release the aubergine. Place a spatula over the top of the mould, then turn upside down and gently allow the pie to slide out. You may want to place kitchen towel under your spatula just in case any excess juices spill out.

Transfer the pie to the serving plate - repeat for each pie.

Spoon passata over each pie and finish with grated parmesan.
Nutrition
Serving:
420
g
|
Calories:
266
kcal
|
Fat:
10.8
g