Ribollita soup; creamy, chunky, healthy, Italian, full flavoured, warming, comforting – this recipe has it all and I think I could quite happily spend the whole of February eating this Ribollita soup
Italy and soup
I'm back dreaming of the those rolling Tuscan hills again – I can't help it. I always seem to come back to Italy when I'm cooking from the heart. And this dish really is from the heart. Its a soup – plain a simple, but this soup has so much depth and flavour and tradition that you know it just has to taste amazing.
Its a dish that comes from making simple foods go a long way and also making sure that those simple foods don't go to waste. Some left over carrots or celery? chuck em in. Some stale bread? Yep that goes in too! Its all about making the most of what you have and turning leftovers into a meal fit for a king.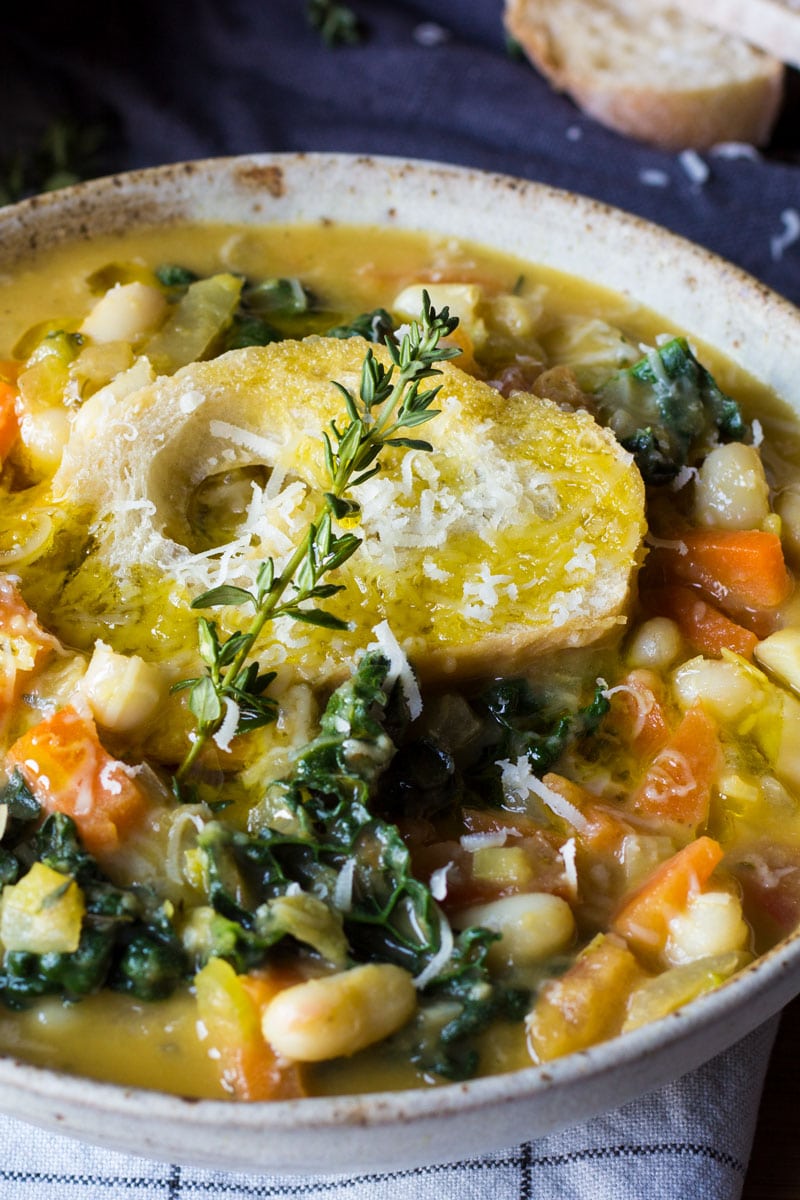 Its healthy too
Honestly – this must be the best soup! Each bowl is just under 300kcal, with only 8g fat and 3g saturates. Its also full of veg – as you can probably see, and each bowl has a whopping 4 servings of veg in it. Theres also 9g of fibre, 22g protein, 37g carbs, and its high in potassium and vitamin A (good for your heart muscles and your immune system). So you get the picture its nutritious, its well balanced – and its just bloody marvellous.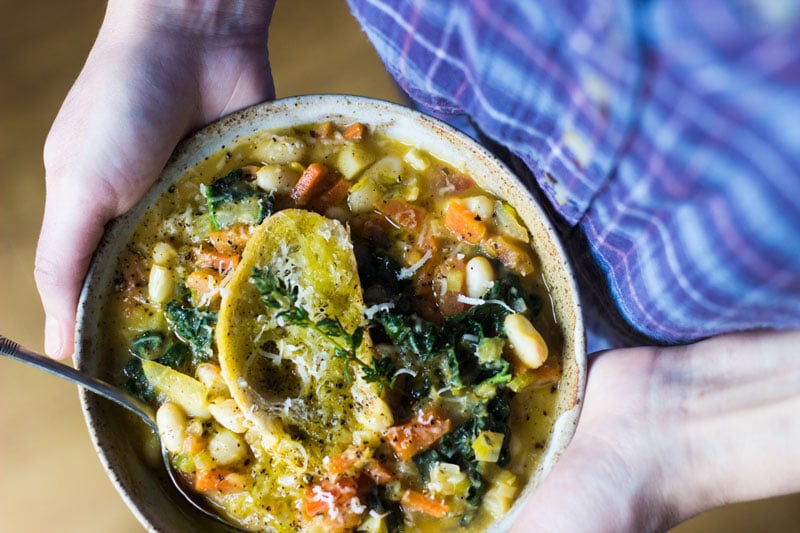 Soak it up with lots of bread
I do like to add the bread to mine – just because this is how Ive had it in Italy. But this really isn't a necessity and you'll still have yourself a fabulous bowl of soup if you decide to leave out the bread.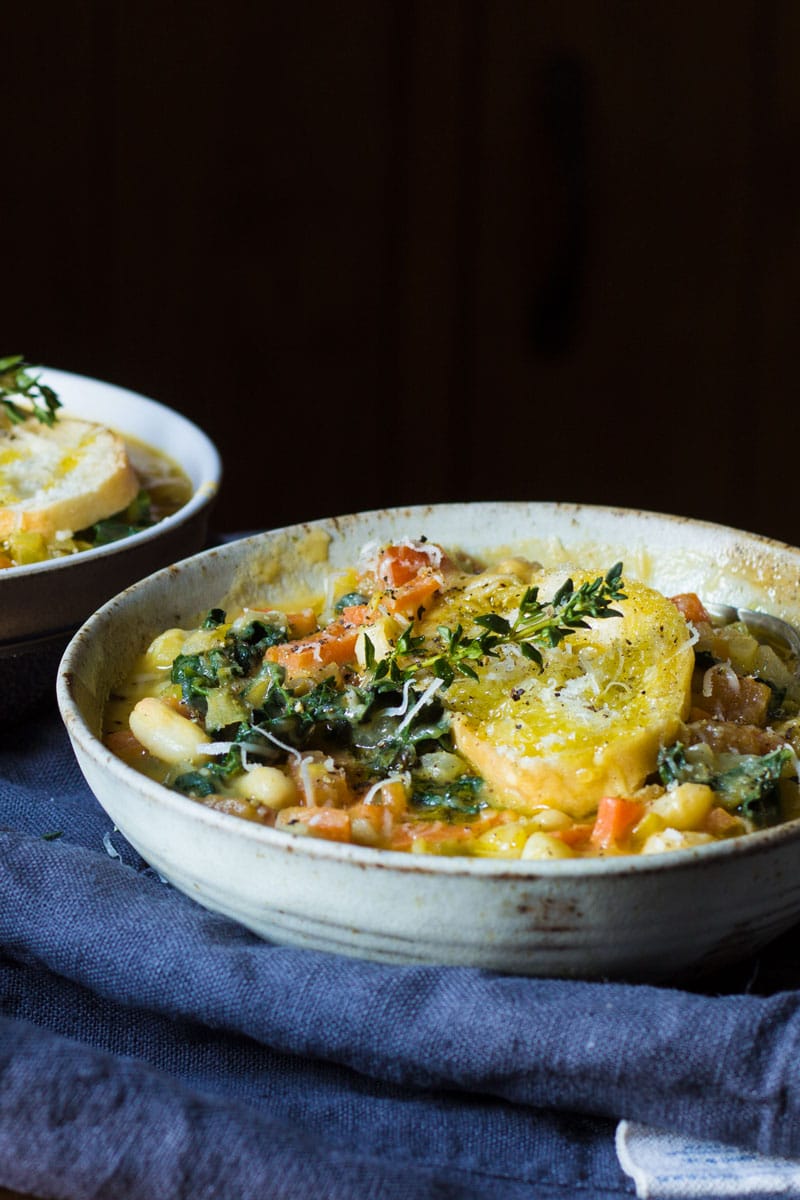 I'm also going to go out on limb here and suggest that this week might be a good week for healthy soup teas??! Only because we need that extra space for pancakes and Valentines Chocolates right 🙂
If you're after some more Italian flavour and flare have a quick peek at my Amarone Risotto, or my homemade tiramisu, or how about a salami ragu? or if you're feeling really adventurous why not have a go at making your own pasta?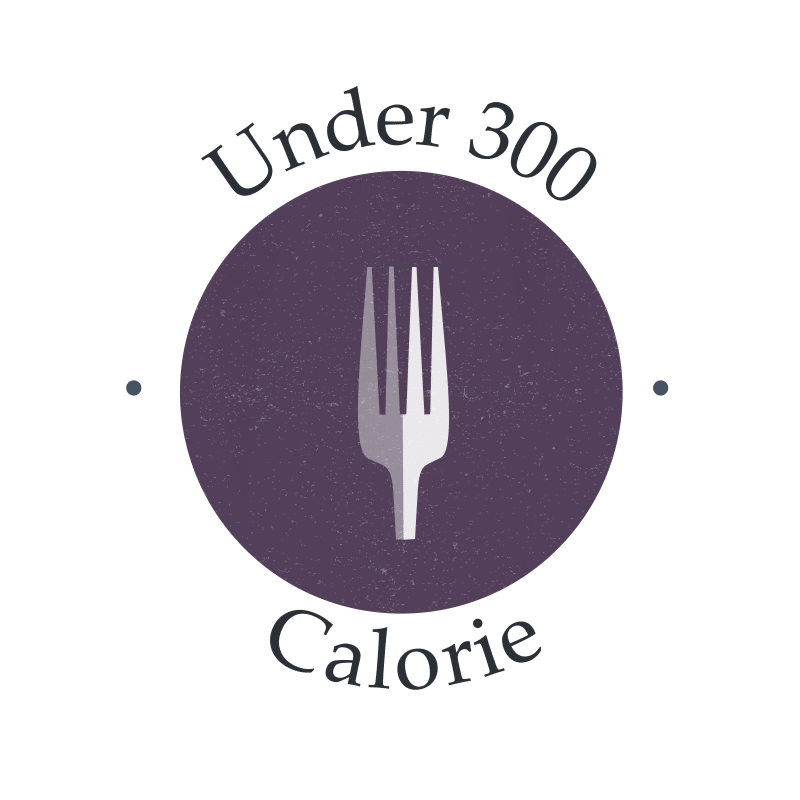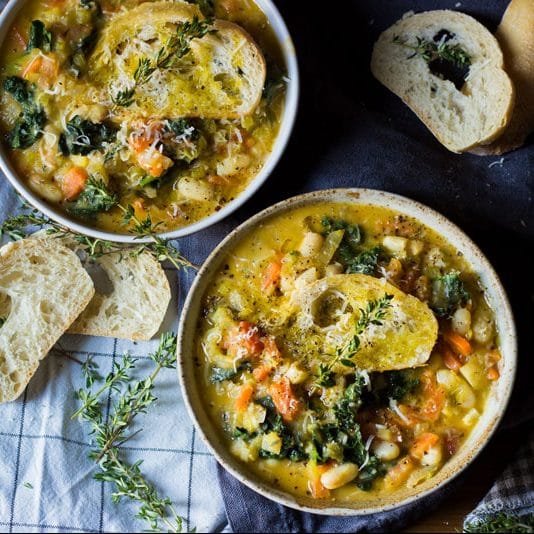 Tuscan Ribollita Soup
Creamy, chunky, healthy, Italian, full flavoured, warming, comforting…this recipe has it all and I think I could quite happily spend the whole of February eating this Ribollita soup.
Print
Pin
Ingredients
½

tbsp.

Olive oil

1

large onion

200g finely chopped

1

Leek

80g chopped

2

garlic cloves finely chopped

½

tsp

dried thyme

1

carrot

150g finely chopped

2

celery

100g sticks finely chopped

2

medium vine tomatoes deseeded and roughly cubed

140g

600

ml

vegetable stock

plus extra water if required

2

sprigs of fresh thyme

1

tin cannellini beans

240g drained

20

g

freshly grated parmesan

or vegetarian alternative

100

g

black kale
Optional
Sea salt

black pepper and extra parmesan to season

Ciabatta or stale bread to serve
Instructions
Heat the oil in a large pan. Add the onions and leeks and cook on a medium heat until softened. Add garlic, dried thyme, carrot and celery then stir and continue to cook. Next add the tomatoes, stock and fresh sprigs of thyme. Stir and bring to the boil. Pop on a lid, reduce the heat and simmer for 15 minutes.

After 15 minutes remove the lid and stir in the cannellini beans and freshly grated parmesan. Cook for a 2-3 minutes.

Next transfer 1/3 of the soup to a blender and blend until smooth. Pour the smooth part of the soup back in the chunky soup and mix well. Stir in the black kale. Pop the lid back on and simmer for a further 5 minutes or until the kale has just started to wilt.

Remove the lid, season with sea salt, black pepper and parmesan, then serve.

To stick the traditional recipe of Tuscan Ribollita soup, line the serving bowls with stale bread (or slices of ciabatta if you prefer) and pour the soup over the top.

The bread soaks up the soup and thickens.
Nutrition
Serving:
1
g
|
Calories:
298
kcal
|
Carbohydrates:
36
g
|
Protein:
22
g
|
Fat:
8
g
|
Saturated Fat:
3
g
|
Sodium:
800
mg
|
Fiber:
9
g
|
Sugar:
19
g
I am linking this recipe to #cookblogshare hosted by hijackedbytwins, recipesmadeeasy, everydayhealthyrecipes and Easypeasyfoodie. I am also linking to #brilliantblogposts by honestmum, #recipeoftheweek hosted by amummytoo, and #CookOnceEatTwice hosted by seachingforspice.