Are you ready for this deliciously moreish, oh so tasty, yet really quite healthy tarka dahl goodness? 
I thought you might be, but don't just take my word for it; this really is a super easy dish to make and I bet that most of you will already have all the ingredients in your cupboards.  So if you're stuck for something to cook tonight, heres a smashing dish, with plenty of flavour, plenty of goodness and plenty of hassle free -ness.
Tarka Dahl
Tarka dahl is comfort food at its best, but is definitely not over indulgent. Not only is it gluten free, and suitable for vegans but its packed full of vegetables and legumes, which provide vitamins, minerals, fibre and protein. Its also bursting with the fiery and aromatic flavours of turmeric, ginger, cumin and garam masala, which are the usual suspects for a tarka dahl Indian recipe. If its not Tarka Dahl on the menu then it has to be a tikka masala and I love to make that with my own homemade tikka masala paste, which will go into either a veggie or meat curry. More recently Ive also been making a biryani masala marinade which makes the most fabulous fish biryani rice dish.
The recipe for this tarka dahl was one that was originally introduced to me at the cooking course I attended at the beginning of the year in Halifax. Since then I have adapted the recipe, made it my own and then used it for an event that I was involved in last weekend....
Halloween
The week started off with the excitement of Halloween. Ben and I had carved a pumpkin each, which we carefully lit and placed in our front window; clearly advertising that we were up for a bit of trick or treating. I really love this spooky tradition and I'm more than happy to answer the door with a huge bowl full of sweets and wait for the nervous chorus of "trick or treat". Despite the kids (and their parents) best efforts, the affect was not even close to scary, but was definitely 100% cute. The outfits this year were particularly adorable. However, a slight oversight in terms of sweet quantity meant that we spent the rest of the week finishing off what we couldn't give away. I'm sure we ate more sweets than most kids this Halloween.
Allergy and free from show
My Thursday and Friday last week were really quite hectic as I was busy preparing for my Saturday morning. Saturday morning was a big deal for me as I was gearing up to my first ever cooking demonstration in front of a live audience!! Crazy times! I still can't quite believe it.
So this all came about when I was contacted by the event organisers of the Allergy and free from show in Liverpool, who invited me to submit ideas for a cooking demo. The remit was to cook 'free from' recipes and to incorporate Doves farm gluten free flour. After researching a few recipe ideas, allergys, coeliac disease and other topics in this area I rose to the challenge and submitted a couple of ideas. They included this tarka dahl served with homemade Roti breads, and my dairy free cardamom and treacle panna cotta. The plan was to demonstrate how to make each dish and also prepare and cook off a few gluten free roti breads using the gluten free flour; all in half an hour!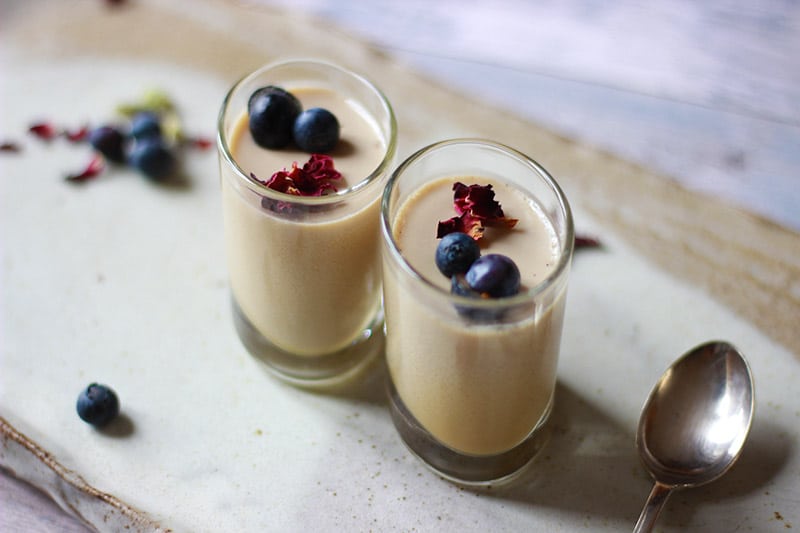 So all day Friday I prepared and organised in an attempt to make sure I was fully ready for the following morning....basically I made a huge mess in the kitchen and then crammed the fridge full of overflowing Tupperware's and loads of panna cotta moulds containing a spiced-up, creamy liquid that I was hoping would set with a perfect wobble.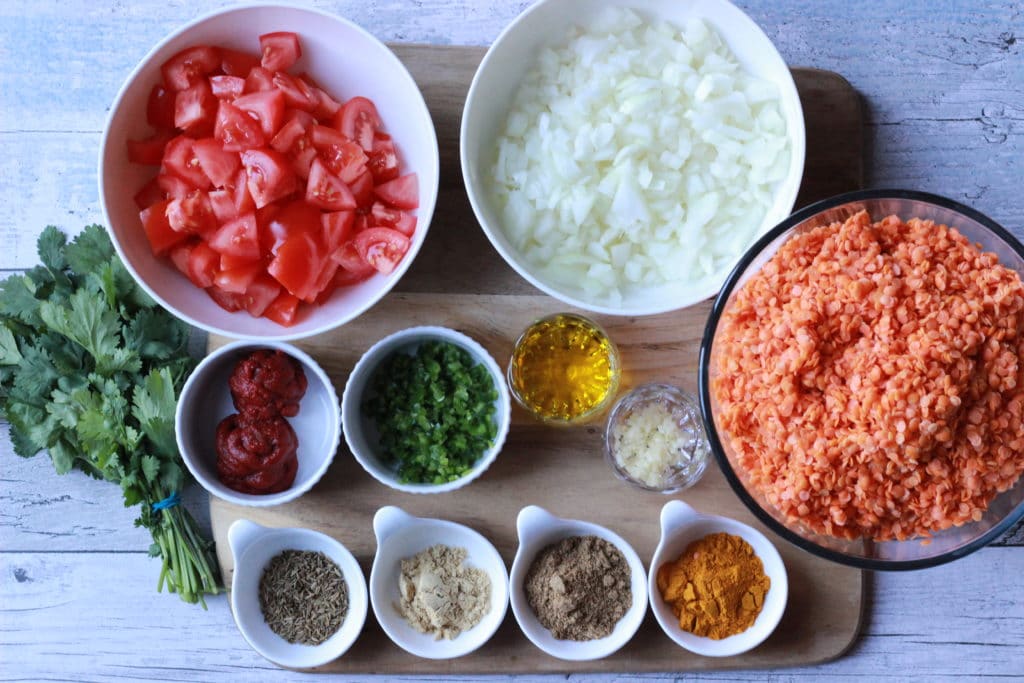 We set off early Saturday morning with Ben in the driving seat; ingredients neatly packed in the boot and wobbly panna cottas carefully balanced on my knee. It took us just over an hour to get to Liverpool but the angst of the pannas cottas made it feel twice as long. We arrived with plenty of time to spare and so I was able to take my time and set up my ingredients. Ten minutes before I was due to start my demo, the mic technician guy came over to set me up with a headset. A headset!! I know!! and FYI - I bloody love headsets. Despite my nerves, as soon as I started speaking I felt quite relaxed as the head-mic carried my voice easily and effortlessly through the audience. No need to worry about aiming my voice or checking that I was close enough to the mic: it was just there and it worked a treat.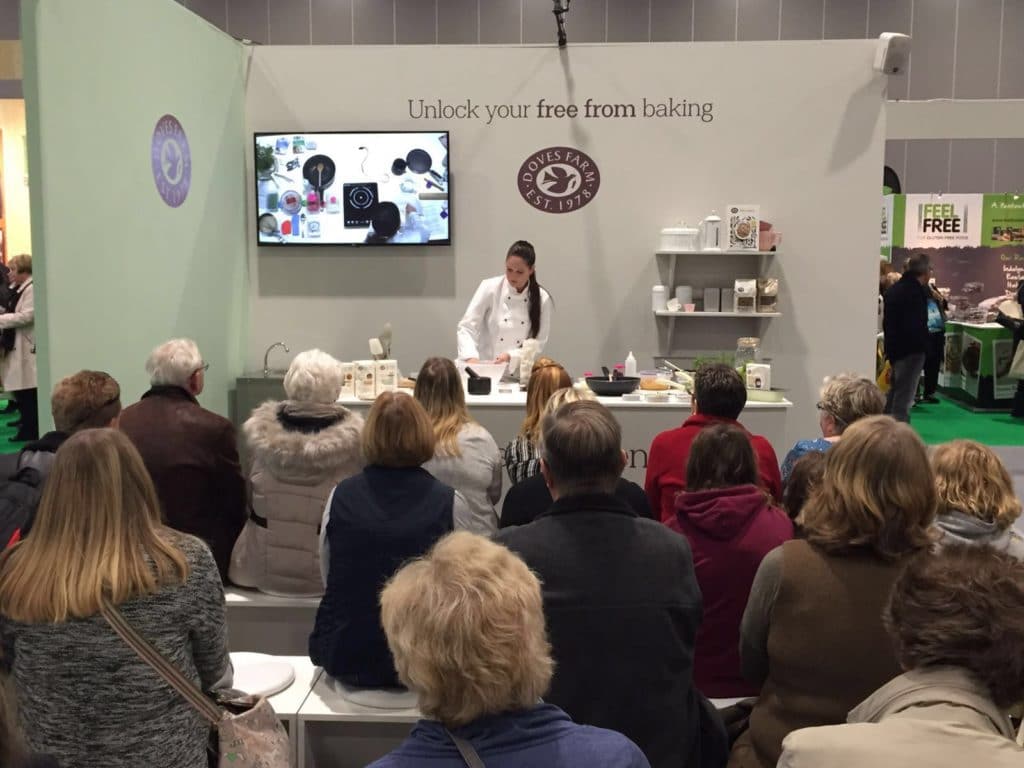 Cooking in front of live audience
I was a little out of my comfort zone but I think that gave me the boost to step up and give it my best shot. I have done quite a few presentations with work, but usually with slide shows and not much else going on. This was a completely different experience and doing what I love best in front of a live audience was amazing; I loved every second. The best bit was definitely at the end when I invited the audience to try the dishes and no one held back. The cooking stand became surrounded as people scurried to grab a bit of roti and scoop up the tarka dahl. The little spoons I had brought along were quickly whisked away as people dived into the panna cottas, which I'm pleased to say turned out perfectly.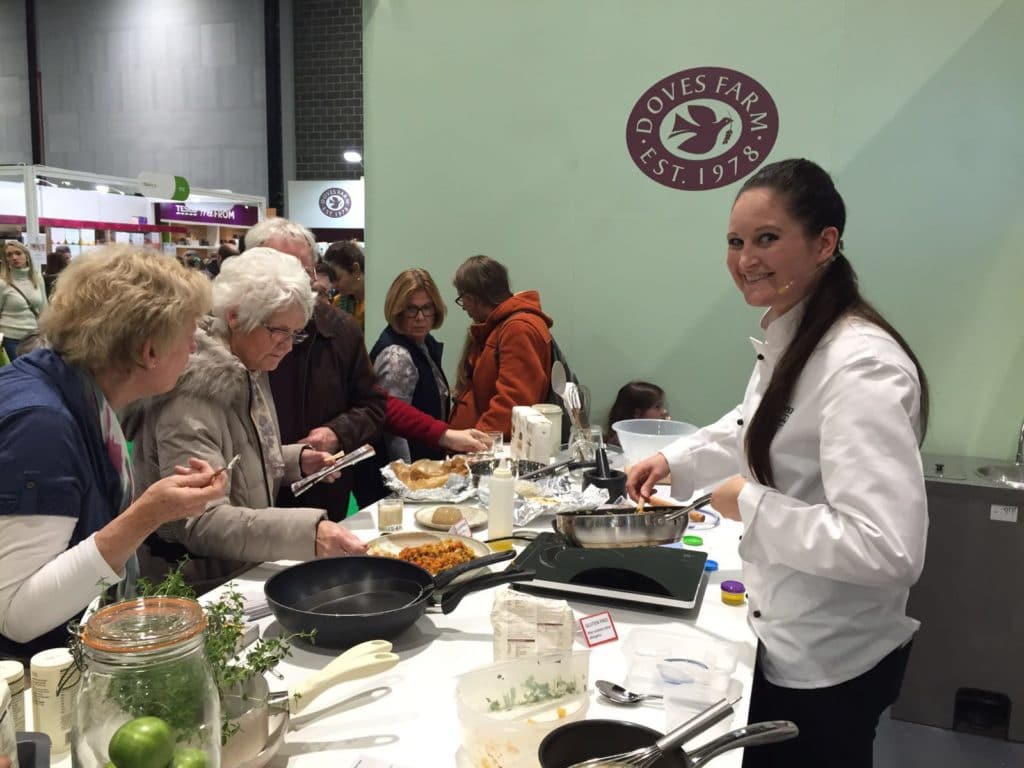 What an experience, I really hope I get to do it again soon. If you were one of the people that was in the audience on Saturday, I hope you enjoyed the demo and the food! - I'd be really interested to hear your feedback 🙂
Fire and fireworks.
Saturday was bonfire night and pretty colours shot up in the sky all around our house. In true Jones/Gibson style we opted for less of the fireworks and more of the food; so I got out my big stock pan and the mulled wine and Ben lit up our newly built pizza oven - now christened Alberto after the owner of the B&B we will be staying in next year for our wedding in Italy. So we had our own miniature bonfire. Or not so miniature as it turns out; the oven did its job spectacularly well and managed to reach over 500 degrees! Clearly we had done a damn fine job of building it. So along with a couple of friends we got to work making delicious pizzas and guzzling down the wine. After a few hours of stoking the 'miniature' bonfire Alberto gave one final show and reached temperatures that resulted in the outer straw layer catching fire!! A small oversight on our part as admittedly Alberto wasn't quite finished. The outer clay layer clearly has an essential part to play in protecting the insulation layer. So we live and learn. Alberto got a good dowsing with the hose pipe and we 're happy to report that hes still standing in one piece, although a little balder than before. A different but perfect ending to my very busy week.
If you fancy giving the tarka dahl and gluten free roti a whirl then check out the recipes below. As always I would love to hear about it if you make any of my recipes, so drop me line in the comments box below.
Other Curry recipes:
For more recipe ideas for a cosy night in have a look at my romantic dinner recipes post.
Red Lentil Tarka Dahl with Gluten Free Roti
A warming, Indian, red lentil tarka dahl served with gluten free Roti
Ingredients
For the Tarka Dahl:
300

g

red lentils – rinsed well

Boiled water – double the volume of lentils

1

tablespoon

olive oil

1

teaspoon

cumin seeds

2

onions chopped

350

g

of vine tomatoes chopped into cm cubes

1

teaspoon

ginger powder

2

cloves

garlic finely chopped

2

green chillies deseeded and finely chopped

1

teaspoon

turmeric

1

teaspoon

garam masala

3

tablespoon

tomato puree

Handful fresh coriander chopped

Salt to taste
For the Gluten Free Roti Breads:
200

g

Doves farm plain white flour

100

ml

water

you may not need all of this

Oil for brushing over roti if desired

Extra flour for rolling
Instructions
Method for the Tarka Dahl:
Simmer lentils in the water for 10-15 minutes or until soft, then drain and set to one side.

Heat up the oil in a large frying pan, add a couple of cumin seeds to test the heat of the oil - if the seeds bubble then the oil is hot enough.

Add the rest of the seeds and fry until golden brown, this will only take 30 seconds - be careful not to burn them. Add in the chopped onion and garlic and cook on a gentle heat until soft.

Next add the tomatoes, tomato puree, chillies, drained lentils, and spices.

Mix well and simmer for a couple of minutes, then taste and season if required.

Finally; remove from the heat, stir in the chopped coriander and serve
Method for the Gluten Free Roti:
Place the flour in a bowl. Gradual add the water and mix in with the tips of your fingers. Add enough water to just about bring the flour together. Too much water will make the dough sticky and difficult to roll out.

Heat up a frying pan on a high heat (don't add any oil – keep dry).

Divide the dough into small even balls (about the size of a golf ball). Re-flour the work surface and roll out each dough ball.

Place the first bread in the pre-heated frying pan. Use the tips of your fingers to rotate the roti in the pan. Cook for 2-3 minutes then flip.

Continue to flip and cook until you are happy with the colour.

Brush with oil, slice and serve.

If you are making in advance, the roti can be wrapped in foil and kept in a low oven.
Nutrition
Serving:
297
g
|
Calories:
527.7
kcal
|
Fat:
8.3
g
Click here to see the nutritional info for this recipe
**Estimated nutritional information per serving and per 100g of Red Lentil Tarka Dahl and Gluten Free Roti Breads. If you want find out more about how the information is calculated and the sources used, please refer to my Nutrition Information Guide.