An easy homemade chicken tikka masala, with homemade curry paste and healthy side dishes
Healthy homemade tikka masala curry
Most of the time I feel bad about a mid week chicken tikka masala, as it usually means I end up in my local curry takeaway. However, when its homemade chicken tikka masala from scratch and I know exactly whats gone in it; I can enjoy a wonderful curry, full of flavour with less that 500 calories, and only 2.2g of saturates! - I declare it shall be curry night every night!! 🙂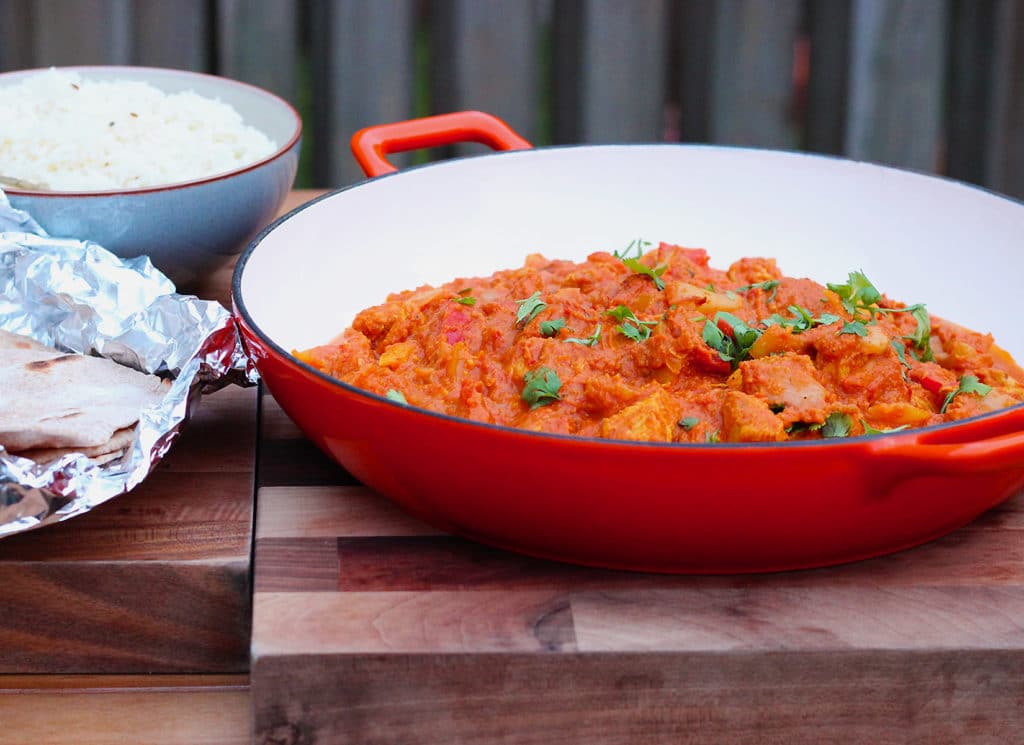 Curry side dishes
Now the other issue tends to be the side orders; ranging from mushroom fried rice to huge naan breads. Oh and don't forget the deep fried samosas. But, never fear as I also have a lovely pilau rice recipe and wholemeal roti breads, which go perfectly with this dish and help to keep it somewhere in the region of healthy. Obviously it bumps up the calories a bit but it keeps the fat down and the fibre high. So if your after a full on curry night that isn't soaked in oil, and won't make you feel too fat and guilty; then read on 🙂
In my opinion the best way to cut down on fat and saturates in a curry is to reduce the oil (or ghee) and replace things like coconut milk with fat free yogurt.
In this recipe I have used fat free yogurt and ground almonds, which adds a bit of creaminess and minimises saturate fats whilst boosting the "good fat" content.
Homemade tikka masala paste
In addition I like to make my own homemade tikka masala paste from scratch, so I know exactly what has gone into this dish from start to finish. The paste is also really easy to make and can be stored in jars in the fridge for up to a month. This same approach can also be taken with a Thai green curry, Thai red curry, or Massaman curry by blending together chillies and Thai herbs and spices to create a Thai red curry paste, Thai green curry paste, Thai yellow curry paste or Massaman curry paste.
How can I make my curry more spicy?
If you like your chicken tikka curry super hot then increase the chilli content or sprinkle in some hot chilli powder or Tabasco sauce.
Can I use an alternative to chicken?
And if Chicken isn't your thing when it comes to curry then you can replace it with lamb or beef or even take out the meat completely and use courgettes, aubergines and sweet potatoes instead to make a wonderful veggie curry.
OTHER CURRY RECIPES:
For more recipe ideas for a cosy night in have a look at my romantic dinner recipes post.
Chicken Tikka Masala Curry
An easy homemade chicken tikka masala, with homemade curry paste and healthy side dishes
Ingredients
1

tbsp

Walnut oil

4

chicken breasts chopped into 2 cm pieces

3

tsp

of tikka masala paste

2

Onions chopped into 2cm chunks

1

red bell pepper chopped into 2cm chunks

1

yellow bell pepper chopped into 2cm chunks

1

large garlic clove finely chopped

Handful of fresh coriander

including the stems

1

red chilli seeds removed and finely chopped

1

tsp

turmeric

1

tsp

ground coriander

3

average sized tomatoes roughly chopped

40

g

ground almonds

1

tin chopped tomatoes

1

tbsp

tomato puree

100

g

Greek style natural yogurt

0% fat
Instructions
In a bowl coat the chicken with the tikka masala paste. If you have time cover and leave to marinade in the fridge for 1-2 hours (or over night if possible).

Pre heat the oven to 150°C (alternatively add all ingredients to a slow cooker).

Heat up 1 tbsp of oil in a heavy based pan or casserole dish. Add the onion, bell peppers and garlic and gently cook for 5 minutes. 

Roughly chop the stems of the fresh coriander and add to the pot, reserve the leaves for later. Add the chilli, turmeric and coriander. Stir well and cook until golden.

Next add the tomatoes, chicken with its marinade, ground almonds, tinned tomatoes and tomato puree. Stir well and bring to the boil.

Finally reduce the pan to a simmer, stir in the yogurt and cover with a lid. Place in the middle of the oven and cook for an hour.

Dish up into bowls and sprinkle over chopped coriander leaves. Serve with pilau rice and roti/naan breads
Nutrition
Serving:
1
g
|
Calories:
478
kcal
|
Carbohydrates:
23.6
g
|
Fat:
15.5
g
|
Saturated Fat:
2.2
g
|
Sugar:
10.3
g