Crunchy, sugared pecans with a sweet, crumbly layer of sugar.
These amazing sugared pecans are perfect as Christmas gifts or are great as toppings on Christmas desserts alongside my chocolate stars and chocolate Christmas trees. This time of year can be so exciting with Christmas still far enough away not to panic or go on any last minute shopping trips; but its still close enough to start thinking ahead and preparing a few little treats.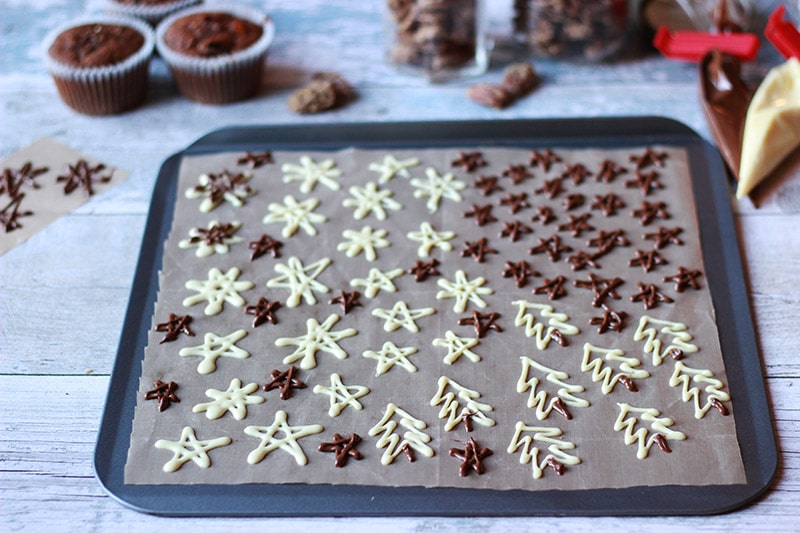 Both of these equally delightful and fun treats are really easy to make and add that personal touch, which is always nice at Christmas. The sugared pecans can be made up to one month in advance and store really well in jars, which can be transformed into lovely gifts with a little ribbon and a nice tag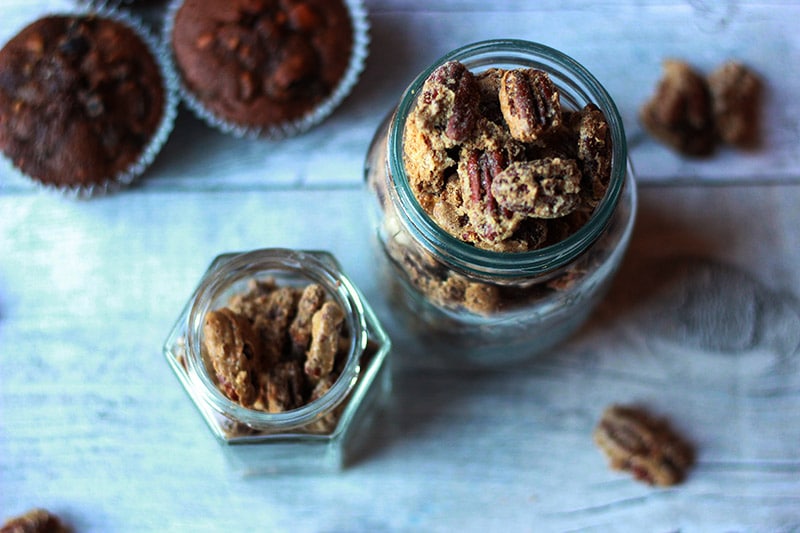 The chocolate stars and Christmas trees are a little more delicate and serve better as toppings on Christmas cakes and puddings. See my Christmas cake recipe here.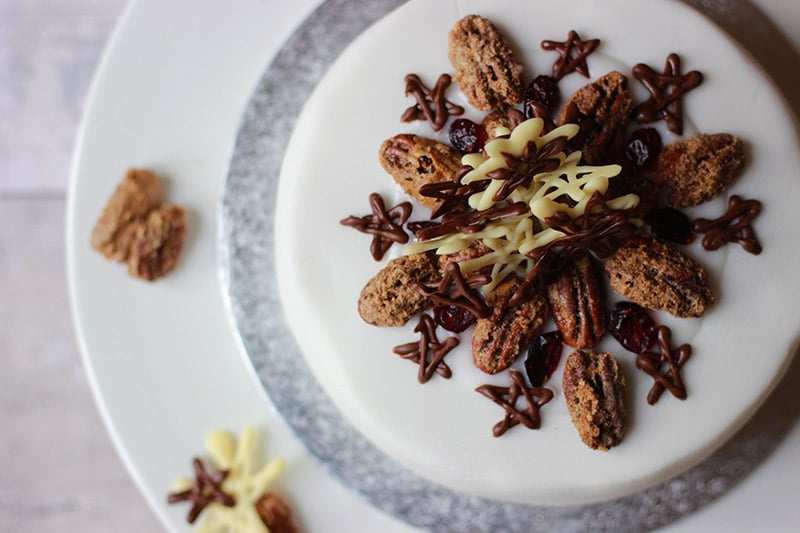 For the chocolate shapes I recommend using piping bags and practising your piping on a scrap bit of paper to check the consistency of the chocolate and to decide how you want to create your shapes. For the sugared pecans try to break them up whilst they are still warm and just out of the oven. Big bits of unwanted sugar can be easily broken off each nut later on.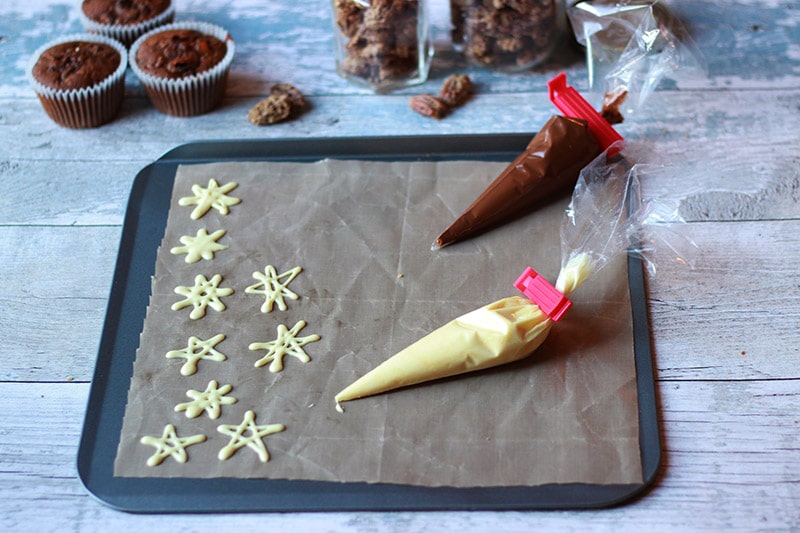 For the perfect home made foodie gift this Christmas: Try making these along with some delicious cranberry mince pies 🙂
📖 Recipe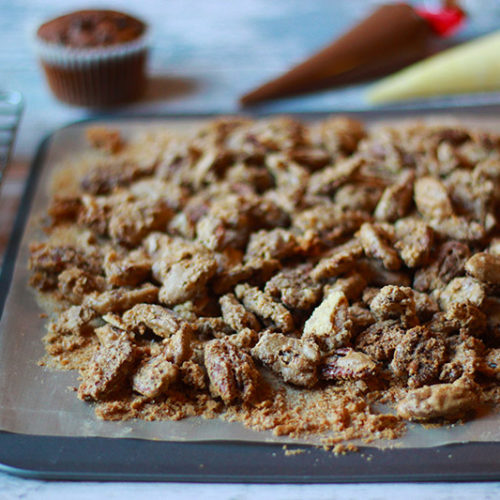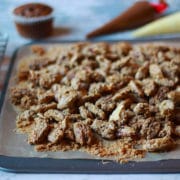 Sugared Pecan Nuts and Chocolate Stars
Sugared Pecan Nuts and Chocolate Stars; perfect for Christmas gifts or as toppings on Christmas desserts
Ingredients
For the Sugared Pecan Nuts
200

g

pecan nuts

1

medium egg white

1

tablespoon

tap water

100

g

white caster sugar

100

g

light brown muscovado sugar

1

teaspoon

allspice

Pinch

crushed sea salt flakes

Silicon or grease proof paper
For the Chocolate Stars
100

g

milk chocolate

baking

100

g

white chocolate

baking

Silicon or grease proof paper

Piping bags
Instructions
For the Sugared Pecan Nuts
Pre-heat the oven to 160 degrees C (fan) and line a baking tray with silicon or grease proof paper.

Start by whisking together the egg white and water until frothy (1-2 mins) and set to one side.

In a bowl mix together the white sugar, muscovado sugar, allspice and salt.

Add the frothy egg white mixture to the sugar mix and combine, then mix in the nuts ensuring they are fully coated.

Transfer the coated nuts to the lined baking tray and spread out evenly across the surface.

Place in the oven for 30 minutes. Check at 15 mins, stir / un-stick and then re-spread across the tray.

After 30 minutes remove from the oven and break up using a spatula before allowing to fully cool.

Once cool use as cake decorations or transfer to jars for storage (can be stored for up to one month).
For the chocolate stars
Set up a bain marie on the hob: large pan with 1 cm of water in the bottom and a glass bowl balanced on top of the pan. Heat the pan until the water is boiling.

Break up the milk chocolate into 1-2cm pieces and place in the glass bowl. Ensure that the bowl is not touching the water. Leave the chocolate to melt and do not stir until it is fully melted. (Alternatively chocolate can be melted in a microwave - heat in 20 second bursts and stir in between until fully melted).

Once melted allow to cool a little and then transfer to piping bags.

Repeat this process with the white chocolate.

As the chocolate cools it will become slightly thicker and so easier to pipe out - however, left for too long it will solidify in the piping bags. Piping bags can be left near a warm oven to keep the chocolate in its melted state.

Lay out some silicon or grease proof paper and snip a small amount off the end of one of the piping bags. How much you snip off will depend on how thick you want the chocolate to be. I suggest having a scrap piece of paper and practising the piping, snipping more off the end of the piping bag if required.

Pipe out star shapes and Christmas tree shapes (or other shapes - but try to keep it simple) and then transfer to the fridge for 1 hour in order to set. Once set carefully peel the chocolate shapes off the paper and position on your cake or dessert.

Tip: Try to pipe out shapes that are well connected - shapes that are empty in the middle aren't as strong and will break as you try to remove them from the paper.
Nutritional information? For Christmas treats? No idea where I've put that 🙂
This post contains affiliate links, which means if you click the link and then go on to purchase I will receive a percentage of the cost. See my privacy policy and disclosure statement for further details.