Did ever you buy avocados and then, after having half of one on a salad, wondered what on earth you were going to do with the rest? Get some inspiration for your avocados with this simple avocado guide. Including lots of easy recipes for avocado.
Plus, find out all you need to know about the avocado! Where it comes from, why its so good for you, how to cut it, how to store it, how to stop it going that horrible brown colour and of course how to eat it.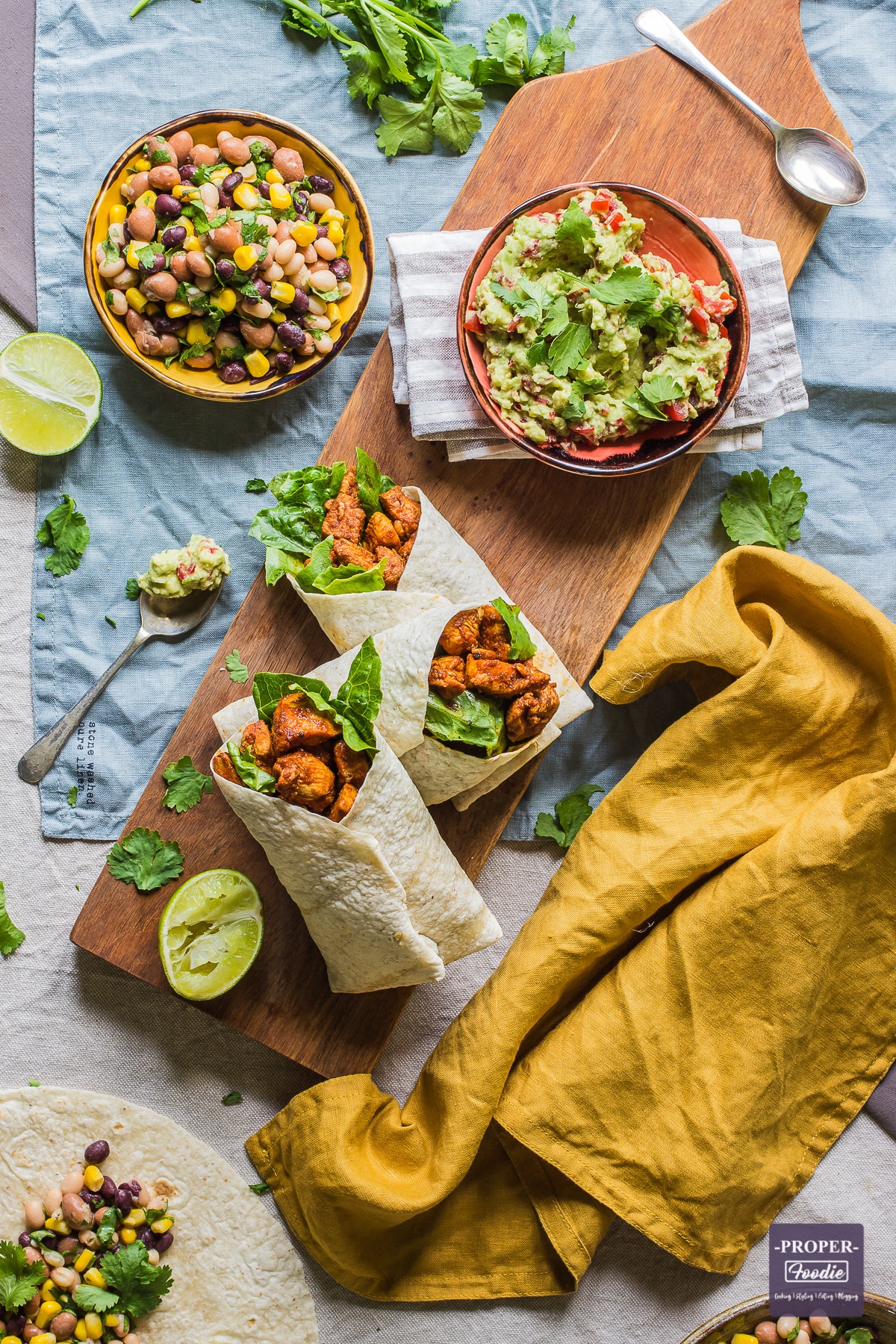 Jump to:
Why eat avocado?
Avocado is a tasty and creamy, super healthy fruit that can be mushed up into a dip or smothered onto toast in seconds.
A good stock of avocados also means that you can have fresh guacamole on tortillas everyday!! Whats not to love?
Avocados are known for their amazing, unique taste and texture and they are also extremely rich in nutrients and antioxidants. An average avocado contains plenty of healthy fats, folate, potassium and fibre. Folate is particularly important for metabolic function. Other foods contain folate but cooking will destroy nearly half of the folate content. Generally not an occurrence with avocados. Although you can bake avocados if the need takes you.
Sliced avocado
One of the easiest recipes for avocado is to simply slice or cube it and serve up with your meal. I love to slice avocado over salad, alongside homemade chilli con carne, inside burritos or wraps or even on a sandwich or burger.
Smashed avocado
Smashed avocado is as it sounds, mashed up avocado. This is really simple and really quick avocado recipe. First, half the avocado and use the knife to remove the stone (see below for further details on how to cut an avocado). Then with the flesh still in the skin use a fork to mash up the flesh and then turn out into a bowl or over/alongside your meal. This is also the basis for making guacamole.
Simple Guacamole Recipe
A simple and authentic guacamole recipe with creamy avocado, perfect for spreading on your tacos or for dunking in tortillas. Easy to put together in just 5 minutes and a squeeze of lime helps keeps this lovely Mexican dip nice and fresh
Make this recipe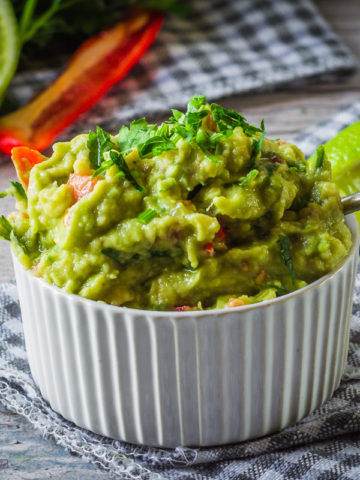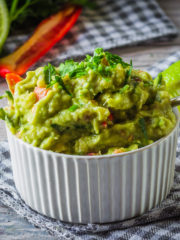 Healthy Chicken Wraps
Healthy chicken wraps with paprika chicken and Mexican style side dishes. In this recipe find out how to make these easy and healthy chicken wraps and the best way to season the chicken. Also get the recipes for easy homemade guacamole and three bean salad, which can be added to the wraps or served as side dishes.
Make this recipe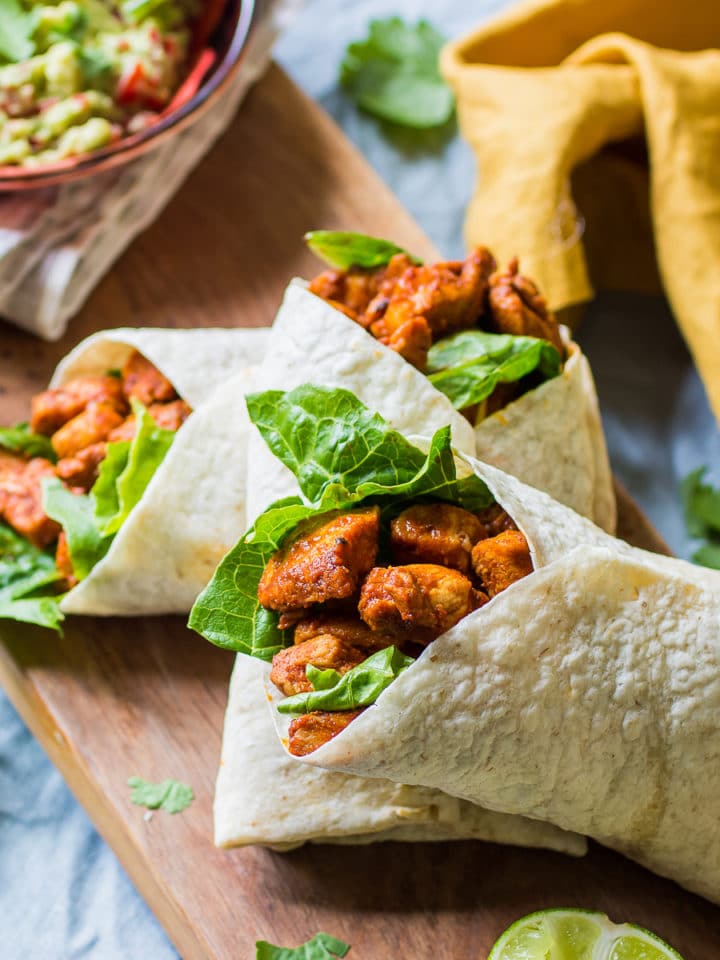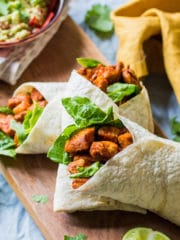 Avocado breakfast
I love to start the day with avocado. Avocado on toast is of course one of the most popular recipes for avocado and its so easy to make. Just smash or slice the avocado and place on top of your toast. Avocado and egg is also a great combination. Why not finish off your avocado toast with a couple of poached eggs or top some scrambled eggs with cubed avocado.
Prepare some avocado in advance for a great breakfast on the go:
Breakfast on the go
These three meal prep breakfasts are great for breakfast on the go. I'm always looking for breakfast ideas for eating at work and breakfasts pots like these are a great solution. They all come in at under 300 calories, take minutes to put together, keep well in the fridge overnight, and are full of healthy nutrients and high in protein.
Make this recipe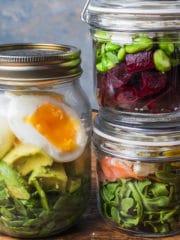 Avocado sushi
Sushi rolls are another great partner to avocado. Use as a sushi roll filling or as a topping on California rolls or dragon roll sushi. If you want to have a go at making sushi have a look at this guide for homemade sushi rolls.
📋 Homemade Sushi Rolls
Make homemade sushi rolls with my easy to follow, step-by-step guide and recipe video. Get my top tips and tricks and watch the video for making sushi at home. Including how to make sushi rice, maki sushi, California rolls, dragon rolls and nigiri sushi. Plus find out about the fantastic sushi kit I used to make this wonderful sushi platter.
The below will be enough to make a full platter (serves 4) of different sushi rolls or if you prefer a platter of one kind of sushi. See notes below for links to making a variety of homemade sushi rolls.
Make this recipe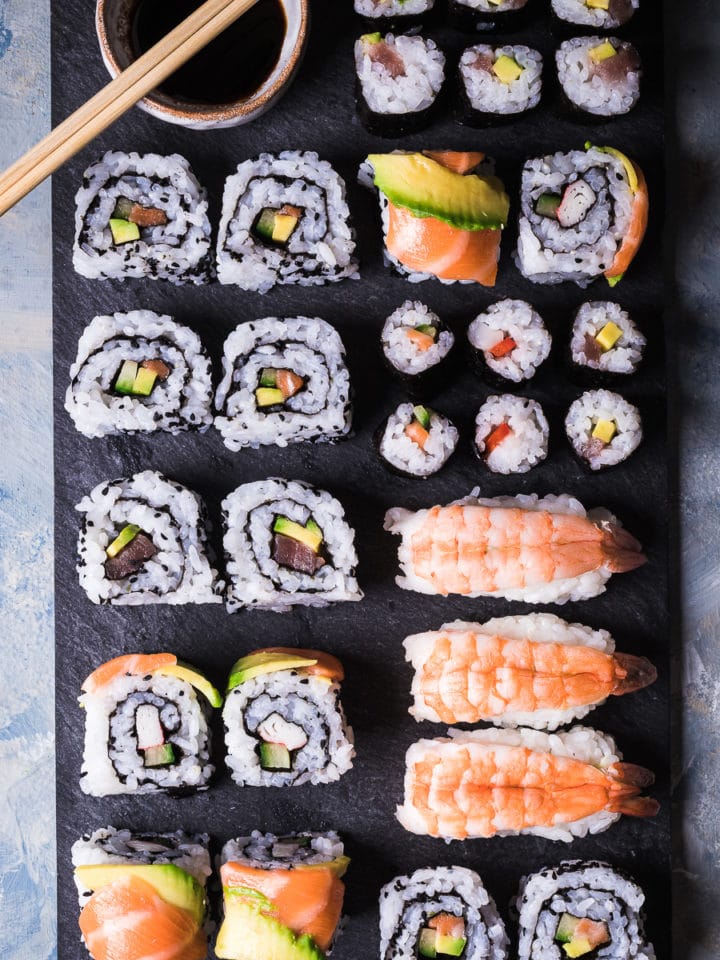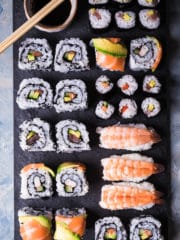 📋 California rolls
California rolls with salmon, avocado and cucumber. This simple step by step guide will show you how to make your own California sushi rolls at home. Usually served without raw fish, this sushi roll is a great option for sushi-newbies, kids, and anyone who really can't stand uncooked fish.
Make this recipe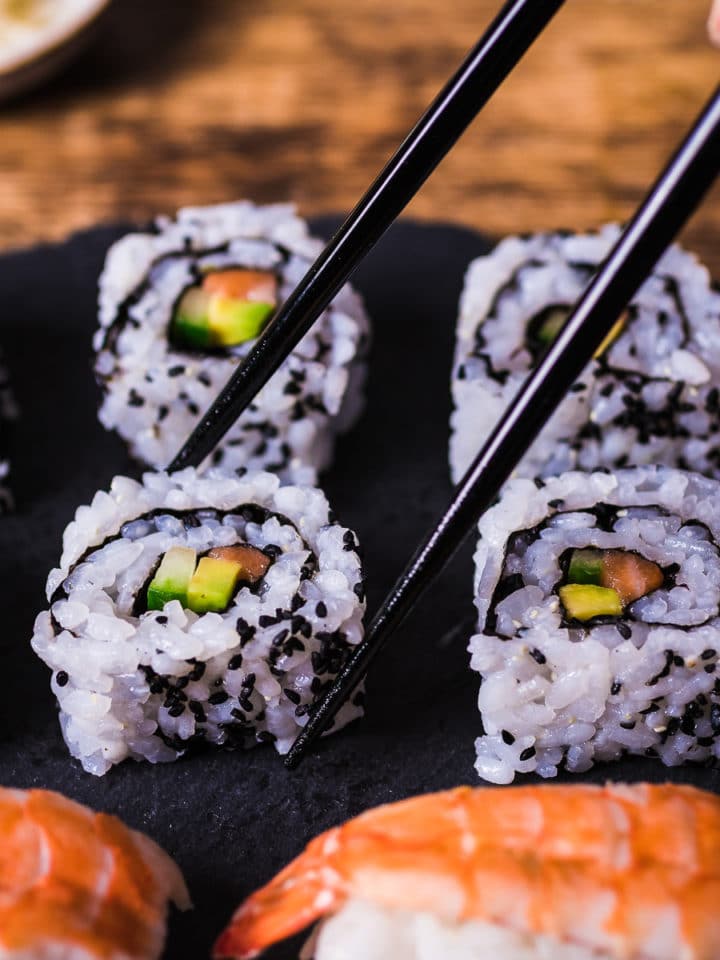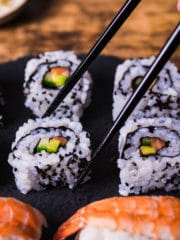 📋 Dragon Roll Sushi
Dragon roll sushi is a California roll with thin slices of avocado and salmon lay on the top and following the curve of the roll. In this sushi guide I'll show you how easy it is to perfect the dragon roll at home.
Make this recipe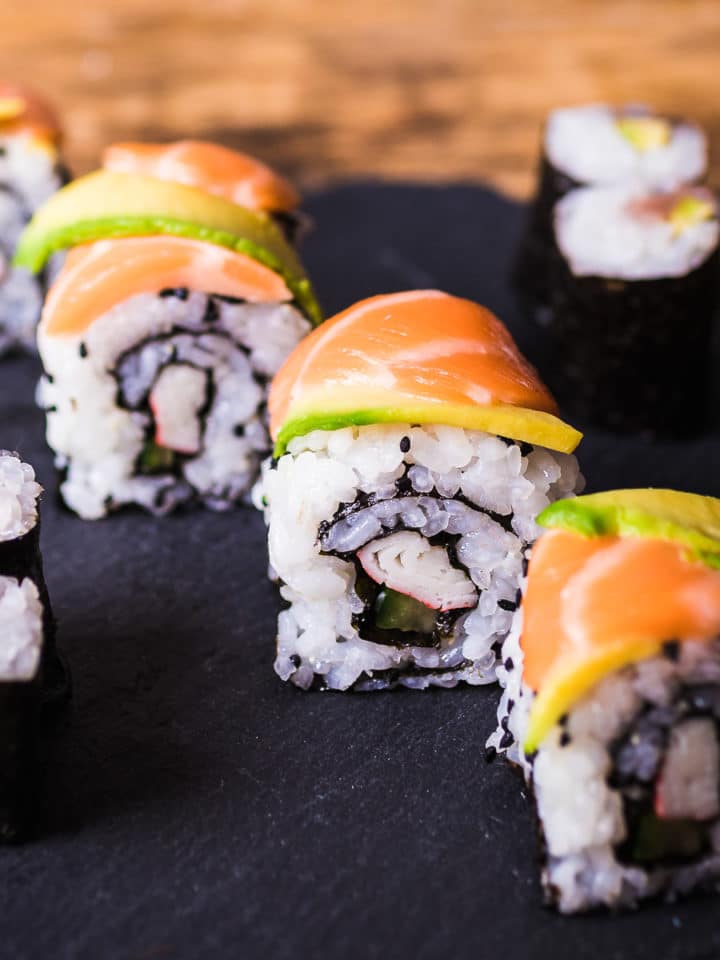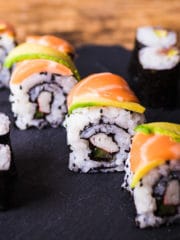 How to cut avocado
The avocado can be quite tricky to cut if you've never done it before. The easiest way involves halving with a knife (moving around the stone). Then twist with your hands to separate the two halves. One half will have the stone stuck in the centre.
Next, carefully tap the stone with the blade of the knife so it sticks, then twist and the stone should move away from the flesh with the knife. Finally, with the avocado halves still within the skin, score the flesh with a knife and scoop out the cubed flesh with a spoon.
How do you store avocado?
Keep ripe avocados in the fridge and unripe avocados on the side at room temperature. Wrap a cut avocado in cling film and keep in the fridge. If you can, leave the cut avocado in its skin and squeeze lemon or lime juice over any exposed flesh. Leftover avocado can also be pureed and frozen for up to 6 months.
How do you stop avocado going brown?
Avocado flesh oxidises very quickly once cut and exposed to the air (much like apple). In order to prevent the avocado from going brown squeeze lemon or lime juice over the exposed flesh. If making guacamole mix the citrus juice directly into the dip using around half a tablespoon of juice per avocado.
Can you eat avocado raw?
Avocado is usually eaten raw although it can be cooked. Baked avocado and eggs is a popular cooked avocado recipe. This is where the egg is cracked into half of an avocado and then baked until the egg is cooked through. However, its worth noting that the cooking process will reduce some of the fruits nutritional content.
Can you grow avocados yourself?
An avocado tree is a tropical plant and prefers a warm climate. However, it is possible to grow avocados in the UK. However, you need to grow the avocado plant inside or in a greenhouse and allow bees to pollinate the flowers. Do bear in mind that it can take 10 years for avocado trees to produce fruit! Check out this avocado trees article for more info on growing and caring for avocado plants.
Are avocados good for you?
Avocados have many benefits, here are a few reasons to include them in your diet:
Avocados are unique amongst other fruits and vegetables, in that they are much more nutrient dense and high in antioxidants. As well as providing antioxidants and dietary fibre, the avocado also contains healthy fats and so helps to promote a healthy lipid blood profile.
One half of an average avocado consists of: 114kcal, 5.9g carbohydrate, 0.2g sugar, 1.34g protein, 4.6g dietary fibre, 5.5mg sodium, 10.5g total fat and 6.7g monounsaturated fat. Amounts may vary depending on the size, season and ripeness of the fruit.

Avocado can be classed as a mediterranean-style food

, although not traditionally part of the mediterranean diet. This is due to its high antioxidant, high fibre and and high monounsaturated fatty acid content. Therefore, the avocado may be able to claim the same health benefits as foods such as olive oil, oily fish, whole grains and other high fibre fruit and veg.
Avocados are also a farm to market food and require no processing, preservatives or taste enhancers. Their naturally tough skin reduces the need for packaging (and so plastics!!) and also provides some resistance against pests and disease.

The name of the avocado comes from the word 'ahuacatl'

, which is from the Nahuatl language spoken by the indigenous people of Mexico and El Salvador. The word itself refers to a part of the male anatomy that the shape of the avocado happens to resemble. The ancient Aztecs believed that the fruit helped to promote fertility. Funnily enough the fruit does contain high levels folate. Folate is important for metabolic pathways and cell division, which is essential in pregnancy when cells are dividing rapidly.
What does avocado taste like?
Avocado has a subtle, mild, creamy taste, which is very distinct. Avocado is mainly found in savoury dishes but is used in desserts in some parts of the world. Due to its creamy texture avocado is a great replacement for processed condiments such as mayonnaise. As the avocado is Mexican, its generally paired with Mexican flavours such as chilli and lime.
Avocado supply and demand
You may have noticed that avocados aren't cheap and prices are going up. This is all to do with the increase in demand for avocados in recent years. In addition, avocado growth requires huge quantities of water. Avocados are having a huge environmental, economical and social impact. Its worth bearing this in mind as we guzzle down our daily avocado fix. Find out more in the above link.
When to eat avocados
Avocados are imported into the UK (mainly from Spain) and so are available year round. If you want an extra special reason to eat avocados then make a note of its celebratory days: