Twelve fabulously easy avocado recipes, plus find out all about the avocado; where it comes from, why its so good for you, how to cut it, how to store it and how to stop it going that horrible brown colour.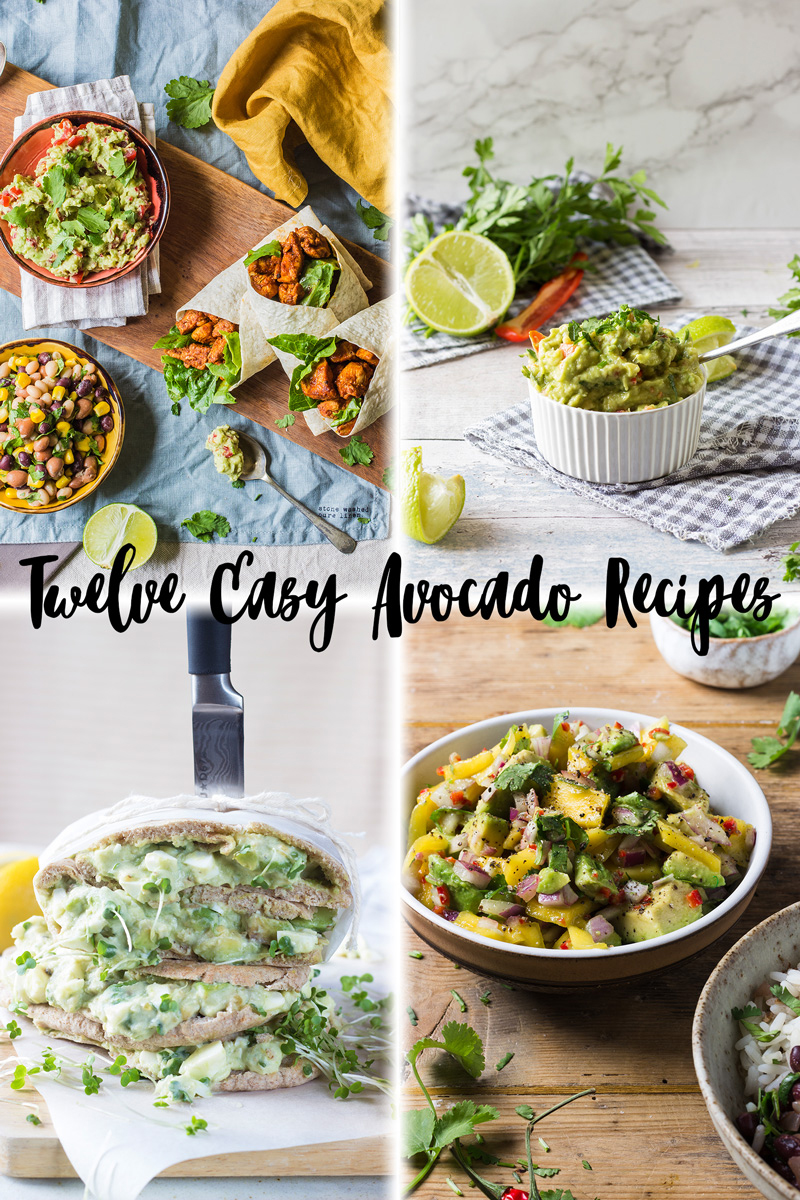 About the avocado
The avocado (Persea Americana) is a fruit originating from Mexico, with evidence of avocado consumption dating back to 10,000BC. Avocados are actually classed as single-seeded berries as they grow on trees and are the matured ovary of a flower. They have a tough outer skin and contain a seed in the middle, so can be more likened to a peach rather than a small berry; like a strawberry. The skin and seed make up about 33% of the whole weight of the avocado.
Spanish explorers were introduced to the avocado in the 16th century and by 1521 the fruit had started to spread through Central and South America. By the late 19th century avocado trees were growing in California and by the 1950s over 25 avocado varieties were being commercially packaged and shipped in California.
The name of the avocado comes from the word 'ahuacatl', which is from the Nahuatl language spoken by the indigenous people of Mexico and El Salvador. The word itself refers to a part of the male anatomy that the shape of the avocado happens to resemble and the ancient Aztecs believed that the fruit helped to promote fertility. Funnily enough the fruit does contain high levels folate, important for metabolic pathways and cell division, which is essential in pregnancy when cells are dividing rapidly.
Why eat avocado?
Because its tasty and creamy and means that you can have guacamole on tortillas everyday!! Whats not to love? And there are so many easy avocado recipes out there! . . . Ok I do know that some people just cannot abide avocados. - But I imagine as you are reading this, you are not one of those people? So other than the amazing, unique taste avocados are known for, they are also extremely rich in nutrients and antioxidants; containing plenty of healthy fats, folate, potassium and fibre. As mentioned above folate is particularly important for metabolic function and even though folate can be found in other foods, more often than not nearly half of folate content is destroyed during cooking - generally not an occurrence with avocados. Although you can bake avocados if the need takes you. Scroll down to the bottom to find all of my easy avocado recipes.
Avocados are also a farm to market food and require no processing, preservatives, or taste enhancers and their naturally tough skin reduces the need for packaging (and so plastics!!) and also provides some resistance against pests and disease.
Health benefits of avocado
Avocados are unique amongst other fruits and vegetables, in that they are much more nutrient dense and high in antioxidants. As well as providing antioxidants and dietary fibre, like most fruits and veg, the avocado also contains healthy fats and so helps to promote a healthy lipid blood profile. One half of an average avocado consists of: 114kcal, 5.9g carbohydrate, 0.2g sugar, 1.34g protein, 4.6g dietary fibre, 5.5mg sodium, 10.5g total fat, 6.7g monounsaturated fatty acids, 345mg potassium, 9.5mg magnesium, 5 micrograms vitamin A, 6mg vitamin C, 1.3mg vitamin E, 14 micrograms vitamin K, 50mg folate, 0.2mg vitamin B6. Although, nutrients can vary depending on the size, season and ripeness of the fruit.
Although not part of the traditional mediterranean diet, the avocado can also be classed as a mediterranean-style food due to its high antioxidant, high fibre and and high monounsaturated fatty acid content. Therefore, the avocado may be able to claim the same health benefits as foods such as olive oil, oily fish, whole grains and other high fibre fruit and veg. To make the little avocado a little more mediterranean try it in one of my avocado recipes - a delicious avocado salad, which uses mango, red onions, chillies, lime juice and coriander.
What does avocado taste like?
Avocado has a subtle, mild, creamy taste, which is very distinct. The flesh of the fruit is mainly used in savoury dishes but is used in desserts in some parts of the world. Due to its creamy texture avocado is a great replacement for processed condiments such as mayonnaise and also makes for a great dip. As the avocado is Mexican, its generally paired with Mexican flavours such as chilli and lime.
Can you eat avocado raw?
Avocado is generally eaten raw although it can be cooked. One popular cooked easy avocado recipe is baked avocado and eggs, where the egg is cracked into half of an avocado and then baked until the egg is cooked through. However, its worth noting that the cooking process will reduce some of the fruits nutritional content. Personally I'm not a fan of cooking avocado so all of my easy avocado recipes below use the avocado flesh in its raw form.
How to cut avocado
The avocado can be quite tricky to cut if you've never done it before. The easiest way involves halving with a knife (moving around the stone), twist with your hands to separate the two halves, then score the flesh with a knife and scoop out the cubed flesh with a spoon. Follow this link for more details on how to cut an avocado and to watch the 'how to' video.
How do you store avocado?
Ripe avocados should be kept in the fridge and unripe avocados should be kept on the side at room temperature. A cut avocado can be wrapped in cling film and kept in the fridge. If you can, leave the cut avocado in its skin and squeeze lemon or lime juice over any exposed flesh. Leftover avocado can also be pureed and frozen for up to 6 months.
How do you stop avocado going brown?
Avocado flesh oxidises very quickly once cut and exposed to the air (much like apple). In order to prevent the avocado from going brown squeeze lemon or lime juice over the exposed flesh. If making guacamole mix the citrus juice directly into the dip using around half a tablespoon of juice per each avocado.
Avocado supply and demand
You may have noticed that avocados aren't cheap and prices are going up. This is all to do with the increase in demand for avocados in recent years and the huge quantities of water that are required to grow avocados. Avocados are having a huge environmental, economical and social impact - and its worth bearing this in mind as we guzzle down our daily avo fix - find out more in the above link.
Can you grow avocados yourself?
An avocado tree is a tropical plant and prefers a warm climate. However, it is possible to grow avocados in the UK, but you need to grow inside or in a greenhouse and allow bees to pollinate the flowers. But do bear in mind that it can take 10 years for avocado trees to produce fruit!
What do you eat with avocado?
Avocado is a fantastic accompaniment to a whole array of dishes, I particularly love avocado on a salad, in fajitas or even on a burger. Below are some of my favourite easy avocado recipes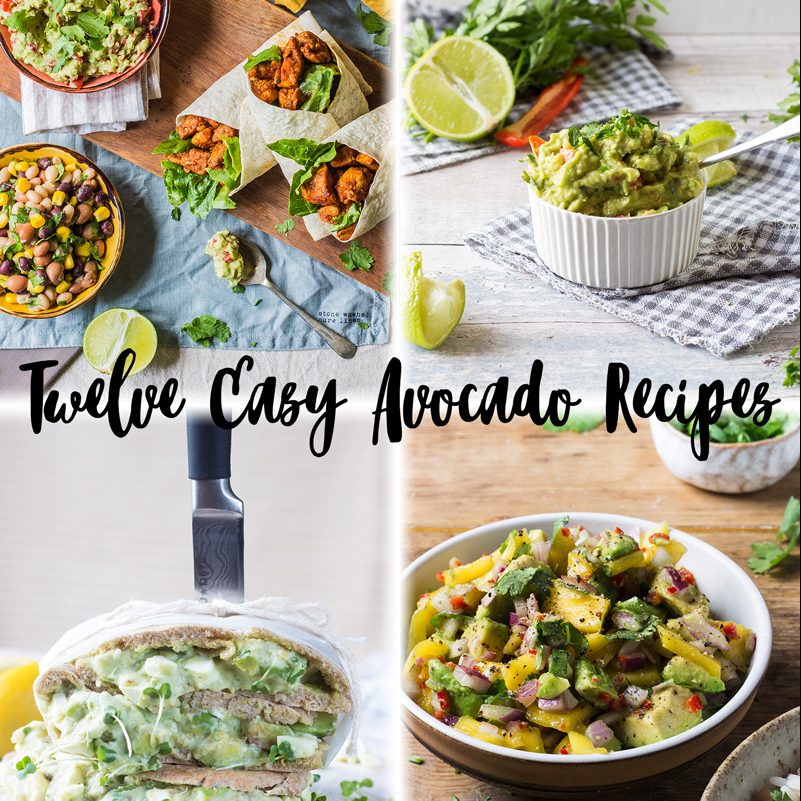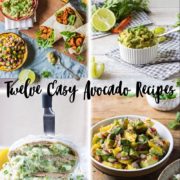 Twelve Easy Avocado Recipes - all recipe links below
Twelve fabulous avocado recipes, plus above - find out about the avocado; where it comes from, why its so good for you, how to cut it, how to store it and how to stop it going that horrible brown colour.links to all recipes below
Ingredients
Click on each recipe link below to see full ingredient list for each recipe
You will need lots of

Avocados 🙂
Instructions
Links to all twelve avocado recipes below:Enjoy a variety of dishes all containing avocado. Click on each link below to see the full recipe. Please note that cooking times and nutritional information varies between recipes but full details are listed within each recipe link.
Paprika chicken wraps with homemade guacamole
chicken and blackberry salad with avocado
Smokey chilli con carne topped with avocado
Chicken tinga and avocado burritos
Egg and avocado sandwich
Steak platter with rosemary potatoes and avocado salad
Pumpkin guacamole
Super green smoothie with avocado
Fajita chicken and avocado salad
beetroot red pepper dip with wedges and avocado salad