With the nights drawing in and with the noticeable drop in air temperature, I feel the need to get out my big pan and cook up some freezable batches of soup. This garden soup is a brand new recipe and one that came about due to the tonnes and tonnes of celery leaves we've had in our veg patch this year.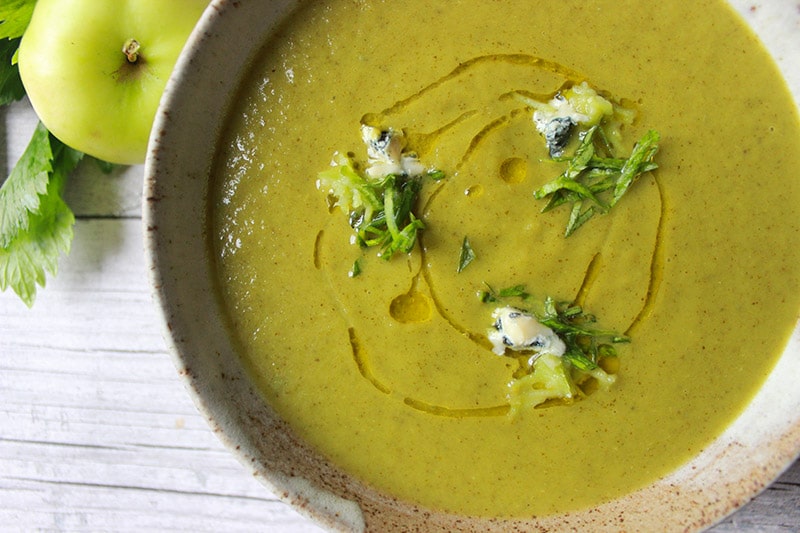 Why make this recipe?
Its rustic, its hearty and its a really properly homemade soup. The fresh taste from the celery leaves is nicely balanced here with the sweet apples and the bitter blue cheese. It really is a soup that has it all and is just what I want to come home to on a dark, rainy night.
Celery
Not something at the top of most people shopping lists and I know a lot of people would rather avoid celery. However, the humble celery stick is highly regarded in our household....more so since the creation of this great soup (and maybe a little more so by me than Ben, I could eat celery all day long).
Why is celery good for you?
Its super low in calories and fat (guilt free eating all the way)

It contains a good amount of fibre so is great for digestion.

Its shape, texture and strength make it perfect for chopping into crudites for dips. (check out my beetroot and red pepper dip for something sweet and zinging to dip your celery into).

Its ridiculously easy to grow. It really does take care of itself; as long as it has good soil and the room to grow to its full potential (a good 30cm between plants). The yield is also pretty good, especially in terms of leaves.

It can be used in all types of recipes and really gives a great boost to the flavour: salads, stews, soups, pesto. (watch out for my celery pesto post coming soon)

Its leaves, which are often over looked, usually have the most flavour and have a lovely deep green colour. As each plant supplies a large quantity of leaves; its more than likely that celery growers will find themselves over run. As the leaves are so bulky it can be extremely difficult to store them, so celery leaf soups, stews and pestos are the perfect solution. They look so pretty as well with the vibrant bright green shining through.
Ingredients
To make this celery, apple and blue cheese soup you will need:
Olive oil
Onions
Garlic cloves
Green apples
Celery stalks
Fresh sage leaves
Dried oregano
Celery leaves (optional)
Vegetable stock
Blue cheese plus extra for topping
Salt and pepper to taste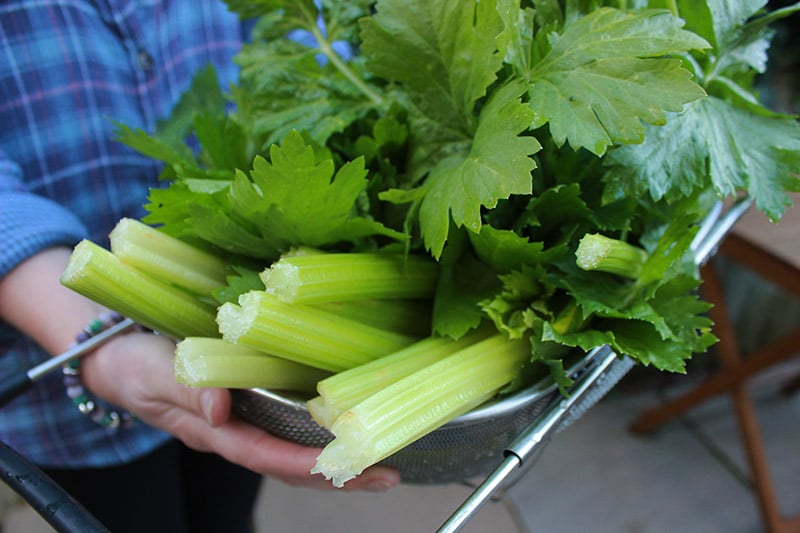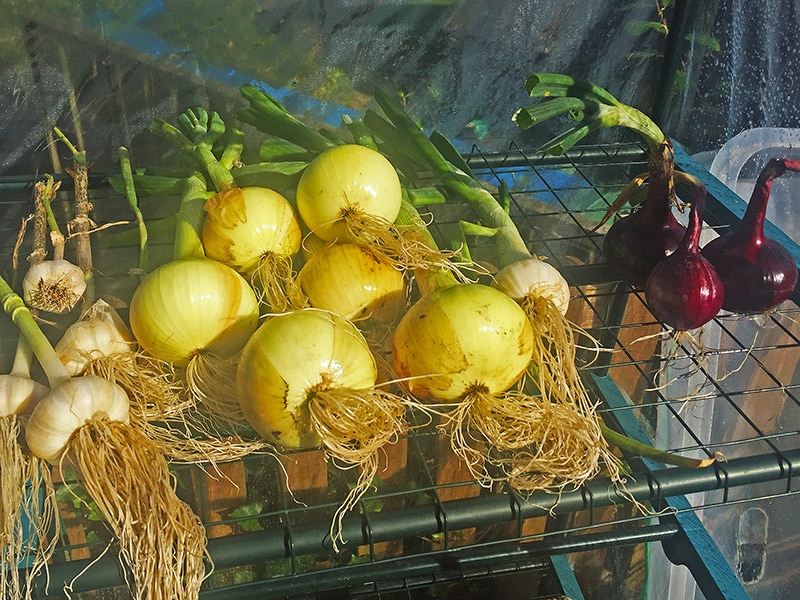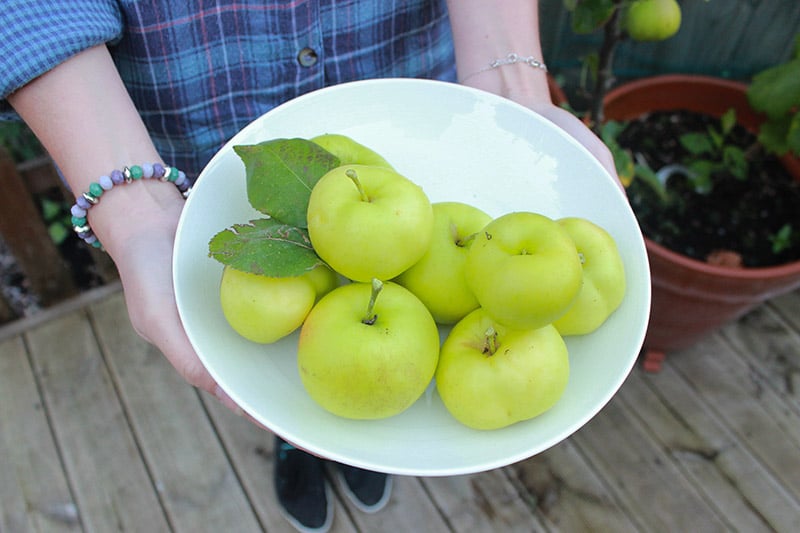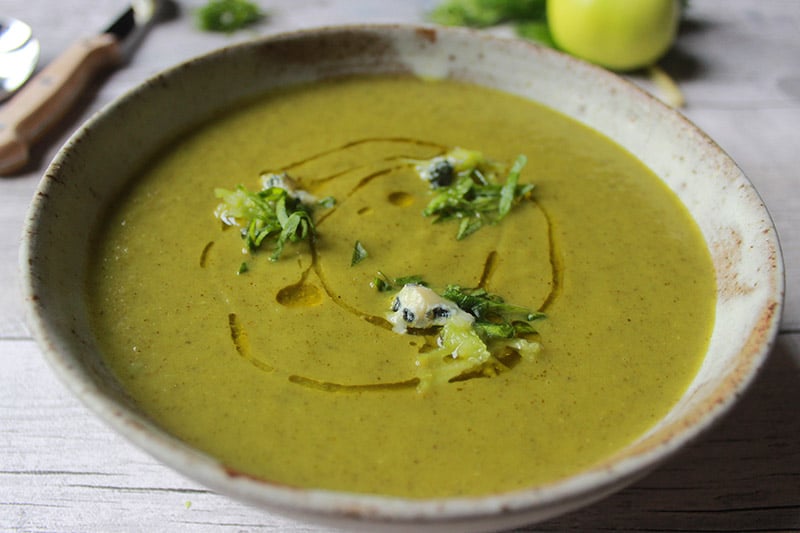 Growing celery
Celery needs its space to grow fully and its surprising how much it will spread. So leave plenty of room between plants.

Celery is ready to harvest when the sticks are around 20cm or more in length.

Healthy celery has upright stems which snap. Stems should not be limp and bendy.

Leaves should be fresh, crisp and a darker green to the rest of the plant

When harvesting try to keep the stem connected at the base and store as a whole plant. This helps to keep its freshness. Celery can be kept in the fridge for several weeks.

The leaves are less easy to store as they are quite bulky and there can be a lot just on one plant. They are also at their freshest and tastiest just after being removed from the stems. Therefore, remove and use as soon as you can. If you can't use all the leaves place washed leftovers in a bowl, cover with cling film and keep in the fridge for up to a week.

If using the stalks in a recipe, use a peeler and scrape away the outer layer, which will remove the stringy bits which can be quite annoying if they get stuck in your teeth.

If you're making this soup in a big batch for freezing, leave the blue cheese out and add later. Defrost, reheat and then melt in the cheese before serving. The fresh cheese really adds to the taste of the soup and helps bring it back to life. It also means you'll have some cheese leftover for a pretty topping.

Not a fan of blue cheese? Then leave it out. Its still a very tasty dish with plenty of flavour. Or you could always replace with a different cheese - I imagine a cream cheese would work really well.
Other autumnal recipes
If you've tried this recipe, let me know what you think by leaving a star rating in the recipe card or comment section below. I always appreciate your feedback! You can also follow me on Pinterest, Facebook or Instagram or Sign up to my email list!
📖 Recipe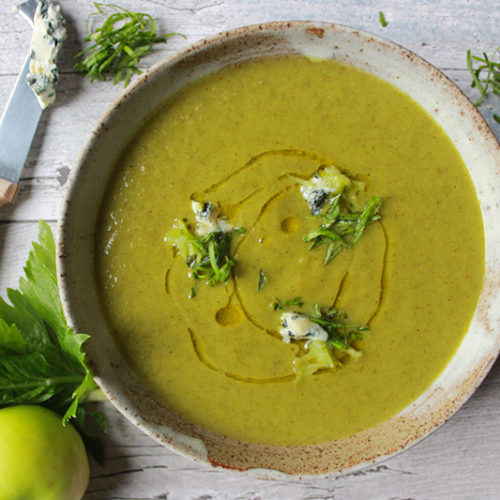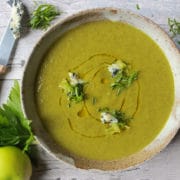 Celery, Apple and Blue Cheese Garden Soup
A hearty celery soup with sweet apples and blue cheese. Perfect for a cold, autumnal night.
Ingredients
1

tablespoon

olive oil

2

Onions peeled and chopped

2

garlic cloves finely chopped

300

g

of sweet green eating apples core removed and roughly chopped

450

g

celery stalks

peeled to remove the stringy bits and chopped

10

fresh sage leaves

5

g

oregano leaves or half teaspoon dried oregano

250

g

celery leaves washed and roughly chopped

700

ml

vegetable stock

100

g

blue cheese plus extra for topping

Salt and pepper to taste
Instructions
In a large stock pan heat the olive oil, add the garlic and onions, then gently cook for 2-3 minutes.

Next add the apples, celery stalks, sage and oregano. Stir well before pouring in the stock.

Bring to a simmer and then add the celery leaves. Mix well to help the leave to wilt.

Pop on the lid and leave to simmer gently for 20 minutes, check occasionally.

Once the celery and apple have softened remove from the heat and ladle the soup into a blender. Blend on high for 5 minutes to ensure the soup in nice a smooth, then return to the pan. To create a perfectly smooth consistency; sieve the soup back into the pan (make sure you push as much through the sieve as possible, otherwise some flavour may be lost).

(if freezing your soup, stop at this point and ladle into seal-able containers - add blue cheese and seasoning when ready to defrost and reheat)

Put the blended, sieved soup back on a low heat and melt in the blue cheese. Taste and add more cheese if desired and season.
Nutrition
Serving:
338
g
|
Calories:
223
kcal
|
Carbohydrates:
25
g
|
Protein:
8
g
|
Fat:
11
g
|
Saturated Fat:
5
g
|
Polyunsaturated Fat:
1
g
|
Monounsaturated Fat:
5
g
|
Cholesterol:
19
mg
|
Sodium:
1241
mg
|
Potassium:
702
mg
|
Fiber:
6
g
|
Sugar:
15
g
|
Vitamin A:
1412
IU
|
Vitamin C:
13
mg
|
Calcium:
243
mg
|
Iron:
1
mg