Pan fried tuna steak coated with a cumin and nigella seed crumb and served with paprika cauliflower and crispy kale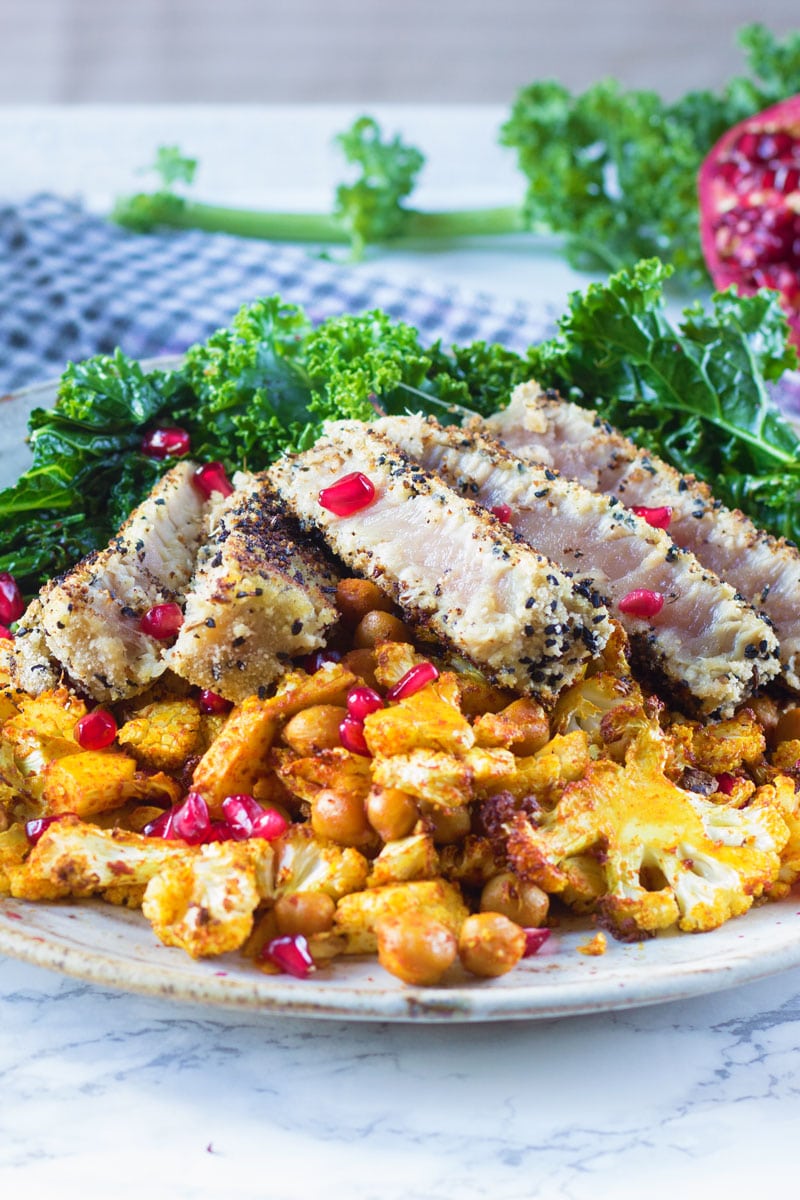 Happy New Year!!
Its January and I'm raring to go with my first healthy recipe of 2018. And its a fabulous one! This recipe uses my most favourite fish: the tuna steak, and pairs it with my most favourite carb alternative: paprika cauliflower. Theres plenty going on here from crunchy chickpeas to juicy pomegranate seeds, so I can pretty much guarantee that, flavour wise, this is one healthy option that will not disappoint.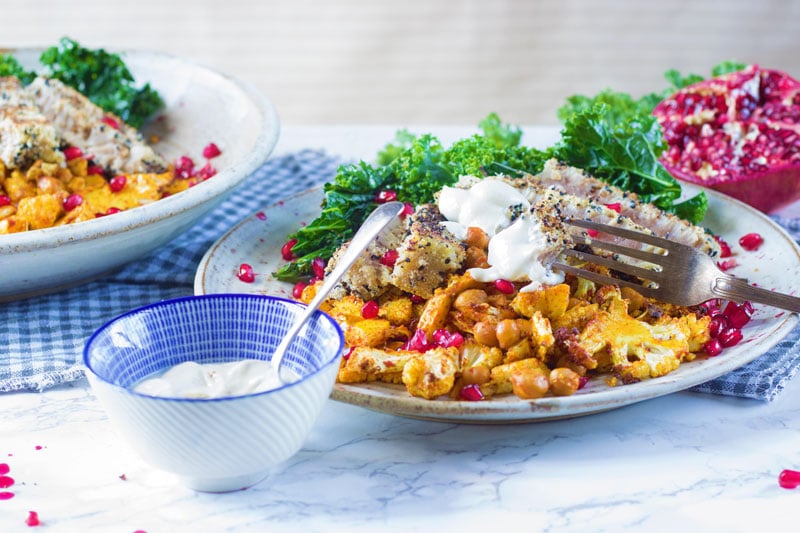 January blues
This time of year can be such a drag – I honestly can't tell you the number of times I have complained about dark mornings, and dark nights and just the general grey, morbidness of the outside world. Christmas lights definitely help with this in December, but in January we're left to fend for ourselves – its just too depressing isn't it. The only answer, in my case anyway, is to eat and eat well. I do love to cheer myself up with a huge pile of mash and gravy. But carb overload doesn't necessarily help matters. So this year I'm going for warming comfort food thats super nutritious but not ridiculously stodgy.
Colourful foods
A splash of colour really helps as well and with tuna steak I definitely want to be seeing some bright pink 🙂 The bright yellow sunny colour of the cauliflower is also much appreciated at this time of year. This recipe uses an array of spices to bring warmth to the cauliflower and to really boost the flavour.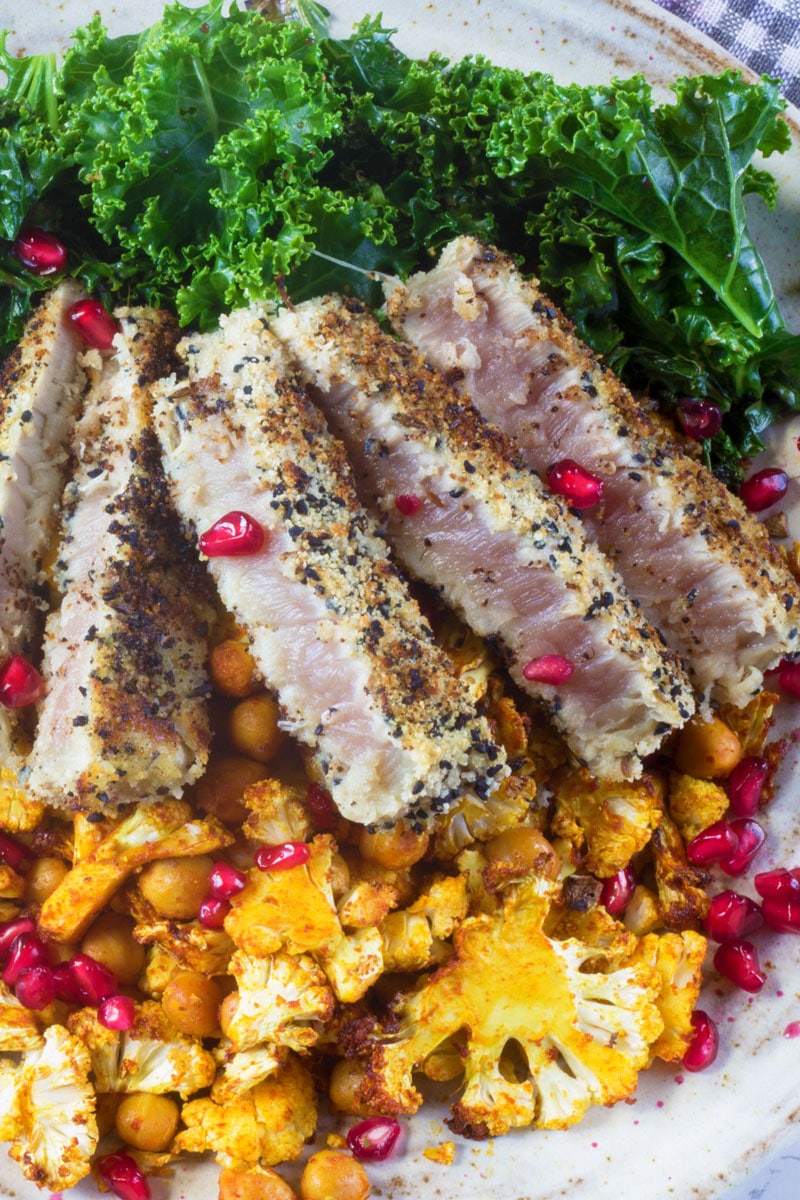 Crumbed Tuna Steak
To help the fish keep up with the interesting flavours of the cauliflower I have included a light breadcrumb coating on the tuna steaks. The breadcrumbs are mixed with cumin and nigella seeds, which are just so fabulous with this fish. Its warm, its slightly spicy, its chocker with Indian flare, and really does bring the best out in this lovely tuna steak.
Tahini dip
Before delving into the recipe I just need to mention this crazy good tahini dip – its the perfect accompaniment to the tuna steak and the tahini flavour is a perfect match to the Indian spices and seeds. As this is quite a dry dish I highly recommend you make this dip to along with it 🙂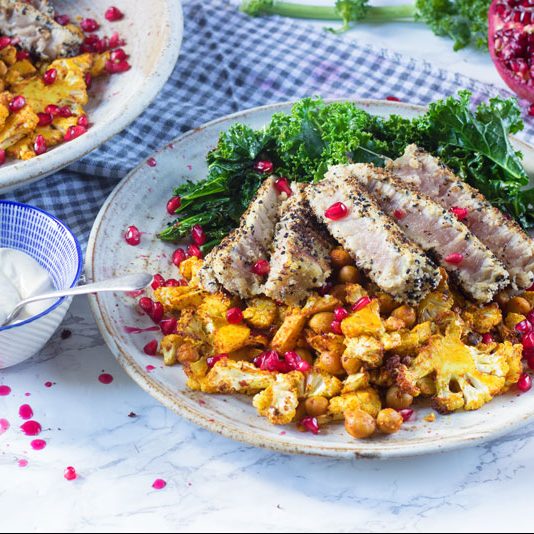 Cumin Crumbed Tuna Steak with Paprika Cauliflower & Crispy Kale
Pan fried tuna steak coated with a cumin and nigella seed crumb and served with paprika cauliflower and crispy kale
Print
Pin
Ingredients
For the cauliflower:
400

g

cauliflower chopped

210

g

tin of chickpeas

1

tbsp

olive oil

1

tsp

paprika

0.5

tsp

cayenne pepper

0.5

tsp

turmeric

Half a pomegranate
For the tahini dip:
1

tbsp

fat free greek style yogurt

1

tsp

tahini paste

0.5

tsp

Dijon mustard

Squeeze of lemon juice

Pinch

of sea salt
For the tuna:
2

Tuna Steaks

1

tsp

cumin seeds

1

tsp

nigella seeds

2

tbsp

breadcrumbs

1

egg whisked

0.5

tbsp.

olive oil
For the kale:
100

g

kale

Drizzle of olive oil
Instructions
Preheat the oven to 180 degrees C and have a baking tray ready.
Prepare the cauliflower:
Add the chopped cauliflower and chickpeas to a large bowl. Mix in the oil, paprika, cayenne pepper and turmeric. Transfer to the baking tray and roast in the oven for 20 minutes.
Prepare the dip:
In a small bowl mix together the yogurt, tahini, mustard, lemon juice and salt. Transfer to a small serving dish and place to one side.
Prepare the coating:
Line up 2 bowls, place the egg in one and whisk, then place the cumin seeds, nigella seeds and breadcrumbs in the second. Dip and coat the tuna in the egg and then dip and coat in the breadcrumb mix. Set on a plate to one side.
Prepare the Kale:
Remove any tough stems from the kale and roughly chop the leaves. Cook the kale with a drizzle of oil in large wok or frying pan for at least 5 minutes, then transfer to the serving plate.
Cook the tuna:
Heat half tbsp of oil in a griddle pan. When pan is pipping hot carefully place in the tuna. Cook for 1 minute on each side then transfer to a chopping board and slice. Take the cauliflower out of the oven and serve alongside the kale, then top with the tuna and pomegranate seeds. (Use a rolling pin to bash the back of the pomegranate half and dislodge the seeds). Add a dollop of tahini dip and enjoy.
Nutrition
Calories:
458
kcal
|
Fat:
21
g
PIN FOR LATER


I am linking this recipe to #cookblogshare hosted by hijackedbytwins, recipesmadeeasy, everydayhealthyrecipes and Easypeasyfoodie. I am also linking to #brilliantblogposts by honestmum, #recipeoftheweek hosted by amummytoo, and #CookOnceEatTwice hosted by seachingforspice,