Thai green curry recipe with a creamy aromatic Thai green sauce, tender chunks of chicken and lots of crunchy greens. All topped off with an extra helping of freshly chopped coriander and thinly sliced spring onion. Better than a takeaway any night of the week.
Thai cooking
One of my most favourite take aways is Thai. Be it a Thai green, Thai red curry, a Massaman curry or an aromatic stir fry, the simple ingredients and contrasting Asian flavours never fail to satisfy my greedy stomach. Even when I'm lacking the motivation to cook – I still have a handy go-to Pad Thai option, which I can whip up in 15 minutes.
I also always try my best to make my curry with homemade pastes, either freshly made or batch-made and frozen for when I need it. A Thai curry is just so tasty when made with your own Thai green curry paste, Thai red curry paste or even Massman curry paste!!
Chicken Thai green curry
This particular recipe is a Chicken Thai green curry but feel free to replace the meat with your preferred choice or why not try Thai red curry or Massaman curry instead. My other Thai favourites being Prawn Thai green curry or even a simple vegetable Thai green curry, padded out with chunks of aubergine.
If you're after a vegetarian or vegan Thai green curry just replace the meat as with the vegetable option and leave out the fish sauce. To still add that salty, fish flavour you maybe able to find a vegan fish sauce or use seaweed/seaweed paste instead.
This is such a great dish to rustle up on one of the nights when I'm really craving a takeaway, but want to keep things nice and healthy. With only 45 minutes prep and cooking time, less than 300 kcal per portion, a good kick of protein, and a helping of veg – theres really no way you can go wrong with this dish. I also have a sneaky suspicion that Slow cooker Thai green curry would go down very well on a weeknight.
For other quick, tasty curry options during the week, I love to throw together Indian inspired, one-pan meals including a tasty fish biryani with homemade biriyani masala marinade or super quick, one pan chicken and almond curry. For more recipe ideas for a cosy night in have a look at my romantic dinner recipes post.
How do you make Thai green curry? (Step-By-Step Guide)
Blend together

Thai green paste ingredients

until smooth
Transfer the Thai green curry paste to a hot pan and allow to cook for a couple of minutes before adding coconut milk
Add raw cubed chicken to the Thai green curry and bring to a simmer
Next, add your choice of vegetables to the Thai green (leave any veg that will cook quickly, such as pak choi, until the end)
Season with palm sugar and fish sauce
Put the lid on a simmer for 10 minutes or until the chicken is cooked through
Add the pak choi and cook for a further 2 minutes with the lid on
Serve your Thai green and garnish with fresh coriander and spring onions
Scroll to the bottom for full recipe instructions.
Recipe tips: If you like it spicy add more fresh green chillies and maybe even a teaspoon of ground chilli powder. If you're not a massive fan of broccoli or pak choi then definitely swap in for your preferred veg: baby corn, red onion, finely chopped carrot, aubergine, courgette, green beans – whatever takes your fancy. And if you're after the real deal and a proper Thai cookery experience, I highly recommend The Siam Rice Cookery School – if you happen to be in the area 🙂 – see below for further details.
For more homemade curry ideas have a look at Quick chicken and almond curry, homemade tikka masala paste, chicken tikka masala, and pilau rice with homemade roti.
Cooking in Thailand
My first experience of authentic Thai cooking was in 2012 (you know that year when Ben and I travelled the world! ahhh). There are still so many adventures and great meals that I want to share from this trip. But for now here is a little peek into a small part of our journey in Thailand and our trip to a Thai cookery school.
Looking back on these photos I am so very jealous of my 2012 self.
Above is Ben and I at Siam Rice Cookery School in Chang Mai, Northern Thailand. I absolutely loved this day and it was one of the major highlights of our whole trip. A Thai cooking class had been on my list from the very early days of our travel planning, so I really couldn't wait to book onto this course as soon as we hit Thailand.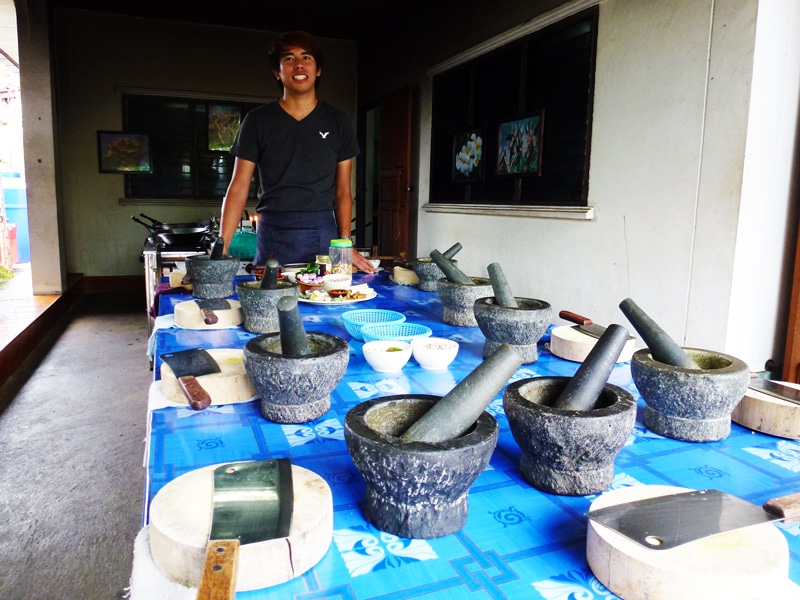 We had travelled into Thailand from Laos, a very interesting part of our journey. – (This was back when tubing along the Nam Song River was unregulated and still a very big thing, – crazy times). But prior to this we had been in Cambodia, battling through the hot and humid climate, being awestruck at the buildings and architecture, and mostly having a bloody good time scoffing our faces. My experience of Cambodian food is on a par to my Thai culinary experience. So, although I am sharing my fragrant and creamy Thai green curry first – some Cambodian goodies will be following shortly!
As we had been so overwhelmed by Cambodian food, I had great expectations for Thailand . . . I was not disappointed!
Thai green ingredients
Part of the Thai cooking course included a visit to and experience of an Authentic Thai food market.  So before actually cooking up some great dishes we got to see, taste, and shop for all the authentic Thai ingredients.
And even buy some extras.
Back at the Siam Rice Cookery School we were shown what ingredients went with which dishes and how to prepare and cook the fresh herbs and spices from scratch.
We crammed a lot into one day and made several dishes – so I still have plenty more to share!! 🙂 The finished dish below is a very tasty Panang curry.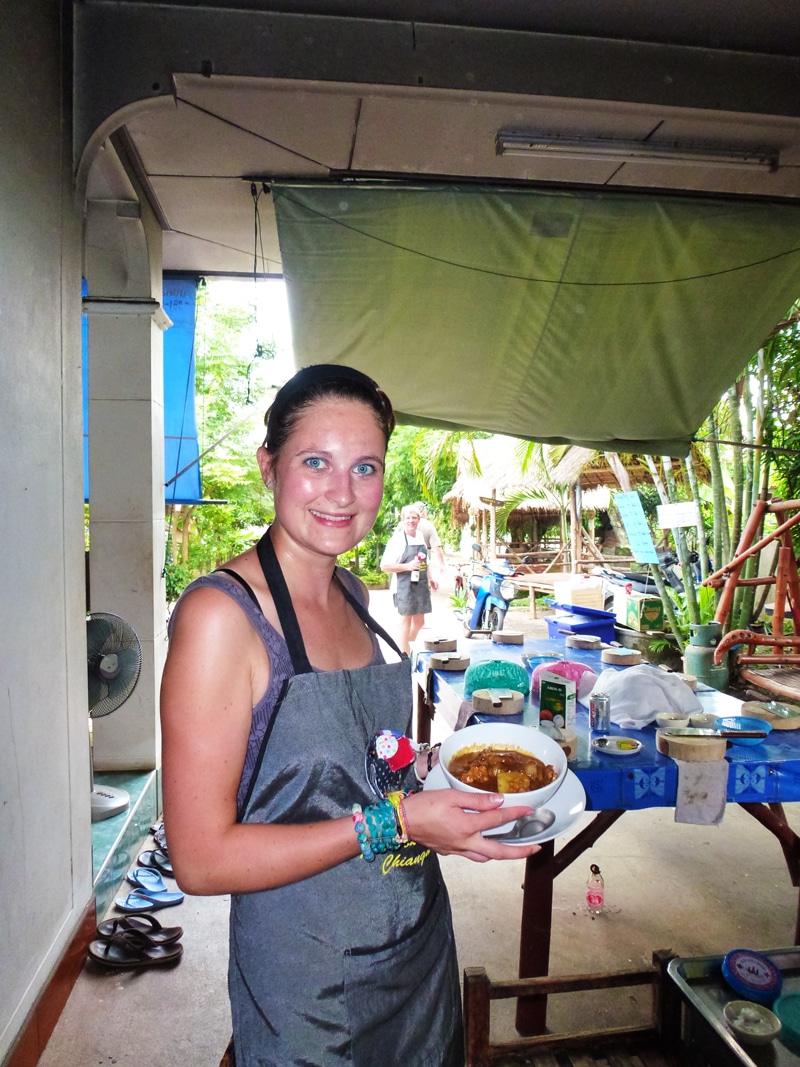 Thai green curry recipe
But anyway, lets get back to this Thai green curry recipe and cooking in the UK.
Authentic Thai green curry recipe
Its not always easy to access all the authentic ingredients that would go into an authentic Thai green curry. I can't say its always convenient to get out a pestle and mortar and grind whole spices into powders. Although, I do like to do this on occasion, its not really practical mid week.
It is possible to closely match ingredients and of course use pre ground spices. I have tried to do this with this recipe. I've taken the original recipe from the Siam Rice Cookery School and tried to replace or match with ingredients that are easy to get hold of.
What makes green curry green?
A combination of the green ingredients used to make the paste, mainly green chillies and fresh coriander stems and leaves.
What can I substitute for green paste?
If you don't have time to make the paste the best alternative is to buy a jar of pre-made paste. However, homemade paste can be made in advance and kept in the fridge for up to a week. Freeze pre-made paste for up to 3 months.
How do you make Thai curry thicker? 
Authentic Thai curry sauce has quite a thin consistency. However, there are a couple of ingredients you can add if you prefer it to be thicker. Firstly, make sure you use full fat coconut milk in the recipe. The reduced fat versions are more watery and so will ultimately thin out the curry sauce. Coconut milk can also loose its consistency when boiled rapidly over a prolonged period. So even though reducing a sauce does thicken it, rapidly boiling the curry in this instance will not help. When making this recipe, ensure that the the finished curry is heated gently until just boiling before serving.  Other options include:
Add full fat yogurt, but be aware that this will reduce the spiciness of the dish, so you may need to add more chillies at the same time. Only add yogurt right at the end of cooking – too much heat and the yogurt will curdle. Take the Thai green off the heat and stir in enough yogurt to reach your desired consistency.
Instead of serving rice at the side, mix it directly into your curry whilst still in the pan. Then serve.
If adding vegetable that release water during cooking (e.g. courgettes, mushrooms) roast these in the oven first and then mix into the finished curry.
Add flour to the curry. To avoid flour lumps forming I usually mix 1 tbsp of flour with a bit of water to form a paste. Then add the flour paste to the curry and mix well. For best results add the flour paste before the curry is heated up to much. Then stir continually until the sauce thickens and the flour is 'cooked out'.
Can Thai green Curry be frozen?
Yes. Once its cooked transfer to sealable containers and freeze for up to 3 months.
Can Thai green curry be reheated?
Thai curry can be reheated if its been cooled properly after cooking and then refrigerated or frozen immediately. If in the fridge use within 2 days and reheat in pan until piping hot throughout. If in the freezer, defrost thoroughly and then heat in a pan until piping hot.
Is Thai green curry gluten free?
Yes – always check the packets of the individual ingredients you are using. But generally the main ingredients in this recipe are naturally gluten free
How to make Thai green curry less spicy?
Use less green chilli when making the paste. Replace the Green chilli with green bell pepper to ensure the paste maintains its vibrant green colour.
 
Thai Green Curry with Homemade Curry Paste
Better than take aways Thai green curry with a creamy aromatic sauce, tender chunks of chicken and lots of crunchy greens. All topped off with an extra helping of freshly chopped coriander and thinly sliced spring onion.
Print
Pin
Ingredients
For the Thai green curry paste
100

g

Shallots finely chopped

2

Cloves

garlic minced or finely chopped

10

g

piece of fresh ginger peeled and roughly chopped

10

g

Green finger chillies or standard green chillies – deseeded and chopped

10

g

Red chilli deseeded and chopped

1

Stalk of fresh lemongrass

outer leaf removed and then roughly chopped (10g)

30

g

of Fresh coriander

stems and leaves roughly chopped

1

tsp

ground coriander

0.5

Juice of a lime

1

tbsp

olive oil

Few splashes of fish sauce

20

ml

of tap water if needed during blending the paste
For the curry
4

tbsp

of the homemade Thai green curry paste

or shop bought if you're short on time

400

ml

can of full fat coconut milk

500

g

Chicken breasts chopped into bitesize cubes

200

g

Broccoli cut into small florets

0.5

Juice of a lime

2

tsp

palm sugar

or standard soft brown sugar

Few splashes of fish sauce

200

g

Pak choi
To serve
Extra freshly chopped coriander leaves

Sliced spring onions
Instructions
To make the Thai green curry paste
Use a small blender/processor/smoothie maker to blend together the ingredients for the paste: Place the shallots, garlic, ginger, green and red chillies, fresh lemongrass, fresh coriander, ground coriander, lime juice, olive oil and fish sauce into the blender. Blend of high until smooth and creamy. If the blender struggles to get going, add a bit of water (up to 20 ml) to help it along.

Pour the paste out of the blender ready to use in the curry. Or if you are making ahead of time place in a sealable container or jar and refrigerate for up to one week or freeze for up to 1 month.
To make the Thai green curry
Place a large pan (one that has a lid) on a medium to high heat. Add 4 tbsp of the curry paste and cook for 30 seconds – the pan should be hot enough to allow the paste to bubble. Next add the coconut milk and stir together well. Simmer the paste and coconut mixture for 2-3 minutes.

Add the raw, cubed chicken to the Thai sauce then bring to the boil and simmer with the lid on for 10 minutes.

After 10 minutes remove the lid and add the broccoli florets, lime juice, palm sugar, and a few splashes of fish sauce. Place the lid back on and simmer for another minute. Finally, add the pak choi (this may not stir in right away – just place on top), pop the lid back on and simmer until just about wilted.

Serve up in bowls and finish with a scattering of chopped coriander leaves and spring onions.
Video
Nutrition
Serving:
370
g
|
Calories:
279
kcal
|
Carbohydrates:
12.5
g
|
Protein:
44.3
g
|
Fat:
6.7
g
|
Saturated Fat:
1.5
g
|
Sodium:
240
mg
|
Sugar:
10.6
g
PIN FOR LATER
I am linking this recipe to #cookblogshare hosted by hijackedbytwins, recipesmadeeasy, everydayhealthyrecipes and Easypeasyfoodie. I am also linking to #brilliantblogposts by honestmum, #cookonceeattwice by searchingforspice, and #recipeoftheweek hosted by amummytoo.