Its time for a quick chicken curry!! A one pan meal, prepared and cooked in under 30 minutes with all the taste and flavour of an Indian take away.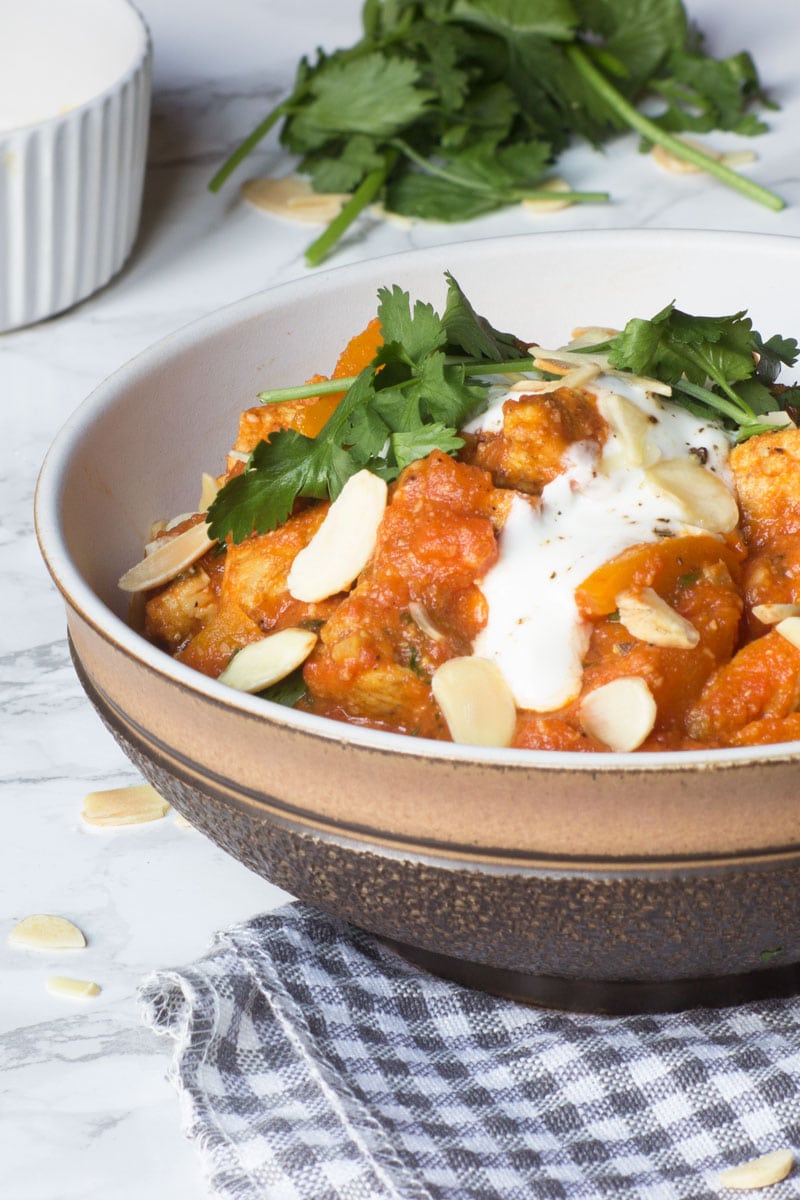 Chicken and almond Curry
Sometime the body craves a good old British curry and our tummies will not be satisfied with anything less.
With takeaways and curry houses all over the place, its no hardship to pop out and fulfil that need to gorge on a rich lamb rogan josh or creamy chicken korma. And of course there's always plenty of room for popadums, and samosa,  and naan bread. . . and you can't just get one type can you - - you have to try the peshwari naan and the chilli naan and ooh what about a coriander naan  🙄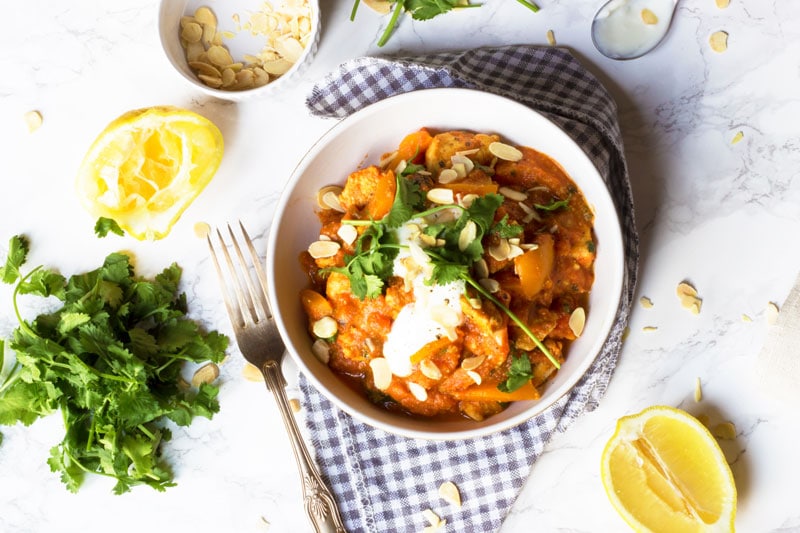 It can all get out of control very quickly. Trust me I know - I have been there, I have walked the dark path of shame the next morning with a slight garlic hangover and huge bloated belly.
So, what to do?? Obviously you know I'm going to tell that you can make it yourself. And homemade curry is one of the most satisfying things to eat, once you've gone to the effort of making it! My usual chicken tikka curry, although fantastic, does take a while to make and does including the making of your own tikka paste. Likewise for my super authentic Thai green curry with Thai green curry paste, Thai red curry with Thai red curry paste and Massaman curry with Massaman curry paste. All very nice, and great if you have the whole day to cook and you're after a romantic dinner recipe for a cosy night in. But not great when its late and you need a curry - right now.
The point of this recipe was to create a tasty authentic curry dish, with minimal ingredients and time, but maximum flavour and enjoyment. The fact that this can also be thrown into one pan really saves on time and washing up. I do like a one pan meal and even like to make my own fish biryani rice dish in the tradition dum way (steaming everything in one pot).
Easy chicken curry ingredients
So here they are - the basic ingredients needed to make a great, simple, healthy and super quick chicken curry
Chicken breast
Bell pepper
Tinned tomatoes
Curry powder
Ground almonds
Garlic
Juice of half a lemon
Fresh coriander
Flaked almonds
No coconut milk, or yogurt or cream or lashings of oil. This is curry, at its best, without the overload of fat and calories.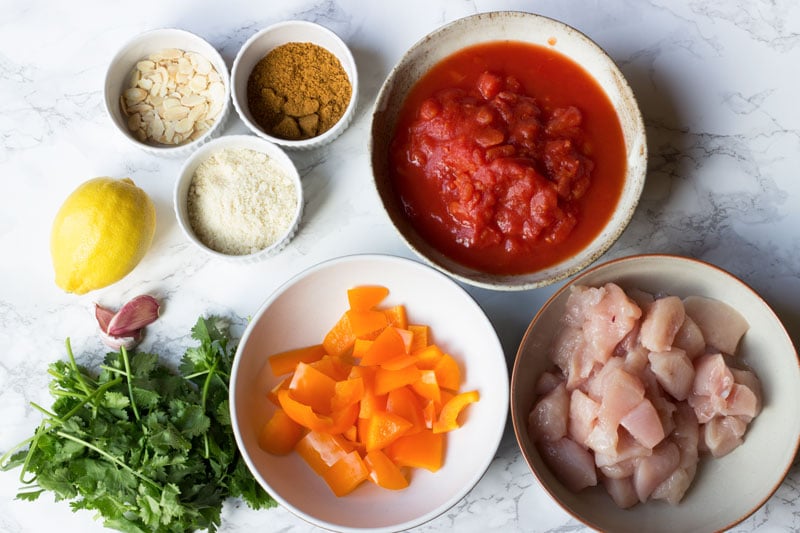 How to make quick chicken curry
To make this dish, all you need to do is pop everything into one big pan. - I promise its that straight forward. I usually start by sprinkling the raw chicken with the curry powder and adding a bit of seasoning.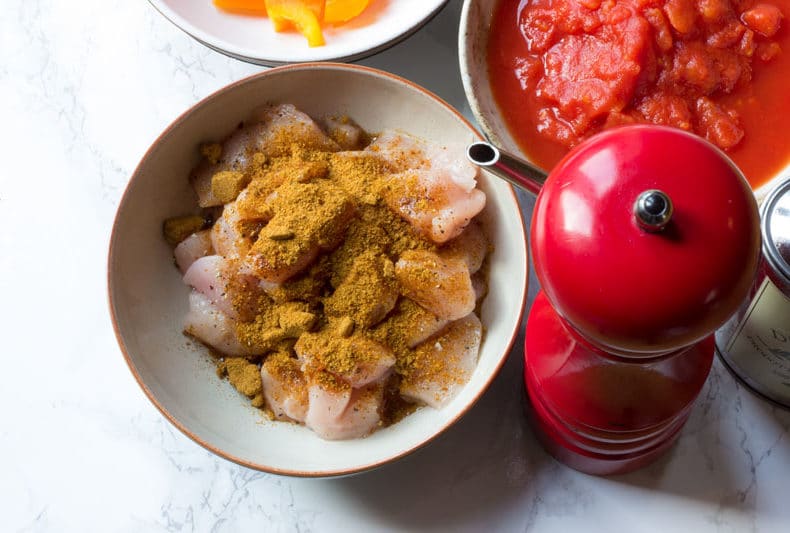 The chicken is then quickly fried off in a hot griddle pan with the addition of fresh coriander stalks. The griddle pan really speeds up the cooking process and is what makes this recipe 'super quick'.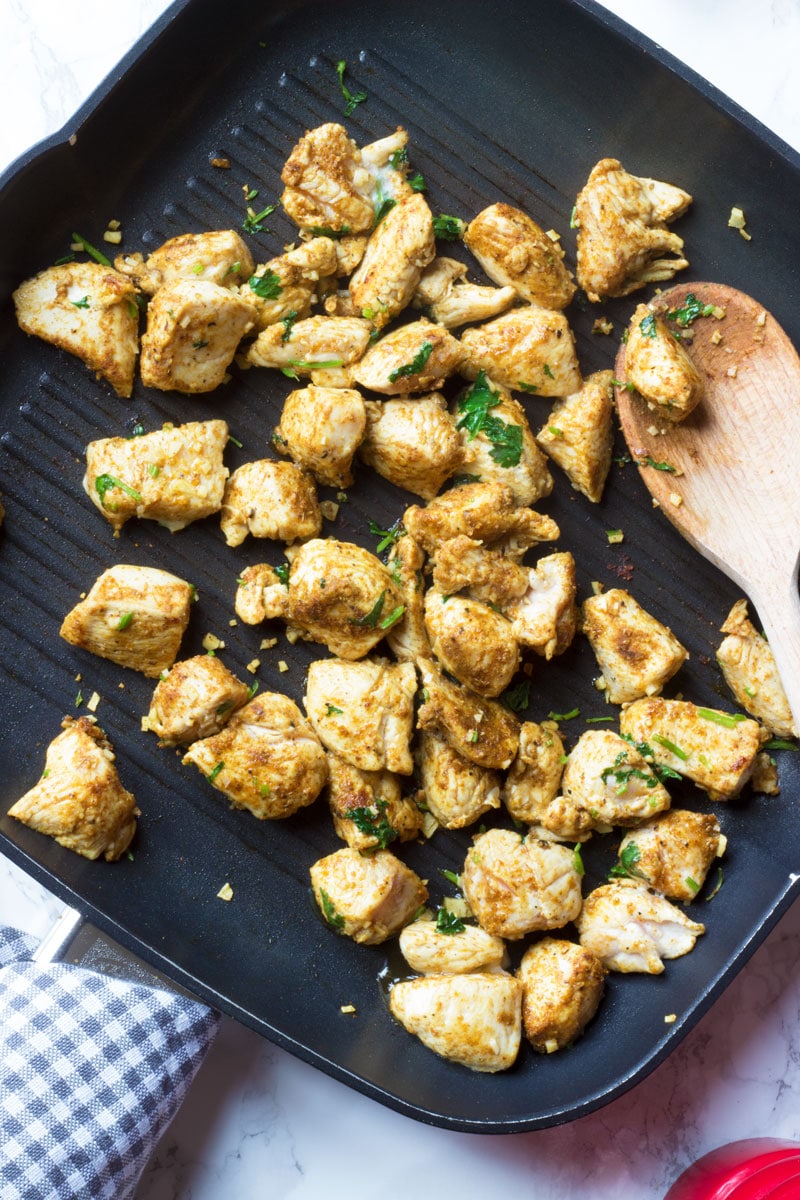 Once the chicken is browned off and cooked through, everything else is added to the pan - in no particular order. Then stirred and simmered for a few minutes - so it looks like this ↓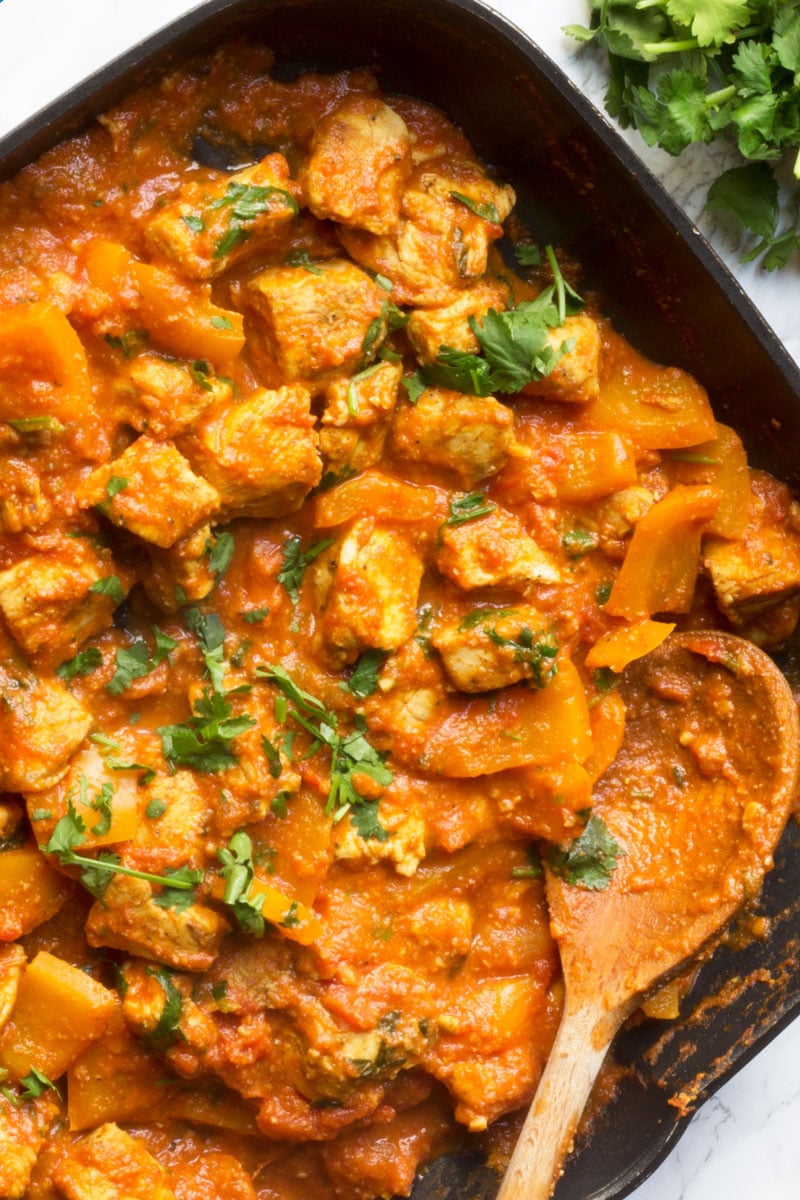 YUMMY!!
How do I make my chicken curry sauce thicker?
The griddle pan is also really useful for helping to create a nice thick sauce, as it quickly evaporates away any excess water from the tinned tomatoes.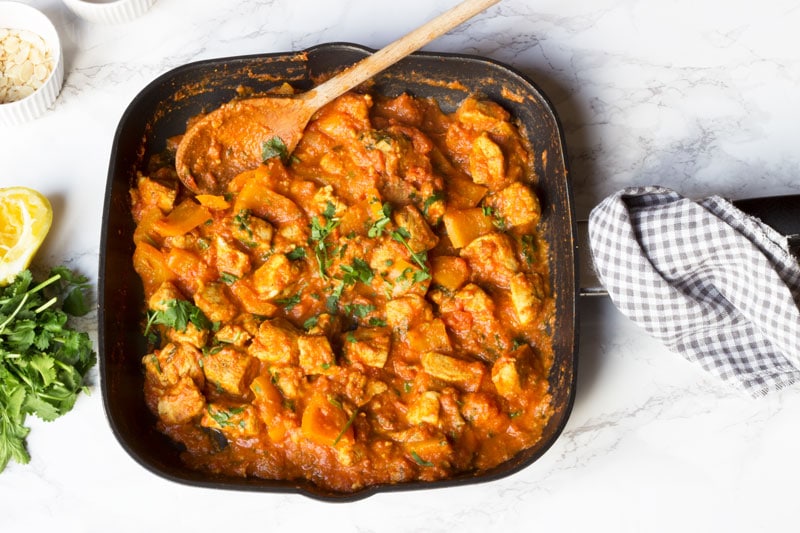 And thats it - done - serve up, top with yogurt and toasted, flaked almonds (optional!!) and tuck in!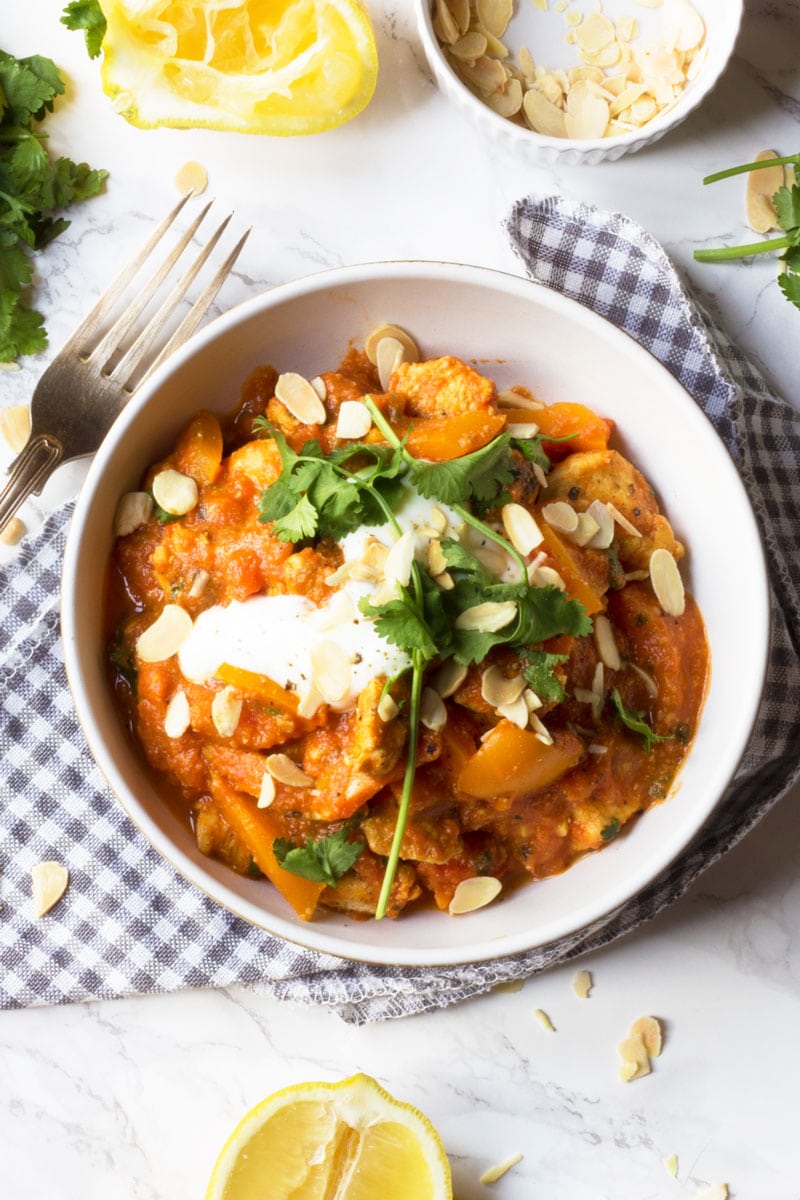 I personally find this chicken curry to be fantastic on its own, particularly if its mid week and I'm trying to eat healthily. However, a bit of rice or roti bread will help make this a truly, great Indian feast.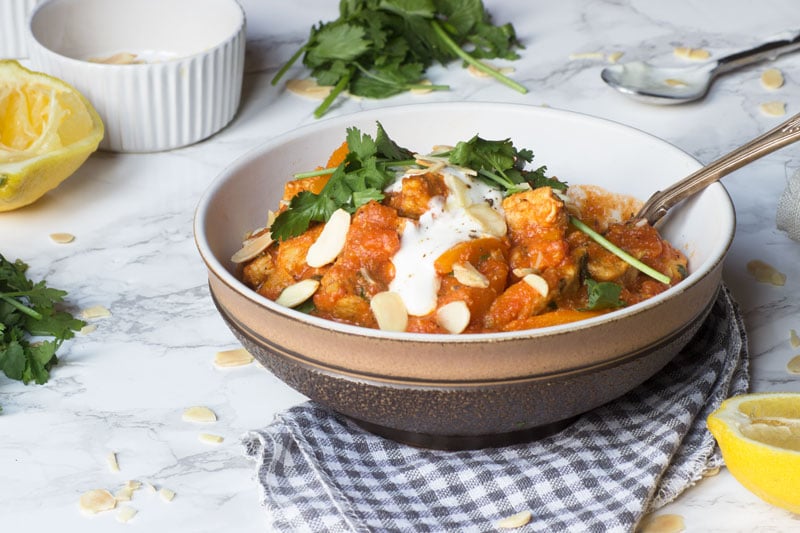 Other chicken recipes you can make in a hurry
📖 Recipe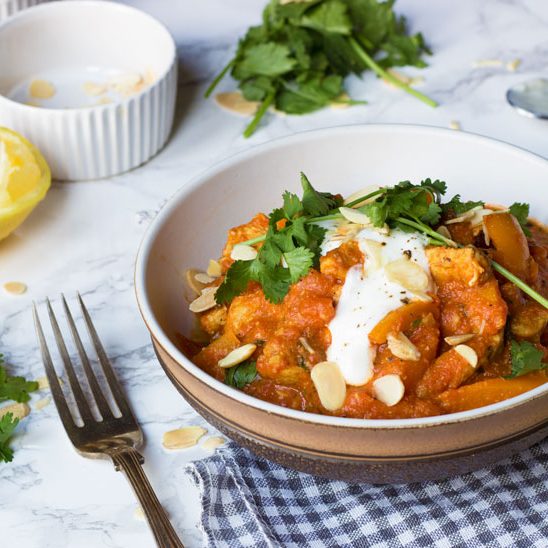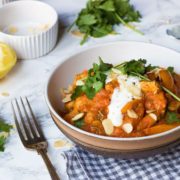 Quick Chicken and Almond Curry
Its time for curry!! A one pan meal, prepared and cooked in under 30 minutes with all the taste and flavour of an Indian take away.
Ingredients
400

g

Chicken breast diced

fat trimmed off

30

g

fresh coriander

separate the stems from the leaves

2

teaspoon

medium curry powder

2

cloves

of garlic crushed

Sea salt and Black pepper

Half tablespoon olive/coconut oil

400

g

tinned chopped tomatoes plus 1 can refilled with water

20

g

ground almonds

100

g

orange bell pepper roughly chopped

juice of half a lemon
Optional:
1

tablespoon

fat free Greek Yogurt

10

g

Toasted almond flakes
Instructions
For best and quickest results use a large griddle pan for cooking. Food items will cook a lot quicker using this method so remember to check and stir regularly.

1.Firstly prepare the fresh coriander by separating the stems from the leaves. Place the leaves to one side for later. Finely chop the stems and also place to one side.

2.Next dice the chicken into 2cm cubes and place in a large bowl. Add the curry powder, coriander stems, crushed garlic, salt and pepper and mix well to fully coat in the seasoning.

3.Place the griddle pan on a medium-high heat and add the oil. Then add the seasoned chicken to the griddle pan and fry off evenly, using a wooden spoon to stir and turn the chicken. Once the chicken is cooked and a golden brown colour on all sides, add the bell pepper, tinned tomatoes, ground almonds, and stir well. Refill the tomato can with tap water and place to one side.

4.Bring the curry to a gently simmer and cook for 5-10 minutes. Place a lid over the pan during this time, if you have one. Check regularly and gradually add the water from the tomato can if the sauce begins to get too dry.

5.Add the lemon juice, stir and remove from the heat.

6.Taste and add more seasoning or lemon juice if desired.

7.Finally, roughly chop the coriander leaves and add to the curry before serving.

Serve in bowls topped with yogurt and flaked almonds.

NB: If cooking up a large batch the curry can be transferred to sealable containers and frozen for up to 3 months.
Nutrition
Serving:
493
g
|
Calories:
453.6
kcal
|
Carbohydrates:
12.9
g
|
Protein:
69.8
g
|
Fat:
14
g
|
Saturated Fat:
4.3
g
|
Polyunsaturated Fat:
2
g
|
Monounsaturated Fat:
6
g
|
Sodium:
560
mg
|
Sugar:
10.5
g