With my Christmas cakes made and all safely tucked away in tins, I feel a little bit cheated that I now have to wait for a slice after all that hard work. So this year, as a way to have my cake and eat it too; I've made Christmas cake muffins! And I'm really quite pleased with these little cups of festive goodness. Not only can I enjoy a little treat in the lead up to Christmas but I can also check my Christmas cake recipe and make sure I'm happy with this years batch.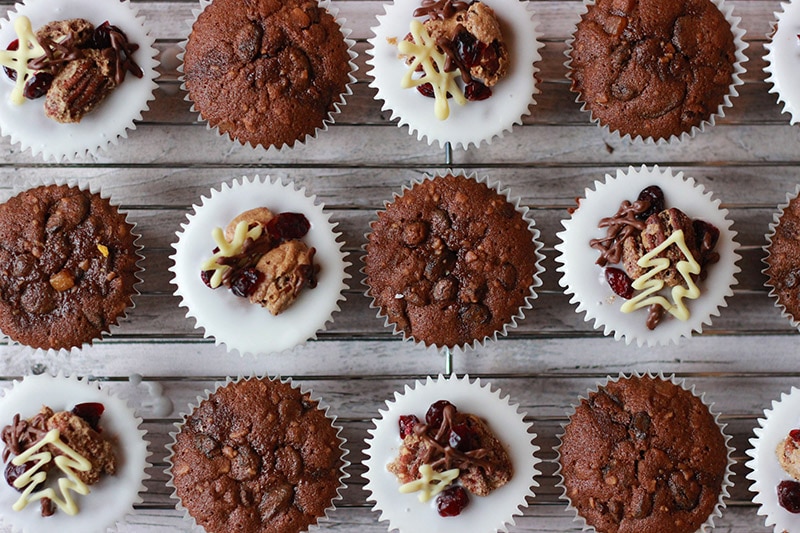 How to make Christmas cake muffins
For these muffins I made up another batch of my Christmas cake mix, filled 18 muffin cases 3 quarters full and baked for 35 minutes. A lot quicker that baking a cake 🙂  Have a quick look at my Christmas cake post for instructions and step my step pictures for making the Christmas cake mix.
This recipe makes 18 Christmas muffins so there's plenty to go around and I have lots of friends and family who are more than happy to receive a couple of muffins of Christmas cheer.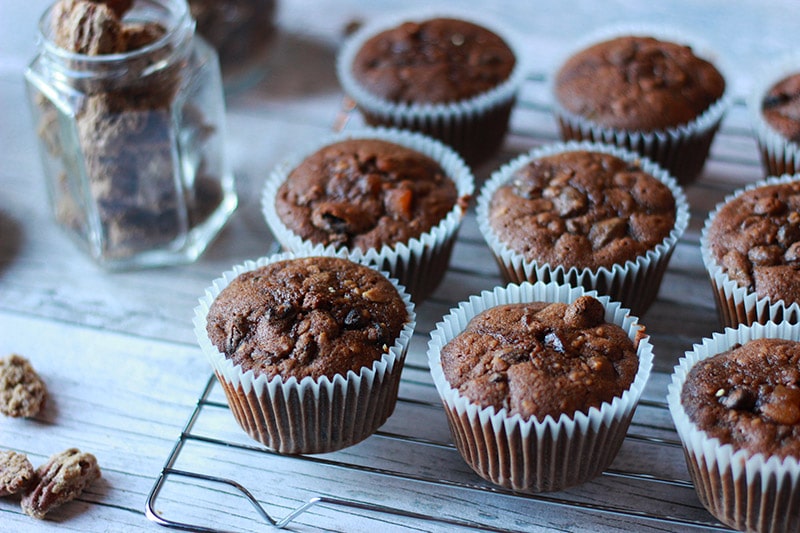 Straight out of the oven and topped with a scoop of ice cream or a blob of thick brandy cream, these Christmas muffins are crazy good.
The mixture contains a bit of cocoa powder, freshly grated nutmeg and a helping of orange juice; flavours which are all heightened from the warmth of the oven. I was so happy with my baking triumph that I was left nibbling the last crumbs off the inside of case. However, for these cakes to be true Christmas cake muffins I felt I should give a least half of them a bit of icing and some Christmas decor. The other half I left as they were, as they are pretty good on their own and its nice to have the option of icing or brandy cream 🙂
If you're not a huge fan of Christmas cake, why not try these brownie chocolate muffins or if you're trying to keep it healthy then have a quick look at my flourless mint chocolate courgette muffins, which would make a fantastic alternative.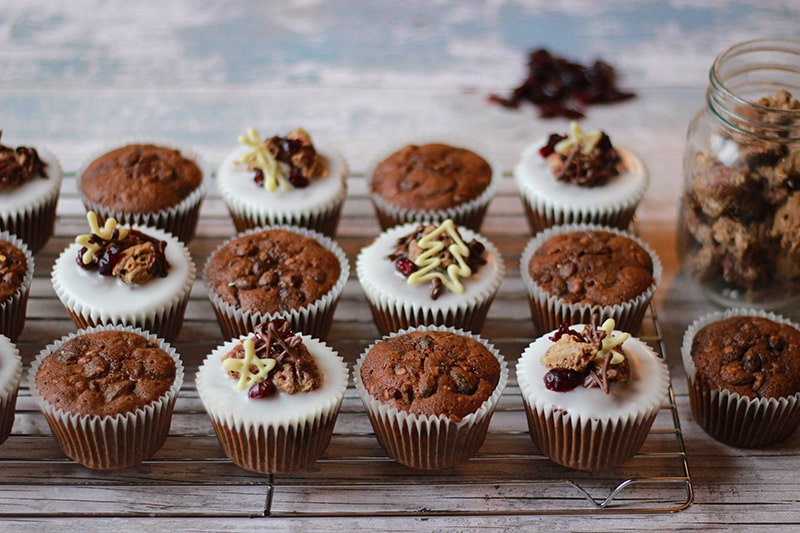 Icing Christmas cake muffins
So the trick with the decoration for these cakes is to make sure that once baked there is still a little gap at the top of the muffins cases where the icing can sit. Filling the cases 3 quarters full  with cake mix tends to work out about right. However, if you do decide to ice only half then you can afford to have a few cases that are maybe slightly over-filled and so don't leave enough room for icing.
Once the Christmas muffins had cooled and I'd selected the best ones for icing I mixed 4 tablespoons icing sugar with a tablespoon of water and carefully iced the cakes using a teaspoon to spread the icing to the edges of each case. Before the icing set I topped the Christmas muffins with  dried cranberries and my homemade sugared pecans and chocolate stars.
Deliciously easy and another reason to get the Christmas tunes on and bop around the kitchen, using a wooded spoon as a mic 🙂
Other baking recipes you may like to try
Loving these muffins? Then why not have a look at my Ginger spiced pumpkin muffins, chocolate muffins, or my Raspberry and lemon muffins
For larger bakes: Lemon drizzle cake, Apple crumble, bakewell tart, plum and rhubarb crumble, Yorkshire parkin recipe, sticky apple treacle tart, banana bread, Banana cake. Or why not try Roast Chestnuts at home.
If you also happen to be stuck for ideas for your Christmas shopping, then check out my Christmas gifts for foodies - jam packed full of present ideas for the food lovers in your life.
📖 Recipe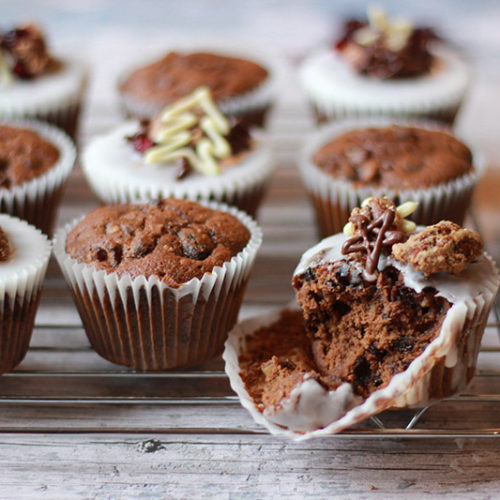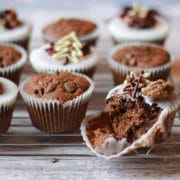 Christmas Cake Muffins with Sugared Pecans
Christmas cake muffins, as they are or topped with icing sugar, and homemade sugared pecans and chocolate stars
Ingredients
For the Cake mix
650

g

dried mixed fruits

sultanas, raisins, currants and candied citrus peel

200

ml

sherry

or your preferred spirit

Juice of 2 medium oranges

250

g

softened unsalted butter in 2cm cubes

250

g

light brown muscovado sugar

1

tablespoon

black treacle

4

medium eggs

225

g

plain flour

75

g

ground almonds

25

g

cocoa powder

2

teaspoon

mixed spice

½

teaspoon

freshly ground nutmeg

½

teaspoon

vanilla extract
For icing and decoration
4

tablespoon

icing sugar

1

tablespoon

water

Sugared pecans and chocolate stars

See link above for ingredients and method
Instructions
Click the links above to go to my Christmas cake recipe and see step by step instructions and pictures for preparing the cake mix.

To ensure your dried fruit is plump, juicy and full of flavour; try to soak it overnight in your preferred choice of alcohol and fruit juice. I always use sherry and usually soak 650g of dried mixed fruit with 200ml of fino sherry and the juice from two average sized oranges. Cover with cling film and leave on the side overnight.

Pre-heat the oven to 160 degrees C (fan)

This recipe makes enough cake mix for 18 muffins. Fill muffin trays with 18 cases (or spit into batches if you are limited with trays or oven space).

Set up your food mixer or mix with an electric hand whisk: The 250g of cubed butter and 250g light muscovado sugar go into the mixer first, along with 1 tablespoon of black treacle.

Start the mixer on a low speed until the ingredients have started to combine and then turn up to the top speed and leave to mix for at least 10 minutes - the butter and sugar should have combined into a light and fluffy mixture.

The next stage is the addition of the eggs, which takes time and patience if it is done correctly. Have your dry ingredients (plain flour, ground almonds, cocoa powder, mixed spice, nutmeg, and vanilla) already mixed in a bowl to one side - spoonful's of this may be needed if the mixture starts to split. Beat the 4 medium eggs together in a pour-able jug. Return to the butter mix and put the mixer back on high. Slowly, slowly trickle the beaten eggs into the butter mix. This usually takes me 15-20 minutes.

If at any point you feel the mixture is getting too sloppy or if you think too much egg went in all at once; then add a spoonful of the dry ingredients to prevent the mix from splitting. Ideally the mixture should stay creamy and well whipped.

Once all the egg has been mixed in remove the bowl from the mixer; add the remaining flour mixture and the soaked fruits and then use a spatula to gently fold in these ingredients.

Grab a couple of dessert spoons and carefully spoon the mixture into your muffins cases to around three quarters full.

Place the muffins in the centre of the pre-heated oven and bake for 35 minutes. Check 25 minutes before the end of the baking time by inserting a skewer into the centre of one of the muffins - if the skewer comes out clean then the muffins are done. If not, return to the oven and check at 5 minute intervals.

Once baked through, carefully transfer the muffins to a wire rack and cool. Steal one and consume whilst still warm – for tasting purposes.

Once cooled, select muffins that have enough space at the top for icing. Ice each one with icing sugar and finish off with your favourite Christmas cake toppings. See links above for my favourite toppings: Homemade sugared pecans and chocolate stars.
Nutrition
Click here for nutritional information
**Estimated nutritional information per muffin and per 100g of un-iced Christmas cake muffin. If you want find out more about how the information is calculated and the sources used, please refer to my Nutrition Information Guide.