Cranberry and frangipane mince pies topped with crunchy amaretti biscuit.
Not wanting to over excite anyone, or cause unnecessary panic but. . . its very NEARLY CHRISTMAS!! Arghhh! The time is just flying by. I really need to start wrapping some presents and I definitely need to drink a few more glasses of mulled wine 🙂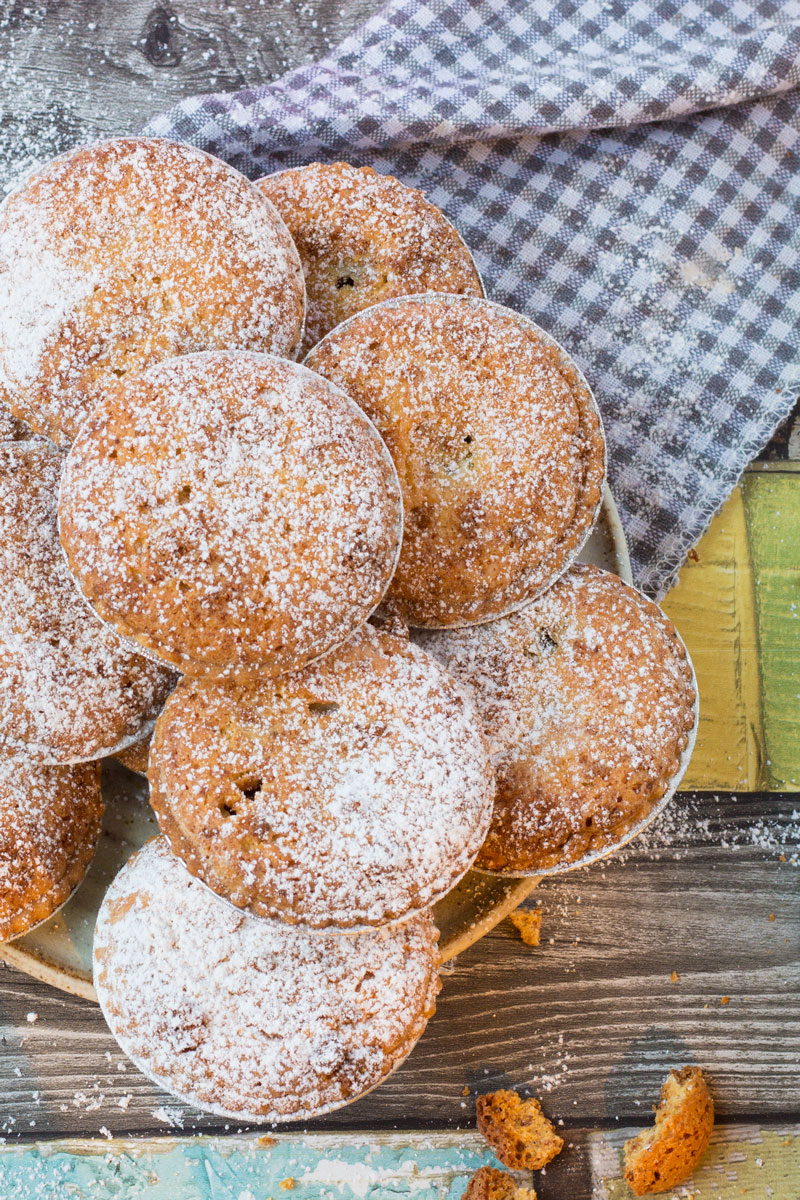 Mince pies
But before any of that. . . . I need to get baking a lot more of these amazing mince pies!! And this recipe allows for the production of at least 24 super festive frangipane mince pies - perfect for ensuring the cupboards are well stocked for any unexpected guests.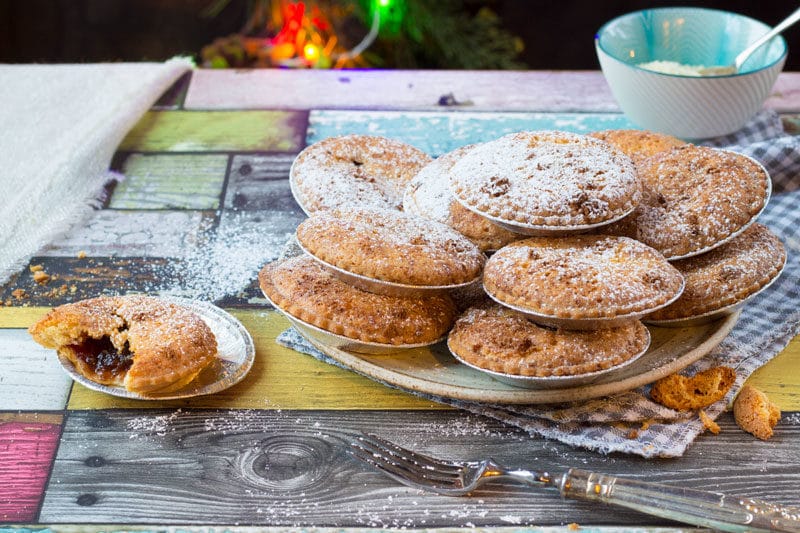 Frangipane mince pies
So why frangipane mince pies? Well first and most importantly - frangipane is bloody amazing and I think any dessert pie will be enhanced a billion times by the addition of this tasty almond spongy goodness. Not that I want to take away from my original mince pie recipe with a cute little pastry star topper - they are too cute and too tasty.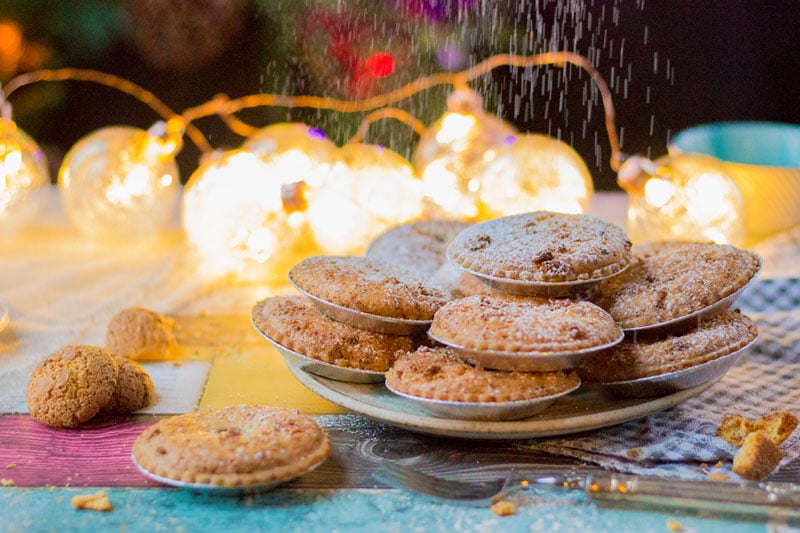 However, mince pies definitely keep better when the filling is sealed in tight. Not only is frangipane a super tasty alternative to a pastry lid but its also a lot easier to dunk a spoonful on top of each pie rather than carefully attach a circle of pastry.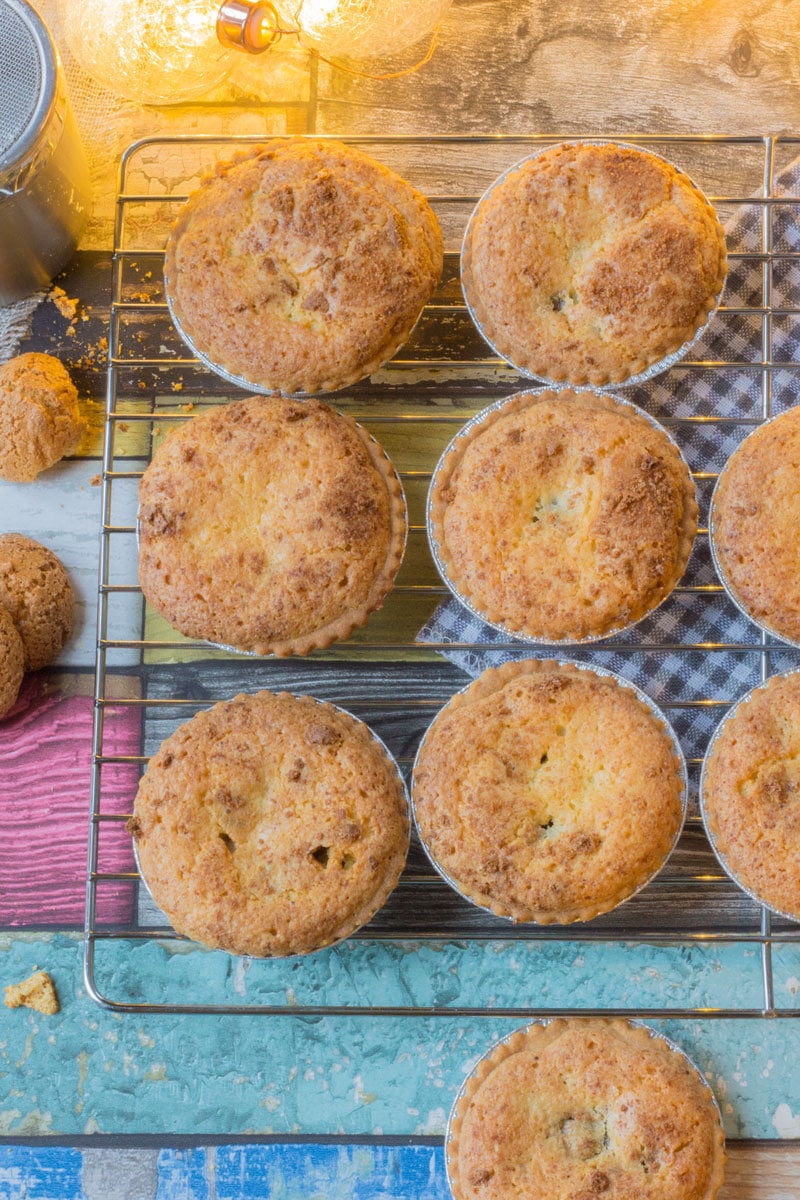 For extra crunch and extra taste I also sprinkled amaretti biscuit crumbs over the frangipane mince pies before baking. Super indulgent 🙂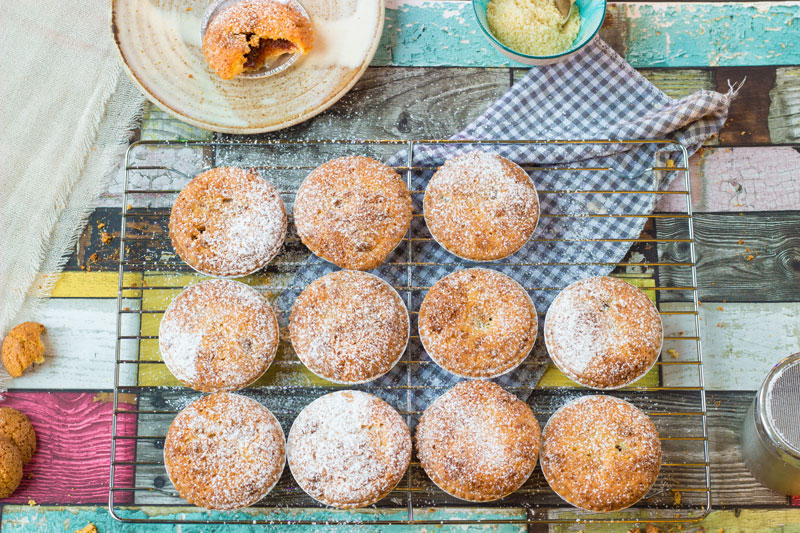 Cranberries in my mince pies
And lets not forget about that cranberry filling!! I do love a standard jar of mince, but I always, always like to add a little homemade cranberry sauce into the mixture as well. It sweetens the whole thing up and gives the recipient a little surprise as they tuck in.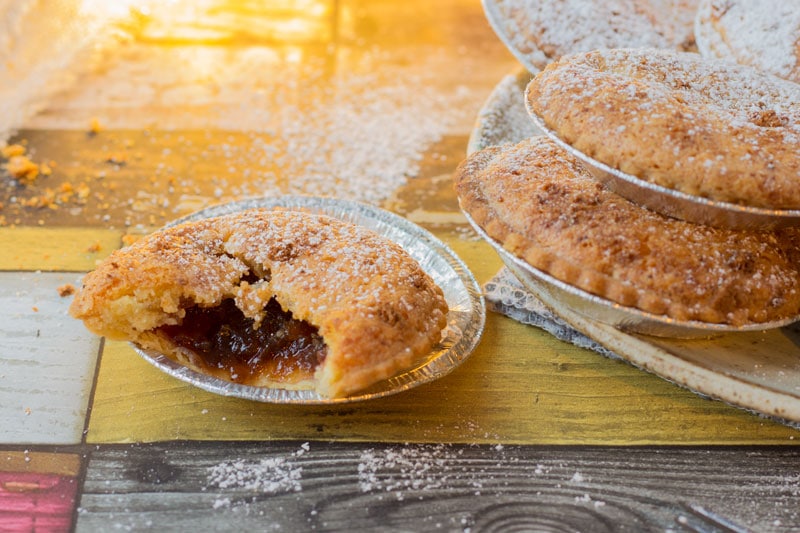 My top tip for making mince pies is to use tin foil holders to shape and then bake the pies. I prefer a shallow mince pie so use these shallow tin holders:
Mince pies are also fantastic as a last minute gift. I usually include these in my hampers that I make up for family members.
Please note that the above amazon link is an affiliate link, which means if you do click this links and then go on to purchase the product, I will receive a small percentage – this will not affect the amount you pay. If you do click and buy – Thank you for helping in the continuation of this blog, it really means a lot!! I will only ever link to and promote products that I have tried and tested myself.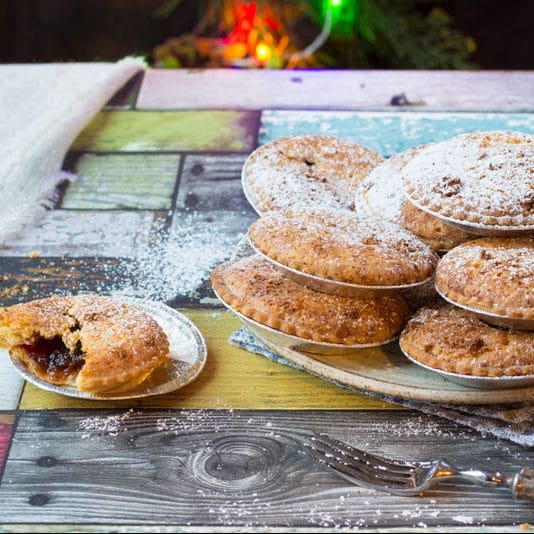 Frangipane mince pies
Cranberry and frangipane mince pies topped with crunchy amaretti biscuit.
Ingredients
For the pastry:
125

g

plain flour

50

g

ground almonds

100

g

unsalted butter

Pinch

of sea salt

75

g

icing sugar

1

egg yolk

1

tsp

vanilla extract

1

tbsp

cold water
For the Frangipane
230

g

unsalted butter

230

g

caster sugar

130

g

ground almonds

45

g

plain flour

3

medium eggs

Amaretti biscuits

optional
For the filling:
400

g

Jar of good quality mincemeat

200

g

Homemade or cranberry sauce from jar

see link above for homemade
To make the mince pies:
Extra flour for work surfaces

Extra icing sugar for dusting
Equipment
Rolling pin

12

hole bun tin x 2

Tin foil mince pie cases

2

inch

round pastry cutter
Instructions
To make the pastry: 
Combine flour, almonds, cold butter and icing sugar in a food processor and pulse into fine breadcrumbs. 

Mix together egg yolk, cold water and vanilla. Gradually add the egg mix to the breadcrumbs whilst pulsing in the processor. Add enough egg mix for the pastry to just come together and no more. If you use up all the egg mix but need more liquid, use cold water. 

Turn the pastry out onto the work surface and shape into a ball, cut in half and then wrap each half in cling film and chill in the fridge for 20 minutes.

Clean out the processor ready for the frangipane.

(Tip: working with cold or chilled ingredients helps to keep the pastry light and crumbly. Resting pastry in the fridge for at least 20 minutes helps to prevent shrinking in the oven)
To make the frangipane
Place the butter and sugar into the processor and blend for at least 5 minutes or until pale and creamy. Next whisk together the eggs and gradually add to the creamed butter and sugar whilst continuing to blend. Add a spoonful of ground almonds every now again to help prevent the mixture from splitting.

Once all the egg has been combined add the remaining ground almond and all the flour. Blend for a further minute until smooth. Set to one side ready to add to the mince pies later.
To make the pies: 
Heat oven to 170 degrees fan.

Flour your work surface and rolling pin. 

The chilled pastry should now be workable but try not to handle too much. I find it easier to work with one half and keep the other half chilled.

Roll out the pastry to a thickness of 2mm and cut out 12 circles with the 2 inch round cutter. Place circles into the foil cases and then into the bun tin. Make sure you push the pastry into the base and sides of each foil case. The pastry can be gathered up and rerolled if you don't manage to get 12 circles out of the first roll out.

Put half a tsp of cranberry sauce in the bottom of each pastry circle, then half a tsp of mincemeat on top of this. Use a teaspoon to smooth the filling out to cover the whole base of each pie.

At this point pies can be chilled once again for 20 minutes, to ensure pastry is extra crumbly. The second batch of pastry can be made up into pies during this time.

Once chilled, topped each pie with a tablespoon of frangipane and use a knife to spread evenly to the edges of the pastry. Sprinkle over crushed amaretti biscuits if desired.

Then bake in the oven for 25 minutes or until pastry is golden and the frangipane is just about set. Remove from the oven and cool slightly in the tin before transferring to a wire rack. Once completely cool dust with ice sugar and serve (with cream/brandy cream if desired).
Nutrition
Serving:
56
g
|
Calories:
253
kcal
|
Carbohydrates:
23.3
g
|
Protein:
3.3
g
|
Fat:
16.9
g
|
Saturated Fat:
7.8
g
|
Polyunsaturated Fat:
1.3
g
|
Monounsaturated Fat:
6.1
g
PIN FOR LATER


I am linking this recipe to #cookblogshare hosted by hijackedbytwins, recipesmadeeasy, everydayhealthyrecipes and Easypeasyfoodie. I am also linking to #bakingcrumbs hosted by onlycrumbsremain, #brilliantblogposts by honestmum, #recipeoftheweek hosted by amummytoo, #whatsfordinner? hosted by TheLazyGastronome, and #CookOnceEatTwice hosted by seachingforspice,