Peanut butter and chocolate biscuit squares are the ultimate way to have a full blown, deliciously gooey, outrageously tasty treat. Seriously - this recipe is all about indulgence.
Yes I know this isn't very fitting with the healthy eating side of things, but sometimes a helping of chocolate - slash - peanut butter - slash - digestive biscuits, all in one mouthful; is just what is needed. I think I need to make my peace with this right now and be up front about the fact that I will never, ever give up desserts or chocolates.
As desserts are massively lacking in my recipe archives; this post is all about rectifying that and making room for my need to eat chocolate. Calorie counting or reducing fat content is not what this recipe is about, in any way  - this is an all out gorge yourself dessert.
Peanut butter
Peanut butter is not something I usually eat in massive quantities, I'm not really a fan of it on its own or even on toast (or in a peanut butter and jam sandwich for that matter, whats that all about?). However, there are a couple of things that peanut butter works really well with. Firstly, its an absolute must in satay sauce. I love satay sauce just as dip or smothered over chicken and grilled; its truly delicious and my own satay sauce recipe wouldn't be complete without a dollop of peanut butter. Secondly, peanut butter is a fabulous partner to chocolate; the mixture of sweet and salty means any peanut butter and chocolate dessert will be an instant hit.   The other crazy thing about peanut butter is how ridiculously easy it is to make yourself - should you be able to get your hands on some peanuts that is. I really struggled, as all the peanuts in my local supermarket were either dry roasted or covered in salt. So homemade peanut butter is for another day and this recipe just uses the average stuff out of a jar, nice and simple.
So this is a really easy dessert with no need for any baking. There's a bit of butter and chocolate melting and then a bit of mixing, but its mainly about layering, setting and eating.
This recipe makes enough to fill one 9" by 9" square tin. From this I cut out 25 squares; so its a brilliant dessert if you have a few mouths to feed. But it will also keep in a tin for at least a week, so its perfect to have as stand-by, emergency treat as well 🙂
Enjoy!!
WARNING - read the nutritional information at your own risk.
Other biscuit recipes
Shortbread and blackcurrant biscuits,
📖 Recipe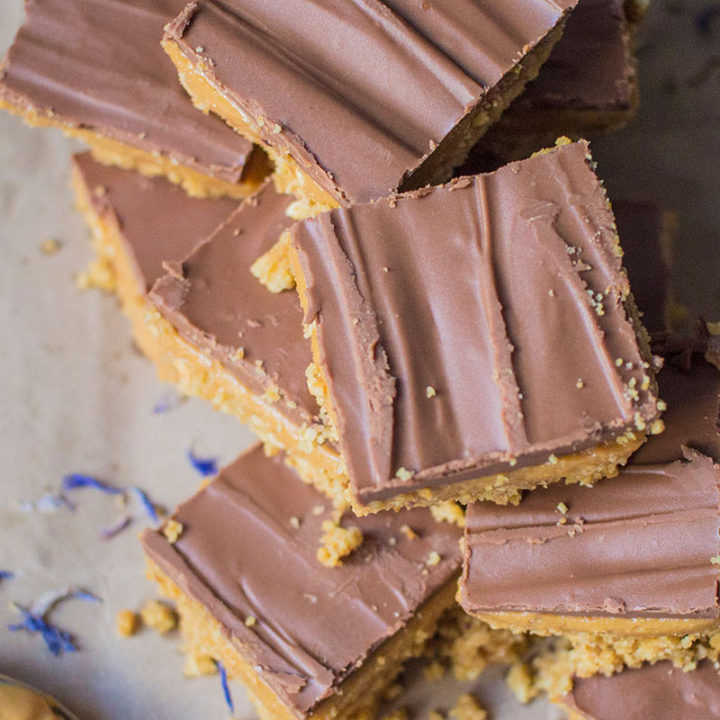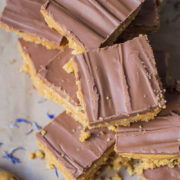 Peanut Butter and Chocolate Biscuit Squares
Peanut butter and chocolate biscuit squares are the ultimate way to have a full blown, deliciously gooey, outrageously tasty treat. Seriously - this recipe is all about indulgence.
Ingredients
250

g

digestive biscuits

125

g

melted unsalted butter

200

g

milk chocolate chips

20

g

soft unsalted butter

300

g

smooth peanut butter

100

g

syrup

1

teaspoon

vanilla extract
Instructions
Place the digestives in a plastic bag, remove all the air and tie a knot in the top. Crush the digestives into crumbs by gently hitting with a rolling pin. Alternatively you can break down the biscuits in a food processor.

In a bowl stir the melted butter into the crushed digestives.

Transfer the biscuit mix to a lined or greased square baking tin (9" x 9"). Use a spatula to press down the biscuit; making sure it reaches into all the corners and is evenly spread across the base of the tin. Place the tin in the fridge for 20 minutes in order to set the biscuit base.

Whilst the biscuit is in the fridge prepare the peanut filling by mixing together the peanut butter, syrup and vanilla extract.

After 20 minutes remove the tin from the fridge. Carefully spread the peanut mix over the biscuit. Use a spatula or cake slice to get an even finish. Return to the fridge for a further 20 minutes.

Next prepare the chocolate by setting up a bain-maris: pour 1 cm of water into a large pan and bring to the boil. Balance a large heat proof bowl over the top of the pan - do not let the water touch the base of the bowl. Add the chocolate and soft butter to the bowl and let it gradually melt. You shouldn't need to touch the bowl until the chocolate is completely melted. However, be careful of the steam when you do remove the bowl from the pan.

Alternatively you can melt the chocolate and butter in the microwave. Heat for 20 seconds at a time, then check and stir. Repeat until fully melted. 

Once the chocolate is melted, set to one side to cool slightly. Remove the tin from the fridge and pour the slightly cooled chocolate over the peanut layer. Spread evenly again using the spatula. Finish off by dragging the spatula lightly across the top of the chocolate in lines from left to right. This will create a ripple effect as it sets.

Leave to set in a cool dry place or if you can't wait that long; return once again to the fridge. However, leaving to set out of the fridge will help the chocolate to retain its shine and colour.

Check to see if the chocolate is set before turning out of the tin and slicing into squares. Enjoy!!
Nutrition
Serving:
1
g
|
Calories:
199
kcal
|
Carbohydrates:
15
g
|
Protein:
3.8
g
|
Fat:
14.4
g
|
Saturated Fat:
5.8
g
|
Sugar:
8.9
g