Easy and quick soft bake cookies, with a crumbly outer edge, a gooey centre and dotted with melted chunks of Cadburys dairy milk chocolate.

The best soft bake cookies
So last week the bestest ever, soft bake cookies happened in my kitchen! I should actually say that they FINALLY happened, as Ben has been asking me to make him some soft bake cookies for quite a long time. And so here they are – all lovely and gooey and soft and oh my goodness they are so so tasty. And that is why its taken me so long to make them. They are just too good and I was terrified of the aftermath of baking said cookies.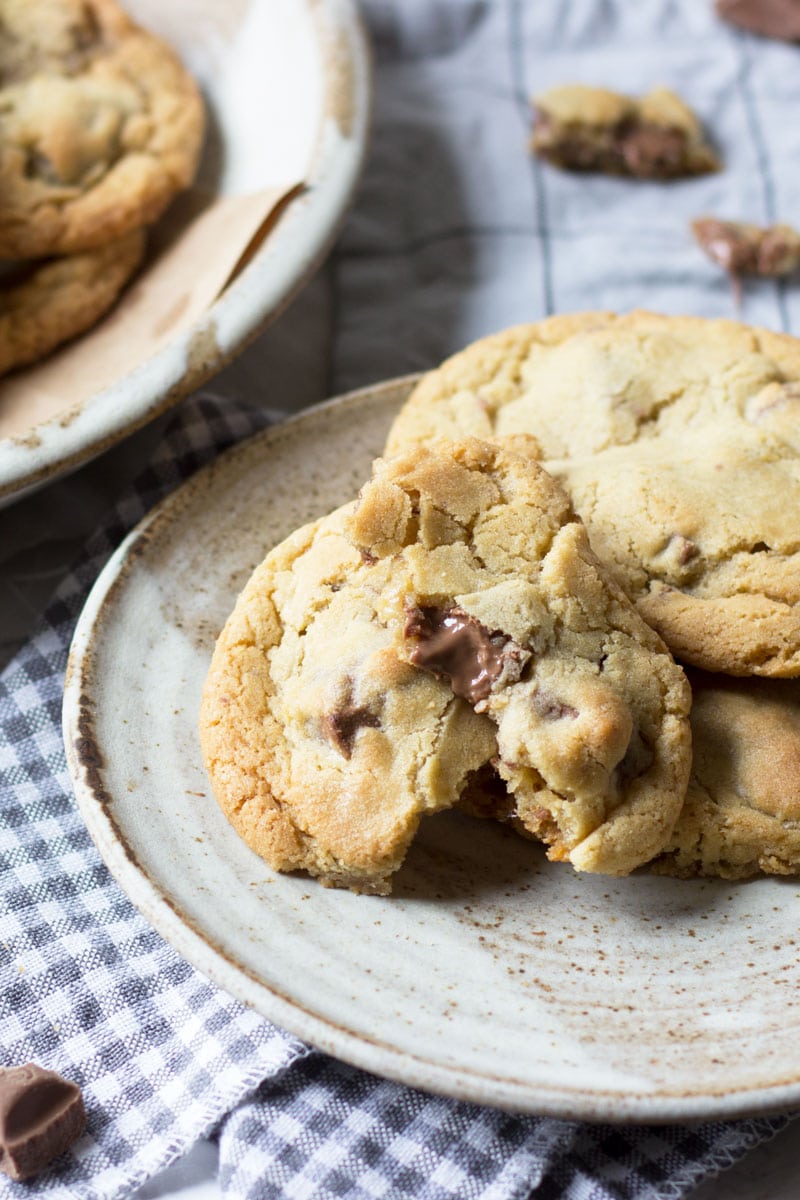 Of course the inevitable happened and we both gorged ourselves on the these wonderful delicious treats and now we are both craving more. With only 4 weeks to go until our wedding – this is definitely a major household crisis!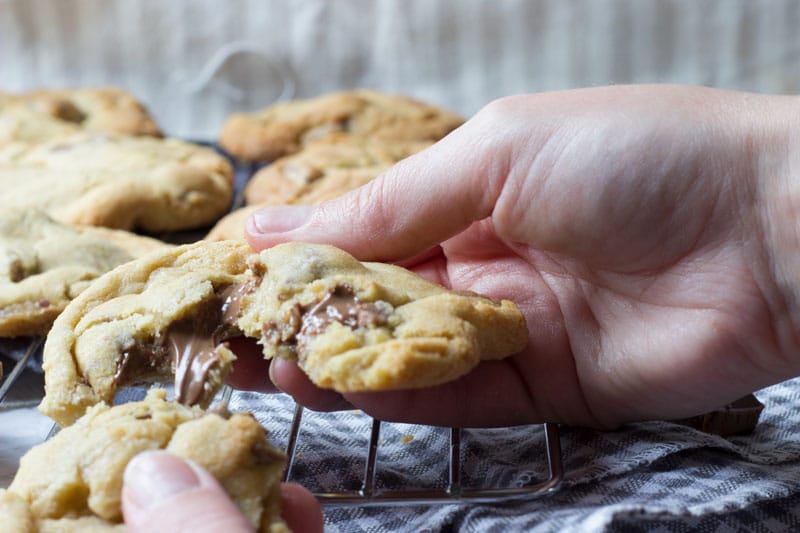 Cookies for a weekend treat
However, if you're not getting married in four weeks and think that a little, soft, gooey treat would be rather lovely this weekend, then definitely, 100 percent make these cookies, right now! I cannot stress enough how good they are, nor give enough warning about their all-consuming, addictive nature. They must contain some kind of magic, or maybe its just all the sugar and chocolate 🙂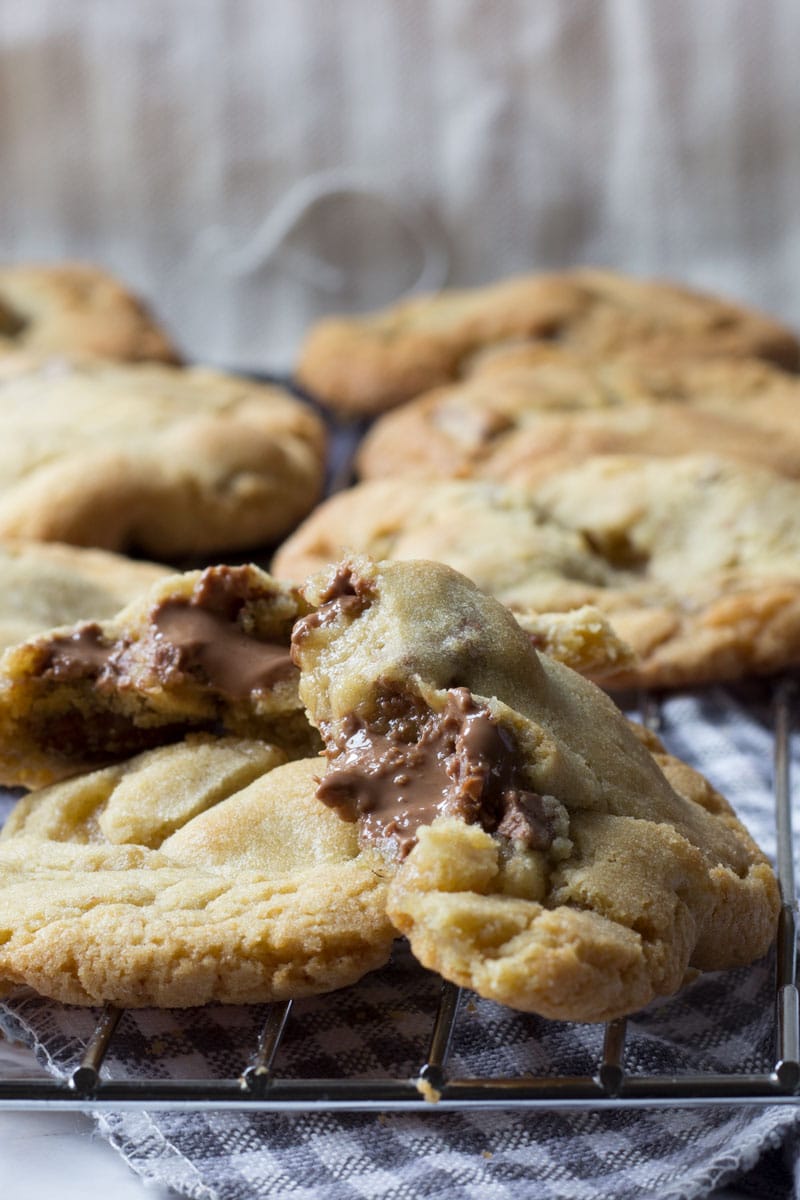 Honestly, all I can think about right now is how good my treacle and cardamom homemade ice cream would be sandwiched between two of these luscious cookies. 😯 Definitely one to try post-wedding.
Making soft bake cookies
The recipe for these cookies really is very simple and straight forward. I've used as few ingredients as possible, in order to create a traditional, bog-standard cookie.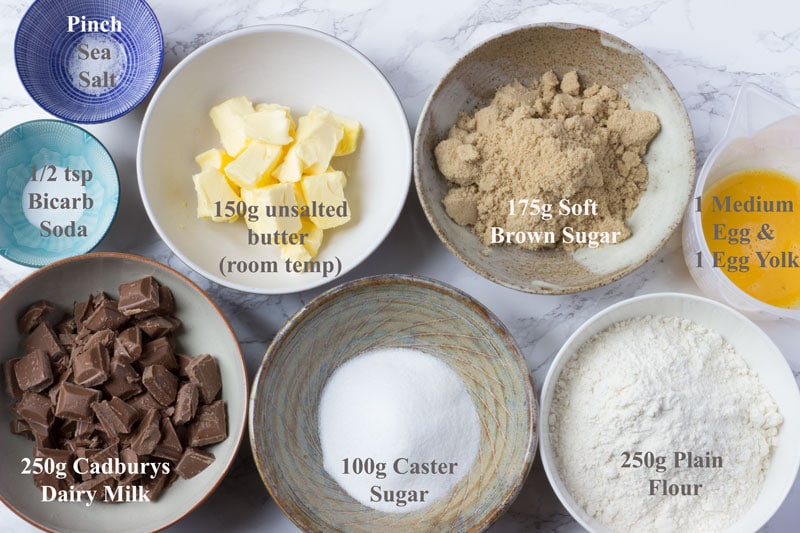 Soft bake cookies recipe
The recipe calls for 2 types of sugar: the brown is needed due to its molasses content, which is acidic and reacts with the bicarb. The white sugar balances out the brown sugar and stops the cookies becoming too dark during baking. The reaction with the molasses and bicarb helps to create a nice, light cookie due to the production of a bit of air.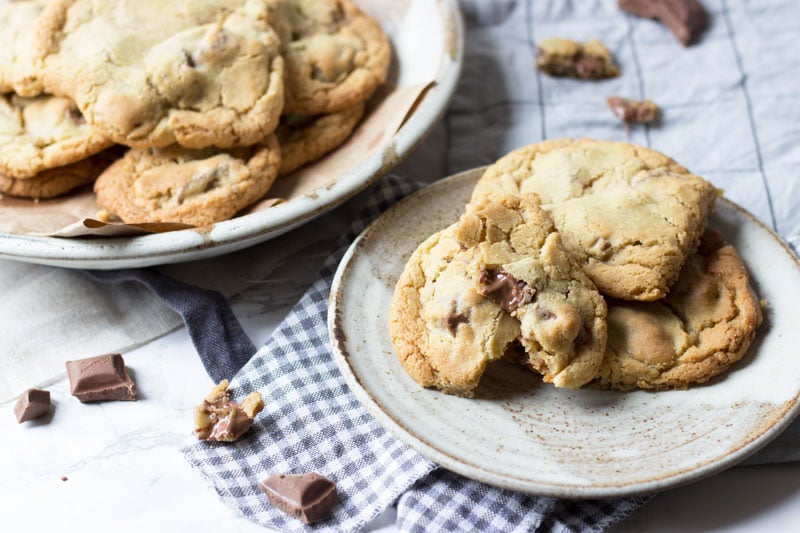 And its well worth the extra effort to weigh out two types of sugar. These cookies are extra special, extra tasty and certainly a treat we'll be having plenty more of in the future.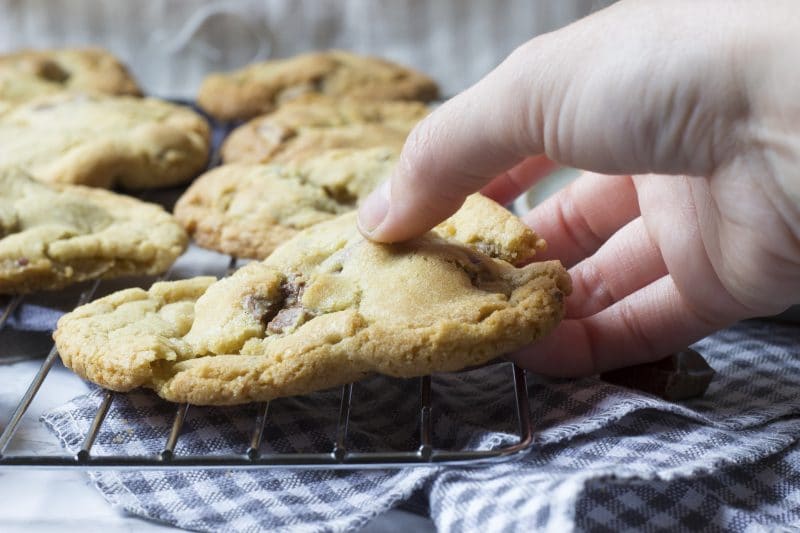 Nutritional info – I don't think it would be proper of me at all to parade the nutritional content of this recipe in front of you. Also I really don't want to know myself. I just want to enjoy the best cookies ever 🙂  Its not a recipe that you would make for its nutritional benefits anyway, only the benefit of feeling happy and overjoyed and well and truly satisfied  🙂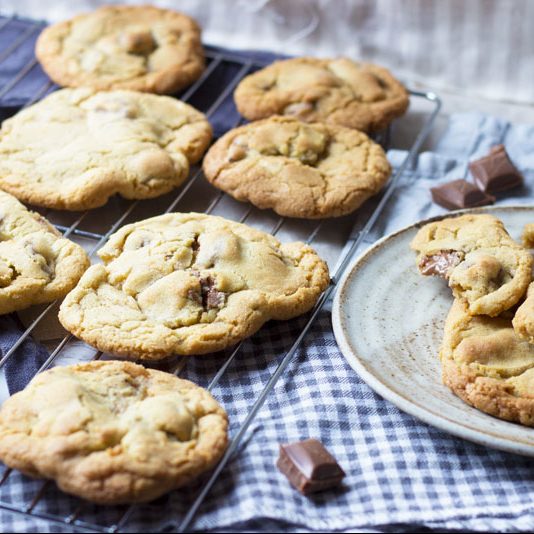 Soft Bake Cookies with Dairy Milk Chocolate Chunks
Easy and quick soft bake cookies, with a crumbly outer edge, gooey centre and dotted with melted chunks of Cadburys dairy milk chocolate
Print
Pin
Servings:
12
(15 cookies)
Ingredients
250

g

Plain Flour

1/2

tsp

Bicarbonate of Soda

Pinch

of crushed sea salt

150

g

Unsalted butter

room temp

175

g

Soft brown sugar

100

g

Caster Sugar

1

medium whole egg

1

medium egg yolk

250

g

Cadburys milk chocolate roughly broken up into chunks
Equipment:
Electric Stand Mixer

Flat baking tray
Instructions
Preheat the oven to 200 degrees C (fan)

Sieve the flour into a large bowl and mix in the bicarb and salt. Set to one side.

Cube the soft butter and add to your mixer bowl (or add to a standard large bowl if you are mixing by hand).

Add both the brown sugar and caster sugar to the butter and cream together.

If using a mixer, start on a low speed and gradually increase to full. mix on high for 5-10 minutes until creamy and lighter in colour.

If mixing by hand use a large wooden spoon and beat for several minutes until light and creamy.

Next, whisk together the whole egg and egg yolk and then slowly add this to your butter mix, with the mixer still on high. Do not rush the addition of the egg.

If mixing by hand: add a bit of the egg mixture then stir - continue to add & stir until all the egg is fully combined.

Next add the flour and chocolate to the mixture and use a spatula to fold in well. Make sure all the flour is fully combined with the cookie mixture.

You should now have a nice gooey cookie dough ready for baking. Use your hands to shape the dough into little balls (around 2 - 2.5 cm diameter) and place on a baking tray. Leave plenty of space around each ball as they will spread as they bake. I baked mine in 2 batches to ensure plenty of space.

Place the cookie balls in the oven and bake for 10 minutes or until slightly golden. To ensure a soft baked cookie, remove from the oven just as they start to turn golden brown, the cookie dough may appear undercooked but this will set further during cooling and help to keep the cookies soft.

Once removed from the oven, leave to cool on the tray for 5 minutes before carefully transferring to a wire rack. Cool for a further 20 minutes - then enjoy!!
Nutrition
PIN FOR LATER

I am linking this recipe to #cookblogshare hosted by hijackedbytwins, recipesmadeeasy, everydayhealthyrecipes and Easypeasyfoodie. I am also linking to #whatsfordinner? hosted by TheLazyGastronome, #brilliantblogposts by honestmum, #CookOnceEatTwice hosted by seachingforspice, #bakeoftheweek hosted by mummymishaps and casacostello, #weshouldcocoa hosted by tinandthyme, #treatpetite hosted by thebakingexplorer and cakeyboi,   #bakingcrumbs hosted by onlycrumbsremain and #recipeoftheweek hosted by aMummyToo.