Festive homemade Celeriac and potato Christmas soup topped with hazelnuts, truffle oil and a cranberry and brie crouton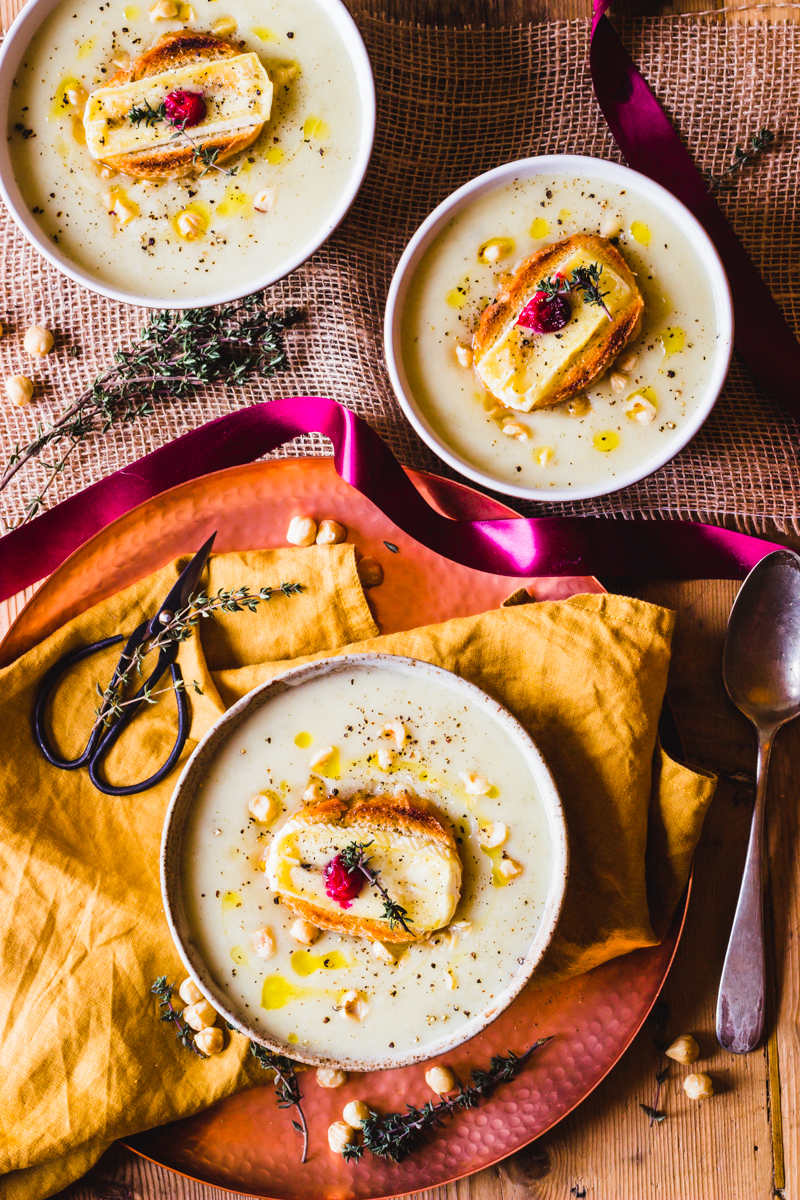 Christmas soup
Full of wintery veggies and topped with a toasted brie and cranberry crouton, this celeriac soup is perfect for Christmas. Be it a cosy Christmas Eve soup, a delectable starter on Christmas day, or even a freezer meal tucked away for those chilled out nights when no one wants to cook. The creamy potato and nutty celeriac are sure to bring smiles all round. If celeriac isn't your thing cauliflower soup is also a great option for Christmas.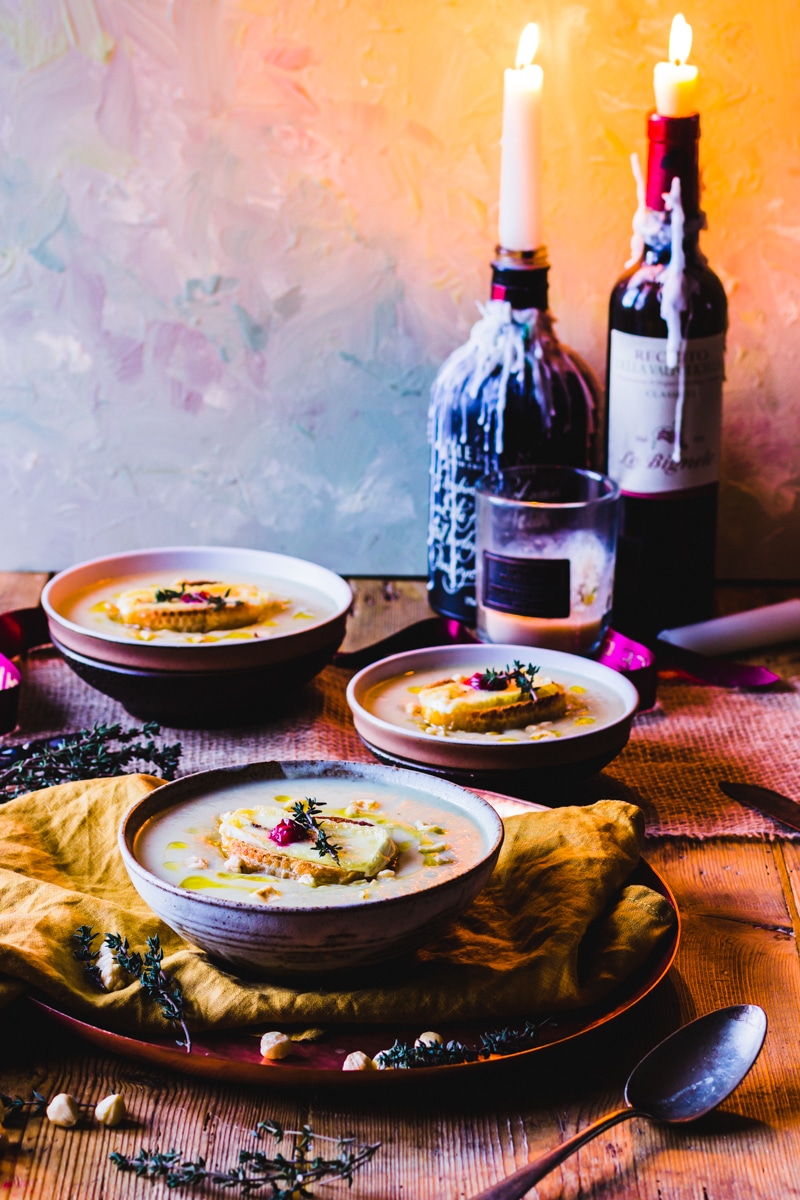 How to prepare celeriac
So the star of this Christmas recipe is of course Celeriac - the large bulbous root of the celery plant. Celeriac root is actually very easy to peel and chop up and once chopped it can be eaten raw or cooked, although in this case we are cooking it. To peel the celeriac use a large sharp knife and gently slice the skin off moving the knife around the edge of the root (see video below for a better visual of this). Next simply slice and dice the peeled celeriac, which can then be boiled or roasted - here we are simmering in our soup.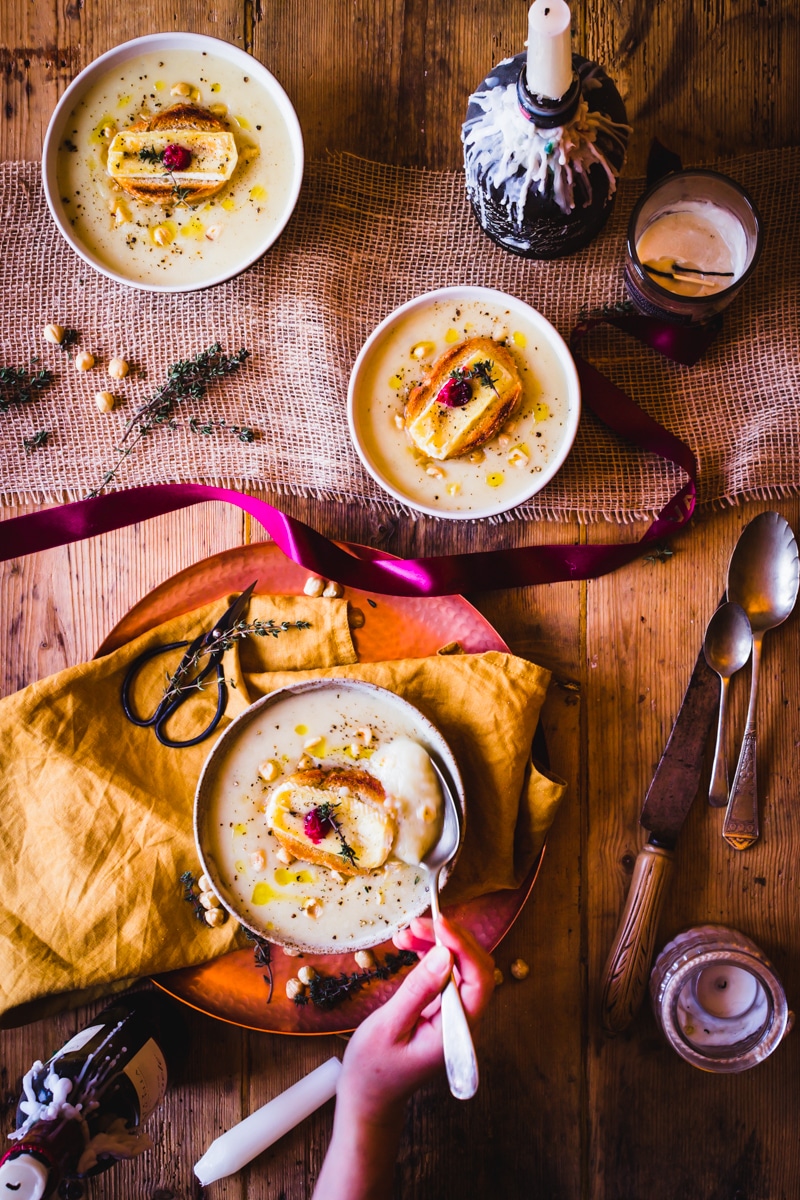 Celeriac and potato soup
The base of this soup is chopped onion, diced potato and diced celeriac. Seasoned with bay and thyme and then blended until smooth. Its so quick and so easy to prepare and as we're all so terribly busy at Christmas, its also nice to know that this can be prepared in advanced and either refrigerated for up to 3 days or kept in the freezer for up to 3 months.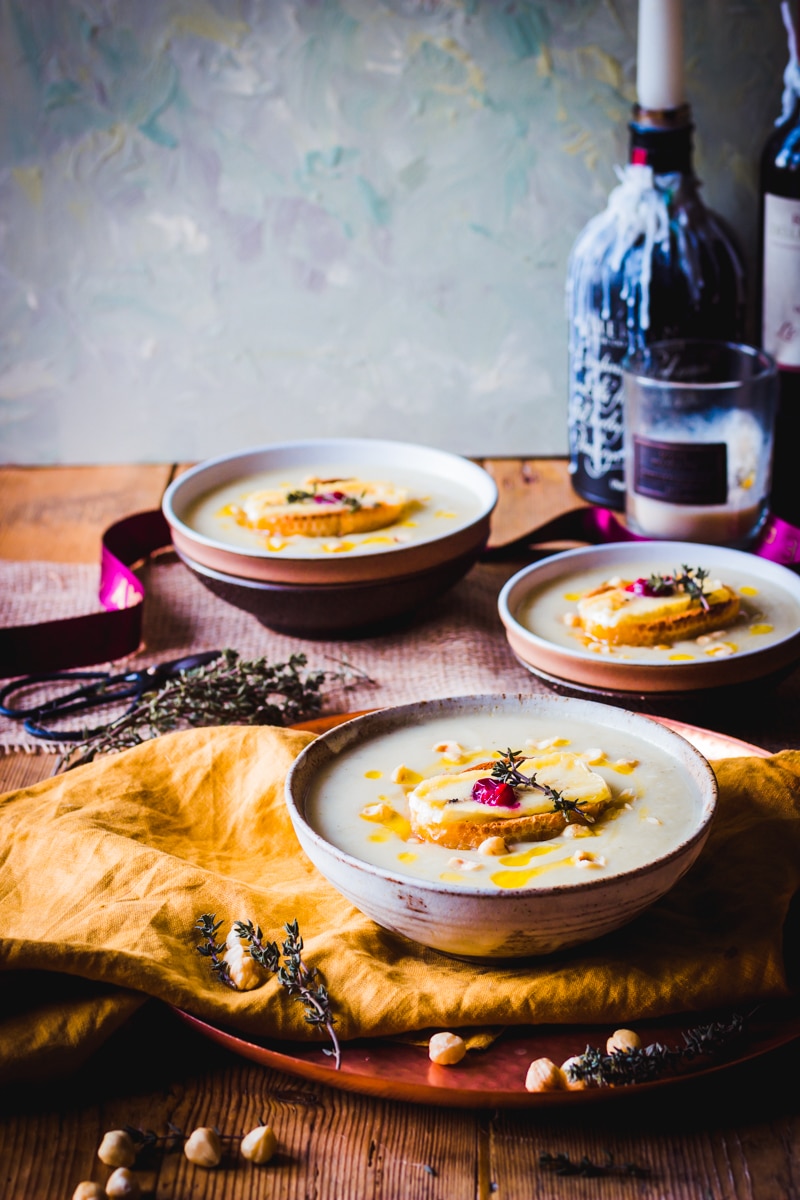 Cranberry and Brie Crouton
To make this soup extra festive I like to top mine with a brie and cranberry crouton, made simply by: slicing up a french stick, topping each round with a piece of brie and a blanched cranberry, and then grilling on high for 5 minutes or until the cheese is melted. Personally I love a truffle brie and it goes amazingly well with this celeriac soup.
Other soups you might like:
For more soup ideas have a look at my soup recipes collection
📖 Recipe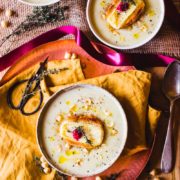 Celeriac and Potato Christmas soup
Festive homemade Celeriac and potato Christmas soup topped with hazelnuts, truffle oil and a cranberry and brie crouton
Ingredients
For the soup
1

tablespoon

Olive oil

2

large onions

325g peeled and finely chopped

1

large clove of garlic

5g finely chopped

2

sprigs fresh thyme

2

bay leaves

1

small celeriac

750g peeled and cubed

2

small baking potatoes

300g peeled and cubed

500

ml

Vegetable stock

1

teaspoon

honey

2

tablespoon

Creme Fraiche
For the topping

1

small

French stick

Chopped blanched hazelnuts

Brie cut into slices

truffle flavoured if desired

Handful of fresh cranberries

Extra fresh thyme

Few drizzles of olive oil or truffle oil.
Instructions
To make the Soup
Heat the oil in a large pan and fry the chopped onion and garlic until soft. While the onions are cooking peel and chop the celeriac and potatoes. Next add the bay leaves, sprigs of thyme, celeriac and potatoes. Pour over the stock and bring to the boil. Then place on a lid and simmer for 20 minutes.
To make the Brie and Cranberry Croutons
These are best prepared fresh - so if preparing soup in advance don't make the croutons until you are ready for them. Place a handful of fresh cranberries into a small container or cup and cover with boiling water - set to one side for 2 minutes. Next slice 1 cm thick circles from a French stick. Each circle will be a crouton for the soup - prepare as many croutons as you need. Place the bread rounds on a baking tray and top each one with a slice of brie. Next carefully remove the cranberries from the hot water and push one or two cranberries into the cheese on each piece of bread. Heat the grill.
Finishing the soup and serving
After 20 minutes remove the lid from the soup pan. Find and remove the bay leaves and thyme. Use a hand or stand blender to blitz the soup until smooth. To make it extra smooth pass well blended soup through a sieve.

Finally, season and stir in the honey and creme fraiche.

To serve, reheat the soup and place the croutons under a high grill for 5 minutes or until the cheese is melted. Ladle out the soup, top with hazelnuts and truffle oil and place a grilled crouton on the top.

Or alternatively store the soup in sealable containers and keep in the fridge for up to 3 days or the freezer for up to 3 months.
Video
Nutrition
Serving:
347
g
|
Calories:
209
kcal
|
Carbohydrates:
27.6
g
|
Protein:
7.6
g
|
Fat:
8.1
g
|
Saturated Fat:
2.7
g
|
Sodium:
360
mg
|
Sugar:
7.6
g