SPONSORED BY HELLOFRESH. Romantic dinner recipes definitely need some thinking about! How about steak or curry or a full on roast dinner? or maybe something lighter? Kedgeree or sticky prawns? Or maybe you really want to impress and make a show-stopper of a meal: lamb lollipops or homemade fresh pasta sound good?
Romantic dinner recipes
Is it all worth it?? Do you really want to stay in and think up some romantic dinner recipes for your loved one or indeed have them cook up something special for you? Or is the hassle and the pressure all too much? Especially when you can go out and pay a top chef to do the job for you…??
Well, a recent survey carried out by HelloFresh certainly suggests that a night of passionate cooking and romantic dinner recipes might be exactly what is needed or at least what most of us prefer. With 70% of surveyed respondents saying they are planning a romantic Valentines night in and 72% stating that its actually more special if their other half cooks for them, it seems that theres good reason to don that pinny and work your culinary magic.
But despite these generally positive statistics and people seemingly being all up for cooking-up a romantic storm in the kitchen, there are still some with reservations (dinner reservations perhaps??  🙂   I digress). . . Out of those surveyed by HelloFresh, 60% said they didn't think there was a link between affection or intimacy and cooking their partners favourite meal. Other concerns centred around burning the food, drinking too much, or even having a row. So, where does that leave us on that romantic night in? Confused I think.
So as I do obviously own a food blog and I do spend an awful lot of time in the kitchen, and mainly thats because I'm cooking for my other half, I feel I should maybe throw a few romantic dinner recipes out there to help tempt the unsure and get the kitchen-cautious cooking something yummy for their lovely romantic evening in.
Starters
For a simple and sophisticated start to the evening, skewer some prawns and cook in the griddle pan with honey and chilli.
Serve hot or cold, in a bowl or in a shot glass and add a little creme fraiche or soured cream for decoration and taste.
Blackberry and sloe gin hot toddy
Cold outside? why not welcome your guest with a warming hot toddy?

For a more casual starter serve up some homemade dips with pitta, bread and crudites fro dipping. Not a fan of hummus? – try making guacamole instead.
Homemade, fresh out of the oven, golden bread rolls to serve up with your dips or soup.
Fruit and nut salad with gorgonzola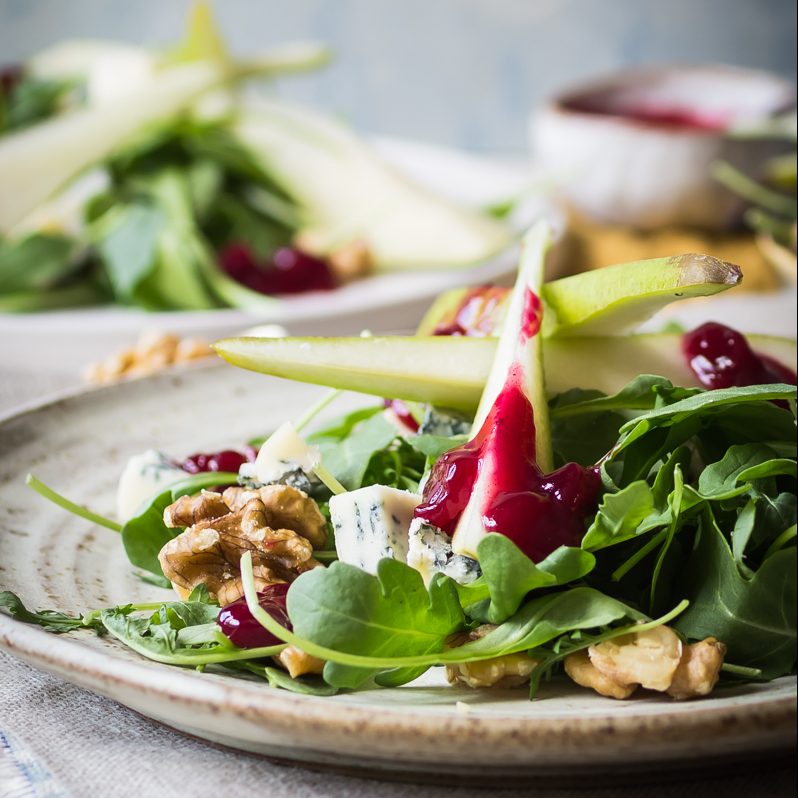 A nice light start to the evening with no cooking required – a delicious pear, gorgonzola and walnut salad.
Main course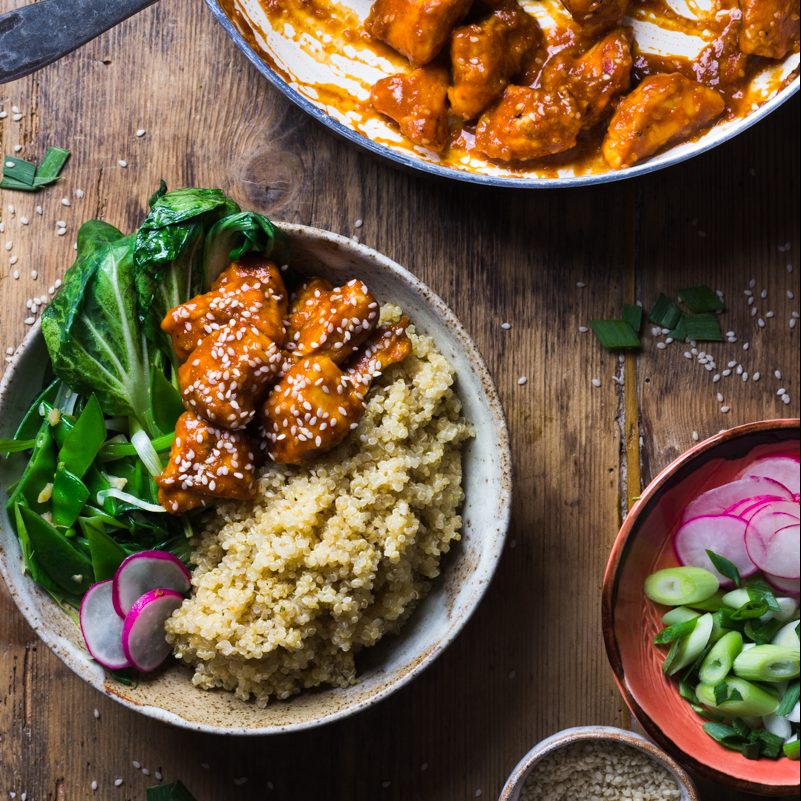 Sesame seed chicken; its sticky, sweet and slightly spicy, served with nutty quinoa and stir fried green vegetables. Its ready in 30 minutes, full of flavour, and so much better and healthier than a Chinese takeaway!
Quick Chicken and Almond Curry 
Not only is this recipe super tasty and really quick to make but its also a healthier, lighter version of the classic Indian take away. So this little tasty number will satisfy but won't overfill – and no-one wants to be stuffed to bursting on Valentines, right?
I simply adore a homemade Thai curry and this particular Thai recipe is absolutely divine! If I could only pick one dinner to eat for the rest of my life this would certainly be high up on the list of contenders. But if you don't fancy a Thai red how about a Thai green curry? Either can be made with Thai curry paste from the jar or why not try homemade red curry paste or homemade green curry paste?
Smokey Chilli Con Carne with Cannellini beans
We all love a meal that can be thrown in the pot and left to cook through while we get on with more important stuff. This Texas style smoky chilli is nice and simple and basically cooks itself. Its also got enough of a kick to keep things nice and spicy 🙂
Minted Lamb Pie with mash topping
This is one of my personal favourites – I love lamb and its definitely top of my list for romantic foods and Ben loves pie – so this particular recipe ticks all the boxes for us. And even though it does require a little extra effort, I promise its 100% worth it. – so yummy!
Lamb lollipops with Cashew nut mint dip 
So, if you're not up for a full on lamb pie then a lamb rack or lamb lollipops might be the way to go. A quick fry in the pan, then a blast in the oven for 15 minutes, finished with a 20 minute rest (for both you and the meat) and you'll have yourself a perfectly pink a juicy rack of lamb. My mouth is watering just thinking about it!
You just know that steak has to be on the list! And in fact the HelloFresh survey put steak as the number one home-cooked Valentines meal, with curry as a close second. Steak and chips is obviously a great option but I love my steak with a vibrant and aromatic chimichurri sauce and baby potatoes roasted with rosemary. (To make your steak extra tasty get your pan super hot before you put the meat in and then throw in a knob of butter and crushed garlic clove towards the end of frying time – and baste plenty!
A good veggie option has to be risotto – and in particular I love this risotto for Valentines.  I mean it is made with a whole bottle of Amarone red wine!! But it was also one of the courses for our wedding in Italy last year – so this particular dish will always be very special and romantic in my eyes.
Dessert
Yes I think we need some dessert options and I'm definitely going to include a few chocolate options here – its a romantic night in we're talking about, so it just has to finish with lots of chocolate!
Soft bake dairy milk chocolate cookies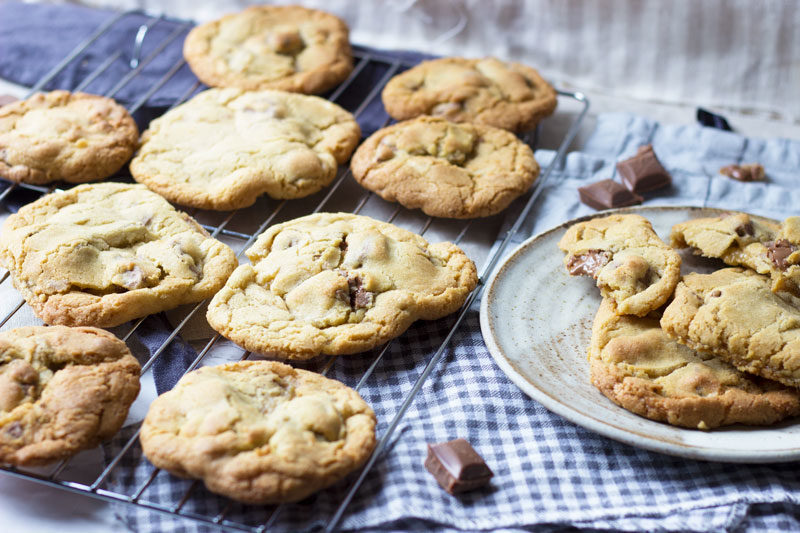 Easy and quick soft bake cookies, with a crumbly outer edge, gooey centre and dotted with melted chunks of Cadburys dairy milk chocolate – sure to melt the heart of your fave person as well! 🙂 🙂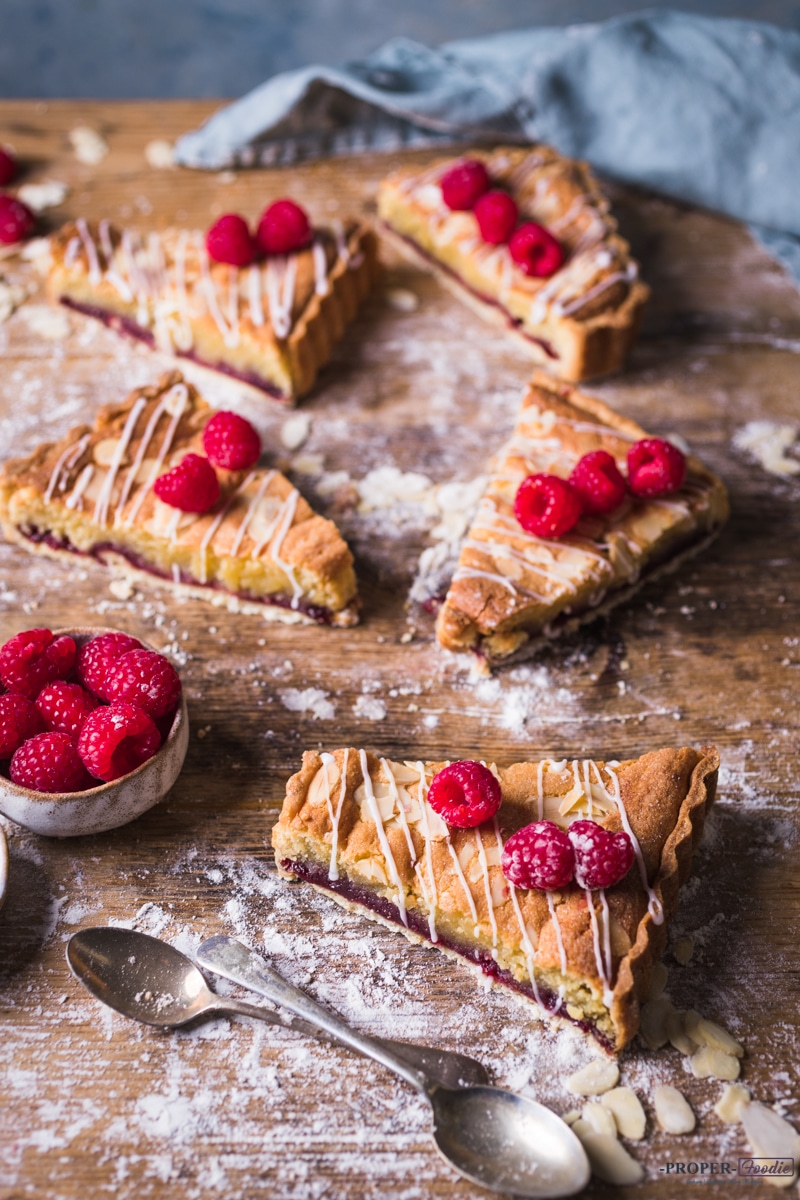 Why not keep things nice and traditional with this gorgeous raspberry Bakewell tart. Serve with warm custard or thick cream
if your out to impress but don't want to spend all day in the kitchen making a huge cake, then how about some pancakes? Make in advance and then quickly heat up in the oven before serving or just make the batter in advance and then have some fun with your other half by making and tossing the pancakes together.
In case you like the pancake idea and want some extra ideas!! American style pancakes three ways: caramelised banana with Nutella sauce, mascarpone vanilla cream with passion fruit, and healthy banana flourless pancakes with toffee sauce – take your pick, or have all 3!!
Baileys chocolate and hazelnut fudge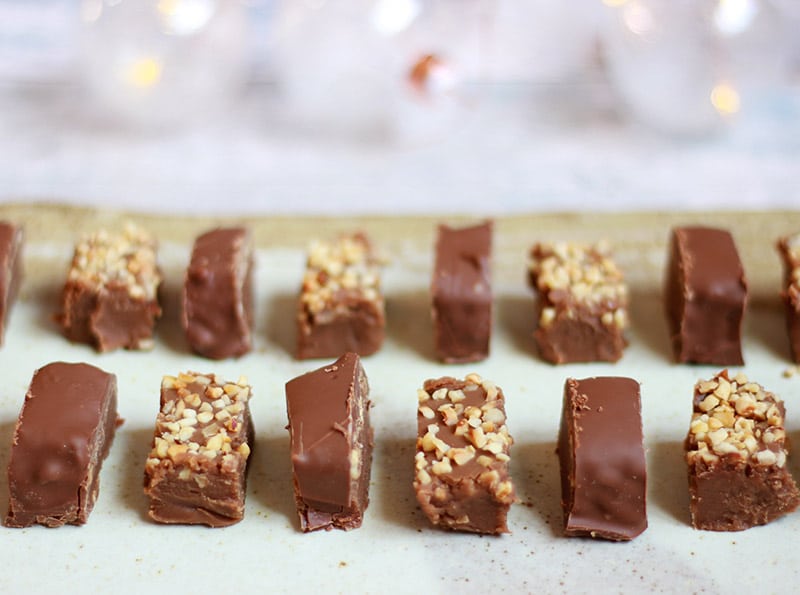 Nothing says love like homemade chunks of gooey chocolate hazelnut fudge, washed down with a liqueur coffee.
Bircher muesli with stewed apples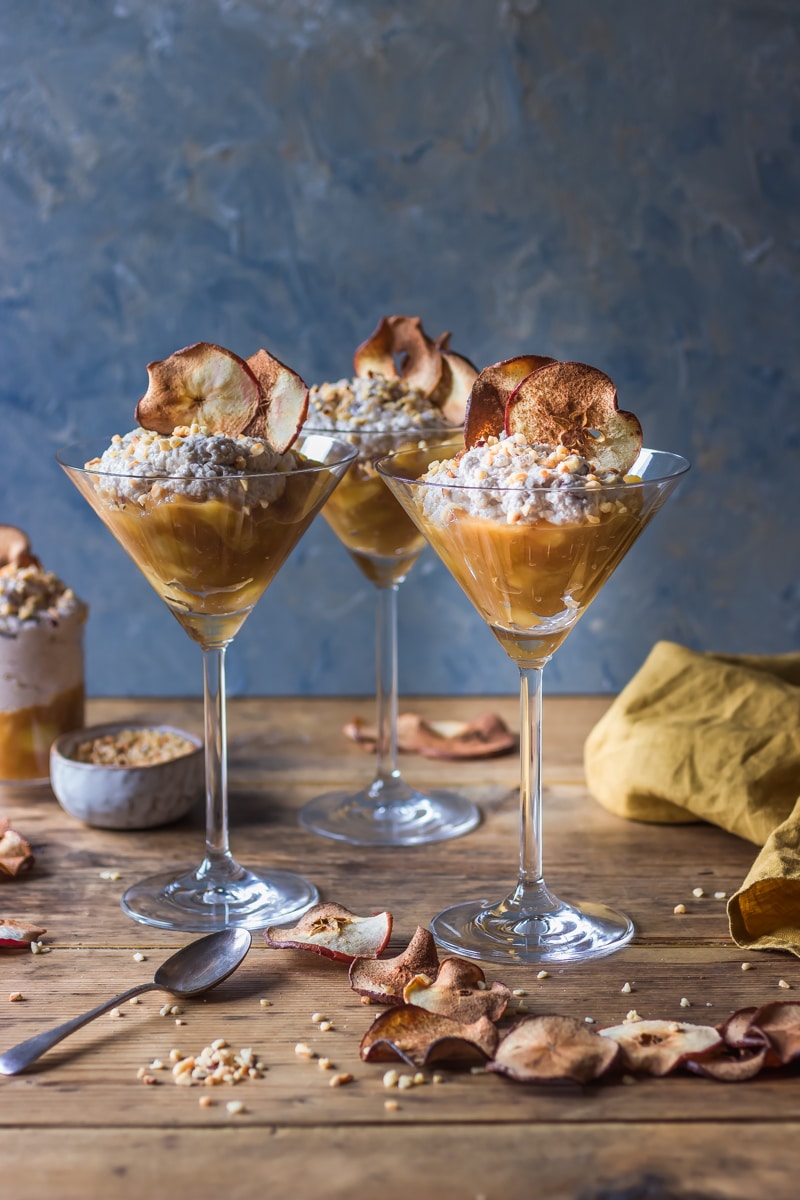 For something a little lighter and healthier, but by no means less impressive have a go at whipping up some bircher muesli and stewed apples.
Hazelnut and white chocolate brownies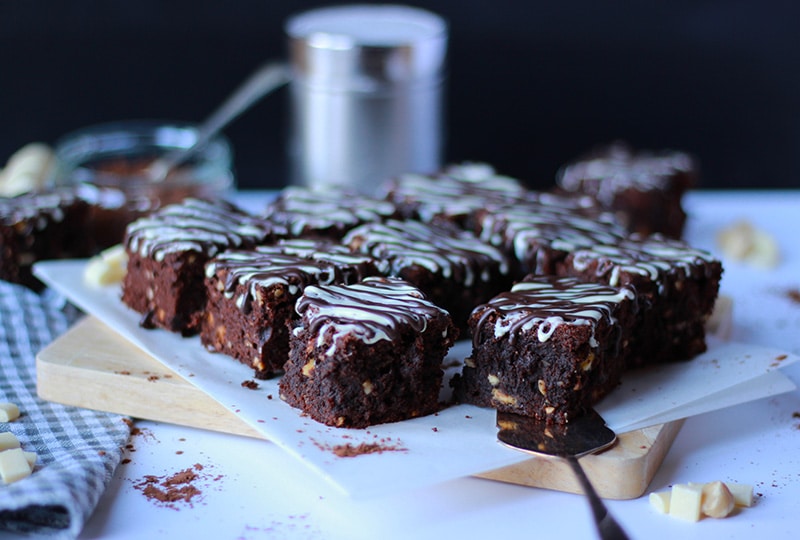 Light and crumbly Hazelnut & White Chocolate brownies with chocolate decoration – perfect for keeping things sweet this valentines
Peanut Butter and Chocolate Biscuit Squares
This is a really easy dessert with no need for any baking. There's a bit of butter and chocolate melting involved, but its mainly about layering, setting and eating. Perfect for any peanut butter lovers out there!
Or if you want to keep it healthy but still have a bit of chocolate – have a try of my –
Flourless, Mint Chocolate Courgette Muffins
Deliciously chocolatey and bursting with mint and honey aromas, these healthy, flourless courgette muffins are low in calories and high in protein. Little cups of tasty goodness, which are the perfect answer to a guilt-free Valentines treat.
So no excuses!! 🙂 I hope you'll find some of these romantic dinner recipes helpful for your romantic night in!!
With thanks to HelloFresh for access to their 2018 Valentines day survey data.